Strawberry Season is always the best time of year, and to celebrate I am sharing my favorite recipes with strawberries in this round up post 20 Simple Summer Strawberry Recipes. Here you will find strawberry desserts, easy recipes for breakfast and brunch, a fun mimosa, and even a strawberry salad!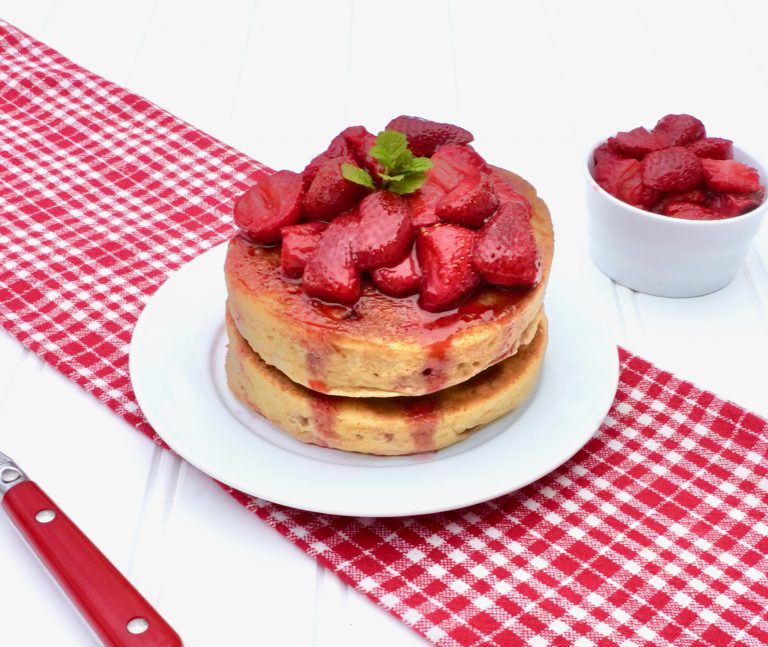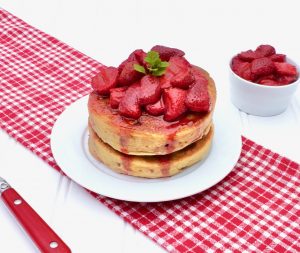 Strawberry Whole Grain Pancakes are a healthy way to start the day. Fresh berries are stirred into the batter and add a lot of flavor. They are simple to make and cook in minutes. You can serve them with maple syrup or topped with Roasted Strawberries as shown here.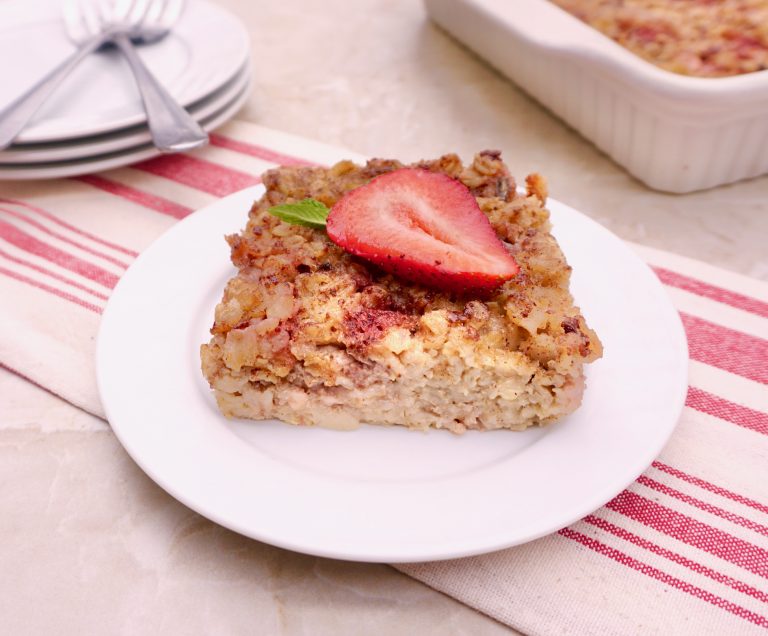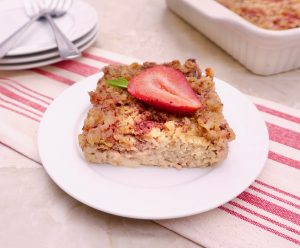 Strawberry Banana Baked Oatmeal is a warm breakfast casserole that you put together the night before. It is lightly sweetened with maple syrup and filled with ripe strawberries and bananas. This healthy baked recipe, made with oats and almond milk is the easiest way to serve a group breakfast.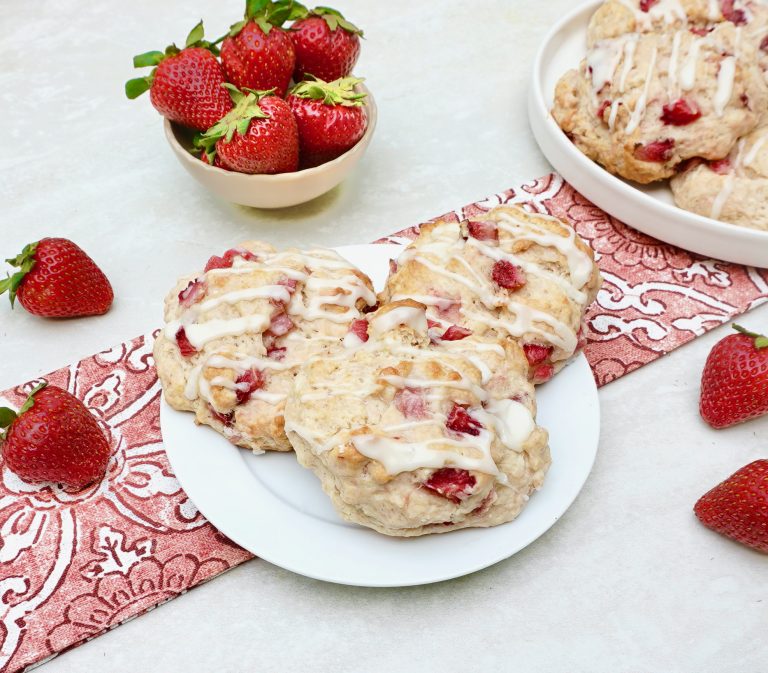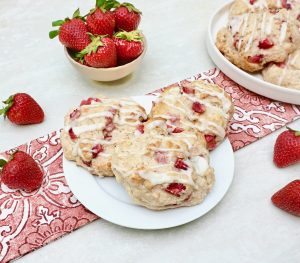 Homemade Strawberry Drop Biscuits are easy to make biscuits that would be good to bake during strawberry season. Infused with fresh strawberries and glazed with a light vanilla icing, they are a delicious way to start the day.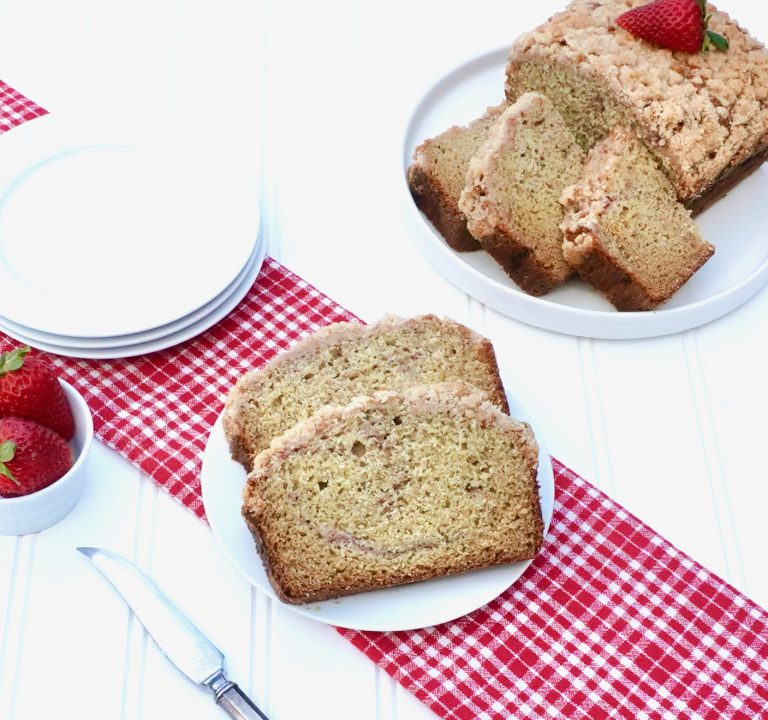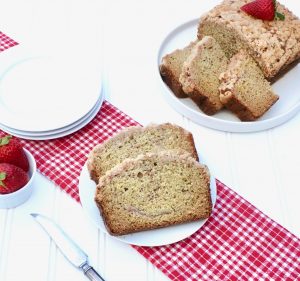 Strawberry Streusel Banana Bread is a moist bread that is full of great banana flavor .It is enhanced with fresh strawberries and topped with a streusel crumb topping. It would make a delicious treat that the whole family will love for breakfast or any time of the day!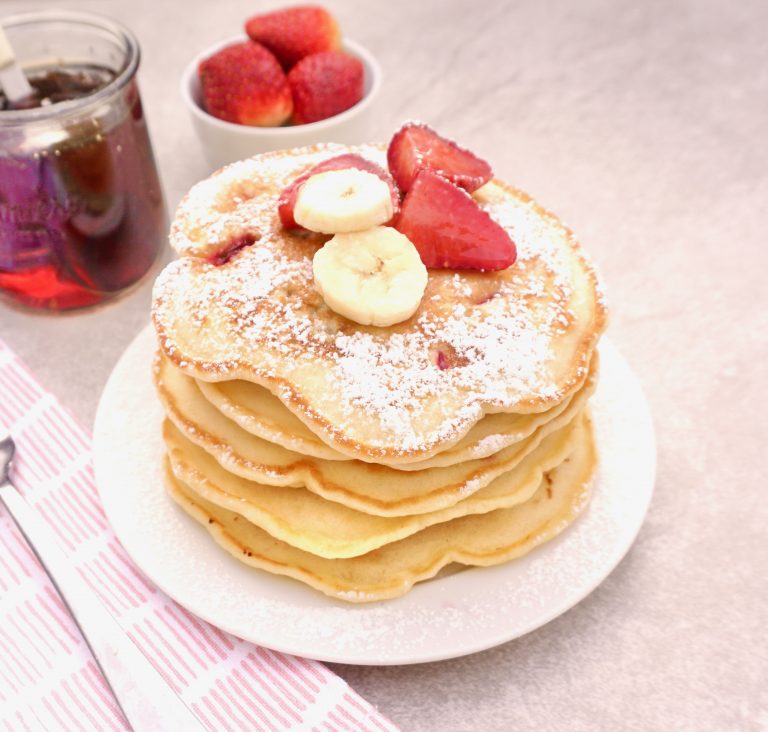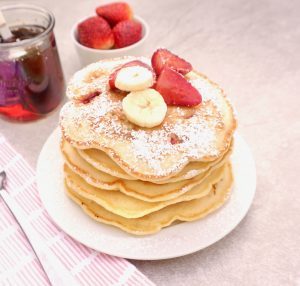 Strawberry Banana Pancakes would make a special treat for your weekend breakfast. Top them with a tablespoon of butter and some pure maple syrup. They are easy to make from scratch with ingredients that you most likely already have in your pantry. Combining sweet strawberries with the favorite fruit banana is a winning combination.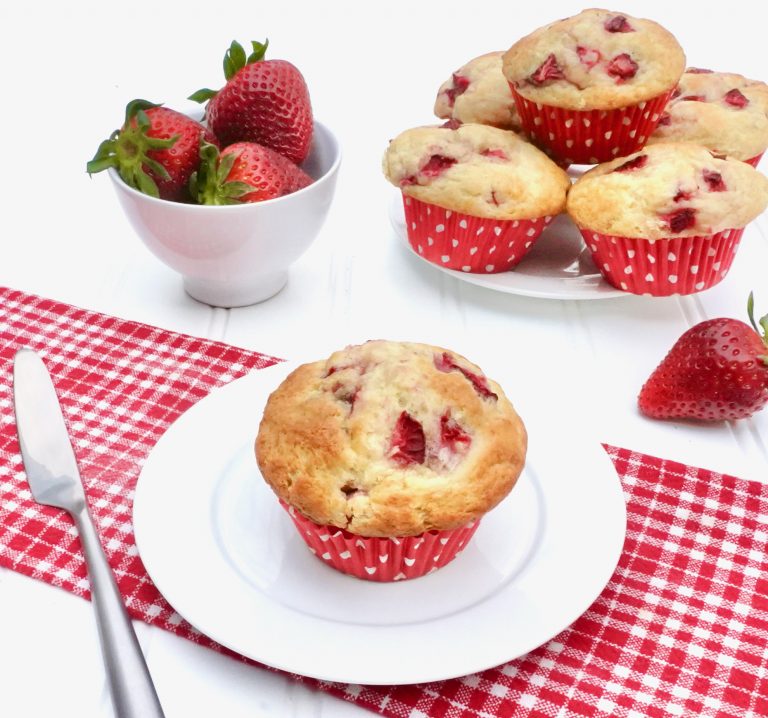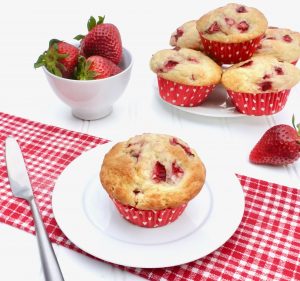 Strawberry Banana Muffins are made from simple ingredients and they are flavorful and delicious. A banana based muffin and juicy strawberries are a perfect combination that makes a great breakfast. With some pantry ingredients and peak-season strawberries you can create these easily at home.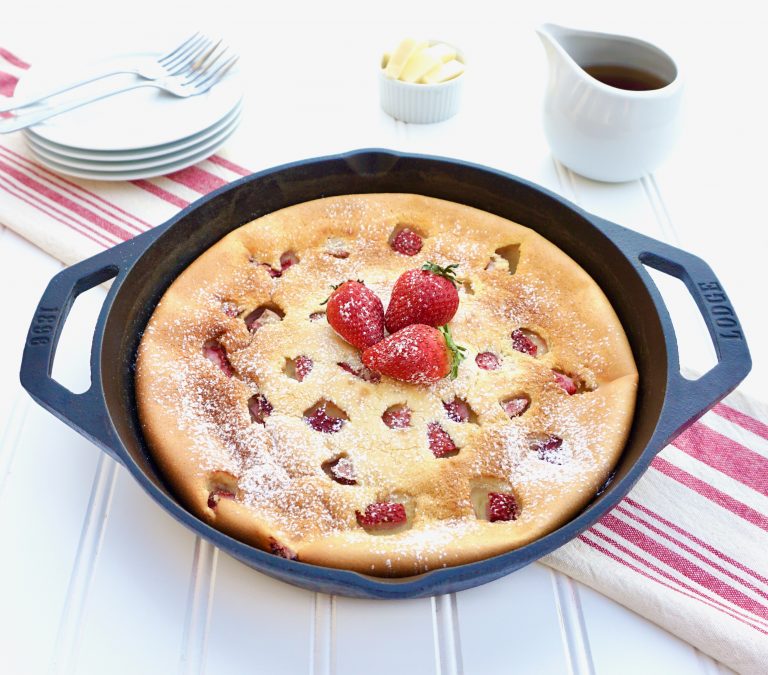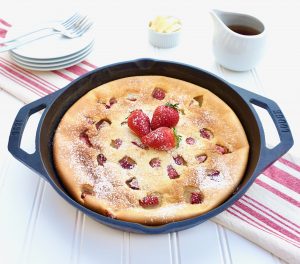 Strawberry Ricotta Dutch Baby is a delicious breakfast or brunch recipe that the entire family will love. This giant pancake is a great way to serve a few people at a time and it is a very easy recipe to make. It is a simple baked pancake full of good strawberry flavor.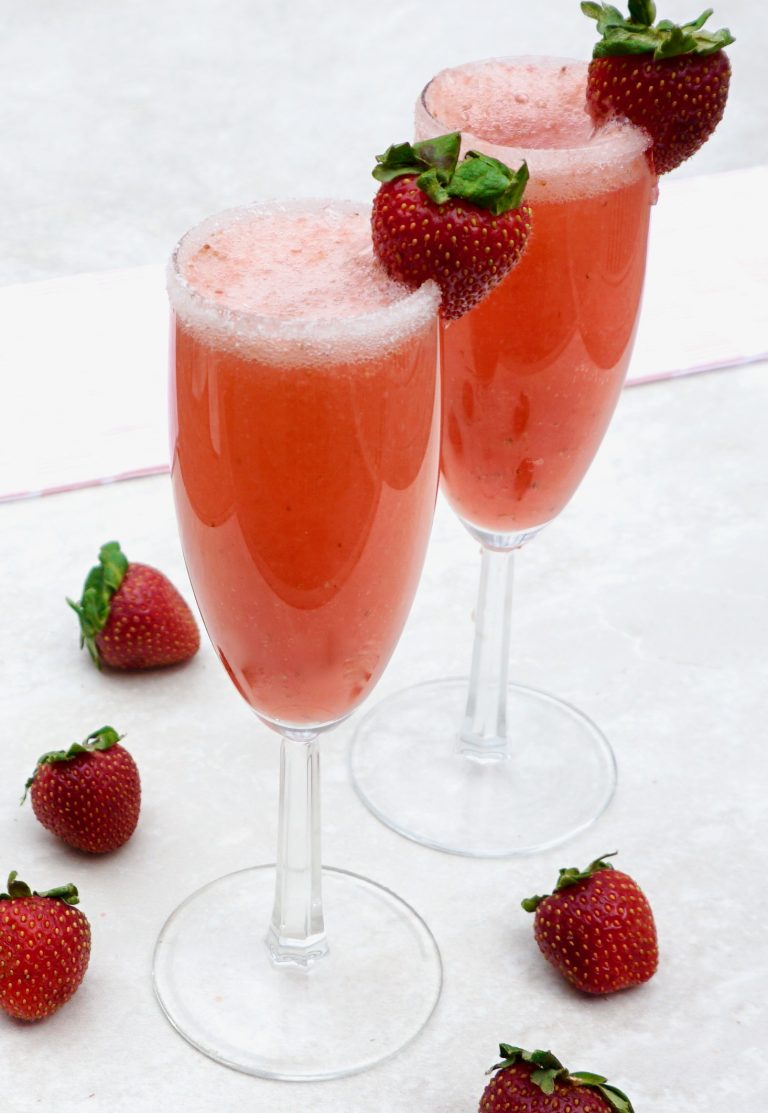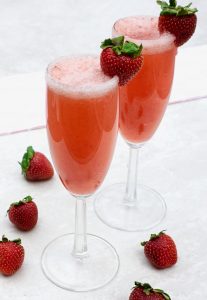 Strawberry Mimosa is the signature cocktail of the 20 Simple Summer Strawberry Recipes round-up. This easy  mimosa recipe is good for the summer months when local strawberries are in season. It would be light and refreshing on a hot summer day.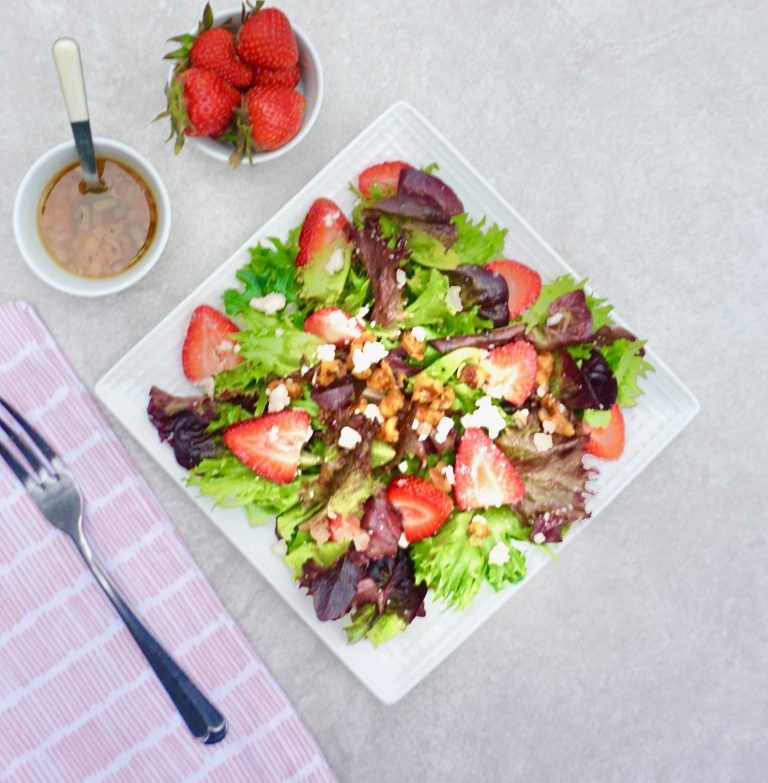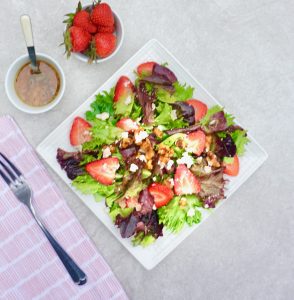 If you like fresh fruit and berries added to a savory salad, you need to try Strawberry Blue Cheese Salad . It is a perfect mix of sweet and savory. The fresh strawberries make this a pretty fruit salad to serve and again add the element of sweetness. The simple dressing is made from honey, dijon mustard and balsamic vinegar. This is a great way to add strawberries to your summer parties and meals.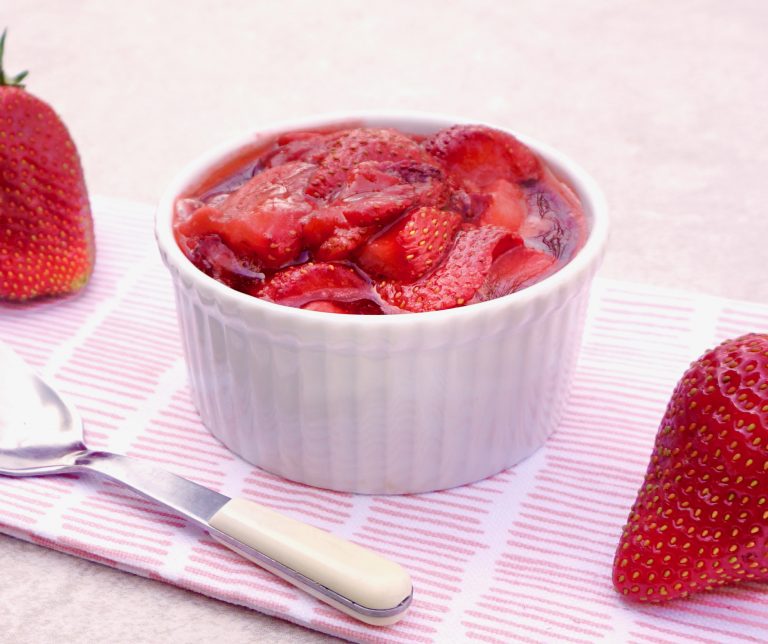 Have you ever Roasted Strawberries before? Roasting them really intensifies them and it is a great way to use up extra strawberries that are no longer perfect. Roasted with some sugar and vanilla, the result is a strawberry sauce that tastes like strawberry pie filling. You could use it to top pancakes, yogurt or vanilla ice cream for an easy dessert.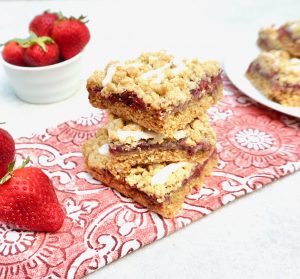 Now it is time for 20 Simple Summer Strawberry Recipes to head to the dessert table. If you are a fan of Strawberry Rhubarb Pie, you are going to love these Strawberry Rhubarb Bars! An easy crumb mixture is used as both the crust and the topping. An easy strawberry rhubarb jam is created for the filling. The optional glaze adds another touch of sweetness. They would be a perfect dessert for a summer picnic.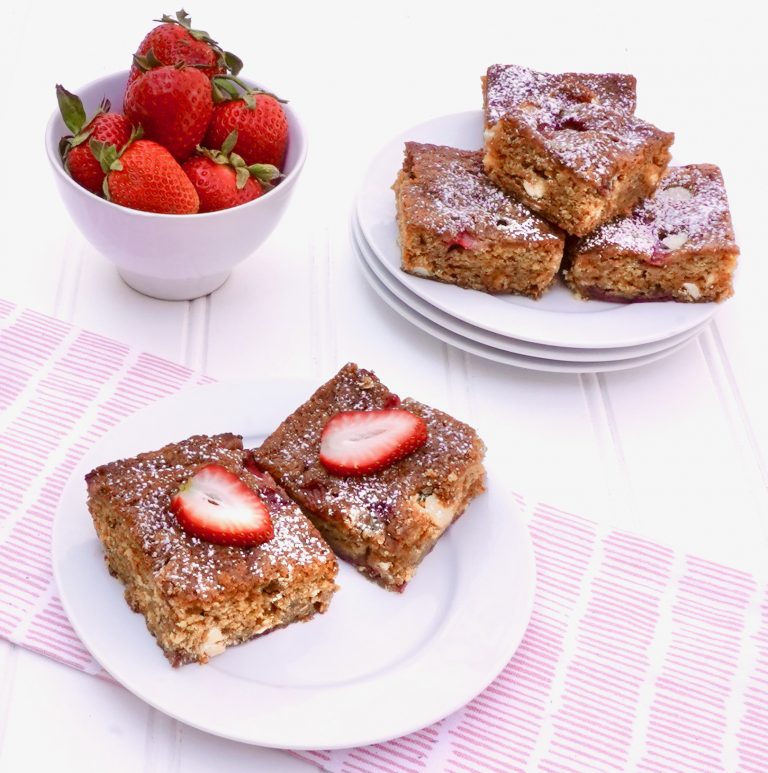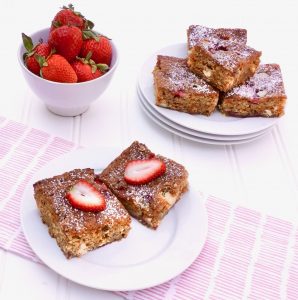 Strawberry Blondies are easy to make bars made with fresh strawberries, brown sugar and white chocolate chips. They are rich and moist with a wonderful strawberry flavor. They are an easy way to bake for a group and will certainly satisfy your sweet tooth!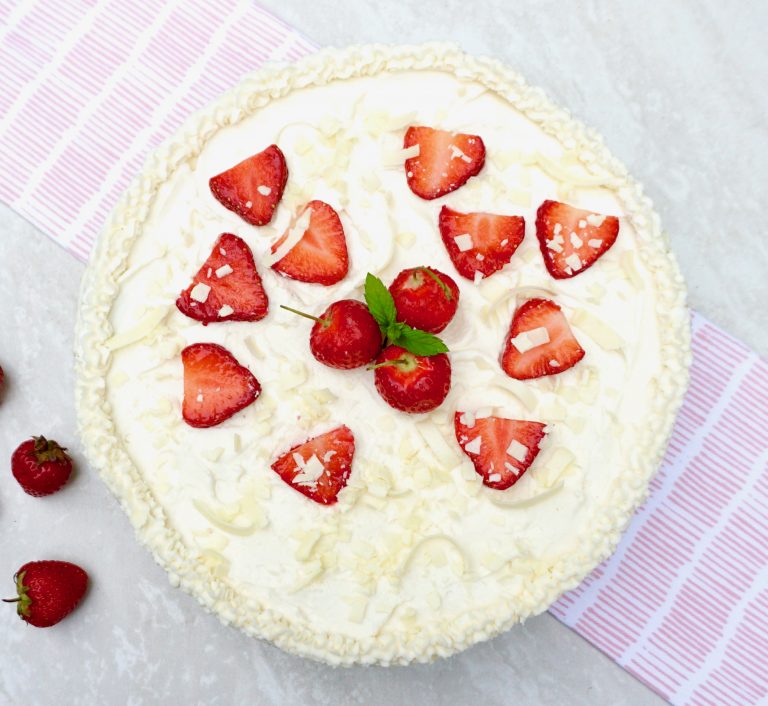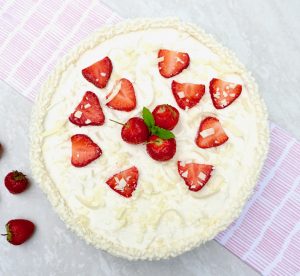 Strawberry Icebox Cake isn't really a cake!  You don't need to bake it or turn on your oven. It is an easy dessert for a warm summer day. This simple no bake dessert has layers of graham crackers, a heavy cream and Mascarpone cream cheese mixture, white chocolate and fresh strawberries. This is an easy strawberry dessert to make all summer long.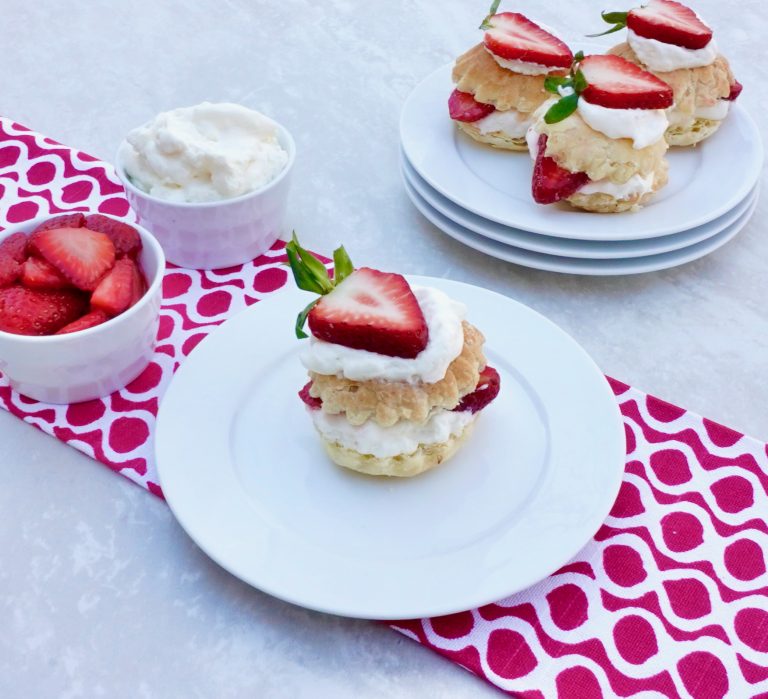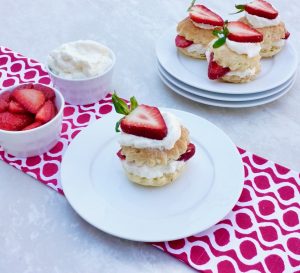 Strawberry Shortcake Bites are a nice mini version of the classic summer dessert. They are the perfect size to enjoy without being too heavy. One of those easy summer dessert recipes, these bites are simple to make using frozen puff pastry. Sweet berries and whipped cream make a light filling that is delicious.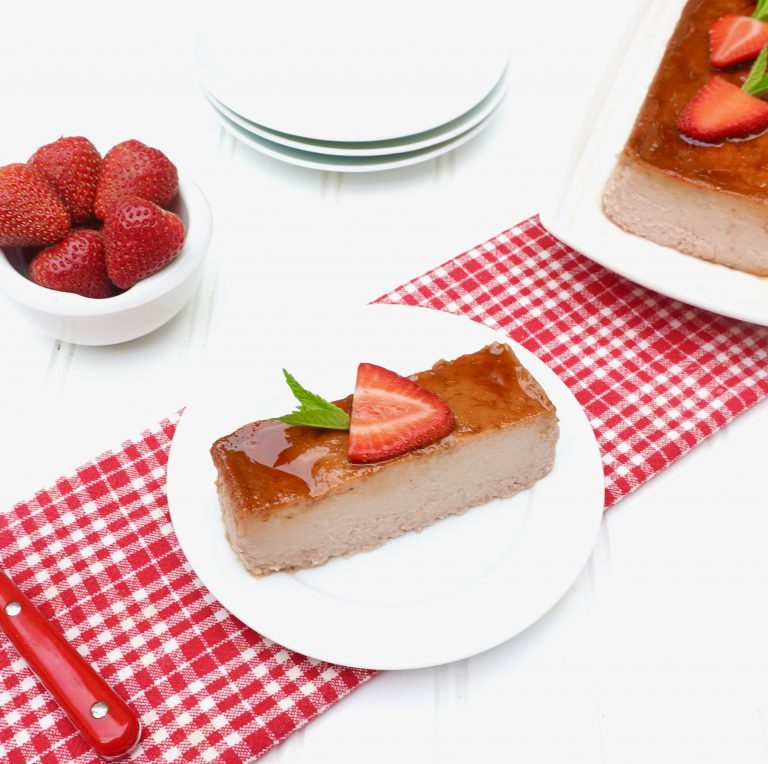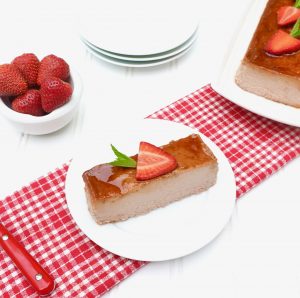 Adding strawberries is the best way to make a flan! Homemade Strawberry Flan is a vibrant, delicious twist on a beloved Spanish flan recipe. This simple dessert marries ripe strawberries and creamy custard with a caramelized topping for a fresh twist on a classic favorite.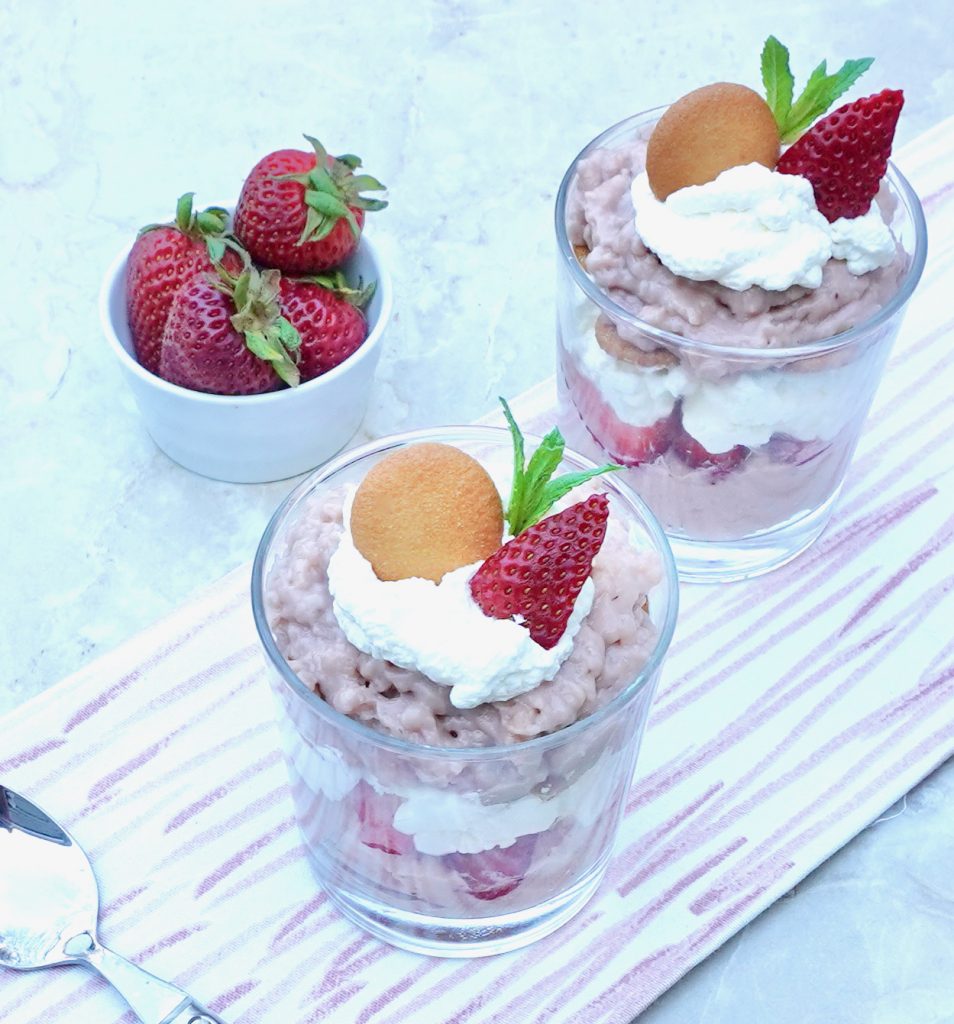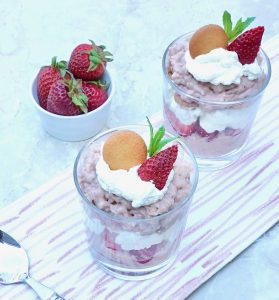 Strawberry Trifles are easy to make pudding desserts. Fresh farmers market strawberries are pureed and cooked right in the custard, making for a colorful and flavorful base. Vanilla Wafers and sliced strawberries are layered with the custard and then topped with fresh whipped cream.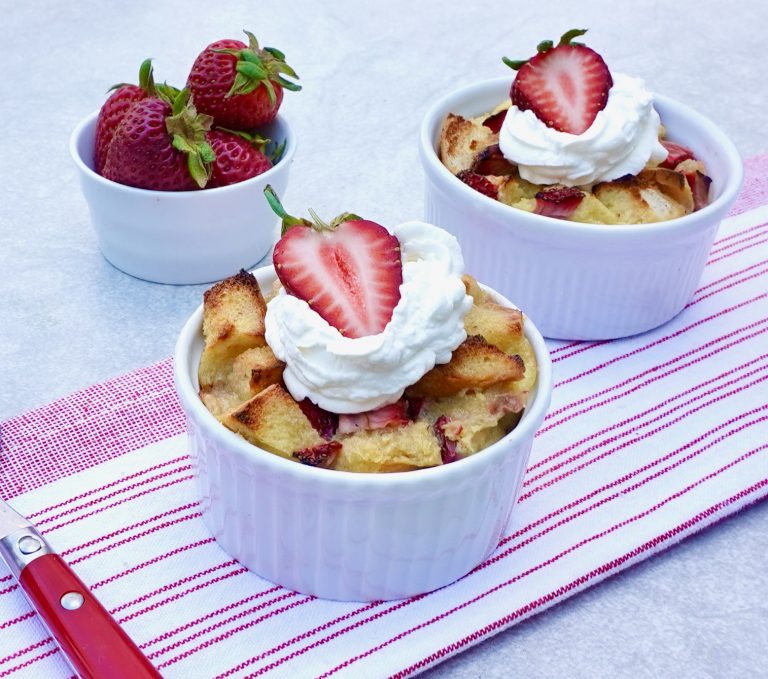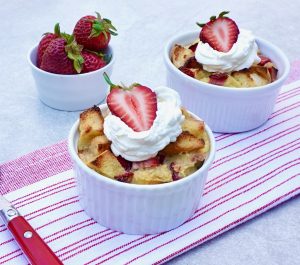 Strawberry Bread Pudding is a delicious sweet treat made with fresh strawberries.  It is a great dessert, but you could actually eat if for breakfast as well! The fresh strawberries and creamy texture are a perfect way to start the day. You can serve this warm with a scoop of vanilla ice cream, at room temperature or chilled with a dollop of whipped cream on top!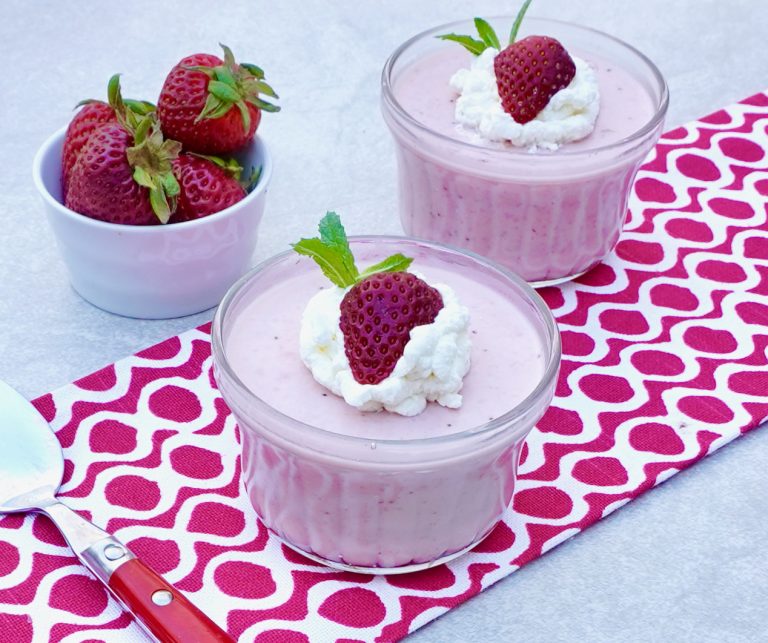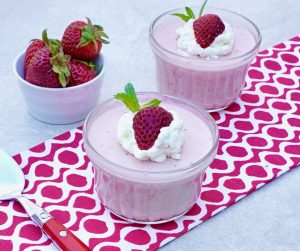 Strawberry Panna Cotta is one of the best desserts to make during strawberry season. This is a popular Italian dessert that is cream based and thickened with gelatin. It is a custard like, delicate dessert that has strawberry puree added. With just a few simple ingredients you can put this no bake dessert together fairly quickly and have a fresh strawberry flavor.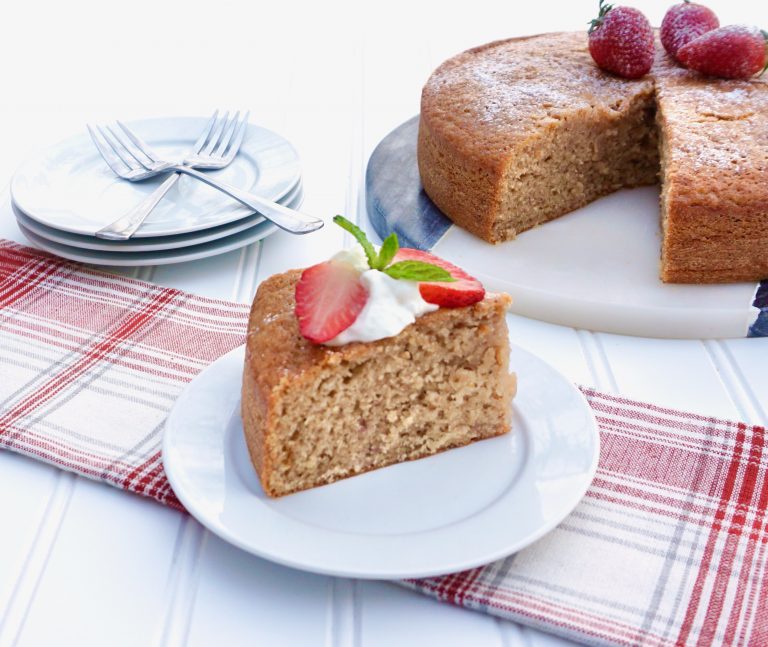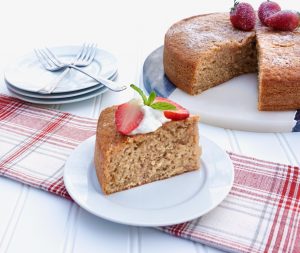 A simple cake that can be made in one bowl without a mixer makes a perfect dessert. Strawberry Olive Oil Cake is one of those cakes. Olive oil cakes are the moistest cakes and not overly sweet. They are a similar density to a pound cake. Simply sprinkle with powdered sugar and you are ready to go.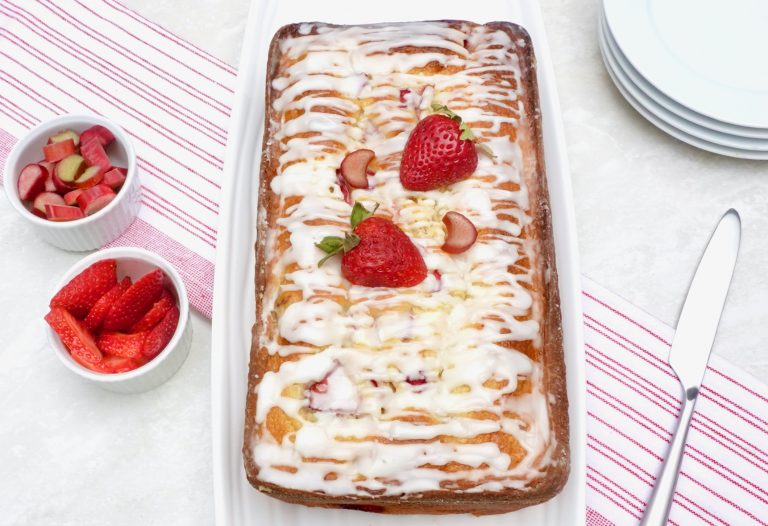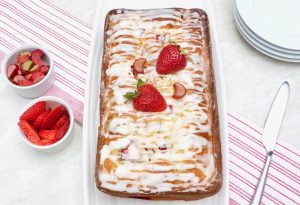 Baking easy cakes with seasonal ingredients is always a good choice. Strawberry Rhubarb Cake is a one bowl, no mixer required cake that is so delicious. This super moist cake is made with yogurt which is a great addition.This simple loaf cake combines two great early summer ingredients. Rhubarb and fresh strawberries are a perfect combination.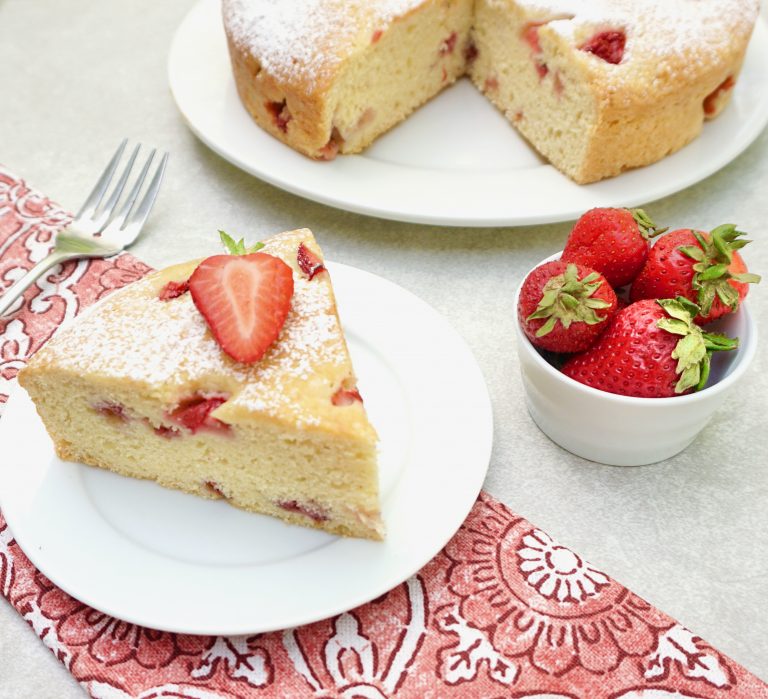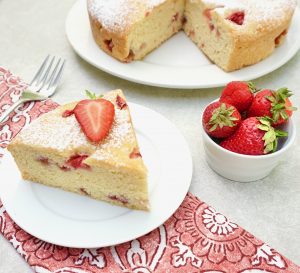 Strawberry Ricotta Cake is a moist, vanilla flavored cake that is baked using fresh strawberries. This cake is easy to make, no mixer required. It is delicious enough on its own that it doesn't even require frosting. Fresh seasonal strawberries are the key component of the cake.
I hope that 20 Simple Summer Strawberry Recipes has given you some inspiration for enjoying the summer berries. Check out How Strawberry Plants Grow to learn more about the summer strawberries. Enjoy!