Do you remember a few years back when Pumpkin Gingerbread Trifle went viral? I made it as fast as I could!  Pumpkin, gingerbread cake and whipped cream are an amazing combination.
After making this a few times, I knew that I needed to make some changes. The original recipe calls for instant pudding, packaged cake mix and a frozen whipped topping. I knew that it would taste better if it were made from scratch, so last year I did just that.
This version of Pumpkin Gingerbread Trifle is made with real whipped cream, a homemade cake and pumpkin custard. It's the original only better because it is all fresh!
If this entire process is too much for you and you want to take some shortcuts, the gingerbread could be replaced by a mix and there would not be a huge difference. The custard and whipped cream are 100 percent better from scratch!
If you are looking for some other pumpkin desserts, check out Pumpkin Creme Brûlée Pumpkin Panna Cotta and Pumpkin Rum Bread Pudding.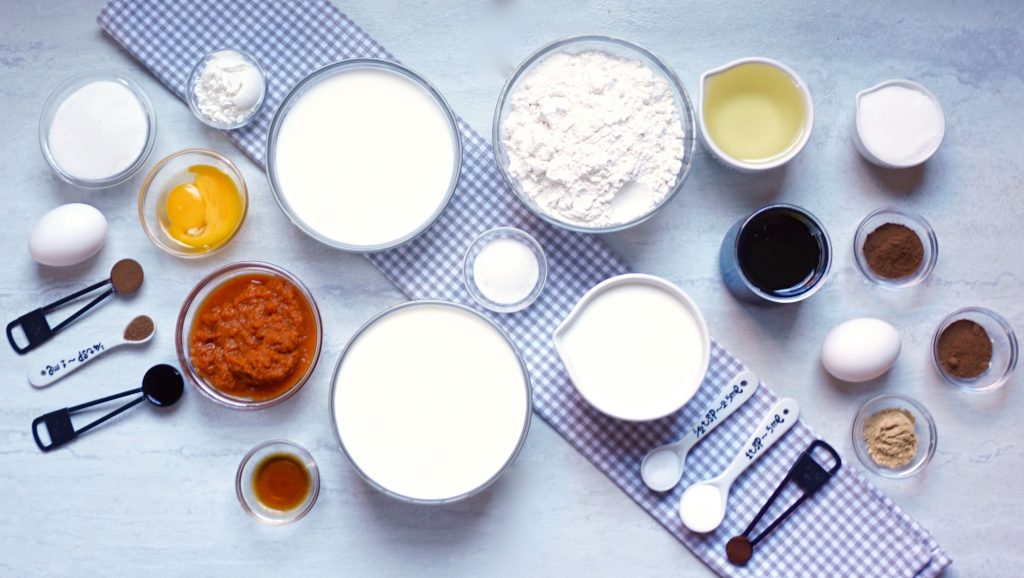 Pumpkin Gingerbread Trifle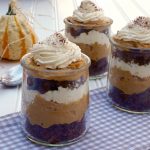 Print This
Ingredients
GINGERBREAD:

½ cup vegetable oil

2 large eggs

¾ cup molasses

1 cup buttermilk *see note

2 cups all purpose flour

¼ cup sugar

1 teaspoon baking soda

½ teaspoon salt

1 teaspoon ginger

1 teaspoon cinnamon

½ teaspoon ground nutmeg

¼ teaspoon ground cloves

PUMPKIN CUSTARD:

1/3 cup sugar

2 tablespoons cornstarch

2 cup whole milk

2 large egg yolks

1 teaspoon vanilla extract

½ cup pumpkin puree

¼ teaspoon ground nutmeg

¼ teaspoon cinnamon

WHIPPED CREAM

2 cups heavy cream or whipping cream

1 teaspoon vanilla extract

4 teaspoons granulated sugar
Instructions
GINGERBREAD:
Preheat the oven to 350 degrees
Grease and flour a 9' square cake pan
In a large bowl, whisk the vegetable oil, eggs, molasses and buttermilk to combine well.
Add the flour, sugar, baking soda, salt, ginger, cinnamon, nutmeg and cloves to the bowl and mix together with a rubber spatula.
Pour the batter into the prepared cake pan.
Bake for 35 to 40 minutes until the cake is completely set and browned. Let the gingerbread sit to cool for 10 minutes. Remove from the pan to a wire rack and let it cool completely.
PUMPKIN CUSTARD:
In a medium saucepan, combine the sugar, cornstarch and vanilla. Gradually stir in the milk. Heat over medium heat, stirring constantly until the mixture comes to a boil. Keep whisking the bubbling mixture with the heat still on for one minute, whisking constantly. Remove from the heat.
Beat the egg yolks in a medium sized bowl. Pour 1/3 of the hot custard mixture into the egg yolks, beating constantly. Pour this mixture back into the custard in the pan. Combine well and return to medium heat. Boil, whisking for another minute. Add the pumpkin, cinnamon and nutmeg to the custard. Combine well and let this boil for another minute, whisking. Remove from the heat and cool.
WHIPPED CREAM:
An hour before whipping the cream, place a glass bowl and your beaters into the freezer. Make sure you are using a glass bowl for the best results!
Pour the cream into your chilled bowl and add the vanilla extract. Beat the cream on high speed until it begins to thicken. When it holds soft peaks, begin to add the sugar, one teaspoon at a time, beating well after each addition until the cream is very firm.
ASSEMBLY:
You can assemble this in 8 small serving glasses or one larger trifle bowl.
Cut the gingerbread into two halves and crumble it. Evenly distribute the first half of the crumbles at the bottom of your serving glasses or trifle bowl.
Evenly spoon one half of the pumpkin custard over the gingerbread crumbs. Evenly spoon one half of the whipped cream evenly in your glasses over the custard.
Repeat layering with the second half of the gingerbread crumbles, custard and whipped cream.
Sprinkle a bit of cinnamon over the top of the whipped cream.
Notes
You do not have to buy an entire container of buttermilk just to make this recipe. Add 2½ teaspoons of white vinegar to the milk. Let it sit for 15 minutes and you will have what you need!