If you are looking for something simple and refreshing you should try Banana Swirl Bowl .With just a few ingredients and a food processor you can make this easy frozen treat.
If you have never heard of nice cream, it is made by processing frozen bananas into a mixture that resembles ice cream. This mixture is the base for the bowl.
For this bowl we are adding a pureed strawberry topping and some fresh blueberries. This 5 ingredient recipe has a lot of flavor while being nice and healthy.
If you prefer to bake with your ripe bananas, or they are too ripe for making  this Banana Swirl Bowl, pull out your bread loaf pan and check out Chocolate Chip Banana Bread, Blueberry Banana Bread and Strawberry Streusel Banana Bread. If you prefer muffins over banana bread recipes, check out Strawberry Banana Muffins and Banana Chocolate Chip Muffins.
If you want to try some other simple frozen treats check out Italian Lemon Sorbet and Blueberry Gelato.
SOME THINGS TO KNOW:
You can leave the cream  out of this recipe if you want to make this vegan. The cream does however make it taste a bit closer to ice cream.
You need the right equipment to process the frozen bananas. You need to use a food processor or a high speed blender that has enough power to break the frozen bananas down.
You want to use very ripe bananas in the recipe to get enough sweetness. They should not be overripe bananas that have started to blacken. Save those for baking.
You can eat the banana nice cream mixture as soon as you make it or place it into the freezer and eat it the next day. You can leave it in the freezer for 2-3 months in an airtight freezer container.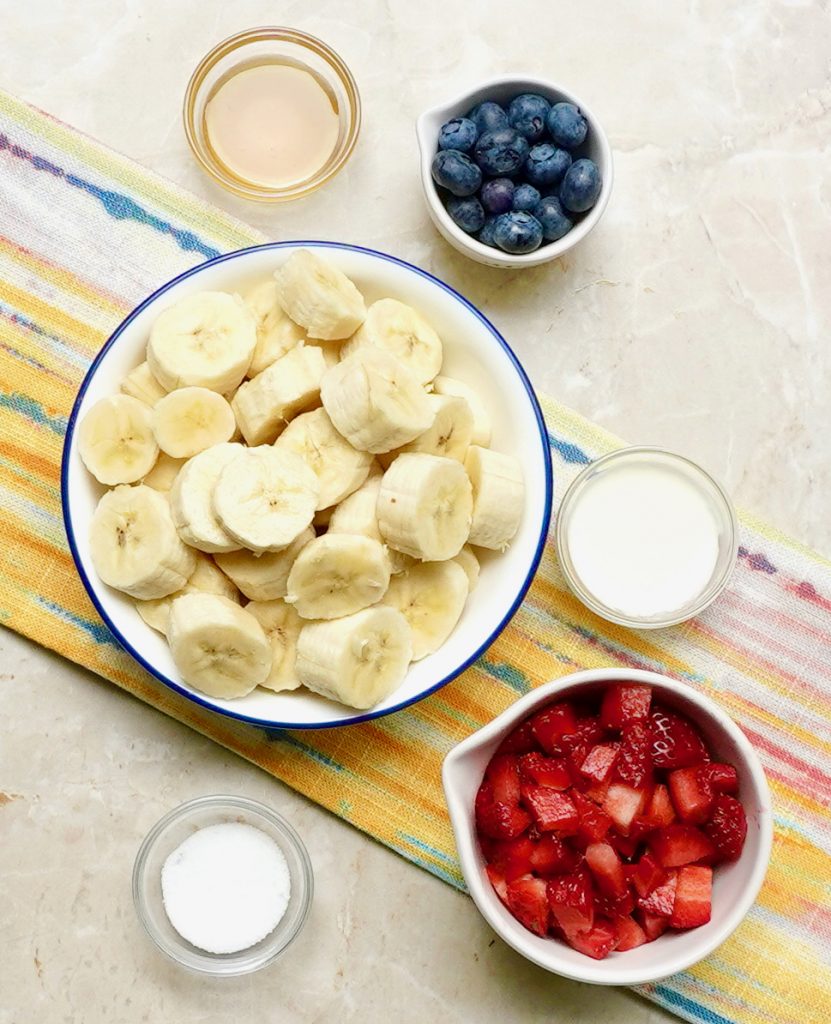 Banana Swirl Bowl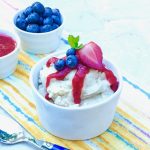 Print This
Ingredients
4 ripe bananas, peeled and cut into 1 inch slices

1 tablespoon honey

2 tablespoons heavy cream

1 cup fresh strawberries, stems removed and sliced

2 teaspoons granulated sugar

¼ cup fresh blueberries
Instructions
Place your banana slices onto a baking sheet that has been lined with a piece of parchment paper. Place them onto the sheet in a single layer and put them into the freezer until they are frozen solid. This will take at least 2-3 hours. The longer you can freeze them, the better. 8 – 12 hours would be the best.
You can keep the bananas in the freezer for a longer period if you want to. Make sure to place them into an airtight container or freezer bag and return them to the freezer. They can be prepped ahead for the next time you want to make this.
When you are ready to make this, place the frozen banana slices into a food processor or high-speed blender.
Add the honey and heavy cream.
Begin to process the mixture by pulsing them together. At first the mixture will be crumbly. As you keep pulsing, it will slowly start to smooth out with some chunks at first and finally it will be smooth,  thick and creamy. You can eat this at once or place it back into the freezer to firm up a bit more.
To make the strawberry puree, ad the strawberries and sugar to a food processor or blend. Puree until smooth.
To assemble the bowls, divide the banana mixture between 2 bowls. Drizzle the strawberry puree over the nice cream and add some fresh blueberries.