Do you need a quick and easy weeknight meal that doesn't skimp on flavor? Look no further. Mexican Chicken Crema Recipe checks all the boxes! This traditional Mexican dish known as pollo con crema, can be served on a plate with rice, rolled into warm tortillas, or be made into chicken tacos.
With strips of boneless chicken breasts, tender white mushrooms, bell peppers, red onions and a rich, flavorful, creamy sauce, this one-pan wonder is the perfect way to turn simple ingredients into a flavorful meal. This creamy chicken and mushroom recipe is a weeknight dinner that the whole family will enjoy. This simple recipe will become a favorite dish for you to prepare fast on a busy weeknight as it on the table in 3o minutes!
Discover the rich and comforting flavors of this Mexican Chicken Crema Recipe. With tender chicken and a creamy, spicy sauce, this dish is delicious! Check out Black Bean Mexican Rice if you are looking for something to serve with it. Made with tomatoes, black beans, onions, garlic and spices, it would be a good addition.
If you would like to try some other creamy chicken dishes that are quick-fix meals, check out Creamy Sun Dried Tomato Chicken, Creamy Mushroom Spinach Chicken and Creamy Lemon Chicken.
If you would like to try some other creamy Mexican crema style recipes, check out Caldo de Queso and Mexican Street Corn Pasta Salad. You might also like Avocado Crema.
SOME THINGS TO KNOW: FAQ'S 
SPECIAL EQUIPMENT REQUIRED:
STEPS TO MAKE THIS RECIPE:
Prep your ingredients
Cook the chicken
 Sauté the vegetables
Season the mixture
Make the creamy sauce
Combine everything
Serve
SUBSTITUTIONS:
If you prefer dark meat chicken, use boneless, skinless chicken thighs. You can also use cooked leftover chicken that has been shredded. Simply skip the first step of the recipe instructions and stir the chicken in at the end.
If you chose to serve the chicken wrapped in a tortilla, either flour tortillas or corn tortillas would be fine.
If you do not have heavy cream, heavy whipping cream or half and half that has been combined with a tablespoon of butter (melted)  would be good substitutions.
Chili Powder can be substituted for the Smoky Paprika.
You can substitute Red Pepper Flakes for the Cayenne Pepper.
If you do not have red onion, yellow, white or green onion can be substituted.
Some good substitutes for the sour cream would be plain yogurt (whole milk), cream cheese, or Crema Mexicana.
HOW TO STORE AND REHEAT THE LEFTOVERS:
You can store any leftovers from this Mexican Chicken Crema recipe in an airtight container in the refrigerator for 2-3 days.
You should not try to freeze the leftovers. The sour cream and heavy cream in the cream sauce can separate when thawed and the dish will not be the same.
You can reheat the leftovers covered in the microwave. The times will vary depending on how much you are reheating. You can also reheat it in a skillet one the stovetop at medium-low heat, stirring occasionally until it is heated through.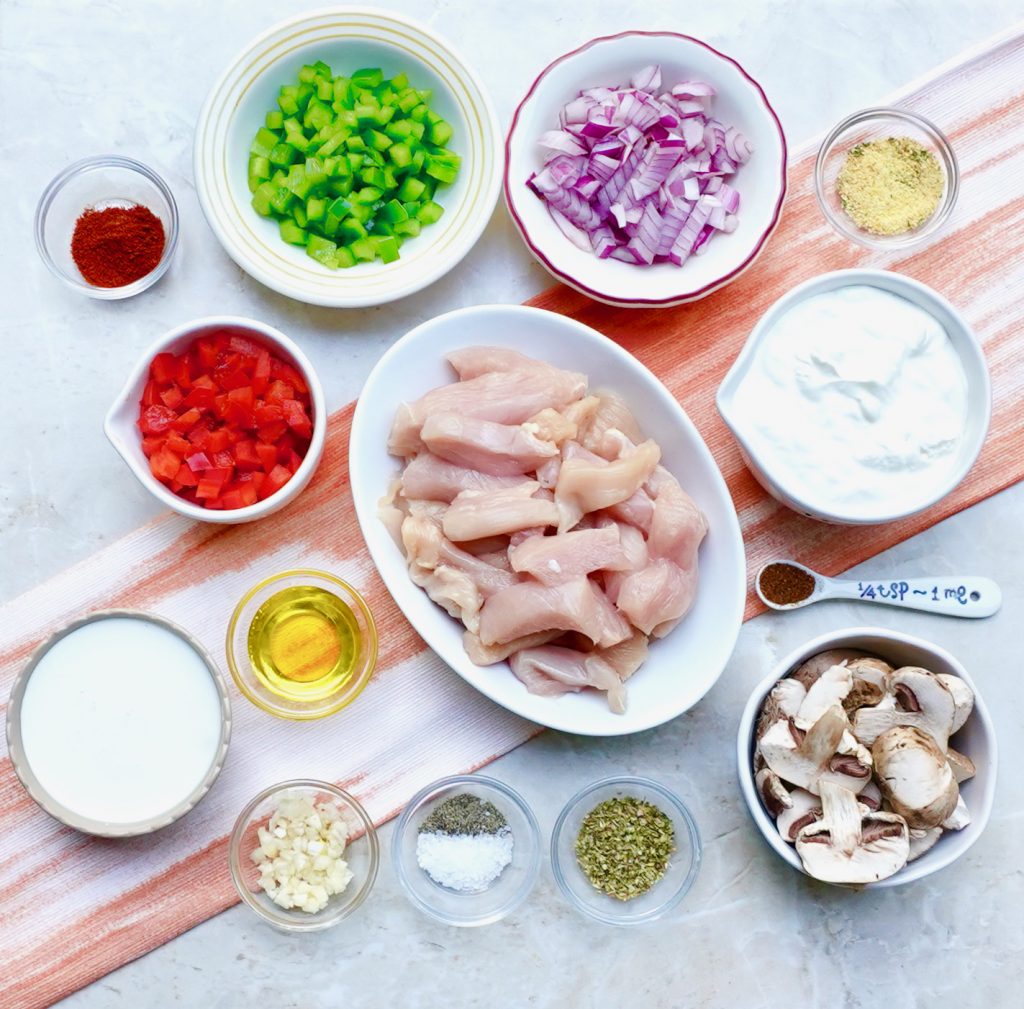 Mexican Chicken Crema Recipe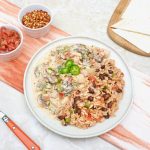 Print This
Ingredients
2 tablespoons olive oil

1 pound boneless, skinless chicken breast, cut into 1 " strips

8 ounces white mushrooms, sliced

½ cup green bell peppers, diced

½ cup sweet onions, diced

1 teaspoon chicken bouillon

1 teaspoon smoked paprika

1 teaspoon dried oregano

¼ teaspoon cayenne pepper

1 cup sour cream

½ cup heavy cream
Instructions
Cut your chicken breast into 1″ strips, slice the mushrooms, and dice your bell peppers and onions.
Heat 2 tablespoons of olive oil in a large skillet over medium- high heat. Add the chicken pieces to the pan and cook until they're golden brown and no longer pink in the middle, about 5 minutes. The chicken strips should have an internal temperature of 165 degrees.
Remove the chicken from the skillet and set it aside on a plate.
In the same skillet, add the sliced mushrooms, diced bell peppers, and sweet onions. Cook over medium heat until the vegetables are soft and the mushrooms have released their juices, about 5 minutes.
Sprinkle in the chicken bouillon, smoked paprika, dried oregano, and cayenne pepper. Stir everything together well so  that the vegetables are evenly coated with the seasonings.
Lower the heat and stir in the sour cream and heavy cream. Stir until you have a smooth and creamy sauce. If the sauce is too thick, you can thin it with a little bit of chicken broth or additional heavy cream. Add salt and pepper to taste.
Return the cooked chicken to the skillet, stirring to coat the chicken in the creamy sauce. Let everything simmer for a few minutes so the flavors can meld together.
Serve your Creamy Mexican Chicken Crema hot, garnished with fresh cilantro. You could also squeeze a bit of lime juice over it to add some brightness.