Are you a fan of salsa that has a bit of heat? If you answered yes, you will love this Salsa Taquera. If you have ever eaten at Mexican restaurants, taco shops or taco stands, you might be familiar with this authentic Mexican salsa recipe. It is one of the most popular salsa recipes and it is widely used in Mexican cuisine as a topping for tacos. With just a few simple ingredients you can create this taqueria style salsa at home.
While the vegetables are traditionally charred on the stovetop in a skillet over medium heat, we are roasting them in the oven at s high temperature to achieve the same effect with less hands on time. This simple recipe cooks in 30 minutes and will make a flavorful taqueria- style salsa topping for your favorite tacos. Try it out for your next Taco Tuesday meal.
The one thing you need to control while making this recipe is getting the right amount of heat for your taste buds. In this recipe, we used three Arbol chili peppers and one small jalapeno pepper. The seeds were removed from all the peppers. The salsa with this spice level had a slight quick and you could feel some heat but it was not overwhelming. If you are a fan of spicy food you could leave the seeds in the peppers, and add a couple additional peppers to create a very spicy salsa. It can easily be adjusted to your own taste.
If you would like to try another easy red salsa that you can make at home and is a milder salsa, check out Tomato Salsa.If you want to try another type of homemade salsa, check out Black Bean Corn Salsa.
This salsa would make a good topping for Turkey Black Bean Tacos and Chipotle Chicken Tacos. You could also use it to make Salsa Ranch Dressing.
SOME THINGS TO KNOW FAQ'S:
SUBSTITUTIONS:
Chiles de Arbol are readily available to purchase online. If you cannot find them you can substitute Cayenne peppers.
A good substitute for Jalapeno peppers would be Serrano peppers.
The yellow onion can be substituted with white onion or even red onion.
HOW TO STORE SALSA TAQUERA:
Salsa Taquera can be stored in the refrigerator for 3-5 days in an airtight container.
Since the fresh vegetables are cooked in the recipe, it can also be placed in an airtight freezer container and frozen for 2-3 months.
ABOUT HOT PEPPERS:
Much of the heat in these peppers comes from the seeds and the ribs of the pepper. If you want to cut down on the intensity of the heat, simply remove them. Read How to Make a Chili Pepper Less Spicy.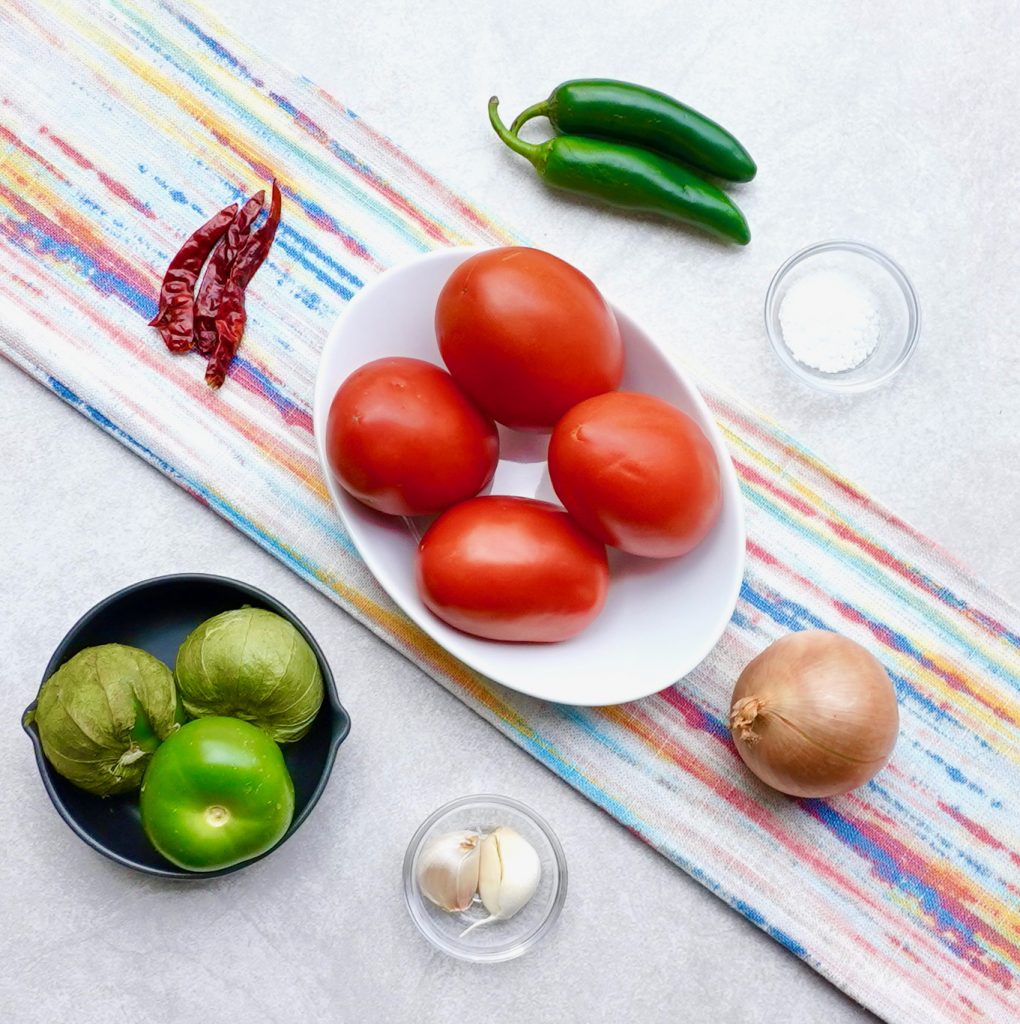 Roast the vegetables until they look slightly charred.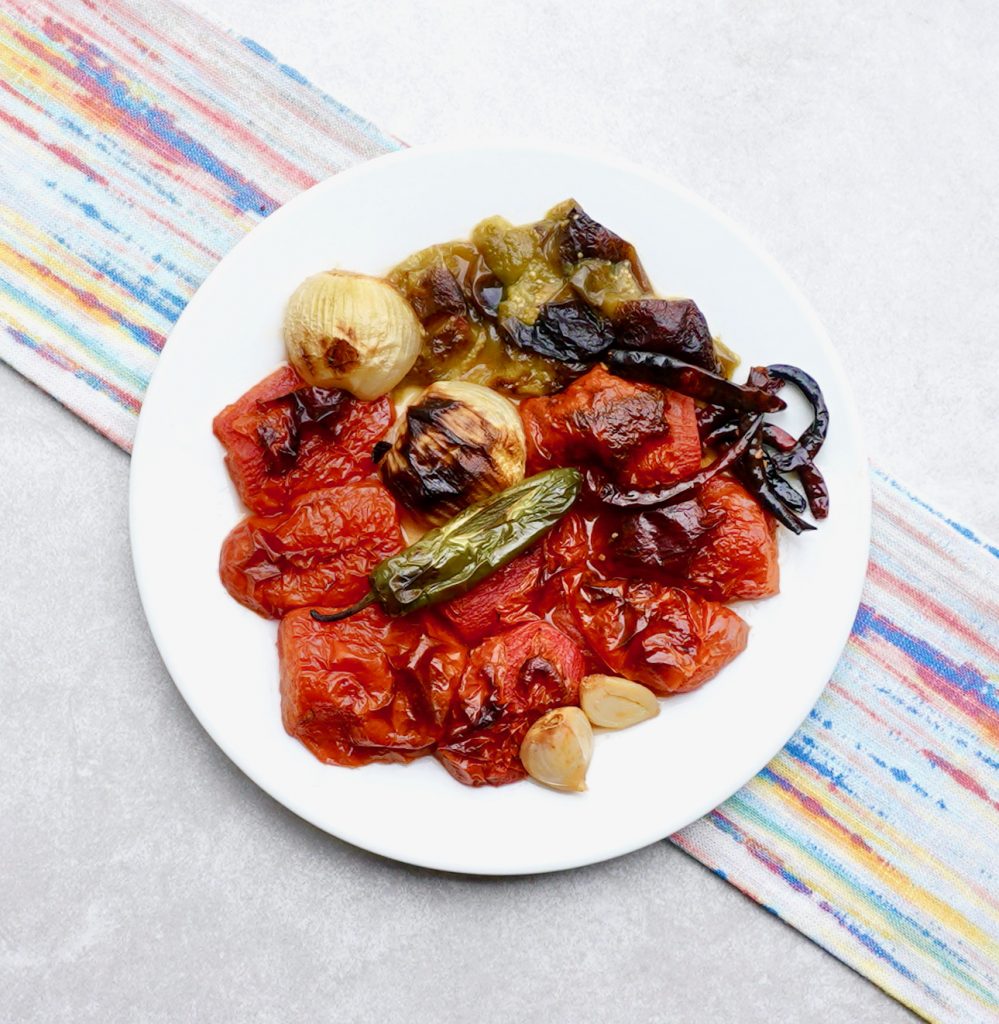 Salsa Taquera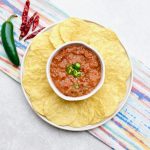 Print This
Ingredients
3-4 plum tomatoes or Roma tomatoes (1 pound, cut in half)

3 tomatillo ( 8 ounces, outer husk removed and cut in half)

1 small yellow onion, peeled and cut in half

3 chiles de arbol, stems removed

1 -2 jalapeno peppers

2 garlic cloves, unpeeled

2 tablespoons of oil, olive oil or canola oil

1 teaspoon kosher salt

Optional additions:

1 tablespoon fresh cilantro, chopped

1 tablespoon fresh lime juice
Instructions
Preheat the oven to 450 degrees.
Line a large baking sheet with foil. Spray the sheet with cooking spray.
Place the tomatoes, tomatillos, and onions cut size down onto the baking sheet.
Add the chili peppers, jalapeno pepper and garlic cloves.
Drizzle the oil over the vegetables.
Place the baking sheet into the preheated oven and set a timer for 5 minutes. When the timer sounds remove the chili peppers from the oven.
Reset the timer for 10 minutes. When the timer sounds, remove the jalapeno peppers and garlic cloves from the oven.
Let the tomatoes, tomatillos, and onion continue to roast for an additional 15 minutes. You want them to look slightly charred.
If you want to control the amount of heat in the salsa, split open the chili peppers and the jalapeno pepper and remove the seeds.
Place the  chili peppers,  jalepeno pepper, tomatoes, tomatillos, onions and salt into the bowl of a food processor or blender.
Peel the garlic cloves and them to the processor along with the cilantro and lime juice if you choose to use them.
Pulse the mixture until it is well blended and a smooth thick consistency with just a bit of texture.
Place into a serving bowl and serve with tortilla chips. This be best served at room temperature.