If you like cheesy garlic bread, this is the perfect recipe for you! Parmesan Bread Bites are loaded with flavor and so simple to make. Serve them with some marinara sauce or your favorite dipping sauce and you have a great appetizer fast. Who doesn't love a delicious finger food and this easy appetizer is just that.
This parmesan bites recipe is a quick fix. You can use pre- made pizza dough an a few other basic ingredients to create these cheesy bites that are full of flavor. It is a very easy recipe that anyone can make. If you want to serve them at your next party you could prep them a couple hours ahead of time, cover the baking sheet with plastic wrap and store them in the refrigerator until you are ready to bake and serve them.
Parmesan Bread Bites could also be served as a fun side dish to an Italian meal with a main course such as Bolognese Sauce. They would be so good together.
If you would like to try another recipe using garlic and pizza dough, check out Garlic Knots. You might also like Air Fryer Pita Chips.
SOME THINGS TO KNOW:
SUBSTITUTIONS:
This recipe is using a refrigerated pizza dough. If you have a favorite homemade dough that you make, go for it. You will need between 13-16 ounces of dough. You could also purchase pizza dough from your favorite pizza place.
If you are not a fan of butter, olive oil will work just fine.
You can swap out the parsley and crushed red pepper for Italian seasoning or your favorite fresh herbs.
If you do not have shredded parmesan cheese, you can use grated parmesan cheese. If you prefer other cheeses such as mozzarella cheese or asiago cheese, use them! Just make sure that they are shredded or grated fine as the bites are quite small.
Another option to serving the bites with marinara sauce is a warm pizza sauce.
STORAGE:
Store leftovers in an airtight container in the refrigerator for 2-3 days.
You can also freeze the baked bites in an airtight freezer container for 2-3 months.
While the Parmesan Bread Bites will be best when freshly baked, you can carefully reheat them in the oven or in an air fryer.
Oven method:
Preheat the oven to 350 degrees. Place the defrosted bites onto a baking sheet and place into the oven. Bake for 10 -15 minutes. Check them often. You want them to just be heated through and not dried out.
Air Fryer Method:
Set the air fryer to reheat at 350 degrees. Place the defrosted bites into the basket of the air fryer. Bake for 5 minutes then check them. They should be heated through. If they are not, add an additional 1-2 minutes of baking time.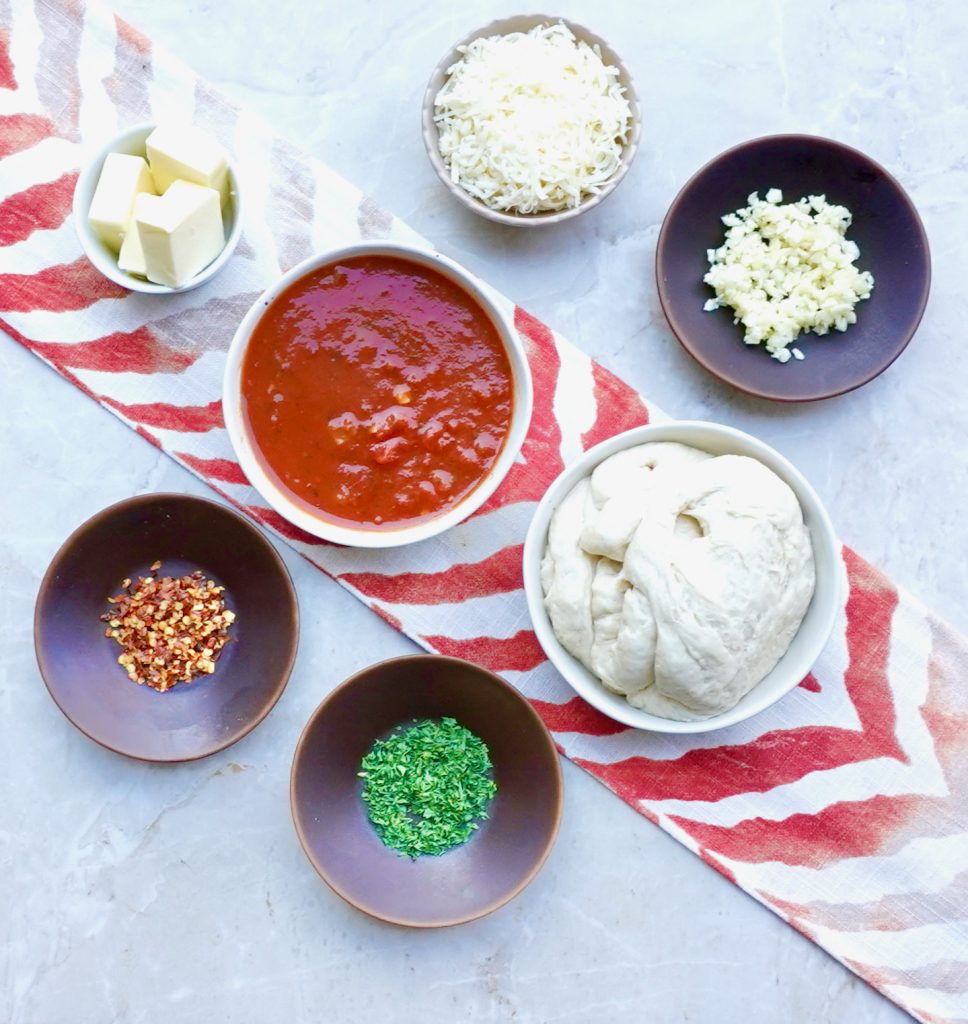 You will cut the dough first into 1-inch strips then you will the strips into 1 " bite-sized pieces.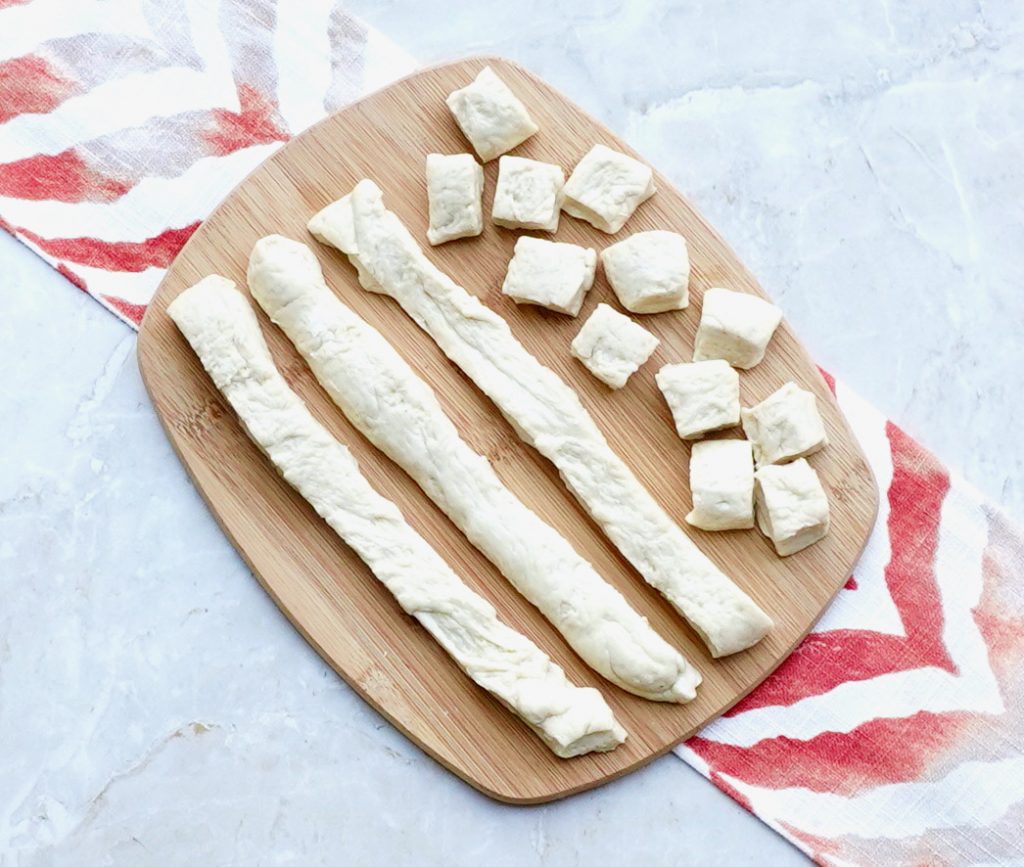 Parmesan Bread Bites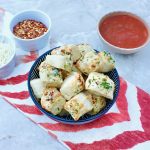 Print This
Ingredients
13.8 ounce refrigerated pizza crust dough at room temperature (let it sit out 1 hour)

2 tablespoons unsalted butter, melted

2 garlic cloves, minced very small

½ cup shredded parmesan cheese

1 tablespoon dried parsley

1 teaspoon crushed red pepper flakes
Instructions
Preheat the over to 350 degrees.
Line a large baking sheet with parchment paper. You can also use a lightly greased baking sheet.
Take your dough and form it into a dough ball.
Place the ball onto a flat surface that has been lightly floured to roll out the dough. You can also place the dough between 2 sheets of wax paper to roll it out.
Roll the dough into a rectangle that is 9″ long x 6″ wide.
Using a sharp knife or pizza cutter, cut six one inch wide strips of dough. Take each strip and cut it into nine one inch square bit size pieces. Do not worry if they are not perfectly square. They will puff up while baking and be fine!
Place the dough squares onto the baking sheet 1½ inches apart.
Place butter in a small saucepan. Melt it over low heat.
Use a pastry brush to lightly brush the top of each dough square with the melted butter.
Place a few small pieces of the minced garlic on the top of each dough square.
Add ¼ teaspoon of the shredded parmesan to the top of each square.
Add a pinch of the parsley to the top of each square.
Add 3-4 red pepper flakes to each square.
Place the bites into the preheated oven.
Let them bake for 10-12 minutes, turning the baking sheet halfway through the baking process to ensure that the little nuggets bake evenly. You want them to be a light golden brown. Watch them carefully at the end to make sure they do not over bake.
Remove them from the oven and add a pinch more of parmesan cheese to the hot bites.
Serve hot with marinara sauce.
Notes
** You may want to put the red pepper flakes on only half of the bites or leave it off entirely if you do not want the heat they provide.