Ciabatta Garlic Bread takes the rustic charm of ciabatta and elevates it with a rich blend of fresh garlic, olive oil, butter, and  parmesan cheese. Fresh parsley adds a touch of color and freshness, making each bite a delightful experience.
 Whether you're hosting a dinner party or enjoying a quiet evening meal this Ciabatta Garlic Bread recipe would be a good addition.This simple cheesy garlic bread is a testament to the beauty of simple ingredients coming together to create something delicious. It would make a perfect side dish for a hearty soup, or pasta dishes.
This easy garlic bread recipe takes only a few minutes to put together and has a bake time of just 10-12 minutes.
If you are a fan of garlic bread, you might also like Garlic Knots and Parmesan Bread Bites with their cheesy topping.
SOME THINGS TO KNOW: FAQ'S 
INGREDIENT TIPS:
Ciabatta is an Italian yeast artisan bread. It is a flat long loaf that has a crisp crust and a large airy crumb with irregular holes inside.  It has a nice chewy texture.
Read How to Buy Fresh Garlic at the Grocery so you pick a perfect head.
SPECIAL EQUIPMENT NEEDED:
​Sheet pan/baking sheet
Serrated knife/bread knife
SUBSTITUTIONS:
The olive oil can be substituted with canola or vegetable oil.
 Unsalted butter can be used in place of the salted butter.Just add a pinch of kosher salt to the mixture.
Romano or Asiago cheese can be used as alternatives to the Parmesan cheese.
If you do not have fresh parsley, dried parsley can be used. Reduce the amount to 2 teaspoons. You could also use other fresh herbs that you have on hand or dry Italian seasoning.
You could use ciabatta rolls to make this instead of a bread loaf.
If you cannot locate a ciabatta loaf at the grocery store, Italian Bread or French bread can be substituted.​
HOW TO STORE LEFTOVER CIABATTA GARLIC BREAD:
You can keep the garlic bread in the refrigerator wrapped in plastic wrap for a couple of days.
You can freeze the garlic bread for up to 3 months in an airtight freezer-safe bag or wrapped in freezer wrap.
HOW TO REHEAT CIABATTA GARLIC BREAD:
Place the garlic bread into a pre-heated 350 degree oven tightly wrapper in aluminum foil. Heat for 5-10 minutes until warm.
Slice the bread in half using a serrated knife.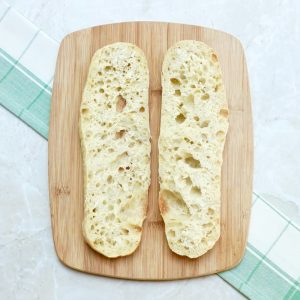 Place the topping ingredients into a small bowl.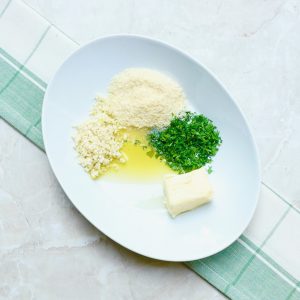 Combine everything together well to make a spread.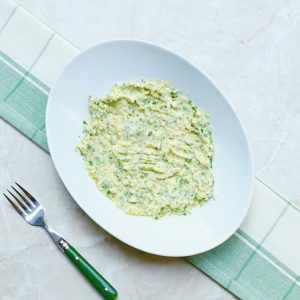 Use a knife to evenly spread the mixture evenly over both halves of the bread.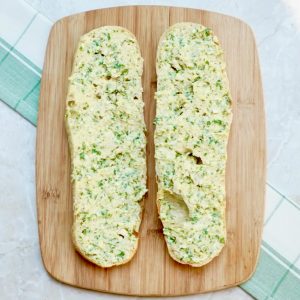 Ciabatta Garlic Bread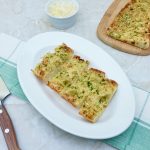 Print This
Ingredients
2 tablespoons olive oil

3 tablespoons salted butter, softened to room temperature

3 fresh garlic cloves, minced

2 tablespoons parmesan cheese, grated

2 tablespoons fresh parsley, chopped

12" ciabatta bread (9-10 ounce loaf)
Instructions
Preheat your oven to 375°F
In a small bowl, add the olive oil and salted butter. Combine the butter mixture well.
Add the minced garlic, grated parmesan cheese and chopped parsley. Combine the garlic mixture well.
Slice the ciabatta bread in half horizontally.
Spread the garlic butter mixture evenly over the cut sides of the ciabatta.
Place the ciabatta halves on a baking sheet and bake in the preheated oven for 10-12 minutes, or until the edges of the bread are golden brown and crispy. You can line the baking sheet with parchment paper for easier clean up.
Slice and serve warm.