Pumpkin Rolls are a great addition to your fall holiday meals and dinners during pumpkin season. They are similar to a classic Parker House roll but they have the addition of pumpkin puree. The pumpkin gives them great color and makes them soft and fluffy inside.
Any time that you bake yeast breads or rolls, make sure that you allow yourself an ample amount of time. You need to allow for kneading and letting the dough rise twice. My advice would be, do not try and make these on Thanksgiving morning. These rolls will freeze well so you can make them in advance of a holiday meal and simply take them out to defrost in the morning.
Pumpkin Rolls add a touch of festivity to a Thanksgiving bread basket. If you are a fan of pumpkin recipes you might like Pumpkin Bread as well. It is a simple, moist quick bread with pumpkin pie spice that is easy to make. If you like a rich cream cheese filling and warm autumn spices check out Cream Cheese Pumpkin Bread.
If you would like to make some pumpkin desserts, check out Pumpkin Rum Bread Pudding, Pumpkin Creme Brûlée, Pumpkin Panna Cotta, and Pumpkin Olive Oil Cake which is an easy recipe for a  moist and tender pumpkin cake made with pumpkin spice. Any of these recipes would make a great holiday dessert.
SOME THINGS TO KNOW:FAQ'S
INGREDIENT TIPS:
Always check the expiration date on your yeast. Expired yeast may not activate properly.
When activating the yeast, make sure that your water is warm—not too hot or cold. The ideal temperature is around 100°F to 110°F.
Make sure that you choose pure pumpkin puree without the added sugars or spices that are found in pumpkin pie filling. The cans look similar.
If you're making your own pumpkin puree at home, make sure that it is well drained to avoid adding excess moisture to your rolls.
SPECIAL EQUIPMENT NEEDED:
Stand Mixer or Hand Electric Mixer:
While not strictly necessary, a mixer can make the process of combining ingredients much easier. However, you can mix ingredients using a wooden spoon or spatula and knead the dough by hand if you don't have one.
Dough Hook (if using a stand mixer):
This attachment makes kneading the dough easier and more efficient. If you don't have a dough hook, manual kneading will work just fine; it just requires a bit more elbow grease!
Mixing Bowls:
 A large mixing bowl is important for mixing and kneading the dough if you do not have a stand mixer. A small bowl is needed to proof the yeast.
Plastic Wrap or Clean Kitchen Towel:
For covering the dough while it rises.
Baking Sheet or Baking Pans
Either 2 -10″ round baking pans or baking sheet to bake the rolls.Line the pans with parchment paper for an easier clean up.
SUBSTITUTIONS:
Almond milk or soy milk are  non-dairy substitutes for whole milk for those who are lactose intolerant or vegan. Half and half can be substituted for a richer texture. Use it in the same quantity as whole milk.
You can substitute the butter with coconut oil or margarine.
You can substitute the granulated sugar with brown sugar for a deeper, caramel-like flavor.
If you do not have dry active yeast you can use rapid rise yeast or instant yeast in the same quantity.
Sweet potato or butternut squash puree provide a similar texture to the pumpkin puree and a slightly different but delicious flavor.​
All-purpose flour can be substituted with bread flour for a chewier texture. For a denser, more nutritious roll you could use whole wheat flour. You might want to use it in combination with all-purpose flour to maintain a lighter texture
Sea salt or Kosher salt can be used instead of table salt. Adjust the quantity as they have larger grains. You will  need an additional ¼ teaspoon more compared to table salt.
HOW TO STORE PUMPKIN ROLLS:
Store the cooled rolls in an airtight container or plastic bag at room temperature. They should stay fresh for about 2-3 days. If you want to extend their freshness for up to a week, place the rolls in an airtight container or resealable plastic bag and refrigerate.
Properly stored, pumpkin rolls should be good in the freezer for up to 3 months.Wrap each roll tightly in plastic wrap, freezer storage wrap or wax paper. This helps in preventing freezer burn and allows you to thaw only as many rolls as you need later on. After wrapping, place the rolls in a large freezer bag, removing as much air as possible before sealing.
Defrost the rolls on a wire rack at room temperature.
HOW TO REHEAT PUMPKIN ROLLS:
To reheat the rolls in the oven pre heat oven to 350 degrees. Place the rolls on a baking sheet and heat for about 5-10 minutes, or until warmed through.
While the oven method is preferable for retaining the best texture, if you're in a hurry, you can use a microwave. Heat them on a microwave-safe plate for 20-30 seconds. Check and heat in additional 10-second intervals if needed, but be cautious not to overheat, as they can become too soft or chewy.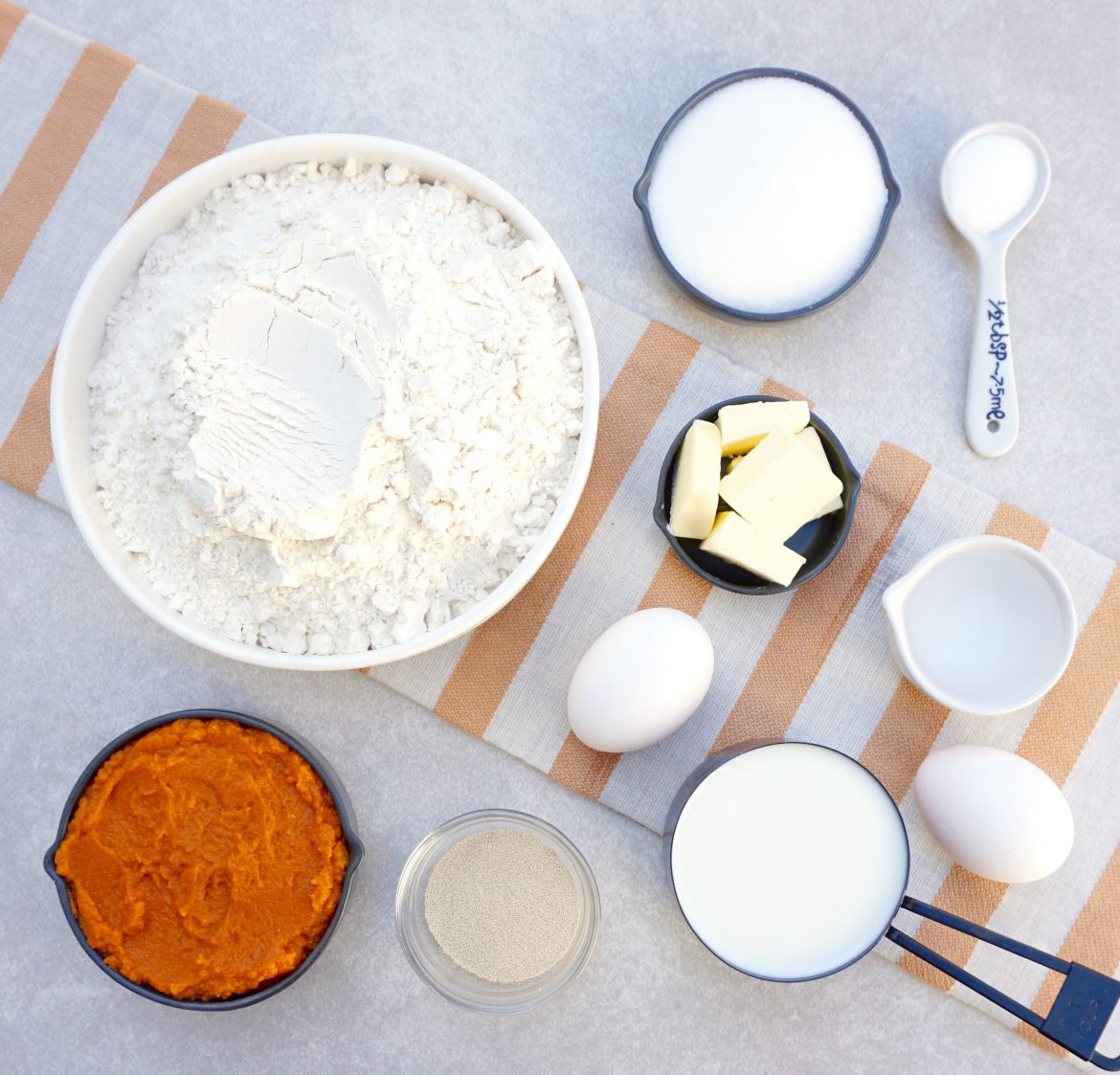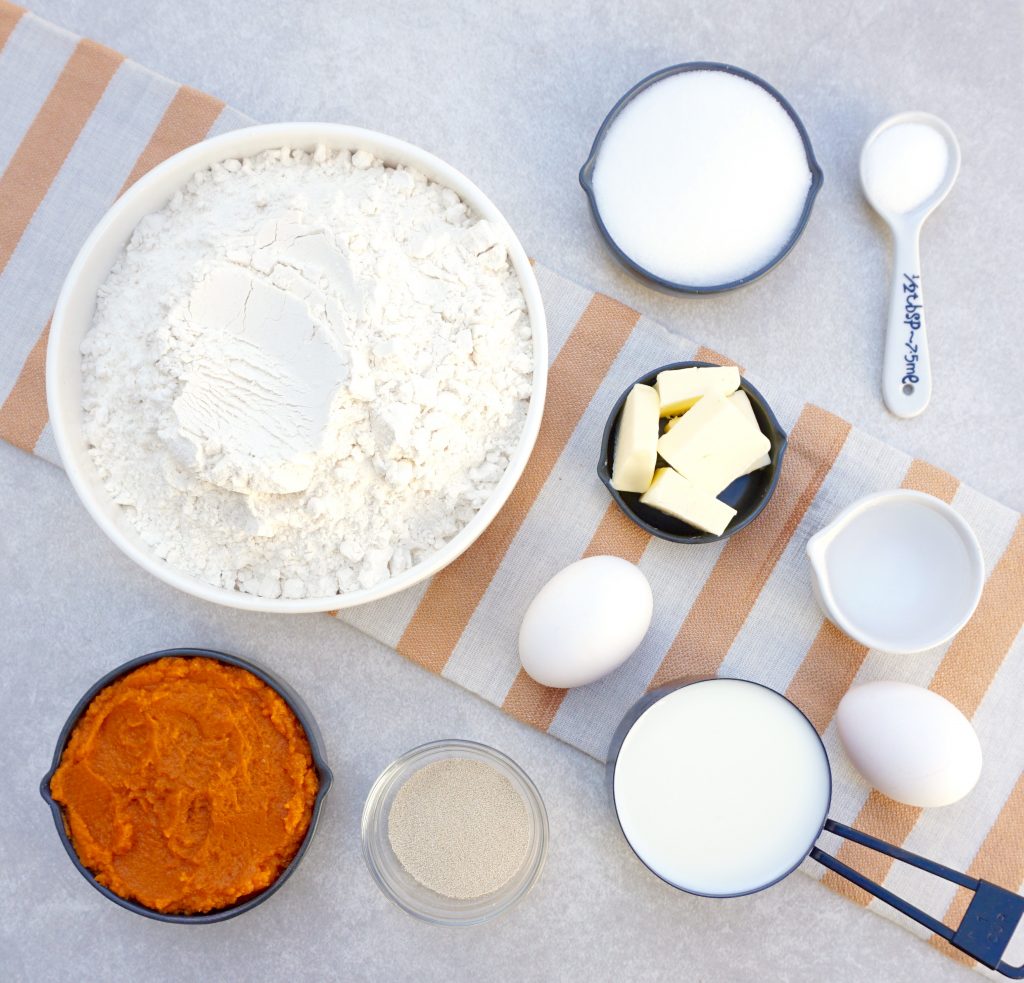 Pumpkin Rolls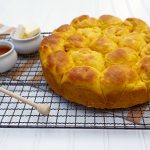 Print This
Ingredients
1 cup whole milk

¼ cup butter

½ cup sugar, remove ½ teaspoon and set aside

2 packages dry active yeast

¼ cup warm water

2 large eggs

1 cup pumpkin puree

½ teaspoon salt

5 cups all purpose flour
Instructions
Heat the butter, and milk in a saucepan until it comes almost to a boil and the butter is melted. Remove from the heat and stir in the sugar. Let the mixture cool to lukewarm temperature.
In a 2 cup measuring cup or bowl, combine the yeast, ½ teaspoon sugar and ¼ cup warm water. Stir well. Let the yeast mixture sit until it triples in size and becomes foamy. This is the most important step. Make sure your yeast is fresh and active.
In the bowl of a stand mixer or a large bowl, beat the two eggs on high speed.
Add the milk mixture and the pumpkin. Mix the wet ingredients well.
Mix in the yeast mixture and salt.
Add 3 cups of flour to the pumpkin mixture and mix in the dry ingredients well. Continue to add more flour, ½ cup at a time until the dough is pliable and not sticky to the touch. If you require more that 5 cups of flour to achieve this it is not a problem.
Either use the dough hook on your mixer to knead the dough for about 8 minutes or remove it to a floured board and knead it by hand about 10 minutes.
Check out 5 Ways to Tell When Dough is Kneaded if you have never done this before.
Place the dough into a large greased bowl and cover it with plastic wrap, a tea towel or cotton kitchen towel. Let the dough rise until it is doubled. This will take an hour or more.
Remove the dough from the bowl and punch it with your fist so that it deflates.
Lay the dough flat on a board and press it into a rectangle that is 16 inches long and 6 inches wide. Cut the dough in half.
Take the first half of the rectangle. and cut it in half again. Cut each of those halves into 6 pieces. Roll each piece of dough into a ball, that is between 1 ½ and 2 inches . You are trying to get 12 rolls from each half of the original rectangle.
Take the remaining half of the dough and repeat.
Grease or spray with cooking spray two 10 inch round baking pans.  Place 12 balls in each pan in an even layer. Leave some space in between the rolls as they will expand.  Cover them lightly with a piece of plastic wrap and place them  in a warm place.
Let them rise until they have doubled in size. This will take 30-45 minutes.
Pre-heat the oven to 350 degrees.
Place the pans into the oven and bake for 20-25 minutes until the rolls are golden brown.