Pumpkin Bread is great fall quick bread. It is colorful moist and full of warm spices and nice for pumpkin season.This timeless classic recipe is not only flavorful but also incredibly easy to make.
This easy pumpkin bread recipe does not require yeast and it does not have to rise. It is simple to make without a mixer, and you can put it together in one bowl!
This Pumpkin bread can either be made with roasted pumpkin that is pureed or canned pumpkin. I use the canned pumpkin and it works fine! This bread is moist and delicious. It is slightly sweet and made with pumpkin spices so your kitchen will be full of the cozy smell of cinnamon and nutmeg while you are baking.
You could include this as a part of my Thanksgiving bread basket. It is a nice seasonal addition!
If you want to try some other seasonal breads with fall flavors, check out Acorn Squash Bread, Pumpkin Cream Cheese Bread and Cranberry Orange Walnut Bread. Banana Bread is great quick bread recipe for any time of the year. Check out Blueberry Banana Bread, Chocolate Chips Banana Bread and Strawberry Streusel Banana Bread.
SOME THINGS TO KNOW:FAQ'S
INGREDIENT TIPS:
Make sure you're using pure pumpkin puree and not pumpkin pie filling, which contains added sugars and spices. You will not need to use the whole can of pumpkin puree to make this recipe. It does freeze well for later use.
For a fresher twist, consider making your own homemade pumpkin puree by roasting and blending pumpkin. Save the pumpkin seeds to roast for a snack!
Let ingredients like eggs come to room temperature before mixing as they will blend in  more evenly.
SPECIAL EQUIPMENT NEEDED: 
Large mixing bowl
Whisk, electric mixer or stand mixer.
9″ x 5″ loaf pan
Rubber spatula for scraping down the sides of the bowl and spreading the batter evenly in the loaf pan.
Toothpick, skewer or cake tester to test the bread's doneness. When inserted into the center of the bread, it should come out clean when the bread is done.
Wire Cooling Rack to cool the bread after baking.
SUBSTITUTIONS:
 Melted butter, melted coconut oil or vegetable oil can replace canola oil in a 1:1 ratio. You could even use olive oil in a pinch.
Brown sugar, cane sugar or coconut sugar can be used to replace granulated sugar.
Canned Pumpkin can be substituted with fresh pumpkin puree. Steam or roast pumpkin chunks, then blend into a smooth puree .Butternut squash or sweet potato puree can replace pumpkin for a similar texture and slightly different flavor.
Whole wheat flour can replace all purpose flour in a 1:1 ratio for a denser, nuttier bread.
If you're out of one either baking soda or baking powder you can't simply substitute one for the other as they have different acidities. However, in a pinch, you can use 3 parts of baking powder to replace 1 part of baking soda.
Kosher salt or sea salt can be used in the same amount as table salt.
Cinnamon, Nutmeg, and Cloves can be replaced with Pumpkin Spice This premixed spice blend typically contains all three and can be a handy replacement.
HOW TO STORE PUMPKIN BREAD:
You can store the wrapped bread at room temperature for up to 4 days. Before storing, always allow your pumpkin bread to cool completely on a wire rack. This prevents condensation from forming, which can make the bread soggy. Wrap the bread tightly in plastic wrap or aluminum foil to prevent it from drying out. For added protection, after wrapping, place the bread in an airtight container or resealable plastic bag.
Pumpkin bread can be frozen for up to 3 months.  As with storing, make sure your pumpkin bread has fully cooled before preparing it for freezing. Use plastic wrap or aluminum foil to wrap the entire loaf or individual slices tightly. After wrapping, place the bread in a resealable freezer bag or air-tight container. Remove as much air as possible from the bag before sealing.
HOW TO REHEAT PUMPKIN BREAD:
If your pumpkin bread is stored at room temperature and you want to warm it slightly, you can place slices in a toaster or oven set at 350°F (175°C) for a few minutes until warmed through.
Reheating the bread in a microwave oven works best for individual slices. Place a slice of pumpkin bread on a microwave-safe plate and microwave in 20-second intervals, checking after each, until warmed.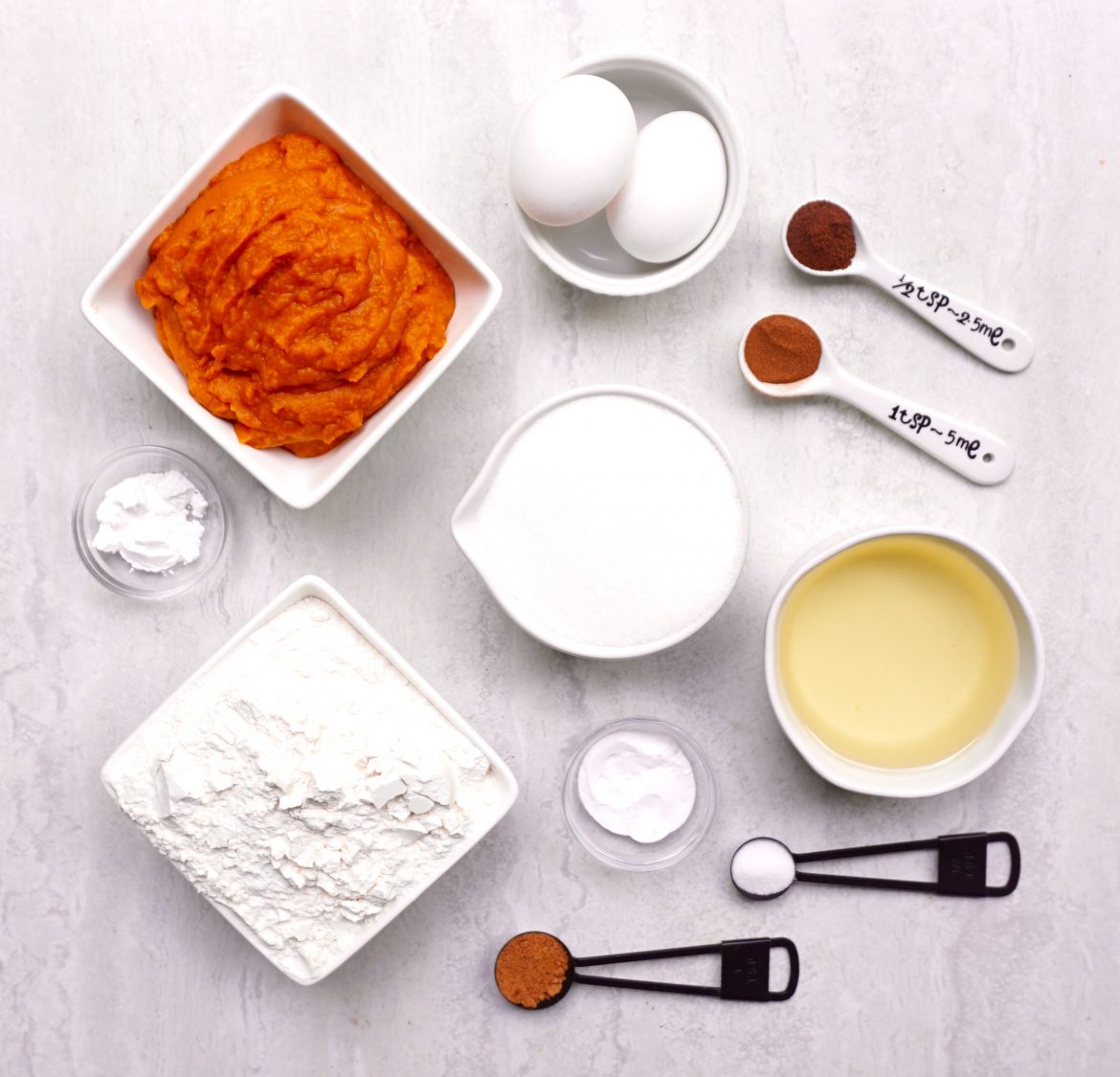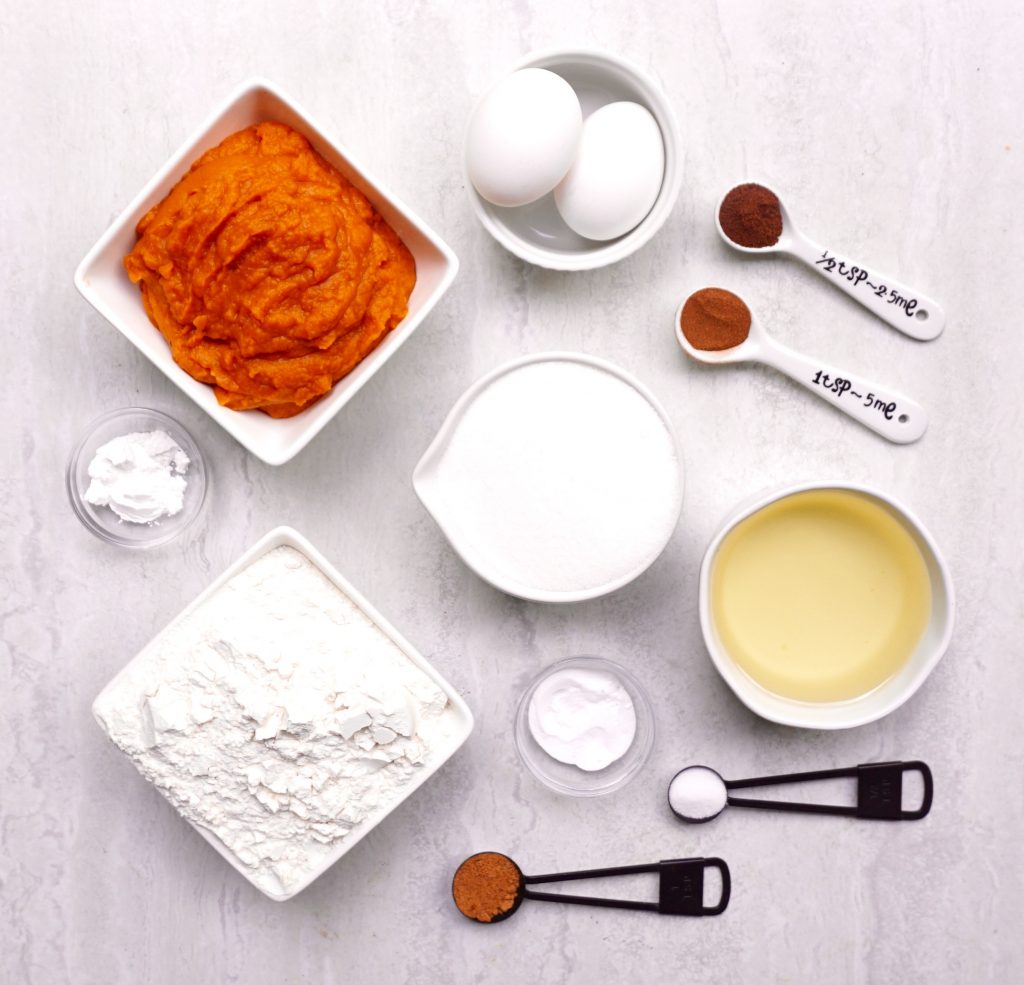 Pumpkin Bread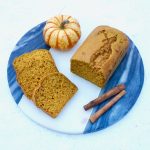 Print This
Ingredients
¾ cup canola oil

1 cup granulated sugar

2 large eggs

15 ounce can pumpkin

2 cups all purpose flour

1 teaspoon baking soda

1 teaspoon baking powder

½ teaspoon salt

1 teaspoon cinnamon

1 teaspoon ground nutmeg

1 teaspoon ground cloves
Instructions
Preheat your oven to 350 degrees.
Grease and flour a 9×5 inch loaf pan
In a large bowl, whisk the eggs. Add the canola oil, sugar and pumpkin and combine the wet ingredients well.
Add the flour, baking soda, baking powder, salt, cinnamon, nutmeg and cloves. Combine the dry ingredients in well.
Pour the batter into the prepared pan. Bake for 50 minutes until the top is completely dry and browned.
Let the bread sit in the pan for 5 minutes then remove it to a cooling rack. Let the bread cool to room temperature.
Cut the bread into thick slices to serve.