Pumpkin Bread is a great quick bread that is usually made in the fall. It is made with the warm spices cinnamon, nutmeg and cloves which give it a wonderful flavor. Cream Cheese Pumpkin Bread takes the experience to another level with a vanilla flavored cream cheese filling.
This bread is very easy to make. The bread ingredients are stirred together in bowl. The cream cheese filling does require a mixer or whisk to beat it together into a fluffy mixture. It would make a wonderful breakfast or a great snack with a cup of coffee. It is freezer friendly and can be frozen, well wrapped for up to 3 months.
If you prefer to make this bread without the cream cheese filling follow this Pumpkin Bread recipe. You might also like Acorn Squash Bread.
Pumpkin is a wonderful ingredient to bake with in the fall. Check out Pumpkin Rolls, Pumpkin Olive Oil Cake, Pumpkin Creme Sandwich Cookies, Pumpkin Crumble Muffins, and Pumpkin Spice Ricotta Cookies for some other fall baking ideas.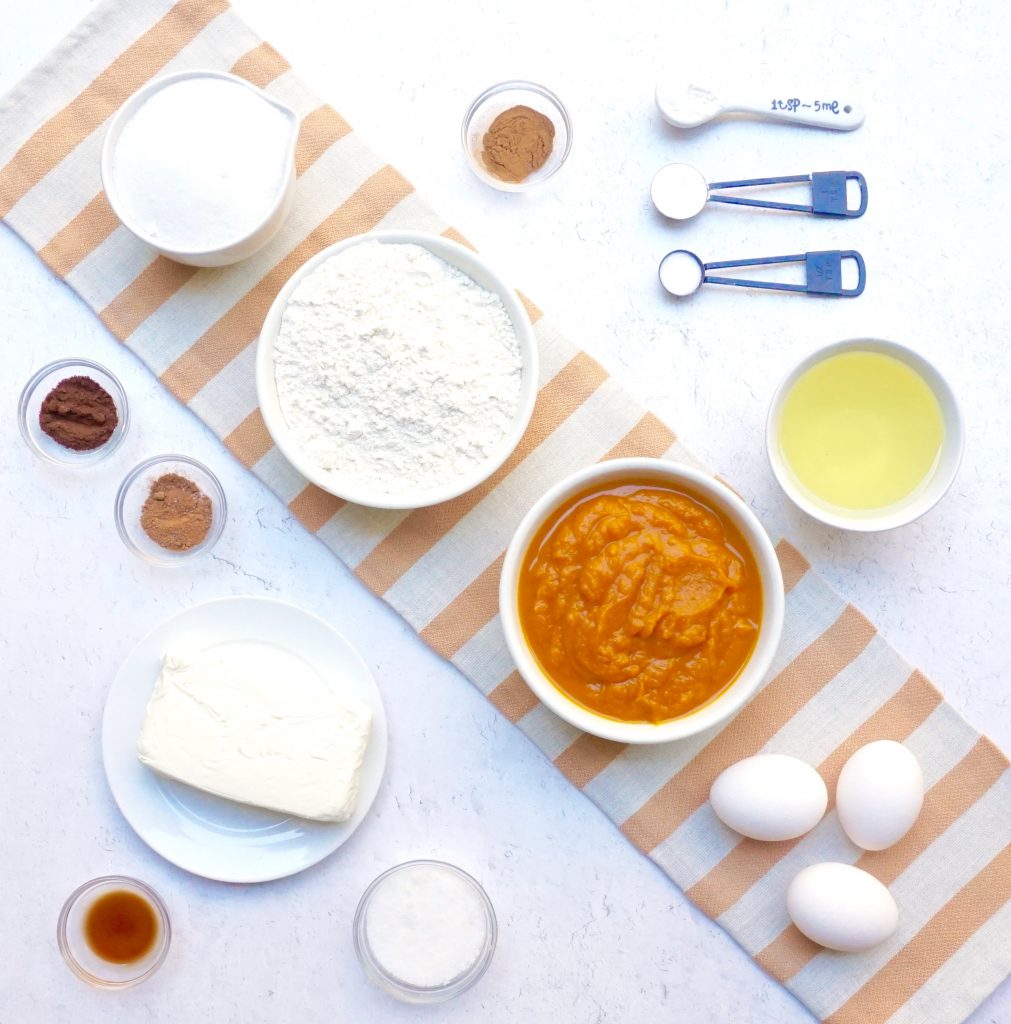 Cream Cheese Pumpkin Bread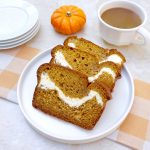 Print This
Ingredients
BREAD:

2 large eggs

¾ cup canola oil

1 cup sugar

15 ounce can pumpkin

2 cups all purpose flour

1 teaspoon baking soda

1 teaspoon baking powder

½ teaspoon salt

1 teaspoon cinnamon

1 teaspoon ground nutmeg

1 teaspoon ground cloves

.

CREAM CHEESE FILLING:

8 ounce cream cheese, at room temperature

3 tablespoons granulated sugar

1 large egg

1 teaspoon vanilla extract
Instructions
BREAD:
Preheat your oven to 350 degrees.
Grease and flour  a 9″ ×5 "inch loaf pan
In a large bowl, whisk the eggs. Add the canola oil, sugar and pumpkin and combine.
Add the flour, baking soda, baking powder, salt, cinnamon, nutmeg and cloves. Combine well.
.
CREAM CHEESE FILLING:
Beat the cream cheese and sugar with an electric mixer or whisk until it is well combined and fluffy. Add the egg and vanilla and beat in well.
ASSEMBLY:
Using a 1 cup measuring cup, add 3 cups of the pumpkin bread batter to the prepared baking pan. Smooth it flat with a rubber spatula.
Spoon the cream cheese filling evenly over the bread batter. Smooth it flat with a rubber spatula.
Add the remaining 3 cups of batter evenly over the cream cheese mixture. Spread it smooth with a rubber spatula.
Place in the oven on a rack that is placed in the center of the oven. Bake for 50-55 minutes until the top is completely set and dry.
Cool the bread in the pan for 15 minutes.
Remove from the pan and place on a wire rack to cool completely.