Pumpkin Crumble Muffins make a perfect breakfast for a fall morning. These tender pumpkin muffins are made with pumpkin spice and have a crumble topping. The buttery crumbs on top of each muffin gives them added texture and lots of flavor. It is the time of the year when we like to bake with warm spices and love all things pumpkin. This easy pumpkin muffin recipe is a great way to use both.
You can also enjoy these delicious muffins anytime of the day. Pumpkin Crumble Muffins would make a great afternoon snack with a cup of coffee or even a fun dessert.
If you like to bake with pumpkin, check out these other pumpkin recipes.  Pumpkin Creme Cookie Sandwich, Pumpkin Bread, Pumpkin Spice Ricotta Cookies, Pumpkin Olive Oil Cake, Pumpkin Baked Donuts, Pumpkin Rolls and Cream Cheese Pumpkin Bread.
If you would like to try a couple other muffin recipes that are good for fall baking, check out Whole Grain Kitchen Sink Muffins and Cranberry Orange Muffins.
SOME THINGS TO KNOW:FAQ'S 
INGREDIENT TIPS:
I have added the measurements to the notes section so you can make your own pumpkin spice mix. Make a batch and use it all season long.
This recipe is made with canned pumpkin puree. Make sure that you do not use Pumpkin Pie filling. The cans look quite similar.
If you would like to freeze any leftover pumpkin puree for the next time you want to bake, check out 3 Ways to Freeze Leftover Pumpkin Puree if you have never tried this before. Check out the Pumpkin Category for additional recipes to use it.
SPECIAL EQUIPMENT NEEDED:
You do not need a mixer to make these muffins. They can be entirely mixed by hand in a large bowl.
You will need a standard muffin pan and paper muffin liners to make this recipe.
Large bowl
Small bowl
Whisk
​SUBSTITUTIONS:
You can easily swap out the all purpose flour with whole wheat flour.
The crumble topping is optional. You will still have delicious muffins if you choose to leave it off.
White sugar/light brown sugar: If you're out of one type of sugar, you can replace it entirely with the other.
If you do not have baking powder: For each teaspoon of baking powder, substitute 1/4 teaspoon baking soda and 1/2 teaspoon cream of tartar.
 If you're out of regular salt, you can use kosher salt or sea salt. Just be mindful of the grain size; you may need to adjust the amount slightly.
Almond milk, soy milk, oat milk, or any other plant-based milk can be used as a substitute for the whole milk.
If you're out of canned pumpkin, you can make your own pumpkin puree by roasting a fresh pumpkin and pureeing  it. You can also use butternut squash puree or sweet potato puree.
Vegetable oil can be replaced with melted coconut oil, melted butter, or applesauce for a lower-fat option.
HOW TO STORE PUMPKIN CRUMBLE MUFFINS:
These muffins will be best served the day that they are baked. If you want to keep them for an extra day make sure that you store them in an airtight container or tightly wrapped in plastic wrap at room temperature.
You can freeze any leftover muffins in a freezer bag or container for 2-3 months. They should be frozen upright so that the crumbs do not fall off the muffin tops.
HOW TO REHEAT PUMPKIN CRUMBLE MUFFINS:
To reheat the muffins in the oven, preheat your oven to 350°F (175°C). Place the muffins on a baking sheet and heat for about 5-10 minutes or until warmed through.
To reheat the muffins in the microwave place the muffin on a microwave-safe plate and heat on high for about 20-30 seconds or until warmed through.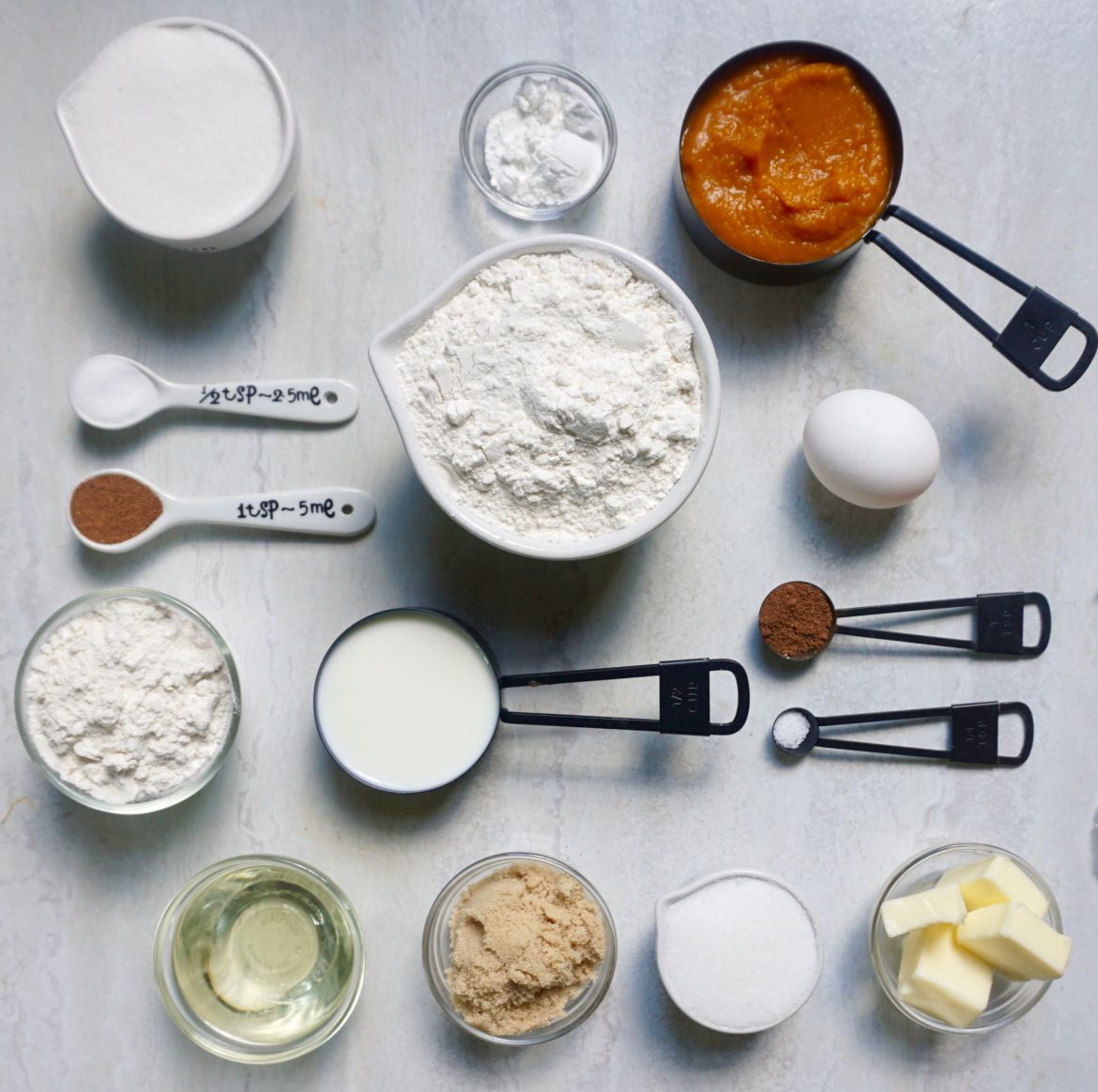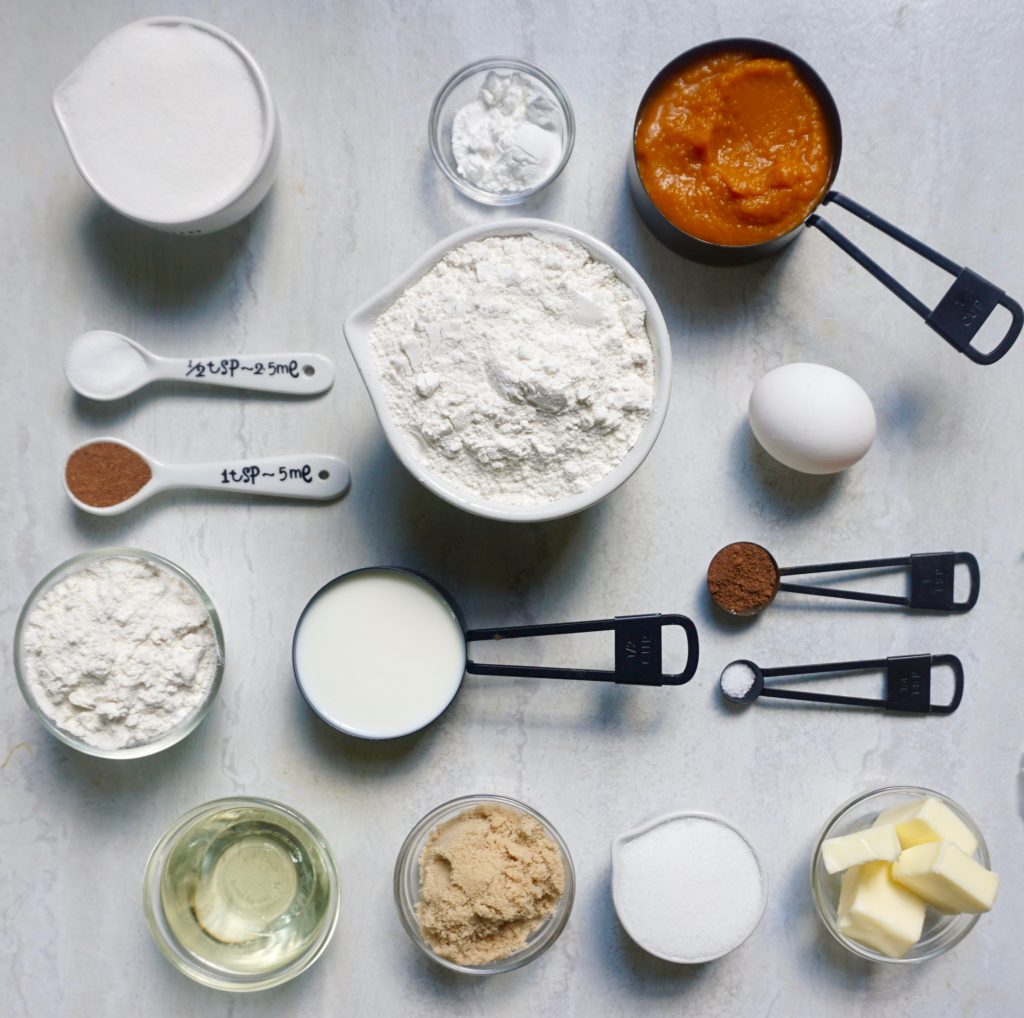 Pumpkin Crumble Muffins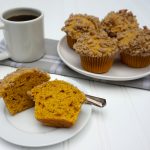 Print This
Ingredients
MUFFIN:

1 ½ cup all purpose flour

½ cup white sugar or light brown sugar

2 teaspoons baking powder

1½ teaspoon salt

1 teaspoon pumpkin pie spice

1 large egg

½ cup milk

1 cup canned pure pumpkin (do not use pumpkin pie filling)

¼ cup vegetable oil

8 paper liners

CRUMBLE TOPPING:

½ cup flour

¼ cup sugar

¼ cup brown sugar

1 teaspoon pumpkin spice

pinch kosher salt

4 teaspoons butter, melted
Instructions
Preheat your oven to 400 degrees
Line a muffin pan with 8 paper liners.
Combine the flour, sugar, baking powder, salt and pumpkin spice to a large bowl and stir well.
In a small bowl, whisk the egg .Add the milk, vegetable oil and pumpkin puree. Whisk them together well.
Make the crumble topping. Melt the butter. In a small bowl, combine the flour, sugar, brown sugar, pumpkin spice, and salt. Add the melted butter and stir until it is all combined and forms into crumbs.
Add the wet ingredients to the dry ingredients and combine well. Spoon the pumpkin muffin batter evenly into the eight cupcake liners.
Sprinkle the crumb topping evenly over the top of the muffin.
Bake for 20 minutes until the tops of the muffins are firm and lightly browned.
Let them sit in the muffin tin for a few minutes then remove them to a wire rack to cool completely.
Notes
Make your own Pumpkin Spice Seasoning with 3 tablespoons ground cinnamon, 2 teaspoons ground ginger, 2 teaspoons ground nutmeg, 1½ teaspoons allspice, 1½ ground cloves. Mix together and store in a moisture proof container.