If you read my Apple Quinoa post you know I am a big  fan of this seed. Aside from creating a hearty breakfast it also is a great addition to a salad. Quinoa is a source of protein so you could eat this salad as a complete meal or serve it as a side dish. Butternut Squash Quinoa Salad is a great salad for fall.
I don't know about you but I eat a lot of squash all year long. In the summer it is zucchini and yellow squash and then butternut and acorn squash in the fall.  I must say that butternut squash is my very favorite of them all. It is slightly sweet and it takes well to being roasted. Roasting slightly caramelizes it and makes it really flavorful.
This salad with dried cranberries and baby spinach has a sweet and tangy dressing. The combination of everything together is pretty delicious.
It's never too early to be planning for Thanksgiving. If you have vegetarians coming for dinner, this may be a salad that you want to try.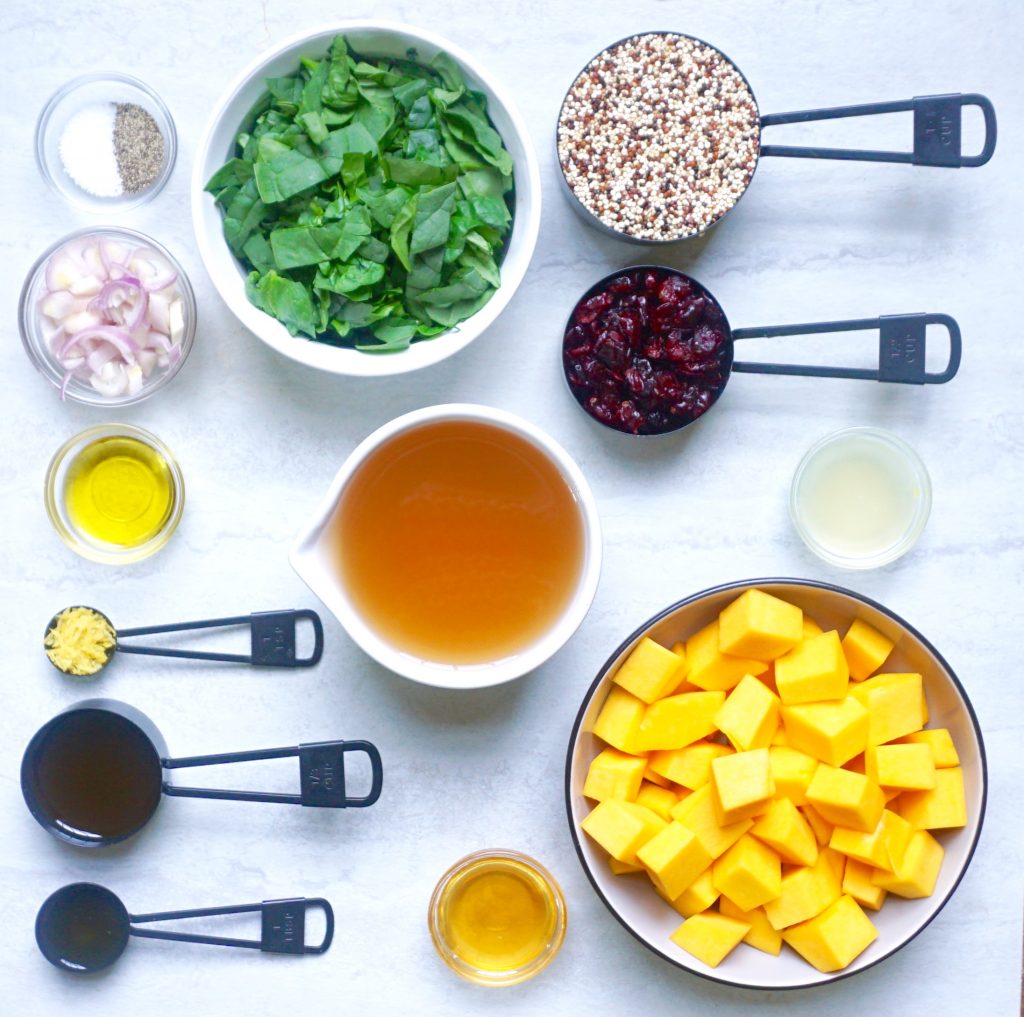 Butternut Squash Quinoa Salad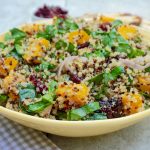 Print This
Ingredients
SALAD:

1 cup rainbow quinoa

2 cups vegetable broth

2 cups butternut squash, cut into 1 inch cubes (2.5 to 3 pounds)

1 tablespoon olive oil

2 cups fresh baby spinach, stems removed and sliced

1 small shallot,diced

½ cup dried cranberries

salt and pepper

DRESSING:

1/3 cup olive oil

1 tablespoon cider vinegar

2 tablespoons lemon juice

2 tablespoons honey

1 teaspoon lemon zest
Instructions
Preheat your oven to 400 degrees
Place your butternut squash cubes on a foil lined baking sheet. Pour the tablespoon of olive oil over the squash and stir the cubes around so that they all become coated with oil. Sprinkle lightly with salt and pepper. Roast for 20 minutes until the squash is tender and lightly brown. It's best if you start checking the squash after 15 minutes as you do not want it to overcook and become too soft and mushy. Remove from the oven and let cool.
In a small saucepan, add the vegetable broth and quinoa. Bring to a boil. Reduce the heat to low and cover the pan. Simmer on low for about 15 minutes until all of the broth is absorbed. Remove from the heat and let it sit for 5 minutes. Fluff it with a fork.
In a large bowl combine the quinoa, butternut squash, baby spinach, shallots and dried cranberries. Mix together.
In a small bowl combine the olive oil, cider vinegar, lemon juice, honey and lemon zest. Season to taste with salt and pepper if desired.
Pour over the quinoa salad mixture and combine well. Serve cold or at room temperature.