Creamy Mushroom Sausage Rigatoni is an easy, comforting pasta dish that you can make in 20 minutes. It is perfect for a weeknight meal when you need something that tastes good  after a long day and you need it fast!
The sauce comes together in just about the time that it takes for the pasta water to come to a boil and cook the Rigatoni. If you do not want to add the sausage, the cream and wine sauce with mushrooms would be great on it's own.
Creamy Mushroom Sausage Rigatoni is also a meal that you could make for entertaining. It can be easily doubled or tripled to feed a crowd and make things easy on yourself!
Creamy Mushroom Sausage Rigatoni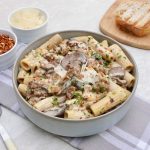 Print This
Ingredients
1/2 pound sweet Italian sausage

10 ounces fresh mushrooms (Baby Bella or white) sliced and roughly chopped

1/2 cup chopped yellow or Spanish onion

2 garlic cloves, minced

2 tablespoons olive oil

1 cup dry white wine ( I used Pinot Grigio)

1/4 teaspoon kosher salt

1/4 teaspoon crushed red pepper

1 tablespoon chopped fresh parsley

1 1/2 cups heavy cream

1/4 cup grated parmesan cheese

8 ounces Rigatoni pasta
Instructions
Place a large pot of salted water on the stove over high heat. While you are waiting for the water to boil, you can begin preparing your sauce.
Wash  and slice the mushrooms. Roughly chop the slices a few times, keeping large pieces. Peel and chop the onion. Peel  the garlic and mince. Set aside.
Remove the sausage from it's casing. Heat the 2 tablespoons of olive oil in a large skillet over medium low heat. Add the sausage and and cook until it is no longer pink, breaking it up with a fork. This will take between 5 and 7 minutes. Add the mushrooms and onions. Continue cooking until the mushrooms have released all their moisture and the mushrooms and onions are soft and just beginning to brown.
Add the minced garlic and cook for an additional minute.
Add the wine, salt, and red pepper flakes. Simmer on low until  the wine has reduced down to half.
Add the heavy cream and simmer on low until the sauce begins to thicken. This should take about 5 minutes.
Cook the Rigatoni according to the instructions on the package for the tenderness you desire.  Keep the sauce warm over very low heat for a few minutes if needed in order to finish cooking the Rigatoni.
Drain the Rigatoni and return to pot. Pour the sauce over the pasta and add the parmesan cheese. Stir to combine well.
Garnish and serve with additional parmesan cheese if desired.