Creamy Mushroom Sausage Rigatoni is a simple yet flavorful pasta dish that can be prepared in just 20 minutes. This comforting meal is perfect for busy weeknights when you need a satisfying dinner after a long day and don't have much time to spend in the kitchen.
The delectable creamy sauce, made with a blend of cream, wine, and mushrooms, comes together effortlessly while the pasta water boils and the rigatoni cooks. For those who prefer a vegetarian option, the rich and creamy mushroom sauce can also be served on its own without the sausage.
Not only is Creamy Mushroom Sausage Rigatoni a great weeknight meal, but it's also an excellent choice for entertaining. The recipe can be easily doubled or tripled to accommodate larger gatherings, making hosting a breeze. Impress your guests with this delicious pasta dish that's sure to please everyone at the table.
Whip up a batch of Creamy Mushroom Sausage Rigatoni for a quick and tasty meal that's perfect for any occasion. With its simple preparation and mouth-watering flavors, this pasta dish is a guaranteed crowd-pleaser that will have everyone asking for seconds.
If you like easy creamy mushroom recipes, check out Creamy Mushroom Spinach Bowties, Creamy Mushroom Pappardelle and Creamy Mushroom Spinach Chicken. They are all simple, quick fix dinner recipes that are perfect for weeknight meals.
SOME THINGS TO KNOW:
EASILY MADE SUBSTITUTIONS:
You can substitute the sweet Italian sausage with ground turkey or chicken mixed with 1 teaspoon fennel seeds, ½ teaspoon paprika, ¼ teaspoon garlic powder, and a pinch of red pepper flakes
You can substitute the fresh mushrooms with 10 ounces canned mushrooms, drained.
You can substitute the yellow or Spanish onion with chopped white onion, leeks, or shallots
You can substitute the garlic cloves with ½ teaspoon garlic powder or 1 teaspoon garlic paste.
You can substitute: the olive oil with vegetable oil, canola oil, or sunflower oil.
You can substitute: 1 cup white wine with 1 cup chicken broth or vegetable broth mixed with 1 tablespoon white wine vinegar or lemon juice.
You can substitute the kosher salt with ¼ teaspoon sea salt or ⅛ teaspoon table salt.
You can substitute the crushed red pepper with ¼ teaspoon chili flakes or a pinch of cayenne pepper.
You can substitute the chopped fresh parsley with 1 teaspoon dried parsley.
You can substitute the heavy cream with 1 ½ cups full-fat coconut milk, or 1 ½ cups whole milk mixed with 3 tablespoons melted unsalted butter.
You can substitute the grated parmesan cheese with ¼ cup grated Romano, Asiago, or Pecorino cheese.
You can substitute the Rigatoni pasta with Penne, Ziti, or Fusilli pasta.
HOW TO STORE AND REHEAT LEFTOVERS:
 Let the Creamy Mushroom Sausage Rigatoni cool down to room temperature before storing it. Do not leave it out for more than 2 hours to avoid bacterial growth.
Transfer the leftover pasta to an airtight container. You can use a large airtight container or individual portion-sized containers to store the leftovers. This will help maintain freshness and prevent the dish from absorbing other odors in the refrigerator.
Seal the container or containers tightly and place them in the refrigerator. The leftovers should be consumed within 3 to 4 days.
Reheating instructions: When you're ready to enjoy your leftovers, reheat them in a saucepan over low heat, stirring occasionally to avoid scorching. You may need to add a bit more cream or wine to the saucepan to thin the leftover sauce.
You can also reheat individual portions in the microwave. Use a microwave-safe container and cover it loosely with a microwave-safe lid or plastic wrap. Heat on medium power for 1-2 minutes, then stir and check the temperature. Continue heating in 30-second intervals, stirring in between, until the dish is heated through.
Because this is a cream sauce, freezing the leftovers is not recommended. Dairy based sauces can curdle and separate when frozen.
Creamy Mushroom Sausage Rigatoni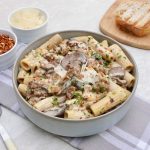 Print This
Ingredients
1/2 pound sweet Italian sausage

10 ounces fresh mushrooms (Baby Bella or white) sliced and roughly chopped

1/2 cup chopped yellow or Spanish onion

2 garlic cloves, minced

2 tablespoons olive oil

1 cup dry white wine ( I used Pinot Grigio)

1/4 teaspoon kosher salt

1/4 teaspoon crushed red pepper

1 tablespoon chopped fresh parsley

1 1/2 cups heavy cream

1/4 cup grated parmesan cheese

8 ounces Rigatoni pasta
Instructions
Start by placing a large pot of salted water on the stove over high heat for boiling the rigatoni pasta. While waiting for the water to boil, begin preparing the creamy mushroom sausage sauce.
First, wash and slice the mushrooms, then roughly chop them, keeping some larger pieces. Peel and chop the onion, and mince the garlic cloves. Set these ingredients aside for later use.
Remove the sausage from its casing and heat 2 tablespoons of olive oil in a large skillet over medium-low heat. Add the sausage to the skillet, breaking it up with a fork as it cooks. Cook sausage  for 5-7 minutes, or until it is no longer pink.
Next, add the chopped mushrooms and onions to the skillet. Continue cooking until the mushrooms release their moisture and both the mushrooms and onions become soft and slightly browned.
Now, stir in the minced garlic and cook for an additional minute.
Pour in the white wine, salt, and red pepper flakes, then let the mixture simmer on low heat until the wine has reduced to half its original volume.
Add the heavy cream and parmesan cheese to the skillet. Let it simmer on low heat until the sauce begins to thicken, which should take about 5 minutes.
In the meantime, cook the rigatoni pasta according to the package directions for your desired tenderness. If necessary, keep the sauce warm over very low heat while the pasta finishes cooking.
Once the rigatoni is cooked, drain it and return it to the pot. Pour the creamy mushroom sausage sauce over the pasta and stir everything together until the pasta is well coated with the sauce.
Garnish the dish with chopped fresh parsley and serve with additional parmesan cheese, if desired. Enjoy your delicious and comforting Creamy Mushroom Sausage Rigatoni dish!