This Creamy Mushroom Spinach Chicken recipe is one of those simple skillet meals that make a perfect weeknight dinner. You can have this on the table from start to finish in just 30 minutes.It is a delicious and filling meal and the perfect way to end the day!
The best thing about this great recipe besides the creamy sauce is the tender chicken, fresh spinach and sliced mushrooms which make it a comforting yet nutritious meal that the entire family will love. Just serve the Creamy Mushroom Spinach Chicken with some noodles and crusty bread and you will have a delicious meal.
If you want to try some other flavorful chicken recipes, check out Chicken Dijonnaise , Creamy Sundried Tomato Chicken and Chicken Milano. You might also like Mexican Chicken Crema.
If you like creamy mushroom recipes you might want to try Creamy Mushroom Spinach Bowties, Creamy Mushroom Pappardelle, Creamy Mushroom Turkey Meatballs and Creamy Mushroom Sausage Rigatoni.
If you like a creamy spinach recipe, check out Asiago Creamed Spinach.
SOME THINGS TO KNOW:
SUBSTITUTIONS:
This recipe calls for Baby Bella or white mushrooms. You could also use Cremini mushrooms, Portabello mushrooms, Button mushrooms or Shiitake mushrooms. If you are interested in learning more about the different type of mushrooms, check out 14 Types of Mushrooms and their uses.
If you prefer dark meat chicken, substitute the boneless skinless chicken breasts with boneless skinless chicken thighs.
You could use vegetable broth in place of the chicken broth in the recipe.
You can replace the fresh spinach with frozen spinach. You would need half of a 10 ounce frozen package.
STORAGE:
You can store any leftovers in in airtight container in the refrigerator for 2-3 days.
The creamy mushroom sauce in the recipe will really not freeze well. The cream can separate and the quality will be compromised. Freezing is not recommended.
REHEATING:
You can microwave and leftovers, covered for 1-3 minutes depending on the amount that you are reheating.
You can also reheat this on the stovetop over medium low heat. You may want to add a bit of cream or chicken broth to the pot if the sauce has thickened.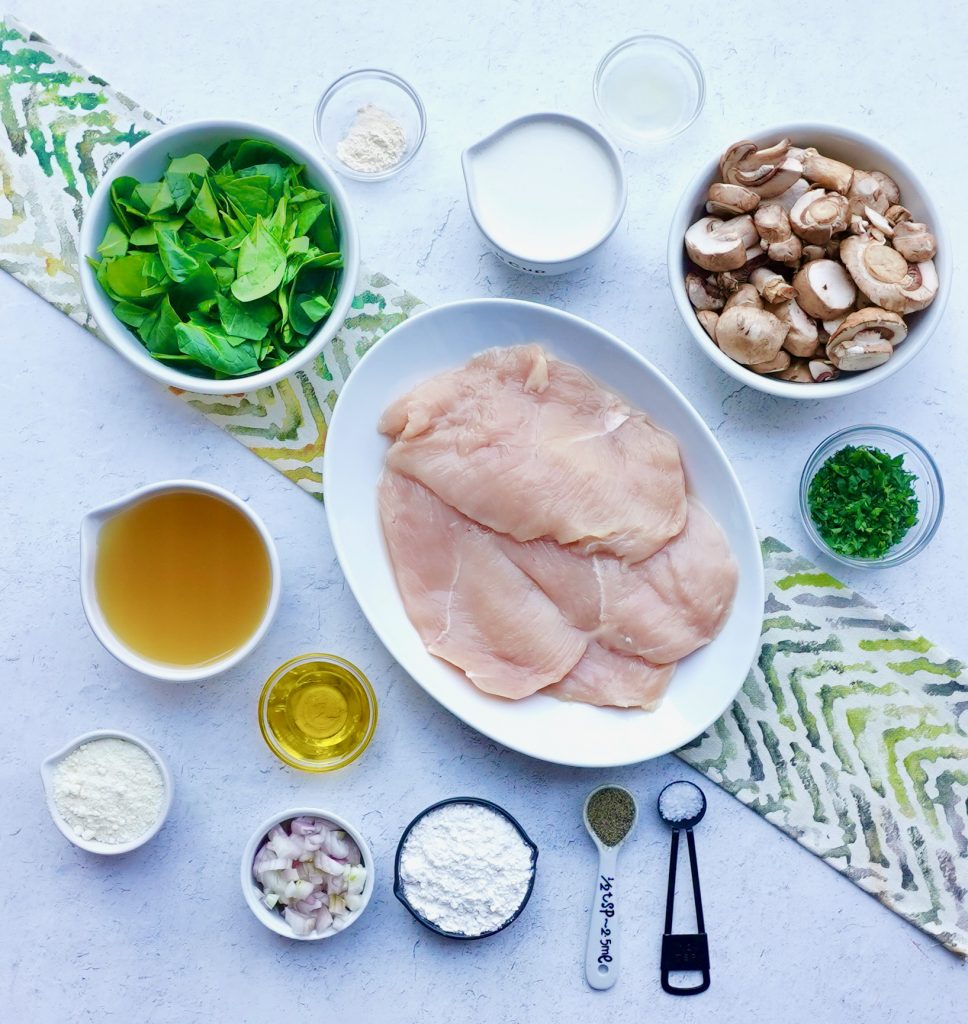 Creamy Mushroom Spinach Chicken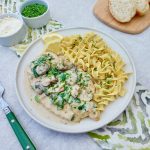 Print This
Ingredients
1 pound boneless chicken breasts, sliced into cutlets and pounded thin

¼ cup all purpose flour

½ teaspoon kosher salt

½ black pepper

½ garlic powder

2 tablespoons of olive oil

8 ounces Baby Bella mushrooms or white mushrooms, sliced

1 medium shallot, sliced

1 cup chicken stock

½ cup heavy cream

2 tablespoons fresh parsley, chopped

¼ cup grated parmesan cheese

1 tablespoon fresh lemon juice

2 cups fresh baby spinach, chopped
Instructions
Combine the flour, salt, pepper and garlic powder in a shallow dish to season chicken.
Heat the olive oil over medium low heat in a large skillet. Dip each cutlet into the flour mixture and coat on both sides. Add the chicken cutlets to the skillet and sear chicken on each side until it is golden brown.. This will take 2-3 minutes per side. You want to achieve an internal temperature of 165 degrees. Remove the browned cutlets to a plate.
Add the mushrooms to the skillet. Cook over medium low heat until the mushrooms have released their liquid and start to brown, about 4-5 minutes.
Add the shallots to the mushrooms and cook for an additional minute.
Add the chicken broth, heavy cream, parsley, parmesan cheese and lemon juice to the skillet and heat over medium- high heat until the mixture is bubbling. Reduce the heat to low and it let is simmer, uncovered for a few minutes until it is a thick creamy texture.
Add the spinach and let it wilt.
Add the chicken back to the skillet and stir to cover it with the sauce. Simmer for  a couple additional minutes on low until the chicken is heated through.
Notes
If you do not want to purchase fresh parsley for this one recipe, a good rule of thumb is to substitute 1 teaspoon of dried parsley for each tablespoon of fresh parsley.