This Creamy Mushroom Spinach Chicken recipe is another one of those perfect week night dinner recipes. When I get home from work I am usually a contradiction of emotions, on one hand I'm hungry and tired and just want to eat anything, but at the same time I have always had such a strong desire to know what ingredients are going into the food I'm eating. The only way to truly know that is to cook it yourself. This dish is the perfect solution to my conundrum.
Creamy Mushroom Spinach Chicken takes under 30 minutes from start to serving. It is a delicious and filling meal and the perfect way to end the day!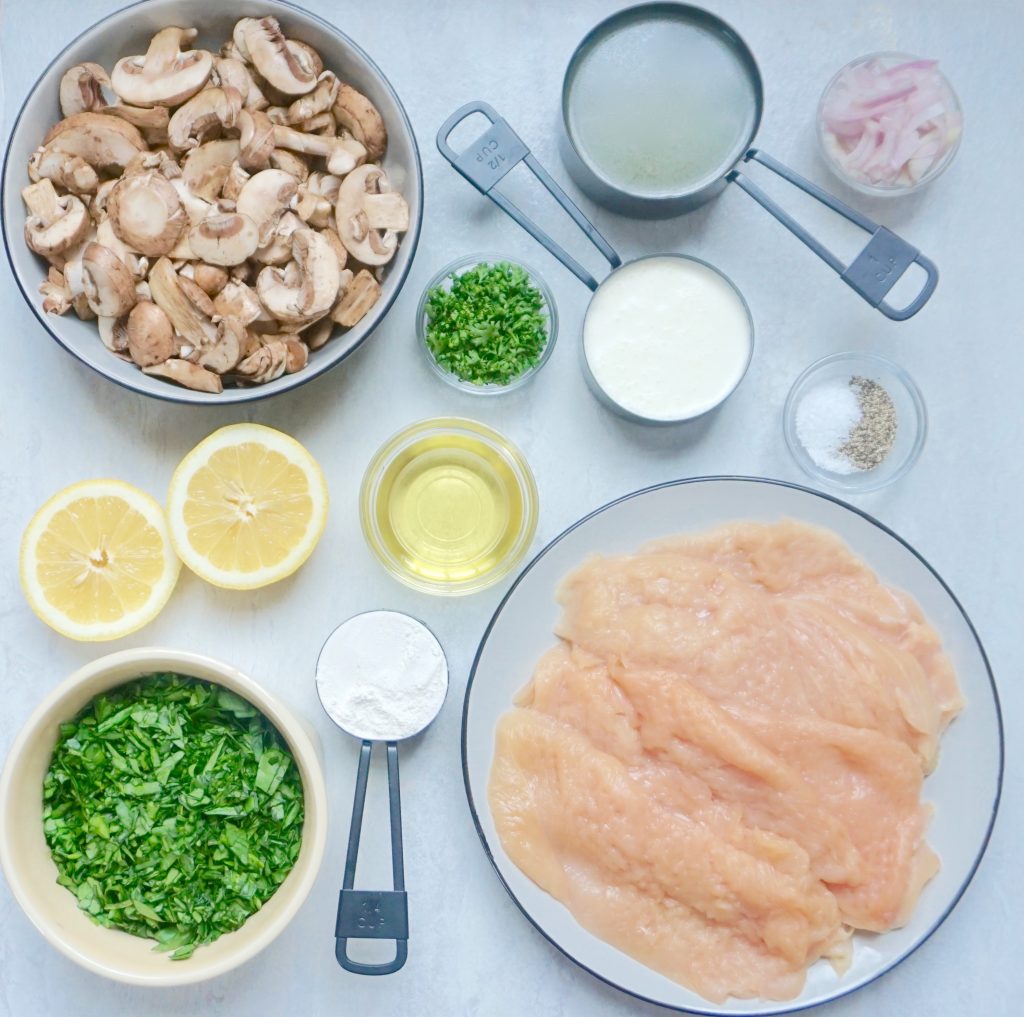 Creamy Mushroom Spinach Chicken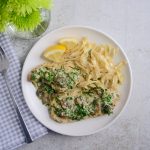 Print This
Ingredients
1 pound boneless chicken breast, sliced into cutlets and pounded thin

1/4 cup all purpose flour

1/2 teaspoon each salt and pepper

3 tablespoons olive oil

8 ounces Baby Bella or white mushrooms, sliced

1 medium shallot, sliced

2 cups baby spinach, chopped

2 tablespoons fresh parsley, chopped

1 cup chicken broth

1/2 cup heavy cream

1 tablespoon fresh lemon juice
Instructions
Combine the flour, salt and pepper in a shallow dish.
Heat the olive oil over medium low heat in a large skillet. Dip each cutlet into the flour mixture and coat on both sides. Add the cutlets to the skillet and brown each side. This will take 2-3 minutes per side. Remove the browned cutlets to a plate.
Add the mushrooms and shallots to the skillet. Cook over medium low heat until the mushrooms have released their liquid and start to brown, about 5 minutes.
Add the chicken broth, heavy cream, parsley and lemon juice to the skillet and heat over medium low heat until the mixture is simmering. Add the spinach and let it wilt.
Add the chicken back to the skillet and stir to cover it with the sauce. Simmer for  a couple additional minutes on low until the chicken is heated through.
Notes
If you do not want to purchase fresh parsley for this one recipe, a good rule of thumb is to substitute 1 teaspoon of dried parsley for each tablespoon of fresh parsley.