Squash Fritters make a perfect summer side dish. Summer squash and zucchini are abundant and delicious this time of year and these simple fritters are a great way to use them. They will go with just about anything that you are grilling. You could also serve them as tasty appetizers or a vegetarian meal.
This recipe works just as well with zucchini or a combination of both squashes so use whichever you have on hand!
 This is a simple recipe with just a few ingredients that goes together fast. With a cook time of 4 minutes it's hard to resist  making them all summer long. If you are looking for additional summer recipes, check out 30 Simple Summer Cookout Side Dishes.
Summer squash is naturally a low calorie vegetable so these fritters make a healthy substitute for a heavier potato side dish. You could serve them with either a dollop of Avocado Crema or sour cream.
Avocado Crema is a healthier option for a dipping sauce to serve with the fritters then sour cream and takes only a minute to make. Greek yogurt is another healthy choice.
If you like fritters you might want to check out Mexican Street Corn Fritters. 
You might also like Cheesy Cauliflower Fritters, Potato Fritters, Crab Fritters, and Zucchini Corn Fritters.
If you want to try a couple other summer squash recipes, check out Summer Squash Zoodles and Summer Squash Basil Pasta. You might also like Crispy Fried Yellow Squash.
15 Simple Summer Squash Recipes is a collection ways to cook with seasonal squash.
SOME THINGS TO KNOW:FAQ'S
INGREDIENT TIPS:
Here is a little help as to how to determine how much squash to buy in order to get 4 cups of grated squash. One pound of squash will yield 2 cups of grated squash so you will need 2 pounds of squash to make this recipe.
Read Here's How to Pick the Best Summer Squash so you will know what to look for when buying the squash.
SPECIAL EQUIPEMENT NEEDED:
Box grater or food processor to grate the squash
Large Mixing Bowl
Large Skillet, Frying Pan or Nonstick skillet
SUBSTITUTIONS:
You can substitute grated zucchini for the yellow squash
You can replace the green onions with yellow onion or red onion.
Whole Wheat Flour can be substituted for the all purpose flour.
If you do not have olive oil, substitute canola oil or vegetable oil.
The best cheese substitutes for Parmesan cheese are Asiago or Romano cheese.
HOW TO STORE LEFTOVER SQUASH FRITTERS:
You can store the leftover fritters in an airtight container in the refrigerator for 3-5 days. Let the fritter cool to room temperature before placing them into the container.
You can freeze the fritters for 2-3 months. Place them into the freezer on a baking sheet in a single layer. Once the fritters are frozen, place them into an airtight freezer bag or container and return them to the freezer.
Defrost the fritters in the refrigerator.
HOW TO REHEAT LEFTOVER SQUASH FRITTERS:
The best way to reheat the fritters is in a pre-heated 350 degree oven on a baking sheet. It should take between 5-10 minutes.
You can also reheat them in an air fryer on 350 degrees. This should only take 3-5 minutes.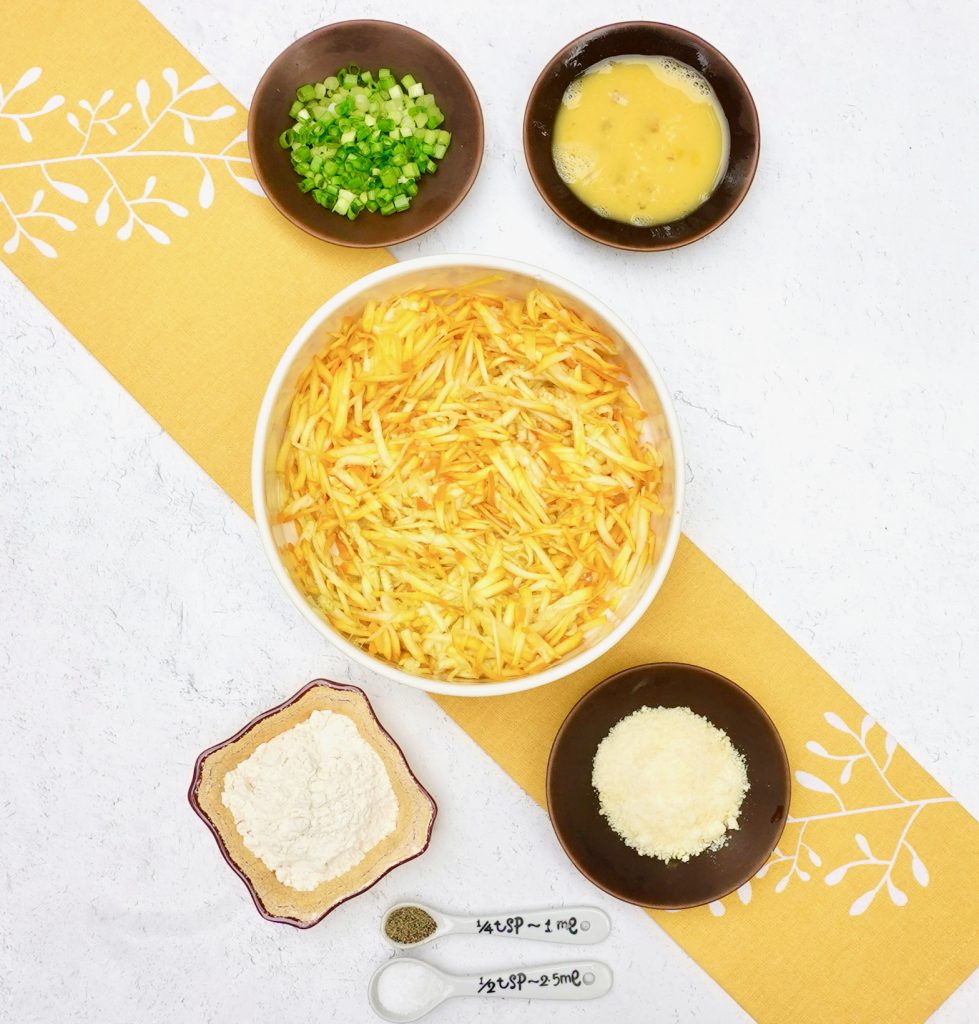 Combine all of the ingredients in a large bowl.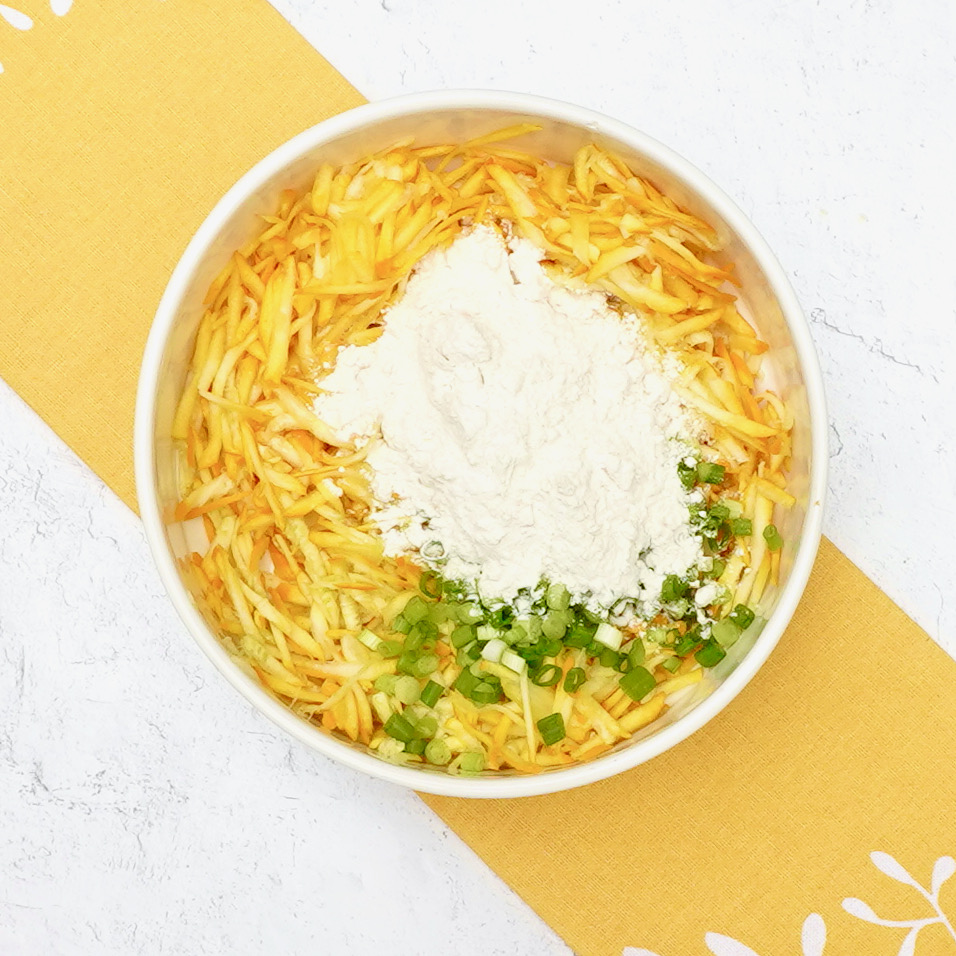 Squash Fritters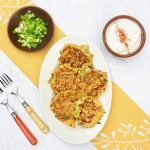 Print This
Ingredients
4 cups grated yellow summer squash, about 2 pounds
3 tablespoons green onions, minced
1 large egg beaten
¼ cup all purpose flour
¼ cup grated parmesan cheese
½ teaspoon kosher salt
½ teaspoon black pepper
2-4 tablespoons olive oil for frying
Instructions
If you will be frying the fritters in two batches, preheat the oven to 200 degrees.
Place your grated squash on paper towels or a clean dish towel and squeeze the excess liquid out.
In a large bowl combine the grated squash, green onions, flour, parmesan cheese, egg, salt and pepper. Mix well until thoroughly combined.
In a large skillet heat 2 tablespoons of the olive oil over medium low heat. Measure a level ¼ cup of the squash mixture and add to the hot oil in the skillet. You should be able to fit 4-5 fritters at a time in a 10 inch skillet.
Fry for 2 minutes over medium-low heat until golden brown. Flip the fritters and cook the other side for 2 additional minutes until browned. Remove to a paper towel-lined  plate.
Place the fritters into the preheated oven to keep them warm while you are frying the second batch.
Check the skillet to see if you need an additional tablespoon of oil for the second batch. Add another tablespoon or two as needed.
Repeat the frying process with the second batch of fritters.