Crab Fritters are a celebration of fresh, succulent crabmeat, lightly seasoned and fried to golden perfection. Paired with a tangy, homemade Tartar Sauce, they're a treat that's hard to resist. Whether you are hosting a dinner party and need a special appetizer or you are looking for a new way to enjoy seafood, this recipe is for you! Made with fresh crabmeat, green onions, and a hint of lemon zest, these fritters are flavorful and delicious. You can serve them with the tartar sauce in this recipe or your favorite dipping sauce. Lime Aioli would be a good sauce to try!
If you like these crispy crab fritters, you might also like Crab Cakes. Crabbies are also an other delicious crabmeat appetizer that turn in to everyone's favorites! You might also like Crab Meat Pasta Salad.
If you are a seafood lover, you should also check out the Lobster Bisque and New England Clam Chowder recipes.
SOME THINGS TO KNOW:FAQ'S
SPECIAL EQUIPMENT NEEDED:
Large frying pan or large skillet
Rubber spatula or wooden spoon
Large bowl
SUBSTITUTIONS:
If fresh crabmeat isn't available, canned crabmeat can be used. Just make sure to drain it well.
 Chives or shallots can be used in place of green onions.
Dried parsley can be used if fresh parsley is not available. Use 1 teaspoon of dried parsley for every tablespoon of fresh.
If you don't have a lemon to create the lemon zest, you can use a small amount of bottled lemon juice or omit it entirely.
If you do not have canola oil, some good substitutions would be peanut oil, vegetable oil and olive oil.
If you do not have cayenne pepper, black pepper can be substituted. You could also use a couple drops of hot sauce.
HOW TO STORE LEFTOVER CRAB FRITTERS:
You can keep both the Crab Fritters and Tartar Sauce separately in the refrigerator in an airtight container for 2-3 days.
You can freeze the Crab Fritters in an airtight freezer container for 2-3 months. Place the fritters onto a baking sheet that is lined with parchment paper in a single layer. Place the baking sheet into the freezer. Once the fritters are frozen, remove them from the baking sheet and place them in your freezer container. Return the fritters to the freezer.
Defrost the fritters in the refrigerator.
HOW TO REHEAT THE FRITTERS:
Place the fritters into a preheated 350 degree oven, in a single layer on a baking sheet. Bake for 10 minutes until heated through.
The fritters can also be reheated in an air fryer. Set the fryer to the reheat or bake setting at 350 degrees. Heat the fritters for 3-5 minutes until heated through.
HELPFUL READING: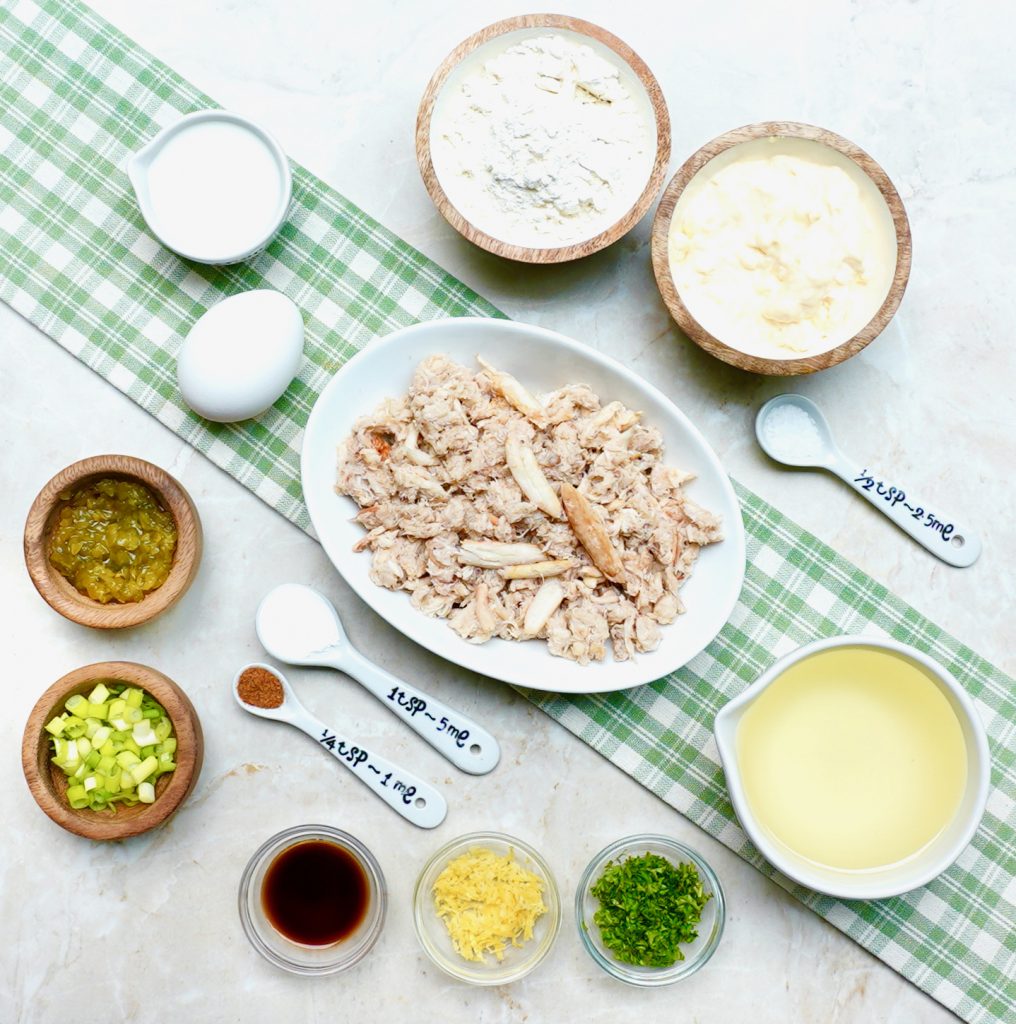 Combine the egg, milk and Worcestershire sauce in a medium bowl. In a large bowl combine flour, baking powder, kosher salt and cayenne pepper.
Add the egg mixture to the dry ingredients and combine well to create the fritter batter.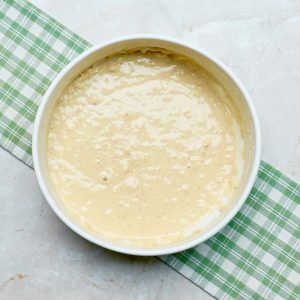 Gently fold in the crabmeat, green onion, parsley and lemon zest.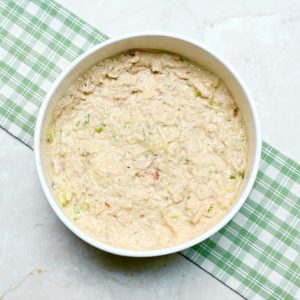 Crab Fritters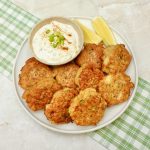 Print This
Ingredients
CRAB FRITTERS:
1 large egg
¼ cup whole milk
1 teaspoon Worcestershire sauce
½ cup all-purpose flour
1 teaspoon baking powder
½ teaspoon kosher salt
¼ teaspoon cayenne pepper
8 ounces lump crabmeat or claw crabmeat
2 tablespoons green onion, chopped
1 tablespoon fresh parsley
1 teaspoon lemon zest
TARTAR SAUCE
½ cup mayonnaise
1 tablespoon sweet pickle relish
A pinch of cayenne pepper
Instructions
CRAB FRITTERS:
In a medium bowl, whisk beat the egg, making sure that the egg whites and egg yolks are well combined.
Add the milk and Worcestershire sauce to the egg. Whisk to combine well.
In a separate large mixing bowl, combine the flour, baking powder, salt, and cayenne pepper.
Gradually add the wet ingredients to the dry ingredients, stirring until a batter forms.
Fold in the crabmeat, green onions, parsley, and lemon zest with a wooden spoon or rubber spatula.
Heat oil in a large skillet over medium heat. This does not require a large amount of canola oil, just enough to cover the entire bottom of the skillet.
Drop rounded  tablespoons of the crab mixture into the hot oil and fry until golden brown on both sides. This will only take  1½-2 minutes per side.
Remove the fritters from the skillet to some layered paper towels to blot the excess oil. If you are making the fritters ahead of time and not serving them at once, place them onto a wire rack to cool.
TARTAR SAUCE:
Mix together the mayonnaise, sweet pickle relish, and a pinch of cayenne pepper in a small bowl.
Serve the fritters hot with the Tartar Sauce on the side. Enjoy!