Mud Pie is an easy to make ice cream dessert. A chocolate pie crust is layered with chocolate ice cream, fudge sauce and whipped cream. Crumbled chocolate graham crackers top it off.
Directions are given to make the pie crust from scratch using crumbs that are made from chocolate wafer cookies or chocolate graham crackers. If you want to simplify the recipe, you could use a pre-made chocolate graham cracker crust.
The fudge in the center of the pie is Hot Fudge Sauce made from scratch. This recipe makes 1 cup of fudge sauce which is what you need for the pie. You could use a prepared fudge sauce as well.
Ice cream is a great summer dessert and Mud Pie would be the perfect ending to a summer cookout. Berry No Churn Ice Cream, and Chocolate Waffle Ice Cream Sandwich are a couple other ice cream recipes you may want to try.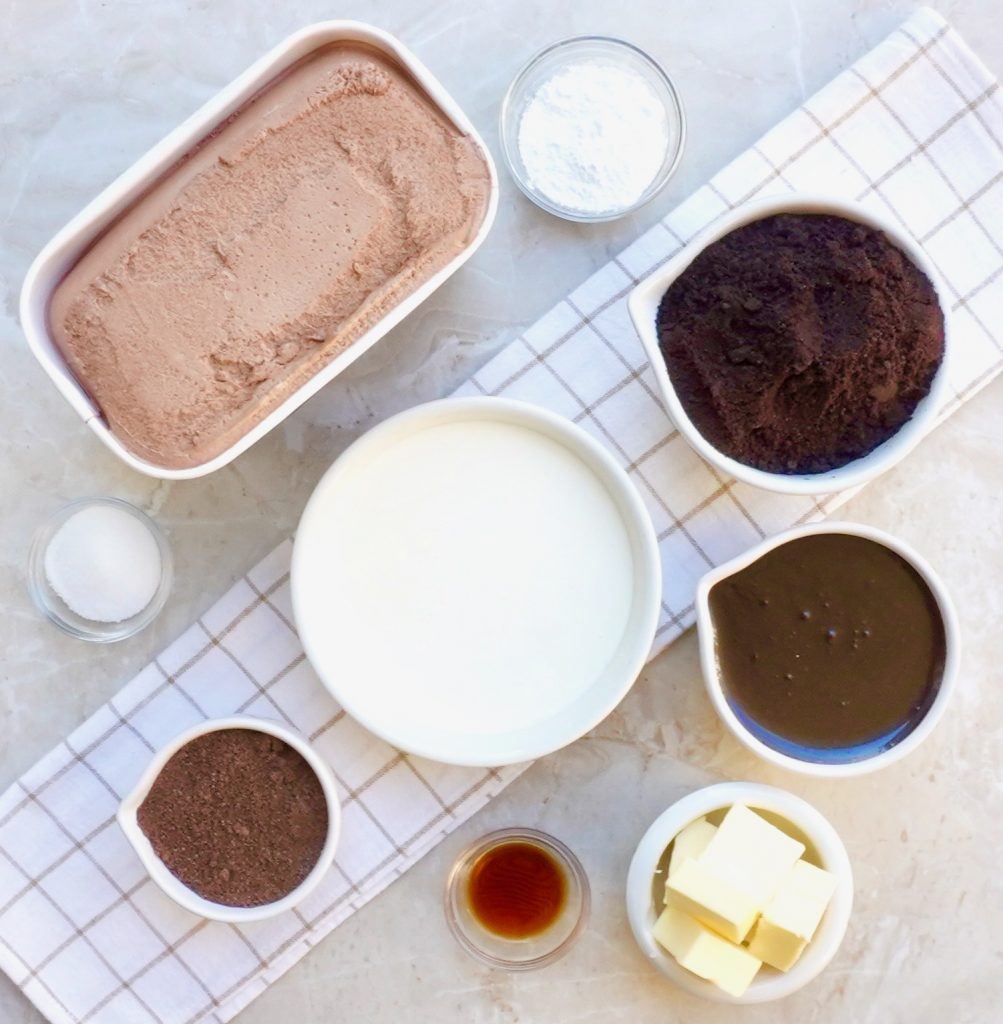 Mud Pie
Print This
Ingredients
1½ cups chocolate cookie crumbs (9 oz package Nabisco Famous Chocolate Wafers) or chocolate graham crackers

2 tablespoons powdered sugar

6 tablespoons butter, melted

6 cups chocolate ice cream

1 cup fudge sauce

2 cups heavy cream

1 teaspoon vanilla extract

3 teaspoons granulated sugar

¼ cup chocolate cookie crumbs or chocolate graham cracker crumbs
Instructions
Preheat the oven to 350 degrees.
In a medium sized bowl combine the cookie crumbs, powdered sugar and melted butter. Stir together well.
Press the crust mixture into the bottom and up the sides of a 9 inch pie plate.
Place into the preheated oven and bake for 10 minutes.
Remove the crust from the oven and let it cool to room temperature.
Take the chocolate ice cream out of the freezer and let it soften just slightly. Add 3 cups of the ice cream to the pie plate and smooth it evenly.
Return the remaining ice cream and the pie to the freezer.
Let the pie freeze for 30 minutes.
Remove the pie from the freezer and spread the fudge sauce evenly over the ice cream. Return the pie to the freezer for 15 minutes.
Take the remaining 3 cups of chocolate ice cream from the freezer and let it soften slightly. Spread it evenly over the fudge sauce.  Return it to the freezer for an additional 30 minutes.
Place the heavy cream into a chilled bowl with the vanilla extract. Beat on high speed with an electric mixer until the cream becomes thick. Add the granulated sugar, one teaspoon at a time until the cream becomes thick enough to form peaks.
Remove the pie from the freezer and add the whipped cream over the top, mounding it higher in the center and creating swirls with the spoon.
Sprinkle the additional crumbs over the top.
Freeze for at least 1 hour before serving.
When you are ready to serve the pie, take it out of the freezer and let it sit for 10 minutes before you try to cut it.