Authentic Italian Gravy is a recipe from the Tuttorosso Tomatoes website. I am partnering with them today along with the Feed Feed to celebrate Family Traditions.
They are a great resource for lots of other tomato sauce recipes, tips and techniques. #ad
This sauce is totally amazing. There is a bit of time and effort required and it is worth every minute. This is the best sauce I have ever made. There is a depth of flavor that comes from first roasting the vegetables and ribs in wine and then letting the sauce simmer for hours. As the sauce reduces down, the flavors are concentrated. The end sauce is so rich and flavorful. This makes a large batch which is a good thing. I served it over pappardelle pasta and I am going to use the remaining sauce for lasagna. 
This is the perfect Sunday sauce. It fills the home with warmth and fragrance. It will surely become my new family tradition.
Ingredients are so important and I have long been a fan of Tuttorosso Tomatoes. They take my cooking to the next level.  I know that my recipes will always turn out well with them and I know they are the best quality tomatoes you can see and taste. I always feel confident that I can create the perfect meal with them. 
 The pride and care of family ownership is so important. They don't use anything artificial. Every tomato is washed 7 times, rinsed 18 times and hand sorted 11 times. They have a Steam Sealed Flavor Loc system which protects the fresh, vine ripened flavor of the tomatoes. 
This is the brand that is always stocked in my pantry.
This post is being sponsored by Tuttorosso Tomatoes and Feedfeed. All words are my own.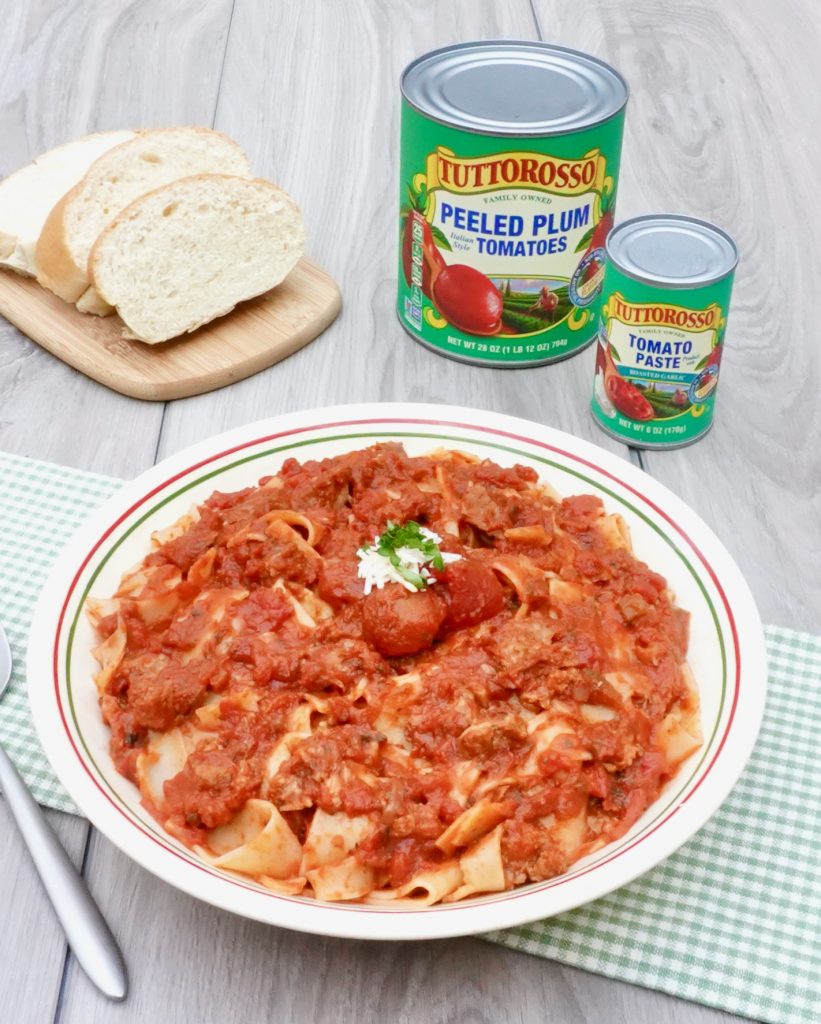 Authentic Italian Gravy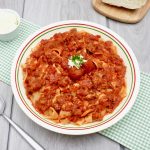 Print This
Ingredients
1 cup red wine, + 2 tablespoons

1/4 cup extra virgin olive oil

3 baby back ribs or short ribs

1/2 cup chopped onion

1/2 cup chopped celery

1/2 carrot, minced

10 garlic cloves, minced

Salt and black pepper to taste

3 (28 ounce) cans Tuttorosso® Peeled Plum Tomatoes in Puree

2 (6 ounce) cans Tuttorosso® Tomato Paste

1 (28 ounce) can Tuttorosso® No Salt Added Tomato Sauce

1 quart water

2 tablespoons dried basil

2 tablespoons dried oregano

1/4 cup chopped fresh Italian parsley

1 pound Italian sausage, cooked and drained or meatballs
Instructions
Step 1
 Preheat oven to 400 degrees F. Place 1 cup red wine, oil, baby back ribs, onion, celery, carrots, garlic, salt and black pepper in a roasting pan; stir to coat.
Step 2 
Roast baby back ribs and vegetable mixture in oven until vegetables are tender, 1 hour. Stir in about 2 tablespoons red wine while scraping any brown bits of food off the bottom of the pan. Roast until vegetable are browned, about 30 minutes.
Step 3
Pour vegetable mixture into a 16 quart stock pot over medium-low heat; simmer for 30 minutes. Add tomato paste, tomatoes, tomato sauce, water, basil, oregano and parsley; stir well. Simmer, stirring occasionally, until sauce reduces, 4 to 6 hours.
Step 4
Remove the ribs from sauce; scrape marrow out of bones. Add marrow to sauce and simmer until dissolved, 1 to 2 hours.
Step 5
Add choice of meat to sauce during the last ½ hour of cooking.
Step 6
For a smooth sauce, blend in batches until smooth. Add Italian sausage or other meat to sauce after blending.
Step 7 
Option: Cook one pound of pasta in ½ gallon water, just until al dente, reserve pasta water. After sauce has cooked add to it ¼ cup pasta water and al dente pasta. Cook until pasta is completely cooked. This allows the pasta and sauce to combine their flavors for an exceptional tasting meal.