Grilled Chicken Skewers is a recipe from the Tuttorosso Tomatoes website. It's grilling season and I am partnering with them today along with the Feed Feed to celebrate Grilling.
Check out their website for lots of other recipes that are perfect for summer grilling. #ad
Grilled Chicken Skewers is a simple 3 ingredient recipe that you can have prepped and ready for the grill in 15 minutes. We are using Tuttorosso No Salt Added Peeled Plum Tomatoes to make this healthy meal.
Ingredients are important, which is why I always use Tuttorosso Tomatoes. 
 I know that my recipes will always turn out well with them and I know they are the best quality tomatoes you can see and taste. I always feel confident that I can create the best meals with them. 
 The pride and care of family ownership is so important. They don't use anything artificial. Every tomato is washed 7 times, rinsed 18 times and hand sorted 11 times. They have a Steam Sealed Flavor Loc system which protects the fresh, vine ripened flavor of the tomatoes. 
This post is being sponsored by Tuttorosso Tomatoes and Feedfeed. All words are my own.
Chicken Skewers are perfect for summer grilling. Check out Chimichurri Shrimp Skewers, Honey Teriyaki Chicken Kabobs, and Lemon Chicken Chimichurri Kabobs for some other good options.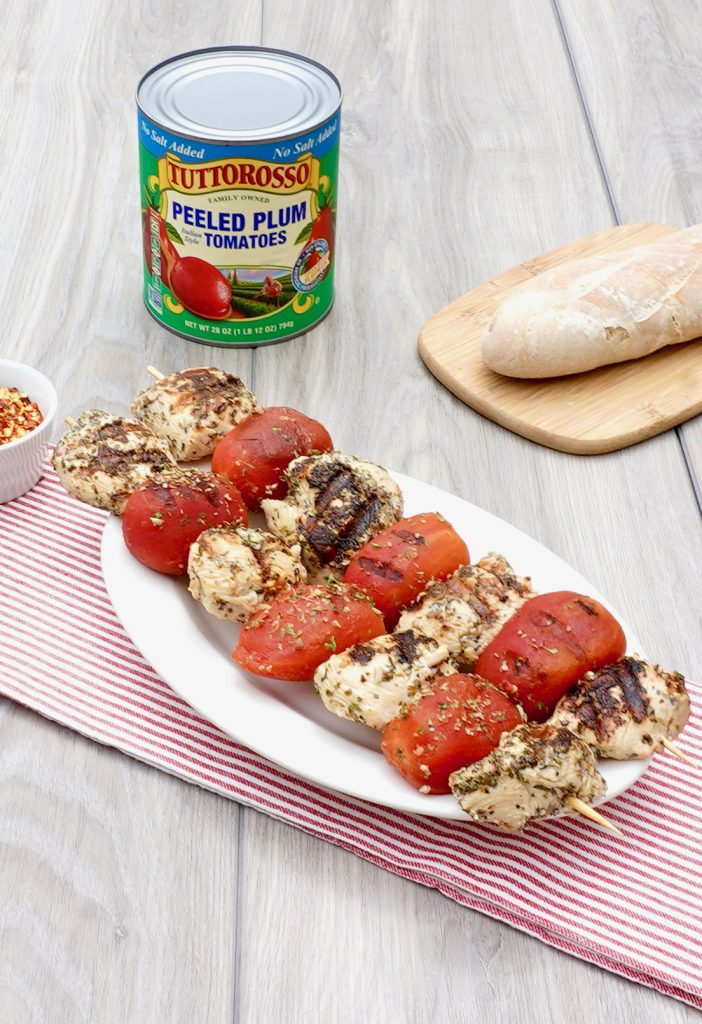 Grilled Chicken Skewers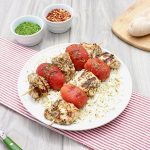 Print This
Ingredients
4 brochette skewers or 8-10 wooden or metal kebab skewers

4 boneless skinless chicken breasts, cut into 16 - 2 inch pieces

1 (28 ounce) can Tuttorosso® No Salt Added Peeled Plum Tomatoes

1/4 cup Italian salad dressing
Instructions
Step 1
If the brochettes skewers are wooden, soak in water for 30 minutes to stop them from burning on the grill.
Step 2
Thread the chicken pieces and tomatoes onto each brochette, with 4 pieces of chicken and 3 tomatoes on each. Brush each brochette with about a teaspoon of Italian dressing. Set aside for 15 minutes.
Step 3
Heat the grill to medium and wipe clean with an oiled grill cloth. Cook the brochettes evenly, turning every 4 or 5 minutes until chicken is cooked through; about 20 minutes.
Step 4
Serve over your favorite rice dish, with a salad or grilled vegetables.