Pasta salads can be a great summer meal. They are easy to make and they are perfect for the warm summer nights. Italian Tuna Pasta Salad is a complete meal. It combines tuna, vegetables and pasta in a mayonnaise vinegar dressing.
This versatile pasta salad would work equally as well for lunch or dinner. It would also make a great addition to a summer potluck or picnic. It will take under 20 minutes to make start to finish. While you are cooking the shells you can prep the vegetables and make the dressing.
If you would like to try another pasta salad that is a complete meal meal check out Chicken Caesar Pasta Salad.
If you would like some ideas for pasta salads that would make great side dishes for your summer cookouts check out Southwest Pasta Salad, Vegetable Ranch Pasta Salad, Mediterranean Pasta Salad, and Greek Orzo Salad and Whole Wheat Pasta Salad.
SOME THINGS TO KNOW: FAQ'S
INGREDIENT TIPS:
Read The Best Canned Tuna is Better Than Fresh Tuna to help you start off with great ingredients.
This Italian tuna pasta salad can be made ahead of time. Pasta does absorb the dressing as it sits so you may want to add a few tablespoons just before serving.
SPECIAL EQUIPMENT NEEDED:
SUBSTITUTIONS:
Italian Tuna is premium tuna packed in high quality oil. It is readily available in the grocery store and it adds a lot of flavor to the salad. It is more expensive than domestic canned tuna. You can easily substitute your favorite canned tuna in this recipe whether it is packed in oil or water.
If you want to use another pasta instead of medium shells, macaroni, farfalle (bow ties) and penne are good options.
You can substitute the red onion with yellow or white onion.
HOW TO STORE ITALIAN TUNA PASTA SALAD:
You can keep any leftovers tightly covered in the refrigerator for 2-3 days.
Mayonnaise is an egg-based dressing that will break down and change consistency inside the freezer. You should not try to freeze this salad.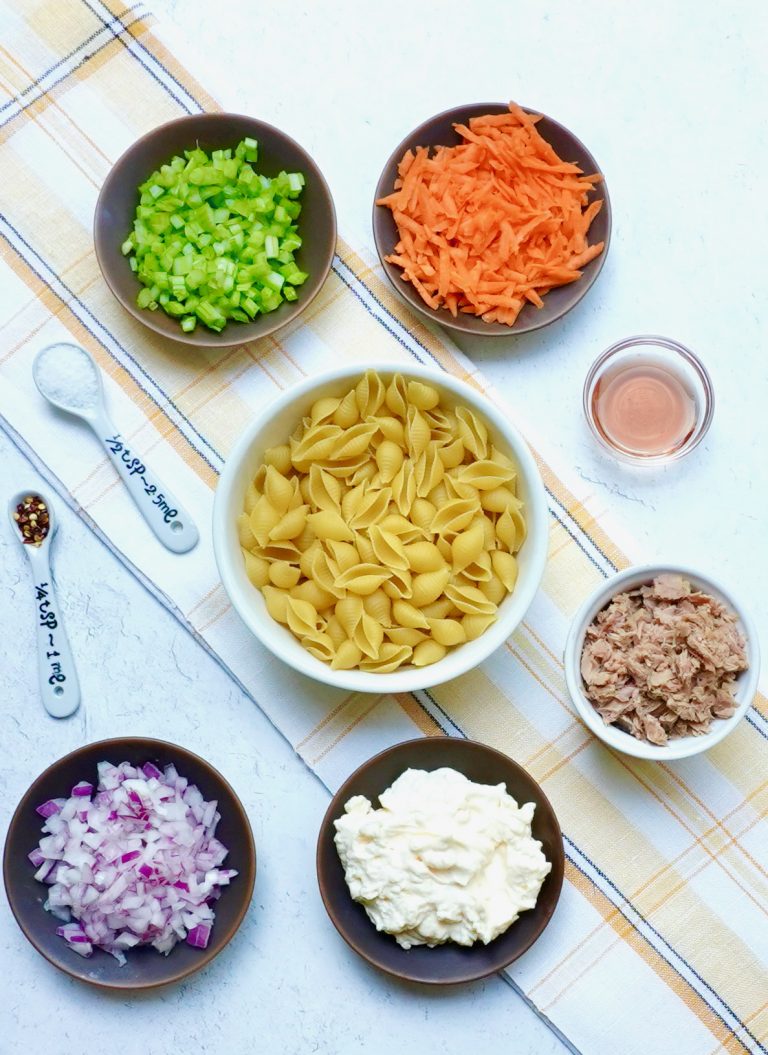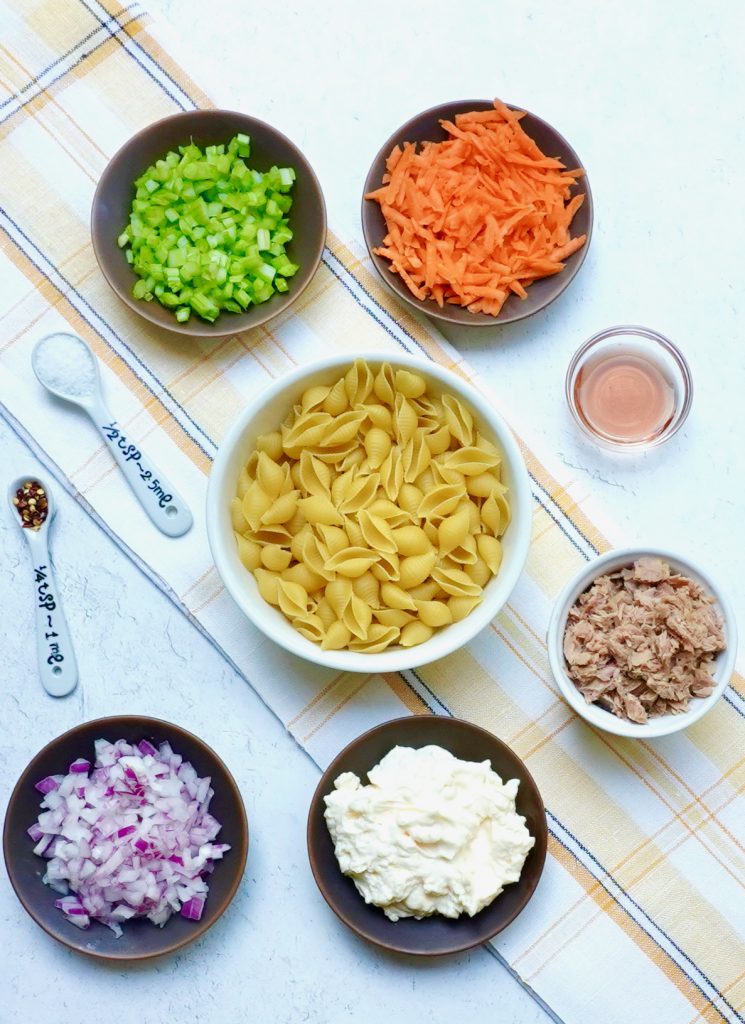 Italian Tuna Pasta Salad
Print This
Ingredients
8 ounces medium shell pasta

6 ounce can Italian Tuna packed in oil, drained

1 large carrot, peeled and shredded

1 large celery stalk, minced

½ cup red onion, minced

½ cup mayonnaise

1 tablespoon red wine vinegar

1 teaspoon kosher salt

½ teaspoon crushed red pepper
Instructions
Heat a large pot of water over hight heat until it comes to a boil.
Add the shells and cook them, stirring occasionally until they are the tenderness you prefer. Al dente will take about 8-9 minutes.
Drain the pasta and let it cool.
Add the pasta to a large bowl. Add the tuna, carrot, celery and onions. Combine.
In a small bowl, whisk together the mayonnaise, red wine vinegar, salt and red pepper.
Pour the dressing over the pasta salad. Combine well.