Blueberry Cinnamon Pancakes are a great summer breakfast. They really are a treat and so easy to make from scratch with ingredients that you most likely already have in your pantry.
This recipe is a simple batter of eggs, buttermilk, flour, sugar,cinnamon and a few more ingredients. It only takes a couple of minutes to put the batter together and the pancakes cook pretty quickly. If you do not have buttermilk you can make it yourself with the directions in the note section. You could also simply use milk.
If you are a fan of pancakes, check out Strawberry Banana Pancakes, and Gingerbread Pancakes.
If you love blueberry pancakes, you are going to like Blueberry Pancake Bundt Cake.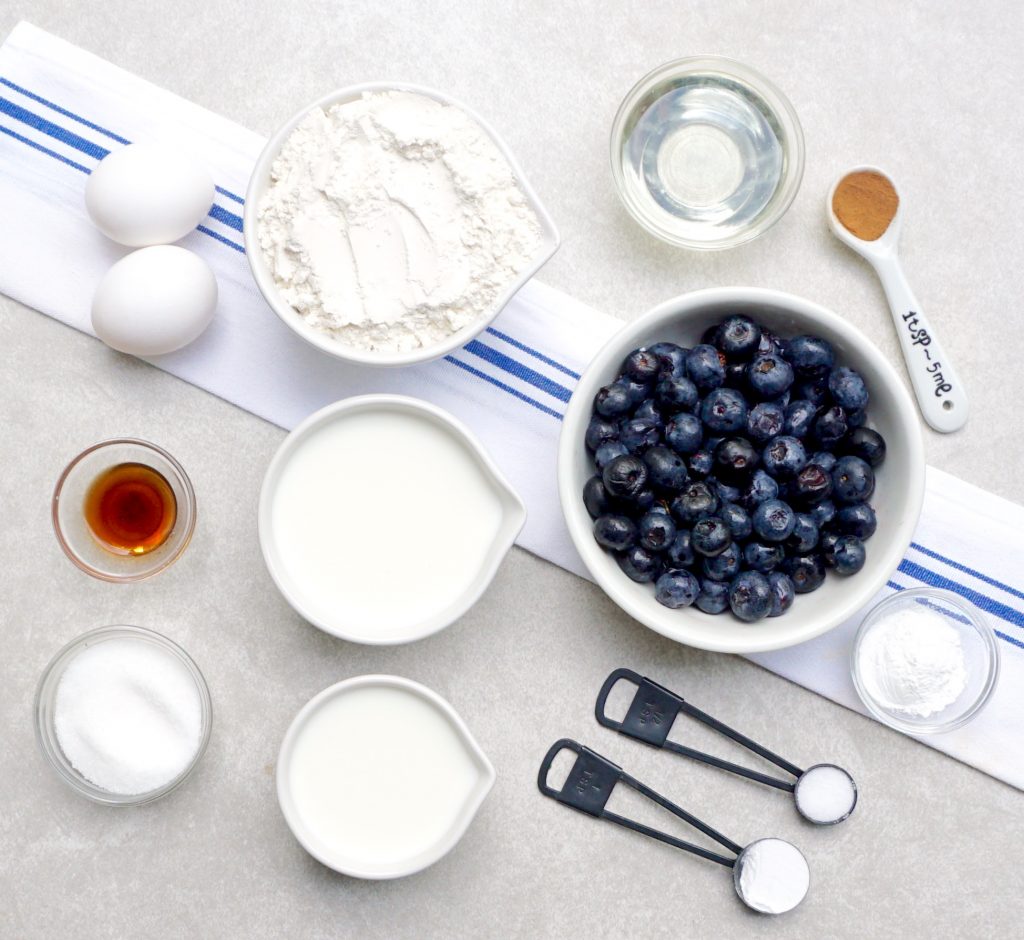 Blueberry Cinnamon Pancakes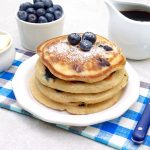 Print This
Ingredients
1 ½ cups all purpose flour

3 tablespoons granulated sugar

1 ½ teaspoons baking powder

1 teaspoon baking soda

½ teaspoon salt

1 teaspoon cinnamon

1 ½ cups buttermilk

3 tablespoons vegetable oil

2 large eggs

1 teaspoon vanilla extract

1½ cups fresh blueberries
Instructions
In a large bowl, mix the flour, sugar, baking powder, baking soda, salt and cinnamon.
In a small bowl, beat the eggs. Stir in the buttermilk, vegetable oil and vanilla extract.
Pour the wet ingredients over the dry ingredients and gently whisk them together, mixing just until combined.
Stir in the blueberries.
Spray a griddle or a large skillet with non stick spray and heat over medium heat.
Pour 1/3 cup batter onto the griddle for each pancake. Cook until the top of each pancake is speckled with bubbles and some bubbles have popped open, about 2 minutes.  With a spatula, turn the pancakes over and cook until the underside is lightly browned about 2 minutes.
Serve immediately or keep warm in 200 degree oven while you finish cooking the rest.
Serve with maple syrup.
Notes
To make your own buttermilk, place the 1 ½ milk in a bowl. Add 1 ½ tablespoon white vinegar and stir to combine. Let the mixture sit for 15 minutes.