Frittatas are very versatile and Mexican Sheet Pan Frittata is too! You can serve this for any meal of the day. It is hearty, delicious and feeds a crowd.
This egg based dish, similar to a crustless quiche is made with Mexican Chorizo sausage and Cojita cheese. It has tomatoes, green onions and cilantro to give it a fresh flavor. Adding jalapeño pepper is optional, but will give it a slight touch of heat.
Mexican Sheet Pan Frittata can be served simply on a plate. Some fresh salsa and guacamole would make great toppings. You can also cut the frittata into long, thin slices and wrap it in a tortilla to create a breakfast burrito. This is a great way to meal prep for a light lunch, breakfast or easy dinners for those busy weeknights.
We are big fans of frittatas around here because they are such an easy meal. Check out all the other options. Tater Tot Frittata Casserole, Sausage Pasta Frittata, Potato Cheddar Frittata, Vegetable Frittata, Zucchini Herb Frittata,  Mushroom Asparagus Frittata, Chorizo Frittata, and Mini Frittatas are all simple, flavorful recipes for meat filled and vegetable frittatas.
Mexican Sheet Pan Frittata would be good served with Spicy Black Beans.
SOME THINGS TO KNOW: FAQ'S
INGREDIENT TIPS:
Jalapeño peppers add a bit of heat but are considered one of the milder hot peppers. By removing the seeds and the ribs from the pepper, you will reduce the amount of heat. Read How to Make a Chile Pepper Less Spicy.
Chorizo comes soft and uncooked or dried and cured which is ready to eat. It is made from coarsely ground pork. You want the cured version for this recipe. If you are only able to find the raw version, make sure that you cook it thoroughly before adding it to this recipe.
SPECIAL EQUIPMENT NEEDED:
You will need a 10″ x 15″ rimmed baking sheet, baking pan dish or casserole dish.
Large mixing bowl
SUBSTITUTIONS:
If you cannot find Cojita cheese, some good substitutes are Ricotta Salata, Queso Fresco and Feta. you could also use Monterey Jack cheese or cheddar cheese.
You can substitute red or yellow onions for the green onions.
You can substitute the whole milk with heavy cream, sour cream or Greek yogurt.
HOW TO STORE LEFTOVER MEXICAN SHEET PAN FRITTATA:
The leftover frittata can be kept in the refrigerator in an airtight container for up to 5 days. Cool the frittata to room temperature before storing.
You can freeze this for up to 3 months. Cut the frittata into serving size squares and freeze them on a baking sheet. Once they are frozen, place them into an airtight freezer container.
HOW TO REHEAT LEFTOVER MEXICAN SHEET PAN FRITTATA:
To reheat, place the defrosted frittata squares into a 350 degree pre-heated oven on a baking sheet. Cover them with foil. Bake 10-15 minutes until heated through.
.You can reheat this covered in the microwave on a microwave safe dish. Cook at 1-2 minute intervals until heated through.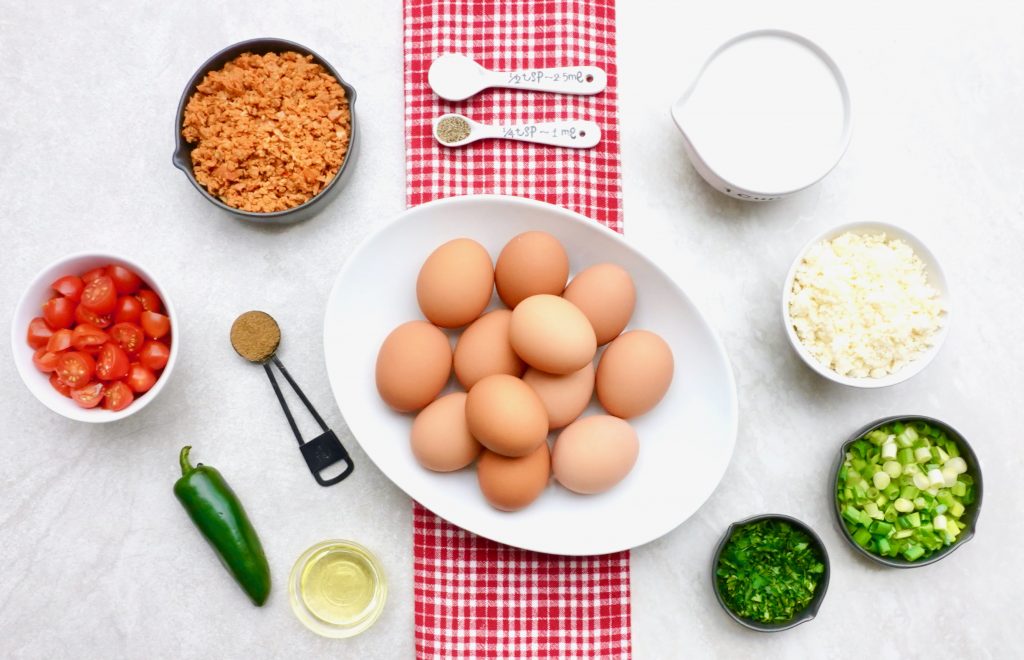 Mexican Sheet Pan Frittata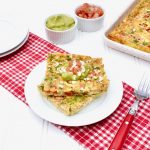 Print This
Ingredients
1 dozen eggs

1 cup whole milk

½ kosher salt

¼ teaspoon black pepper

1 teaspoon cumin

½ cup green onions, sliced

1 cup grape or cherry tomatoes, sliced in half

1 cup cooked chorizo sausage, diced small or crumbled (to crumble pulse in processor)

¼ cup fresh cilantro, chopped

1 cup Cojita cheese, crumbled

1 teaspoon olive oil or cooking spray

Optional: 1 jalapeño pepper, seeds removed and diced small
Instructions
Preheat the oven to 350 degrees
Beat the eggs in a large bowl with a whisk.
Add the milk, salt, pepper and cumin. Whisk them into the eggs.
Stir the green onions, tomatoes, chorizo, cilantro, Cojita and jalapeño pepper if you are using it into the milk mixture.
Combine well.
Either brush the olive oil all over the baking sheet so it is completely covered or spray the pan with cooking spray. You could also line the baking sheet with parchment paper.
Pour the egg mixture into the baking pan and place it into the oven on a center rack. If you want, sprinkle some additional cheese on top.
Bake for 25-30 minutes until the frittata is entirely set and golden brown.
Remove the frittata from the oven and let it sit for 5 minutes before slicing.
Serve with some fresh salsa or fresh pico de gallo,  sour cream and guacamole.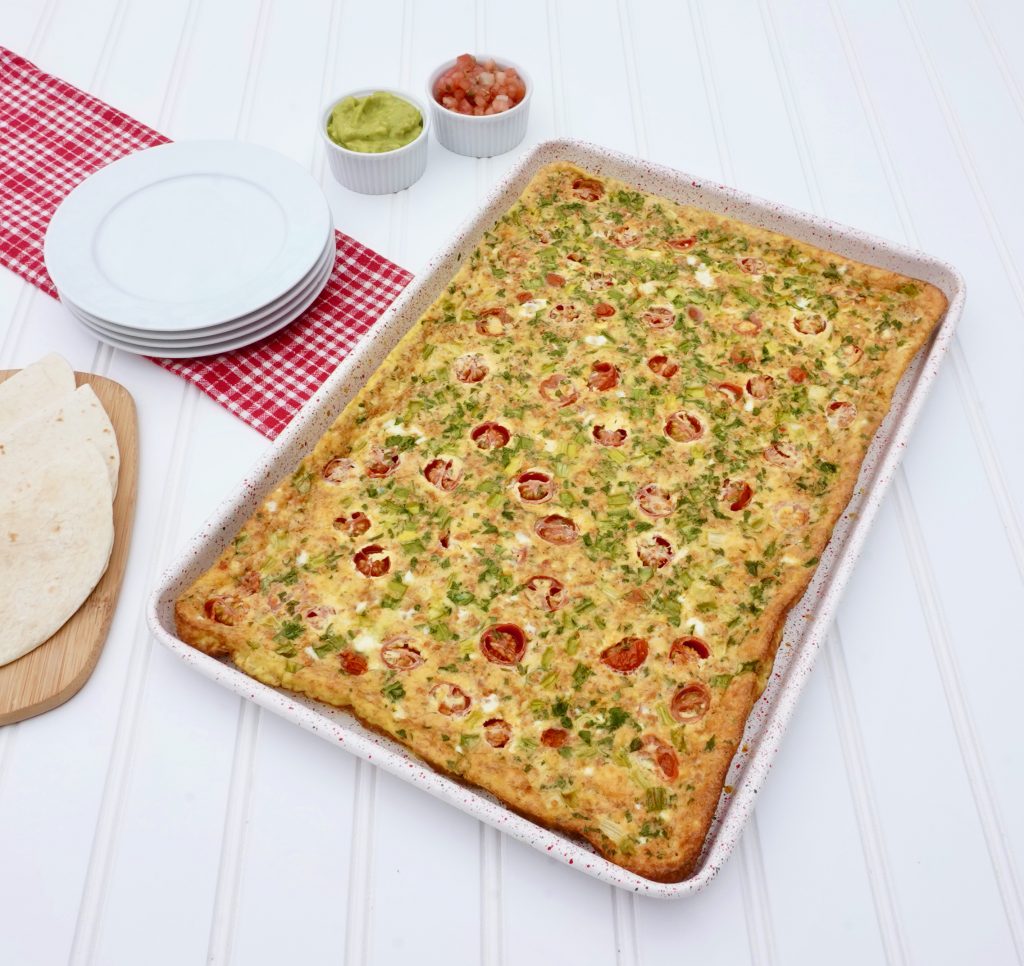 You can also serve the frittata wrapped in a tortilla to make a breakfast burrito.