Frittatas are a way of life for me. I make one every week. This Mushroom Asparagus Frittata is my current version because asparagus season is upon us now. You can vary between baking one large frittata or the smaller muffin size frittatas. I love how easy they are when I have a lot of people to feed for breakfast, but mainly I make them as part of my weekly meal prep.
On weekday mornings I usually get up early and hit the gym before I head to work. I take a slice of whatever my frittata of the week may be and eat it after the gym. I find that starting the day with a low carb, veggie packed meal just sets the perfect mood for a productive day. This recipe is also great when you are trying to meal prep for multiple people in the house. Everyone can grab their own slice of frittata in the morning and head off to conquer the day!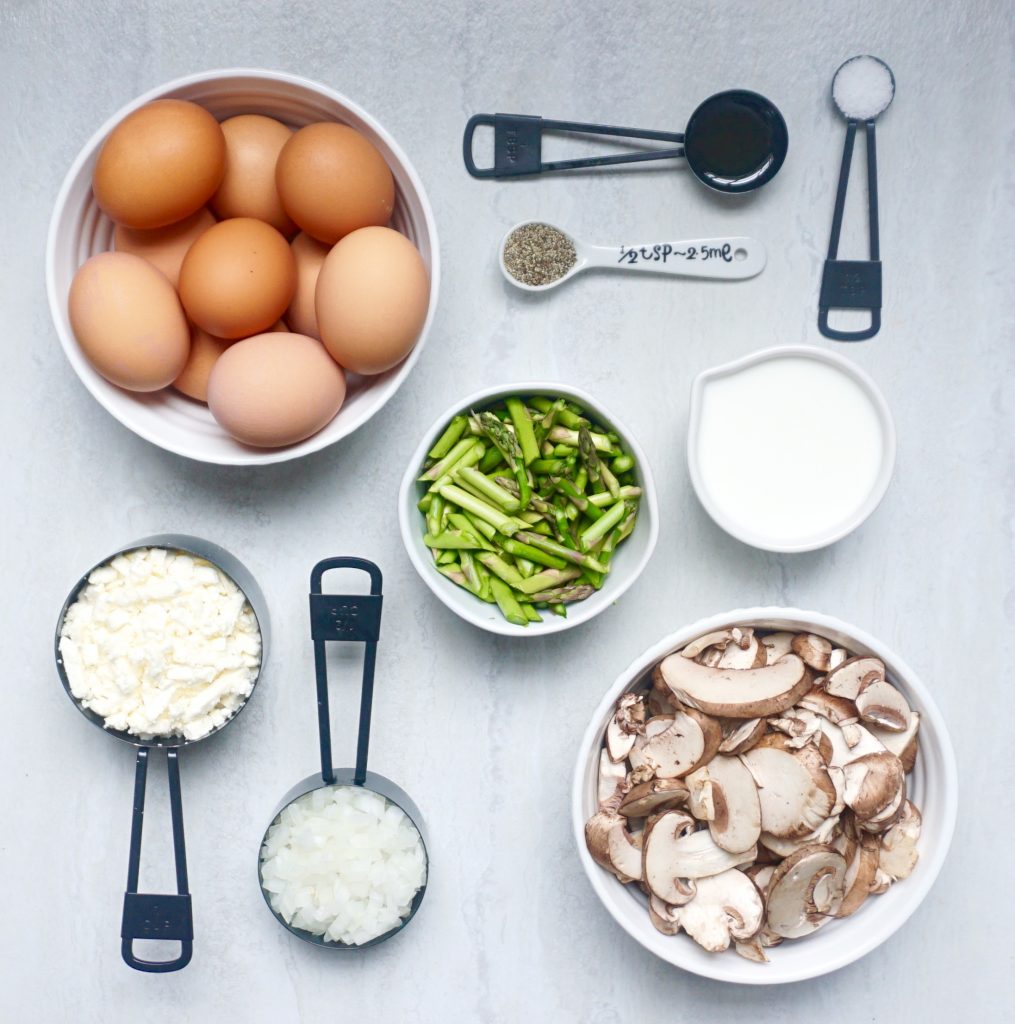 Mushroom Asparagus Frittata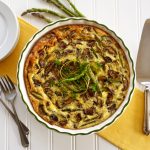 Print This
Ingredients
10 large eggs

1 – 8 ounce package fresh mushrooms, sliced

½ cup yellow onion, diced

1 cup asparagus, ends removed and sliced into 1 inch slices (20 spears)

1 tablespoon olive oil

1 cup feta cheese, crumbled

½ cup whole milk

½ teaspoon salt

½ teaspoon black pepper
Instructions
Preheat your oven to 350 degrees. Place your oven rack in the center of the oven.
Heat the olive oil in a large skillet over medium low heat. Add the mushrooms and saute for 4 minutes, until the liquid starts to render. Add the asparagus and onion to the pan and cook for an additional 3 minutes until the asparagus is bright green and the onions are translucent. Remove from the heat. Cool for 5 minutes.
In a large bowl, beat the eggs with the milk, salt and pepper. Stir the cooked vegetables and the feta cheese into the egg mixture.
Spray with cooking spray or grease a 9" deep dish pie plate. Pour the egg mixture into the pie plate.
Place in the oven and bake for 30 minutes or until the top of the frittata is just set.
Directions to bake as mini frittatas:
Equally distribute the mixture into your prepared custard cups or muffin pan.
Bake for 20 to 25 minutes. The custard cups will require a few more minutes than the muffin tin. The tops should be totally set and lightly browned.
To make ahead and reheat, check out these directions on How To Reheat a Frittata