Blueberry Lemon Olive Oil Cake is one of several olive oil cakes recipes that you will find on this site. There is a good reason for this. Olive oil cakes are easy to make without using a mixer. There are a few simple steps to make them. They lend themselves to adding many different ingredients and are easily served with a simple glaze or powdered sugar sprinkled over the top.
Blueberry Lemon Olive Oil Cake is a lemony cake that is full of fresh blueberries.  It is a one bowl delicious cake that is moist easy and pretty. You do not have to be a master baker to bake this! It is a perfect cake for beginners.
Olive oil cakes also keep well for a few days without drying out. Check out some other cakes using olive oil, Strawberry Olive Oil Cake, Pumpkin Olive Oil Cake, Orange Olive Oil Cake, and Chocolate Olive Oil Cake.
SOME THINGS TO KNOW:
Try to use a light olive oil to bake this. Extra virgin olive oil has a strong taste which can overpower the flavor of the cake.
Room temperature eggs are the best for baking. The egg yolks will break up easier and mix with the egg whites and other ingredients better.
The blueberries are heavier than the batter and have a tendency to sink to the bottom of the cake. You toss them in a tablespoon or two of flour to help them adhere better to the batter. Just make sure to shake the excess flour off of them before you stir them into the batter.
You can keep this cake wrapped at room temperature for 2-3 days.
You can freeze this cake for 2-3 months. Make sure that it is tightly wrapped in a freezer wrap.
To defrost the cake, place it onto a wire rack, uncovered until it comes to room temperature.
Preparing the pan is one of the most important things about baking this cake. The directions say to grease and flour the pans. Vegetable shortening like Crisco is my preferred method to grease them. If you have never done this before check out How To Grease and Flour a Pan.
If fresh blueberries are not available, frozen can be used. Do not defrost them before adding them to the batter.
You will need a lemon zester for this cake recipe. You can also buy a tiny 2½ box grater. It is an easy way to create the zest.
If you prefer to make this in a stand mixer, use the whisk attachment and add the ingredients in the same order, mixing them together on low speed.  You could also use hand held electric mixer.
Blueberry lemon Olive Oil Cake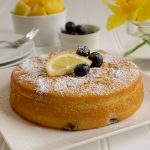 Print This
Ingredients
1 cup fresh blueberries

1 cup olive oil

1 ¼ cups whole milk

3 large eggs

1 tablespoon lemon zest

½ cup fresh lemon juice, 1 ½ to 2 whole lemons

1 ¾ cups granulated sugar

1 ½ teaspoons salt

½ teaspoon baking powder

½ teaspoon baking soda

2 cups all purpose flour

Optional confectionary sugar, lemon slices and blueberries for garnish.
Instructions
Preheat your oven to 350 degrees.
Grease and flour your pans. I used three 6 inch pans for this recipe. It can also be baked in one 10 inch traditional cake pan or a 10 inch springform pan.
If you are using the smaller pans and need to bake the cakes in batches, refrigerate the batter until you can bake all three cakes.
In a large mixing bowl, whisk together the eggs, olive oil, milk and lemon juice.
Next you will add the dry ingredients into the bowl with the wet ingredients.
Add the flour, sugar, baking powder, baking soda, and salt. Using a spatula stir until the batter is completely combined and smooth.
Stir in the blueberries and lemon zest.
Transfer batter into the  prepared pan(s).
Baking time for the 6 inch pans is 35- 40 minutes and 50 minutes for the 10 inch pan. Make sure that the top of the cake is firm and golden brown.
Cool the cake in the pan for 15 minutes. Invert onto a wire rack and let the cake cool completely.
Optional: Lightly sift confectionary sugar over the top of the cake. Add lemon slices and blueberries.