A simple cake that can be made in one bowl without a mixer makes a perfect dessert. Strawberry Olive Oil Cake is one of those cakes. You can put this together in just a few minutes. This is the first thing I make when it is strawberry season!
Olive oil cakes are the moistest cakes and not overly sweet. They are a similar density to a pound cake. Simply sprinkle with powdered sugar and you are ready to go. They are light enough to be served as a dessert at lunch but can also round out a great dinner party!
Strawberry Olive Oil Cake can be served alone or you can garnish it with whipped cream and additional sliced berries on the top of the cake.
If you like an easy cake that you can make in one bowl, no mixer needed,  check out Orange Olive Oil Cake, Blueberry Lemon Olive Oil Cake, Chocolate Olive Oil Cake and Pumpkin Olive Oil Cake.
If you are a fan of stone fruits, check out Cherry Olive Oil Cake.
Check out 20 Simple Summer Strawberry Recipes for some ways to use them.
SOME THINGS TO KNOW: FAQ'S
SPECIAL EQUIPMENT NEEDED:
10 inch cake pan or 10 inch springform pan
Stand mixer, electric whisk or hand whisk
HOW TO PREPARE THE CAKE PAN:
A well prepared cake pan with grease and flour is one of the most important parts of making the cake If you are not familiar with the process, check out How to Grease and Flour Baking Pans.
SUBSTITUTIONS:
Extra Virgin Olive Oil tends to be more expensive and is not required in this recipe. You can use a regular olive oil for the cake. If you would like to learn more about this, check out Grades of Olive Oil. If you do not have olive oil, canola oil or vegetable oil will work in the recipe as well.
You can substitute the all purpose flour with whole wheat flour in the same ratio.
If you do not have granulated sugar, you can use a light brown sugar in the same ratio.
If you do not have fresh strawberries, you can use frozen berries that have been defrosted. Raspberries would also be a good substitute for the cake.
HOW TO STORE LEFTOVER STRAWBERRY OLIVE OIL CAKE:
This moist cake can be covered with plastic wrap on your serving plate or placed into an airtight container and stored at room temperature for 2-3 days.
This cake freezes well. Wrap it with freezer paper or place it into a freezer bag. You can freeze it for 2-3 months.
To defrost the cake, place it onto a wire rack uncovered until it is at room temperature. Cover the cake once it is defrosted.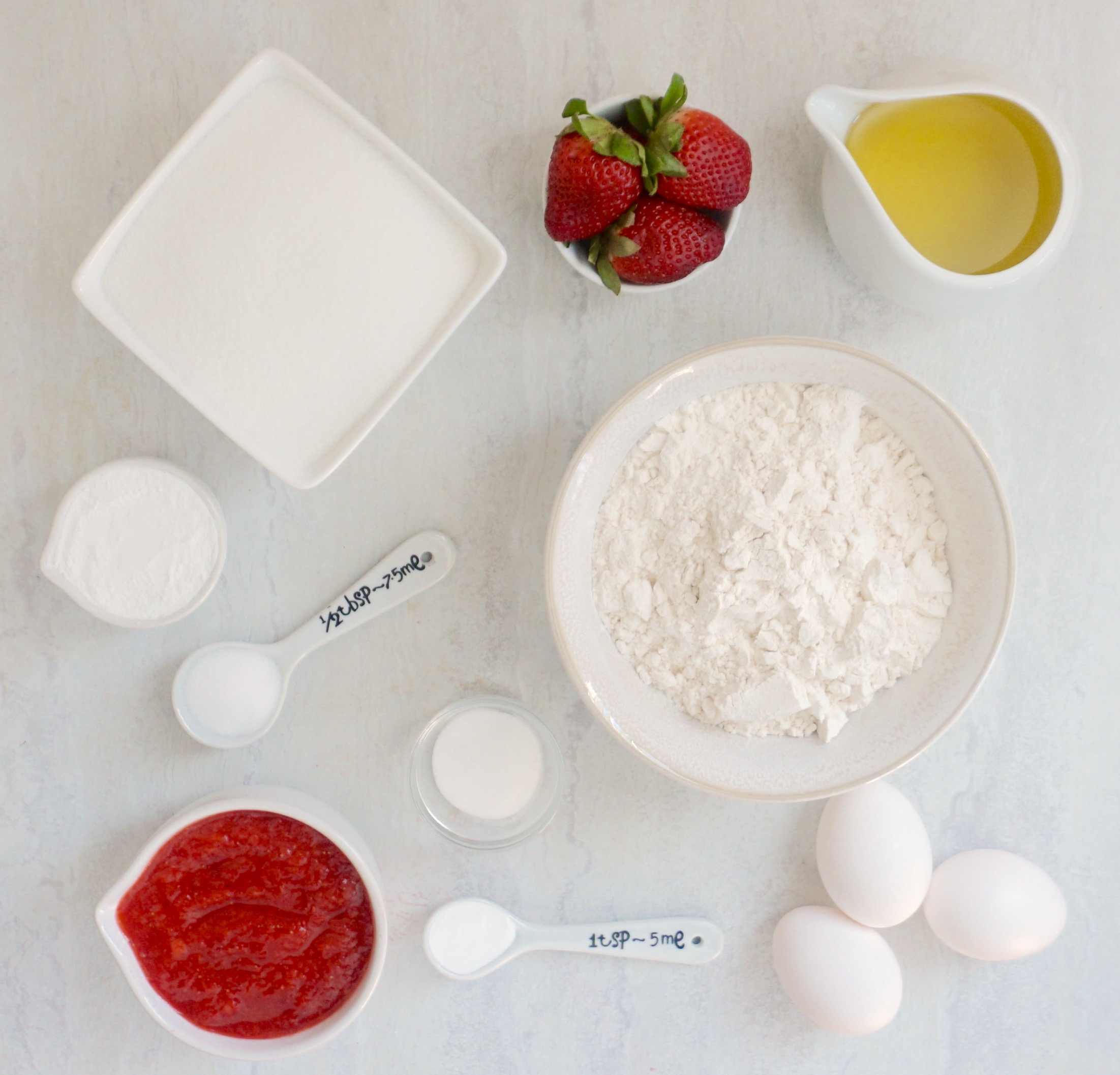 Strawberry Olive Oil Cake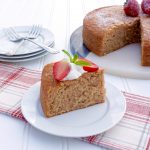 Print This
Ingredients
1 cup olive oil

1 ¼ cups whole milk

3 large eggs (at room temperature)

½ cup fresh strawberry puree

1 ¾ cup sugar (granulated)

2 cups all purpose flour

1 ½ teaspoons salt

½ teaspoon baking powder

½ teaspoon baking soda

OPTIONAL:

Confectionary sugar, fresh strawberries and lemon zest for garnish.
Instructions
Preheat oven to 350 degrees
Grease and flour a 10 inch round cake pan.
You can mix the cake in the bowl of a stand mixer that has a whisk attachment or you can mix it together by hand in a large bowl with a whisk.
In a large bowl or in the bowl of an electric mixer, whisk together the olive oil, milk, eggs, and strawberry puree.
Add the sugar, flour, salt, baking powder and baking soda to the wet ingredients. Combine the dry ingredients in well so the flour mixture is fully incorporated.
Pour batter into the prepared pan. Use a rubber spatula to scrape batter off the sides of the bowl.
Bake cake for 50 minutes on the middle rack of the oven until the top is firm and golden brown. Oven temperatures vary so if your oven tends to run hot, start checking in on the cake several minutes sooner.
Insert a cake tester or toothpick into the center of the cake. If it comes out clean, the cake is done.           
Cool for 15 minutes. Invert the cake onto a wire rack that has been lined with parchment paper and cool completely.
Optional:
Lightly sift confectionary sugar over the top of the cake. Add sliced  fresh strawberries. You could also add whipped cream and a touch of lemon zest.