Caprese Flatbread  is a simple yet flavorful easy appetizer recipe that's so good with fresh summer tomatoes from the local farmer's market. This flatbread uses the same ingredients as a traditional caprese salad. It is made with fresh mozzarella, cherry tomatoes, and basil pesto. The flatbread provides a crispy base, while a drizzle of sweet balsamic reduction adds a touch of sweetness and additional flavor. Whether you're hosting a dinner or just looking for a new party appetizer this delicious caprese flatbread recipe is a good one to try! It would also make a nice light main dish served with a simple salad for an easy weeknight dinner.
 Caprese Flatbread  is similar to a Margherita pizza with its simple ingredients. The difference between the two is the basil pesto base used in this recipe instead of tomato sauce and the flatbread instead of the traditional pizza dough.  Also the flatbread is topped with a delicious balsamic glaze. It is a great way to enjoy fresh tomatoes and you can create it with just a few simple steps.
If you like the combination of tomatoes, basil and mozzarella, check out Caprese Panini and Caprese Fusilli with Burrata. You might also like Heirloom Tomato Burrata Salad and Burrata Bruschetta.
SOME THINGS TO KNOW:FAQ'S
INGREDIENT TIPS:
Read How To Pick Out Great Tomatoes so you start with the best ingredients and juicy tomatoes. For the best results use very ripe tomatoes.
Read about the different types and Grades of Balsamic Vinegar.
The red pepper flakes will add the slightly bit of heat. If you do not want that, simple leave them out.
SPECIAL EQUIPMENT NEEDED:
​Baking sheet
​Small saucepan
SUBSTITUTIONS:
If you don't have flatbread, you can use a pre-baked pizza crust or store-bought naan bread.
 If you don't have basil pesto, you can use sun-dried tomato pesto or olive tapenade.
The fresh mozzarella can be substituted with shredded mozzarella or even slices of provolone cheese.
Tomato slices or small heirloom tomatoes can be used in place of the cherry tomatoes.
Dried basil can be used if fresh basil is not available. Add 1-2 teaspoons of the dried.
HOW TO STORE LEFTOVER CAPRESE FLATBREAD:
You can store the flatbread tightly wrapped or in an airtight container in the refrigerator for 2-3 days.
You can freeze the flatbread for up to 3 months in an airtight freezer bag or container.
HOW TO REHEAT THE LEFTOVER CAPRESE FLATBREAD:
The best way to reheat the flatbread so it remains crispy is to place it onto a baking sheet into a preheated 350 degree oven for about 5 minutes until it is heated through.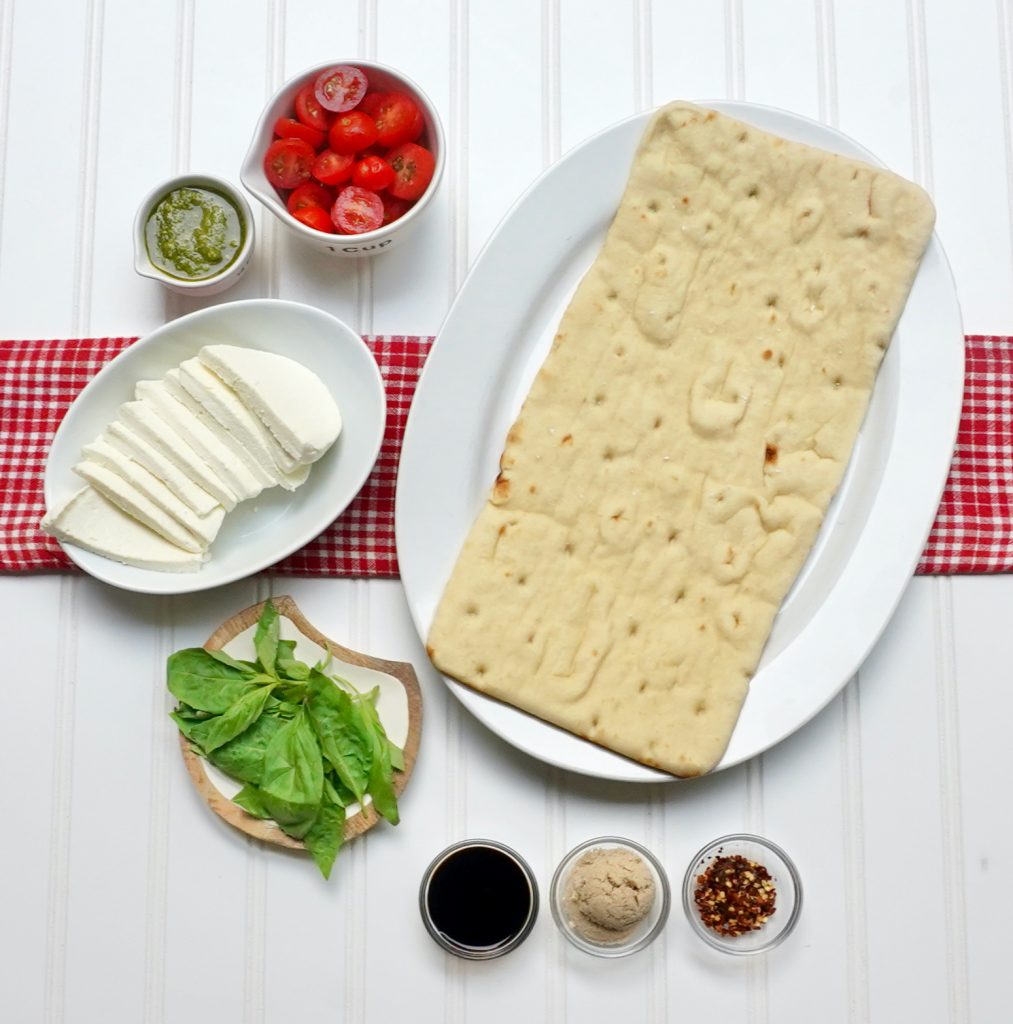 Brush the basil pesto over the top  of the flatbread.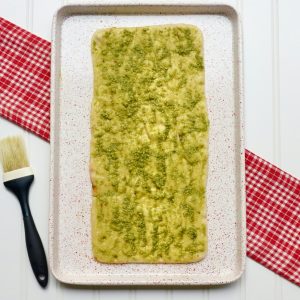 Add the sliced mozzarella, tomato slices and red pepper flakes if you are using them.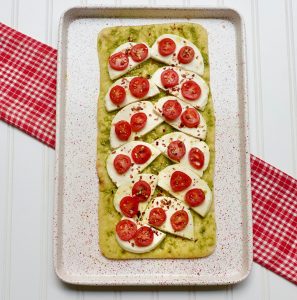 Simmer the brown sugar and balsamic vinegar until it thickens into a glaze.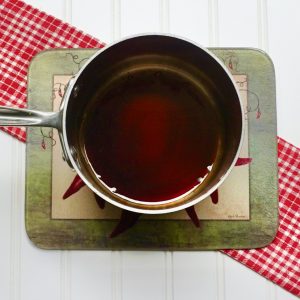 Drizzle the balsamic glaze over the flatbread and add the basil.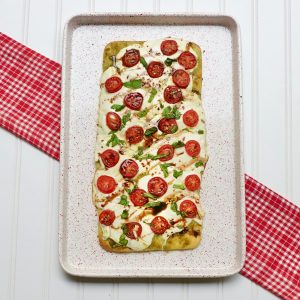 Caprese Flatbread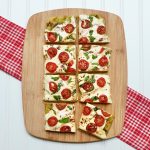 Print This
Ingredients
1 - 6" x 12" flatbread

¼ cup basil pesto

8 ounces fresh mozzarella cheese, sliced ¼ inch thick

1 cup cherry or grape tomatoes, sliced

½ teaspoon red pepper flakes

2 tablespoons balsamic vinegar

2 tablespoons light brown sugar

Fresh basil leaves
Instructions
Preheat your oven to 400°F (200°C) and place the flatbread on a baking sheet. For easy cleanup, line the sheet with parchment paper.
 Spread the basil pesto evenly over the top of the dough.
Arrange the sliced mozzarella cheese and cherry tomatoes on top of the pesto. Sprinkle the red pepper flakes over the top of the flatbread.
In a small saucepan, combine the balsamic vinegar and brown sugar. Simmer over medium – low heat until the mixture is reduced by half.
Bake the flatbread in the preheated oven for 10-15 minutes, or until the cheese melts and is bubbly and golden brown.
Add a drizzle of balsamic glaze over the flatbread. Add the chopped basil.
Slice and serve the flatbread hot. Enjoy!