Caprese Fusilli with Burrata is a great pasta dish with simple ingredients to make in the summer. Fusilli pasta is lightly dressed with pesto then topped with red, ripe, roasted fresh tomatoes and fresh basil. When you are able to buy local summer tomatoes at their peak and just picked basil, this easy dish becomes a standout!
Once the pasta dish is assembled, it is topped with a ball of  Burrata cheese. Burrata is a fresh mozzarella cheese ball that has been infused with cream. When you cut into the ball, all the creamy cheese inside is released. It pairs very nicely with the tomatoes and basil in this delicious burrata pasta dish.
The best thing about this Caprese Fusilli with Burrata is the versatility. This can be served warm or cold. It can be a complete vegetarian meal, a warm side dish for your summer cookout or it can be served cold as a pasta salad. It makes a perfect summer dinner with garlic bread.
If you are a fan of Caprese and Burrata cheese and want to try another simple dish,  check out Caprese Panini, Heirloom Tomato Burrata Salad, and Burrata Bruschetta.
You might also like Caprese Flatbread which is made with classic Caprese salad ingredients.
SOME THINGS TO KNOW:FAQ'S
INGREDIENT TIPS:
SPECIAL EQUIPMENT NEEDED:
Large pot to cook the pasta
Baking sheet
SUBSTITUTIONS:
If you cannot find burrata cheese at your local grocery stores, substitute a ball of fresh mozzarella cheese cut into small cubes or mozzarella pearls.
Grape tomatoes are a good substitute for cherry tomatoes. You could also use large whole tomatoes cut into smaller pieces.
If you want to add a little heat, swap out the black pepper for red pepper flakes.
If you cannot find fusilli pasta, rotini ,gemelli or cavatappi pastas would be the best substitutes.
You can substitute red wine vinegar for the balsamic vinegar.
If fresh basil is not available, substitute 1½ teaspoons of dried basil.
HOW TO STORE LEFTOVER CAPRESE FUSILLI WITH BURRATA:
You can store the leftover pasta in an airtight container for 2-3 days.
Freezing this is not recommended. Burrata will lose its creamy consistency and become watery when frozen.
HOW TO REHEAT THE CAPRESE FUSILLI WITH BURRATA:
You can reheat the fusilli, covered in microwave in a microwave safe dish. Cook at 1-2 minutes intervals, stirring in between until it is heated through.
You can reheat the fusilli on the stove top in a medium sized saucepan over medium low heat. If you know in advance that you will be reheating the pasta, reserve a cup of the pasta cooking water. You can add this as needed to the fusilli as it is reheating to keep it moist. Add the water slowly, a couple tablespoons at a time.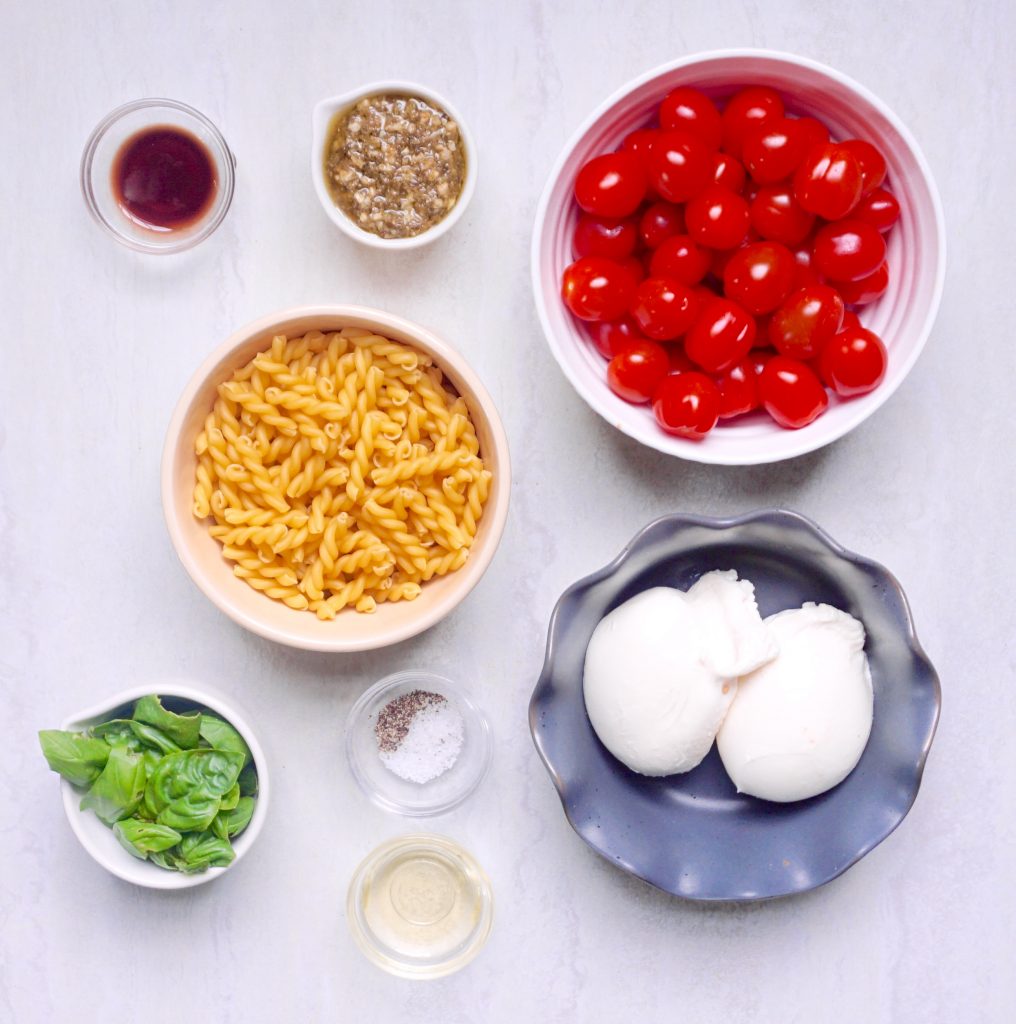 Caprese Fusilli with Burrata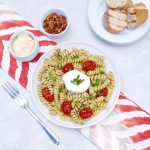 Print This
Ingredients
8 ounces Fusilli pasta
¼ cup basil pesto, store-bought pesto jarred or homemade
1 pound cherry tomatoes , roasted
1 teaspoon balsamic vinegar
2 tablespoons extra virgin olive oil, divided
½ cup fresh basil leaves, sliced
¼ teaspoon kosher salt
¼ teaspoon black pepper
8 ounces fresh Burrata cheese, 2 balls
Instructions
Preheat oven to 400 degrees
Place the tomatoes onto a rimmed baking sheet. Drizzle the tomatoes with 1 tablespoon olive oil. Sprinkle with salt and pepper. Roast for 15 – 20 minutes until they are beginning to caramelize. Remove from the oven and set aside.
In a large pot of water, cook the fusilli according to the package instructions for al dente. Drain.
Return the drained cooked hot pasta to the large pot. Add the pesto, 1 tablespoon olive oil, balsamic vinegar, roasted tomatoes and basil leaves. Mix well.
Remove to a serving platter and add the Burrata cheese balls on top with an extra drizzle of olive oil.
This can be served warm or room temperature.