Doritos Nachos are a fun game day snack. Traditional tortilla chips are replaced with doritos chips in this nacho recipe and they add some extra flavor.
This simple nachos recipes has ground chicken which has been cooked in taco seasoning, cheese, black beans and lots of veggies. You can easily make it your own if you have some favorite toppings that you want to include.
Nachos are always a fun addition to a gathering and a great way to feed a group. If you like Doritos Nachos, you might also like to try a couple other simple nachos recipes, Loaded Beef Nachos and Vegetable Nachos.
One of my favorite nacho toppings to serve with this is Avocado Crema.
SOME THINGS TO KNOW:
This recipe calls for ground chicken as the taco meat. You can easily substitute ground turkey, ground beef,  or cooked rotisserie chicken.
You can easily make the ground chicken by placing boneless chicken breasts into a food processor and pulsing them until they are ground smooth. You will need 8 ounces of meat.
Mexican cheese blend is called for in this recipe. It is a combination of Monterey Jack, Cheddar cheese and Colby cheese. If you cannot find this blend at your grocery store, you can use any one of those cheeses alone. If you want to add a bit of heat to the nachos you can use Pepper Jack cheese.
This recipe calls for green bell pepper and red bell pepper. Orange or yellow bell peppers would work in the recipe too.
There are so many flavors of Doritos that you can choose from. While Nacho Cheese Doritos are a favorite flavor of Doritos, you might have a different taste preference. If you want to see what the absolute favorite flavors are check out, Every Flavor of Doritos, Ranked.
These nachos will be put together on a large sheet pan. You can serve them on the pan or place them onto a large serving platter. If you plan to move them to a platter, lining the baking sheet with parchment paper will make them easier to pick up and move, plus it will make for an easy clean up.
These nachos will be best when they are assembled just before baking. You can prep all of the ingredients up to a day ahead of time and keep them covered in the refrigerator with the exception of the chips.
Leftover nachos do not keep well. If placed into the refrigerator or freezer, the chips will become soggy.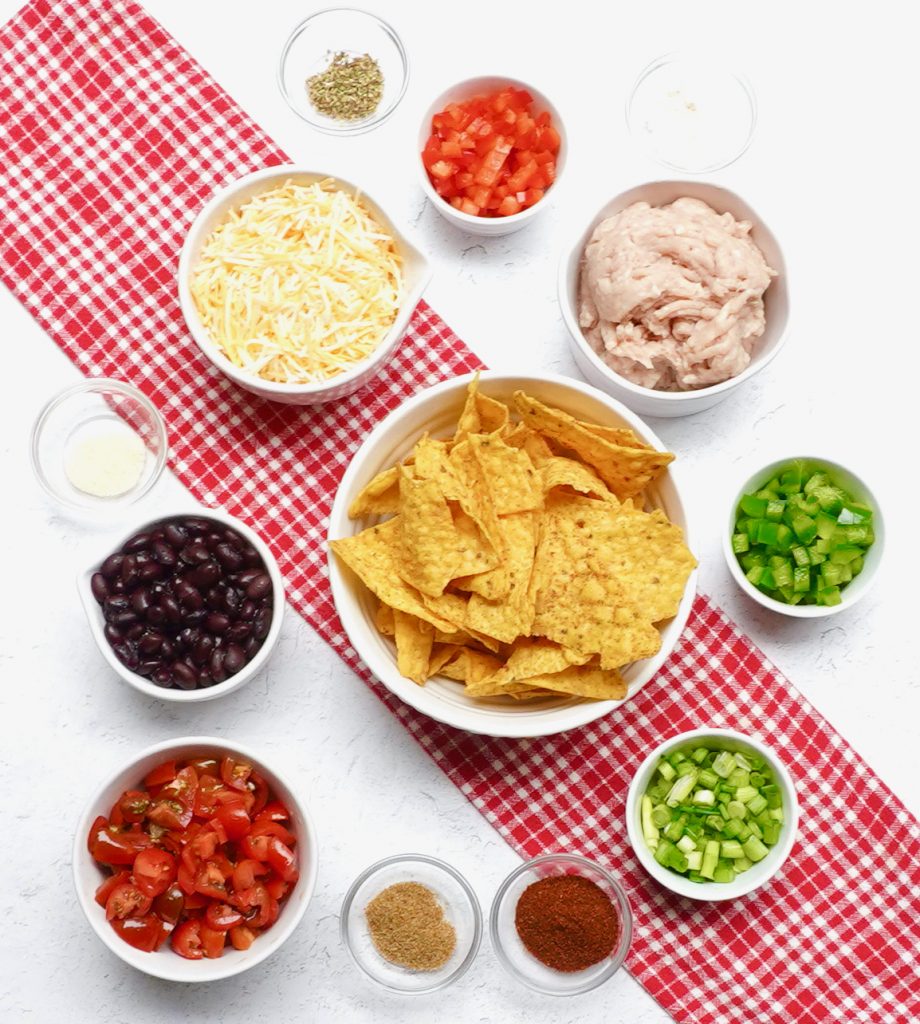 Doritos Nachos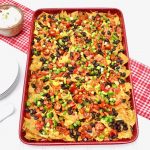 Print This
Ingredients
1 tablespoon canola oil

8 ounces lean ground chicken

½ teaspoon chili powder

½teaspoon cumin

½ teaspoon dried oregano

½ teaspoon garlic powder

½ teaspoon onion powder

¼ cup water

kosher salt and black pepper to taste

9.25 ounce bag Cool Ranch Doritos chips

1 ½ cups Mexican cheese blends

1 cup black beans

½ cup green bell pepper, diced small

½ cup red bell pepper, diced small

1 cup tomatoes, diced small

½ cup green onions, white and green parts, chopped

*Optional

Sour Cream for serving
Instructions
Preheat the oven to 350 degrees.
Heat the canola oil in a large skillet over medium low heat.
Add the ground chicken and cook for about 5 minutes until it is no longer pink. Use a fork and knife to break up any chunks. You want it to be smooth and crumby.
Add the chili powder, cumin, oregano, garlic powder, onion powder and water to the skillet. Stir it into the ground chicken.
Let the mixture simmer, uncovered for 2 -3 minutes until the water is absorbed. Taste and add a bit of salt and pepper if desired.
Line a large rimmed baking sheet (21" x 15" or 18" x 13")  with  parchment paper if you are using it.
Add a layer of chips that are overlapping to completely cover the pan. You want to use  almost the entire bag of chips.
Sprinkle the ground chicken evenly over the chips.
Sprinkle the cheese evenly over the chips.
Sprinkle the black beans evenly over the chips.
Sprinkle the green and red bell pepper evenly over the chips.
Sprinkle the tomatoes evenly over the chips.
Top the pan evenly with the green onions.
Place the pan into the preheated oven and bake for about 10 minutes. You want the cheese to be melted and slightly brown on the chips.
Serve with sour cream or Avocado Crema.