Chipotle Chicken Pasta is a creamy pasta recipe with a little spicy kick. It gets a bit of heat from Chipotles in Adobe and has a parmesan cheese sauce. It is a flavorful pasta dish that is easy enough to be a weeknight dinner.
While there is a bit of prep work involved chopping all the fresh veggies, the cooking process is fast. In the time that it takes you to boil water and cook the pasta, the creamy sauce will be ready as well.
If you are a fan of Mexican food and love chicken, check out Baja Chicken.
If you want to try some other easy pasta recipes that are perfect for busy weeknights, check out Tomato Chicken Bowtie Pasta, One Pot Chicken Penne, French Onion Ziti, Chicken Broccoli Ziti, and Chicken Marsala Pappardelle.
If you are looking for a wine to serve with this, check out The Best Wines to Serve with Pasta.
SOME THINGS TO KNOW:
Ziti pasta is called for in this recipe. You can easily substitute penne pasta, rigatoni pasta or any other type of pasta that is a tubular shape. You can easily use gluten-free pasta as well.
Chipotles in Adobo sauce are Jalapeño peppers that have been dried and smoked. They are then canned in a spicy tomato sauce. The one pepper called for in this recipe will give you light to medium heat. If you want a spicy chicken chipotle pasta, add one or two more peppers to taste. You can freeze leftover peppers by wrapping them individually with a bit of the sauce and placing them into an airtight freezer container. They will keep for several months.
If you want some other ways to use the leftover chipotles, check out 8 Ways To Use a Can of Chipotles in Adobo.
If you want the chipotle flavor but don't want to buy an entire can of chipotle peppers, you can use chipotle seasoning. Start with a teaspoon of this dried seasoning, taste and add more until you reach your desired level of heat.
Boneless, skinless chicken thighs would make a great substitute for the boneless chicken breast if you prefer dark meat. You could also use rotisserie chicken meat.
If you do not have a red onion, you can substitute a yellow onion, Spanish onion or sweet onion.
Yellow bell pepper or orange bell pepper would work fine in this recipe.
You can keep any leftover Chipotle Chicken Pasta that you have in an airtight container for 2-3 days.
You can reheat any leftovers on the stove in a medium pot over low heat. Add a couple tablespoons of chicken broth or water and cover the pot. Stir the pasta occasionally. It will only take a few minutes to heat through.
Creamy sauces can break down and separate when frozen. It is best not to try to freeze any leftovers.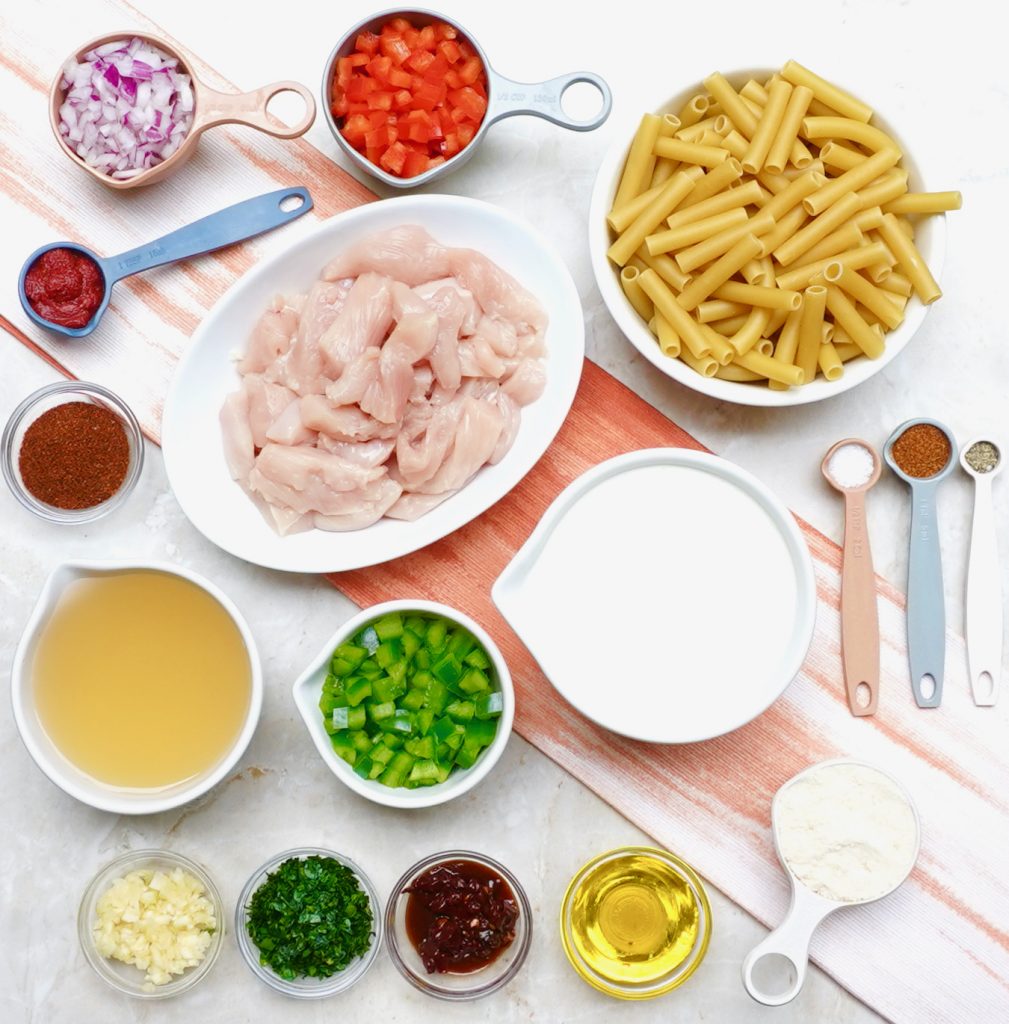 Chipotle Chicken Pasta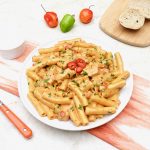 Print This
Ingredients
2 tablespoons olive oil

8 ounces boneless chicken breasts, cut into 1 inch cubes

½ kosher salt

¼ teaspoon black pepper

½ cup green bell pepper, diced

½ cup red bell pepper, diced

½ cup red onions, diced

2 garlic cloves, minced

1 cup chicken stock

1 chipotle pepper in adobo, chopped plus ½ teaspoon of the adobo sauce

1 tablespoon tomato paste

1 teaspoon chili powder

1 teaspoon paprika

1½ cups heavy cream

¼ cup parmesan cheese

1 tablespoon fresh cilantro

8 ounces ziti pasta
Instructions
Heat a large pot of water over medium-high heat. You can be cooking the pasta at the same time that you are making the sauce.
Follow the package instructions to cook the pasta al dente. Once it has reached that firmness, drain the cooked pasta and set aside.
Heat the olive oil in a large skillet over medium heat.
Season chicken with the salt and pepper and add it to the  skillet. Cook it for 3 minutes, turning it occasionally.
Add the green and red peppers, onion and garlic to the skillet. Cook for an additional 3 minutes, stirring occasionally.
Add the chicken stock, chipotle pepper, tomato paste, chili powder and paprika to the skillet. Let it simmer for 5 minutes at medium low heat.
Add the the heavy cream, parmesan cheese and cilantro to the skillet. Raise the heat back to medium so that it starts to really simmer, then turn it back down to medium low and let it simmer for 5 minutes.
Add the drained pasta into the skillet. If it started to stick together while sitting in the colander, a quick rinse with cold water will separate it.
Combine the pasta with the sauce. Cook for an additional 2- 3 minutes until the pasta is heated through.
Chipotle Chicken Pasta is best served at once.