Chicken Enchilada Chili is made with green enchilada sauce and Mexican seasonings. It is hearty, flavorful and healthy as it is made with lean ground chicken, beans and vegetables.
There is nothing quite like chili on a cold winter day! Warming like soup but with less liquid, it is thick and hearty. This would be great for a game day event, dinner or weekly meal prep for lunches.
You can make this ahead of time and store it in the refrigerator for 3-4 days. It can also be frozen in an airtight freezer container for 2-3 months.
If you cannot find Green Enchilada Sauce you can substitute Salsa Verde. They are essentially the same ingredients. The difference is that Green Enchilada Sauce has been cooked and Salsa Verde has not. It will not make any difference in this recipe.
If you want to try some other lean and healthy chili recipes, check out White Chicken Chili and Chicken Chili.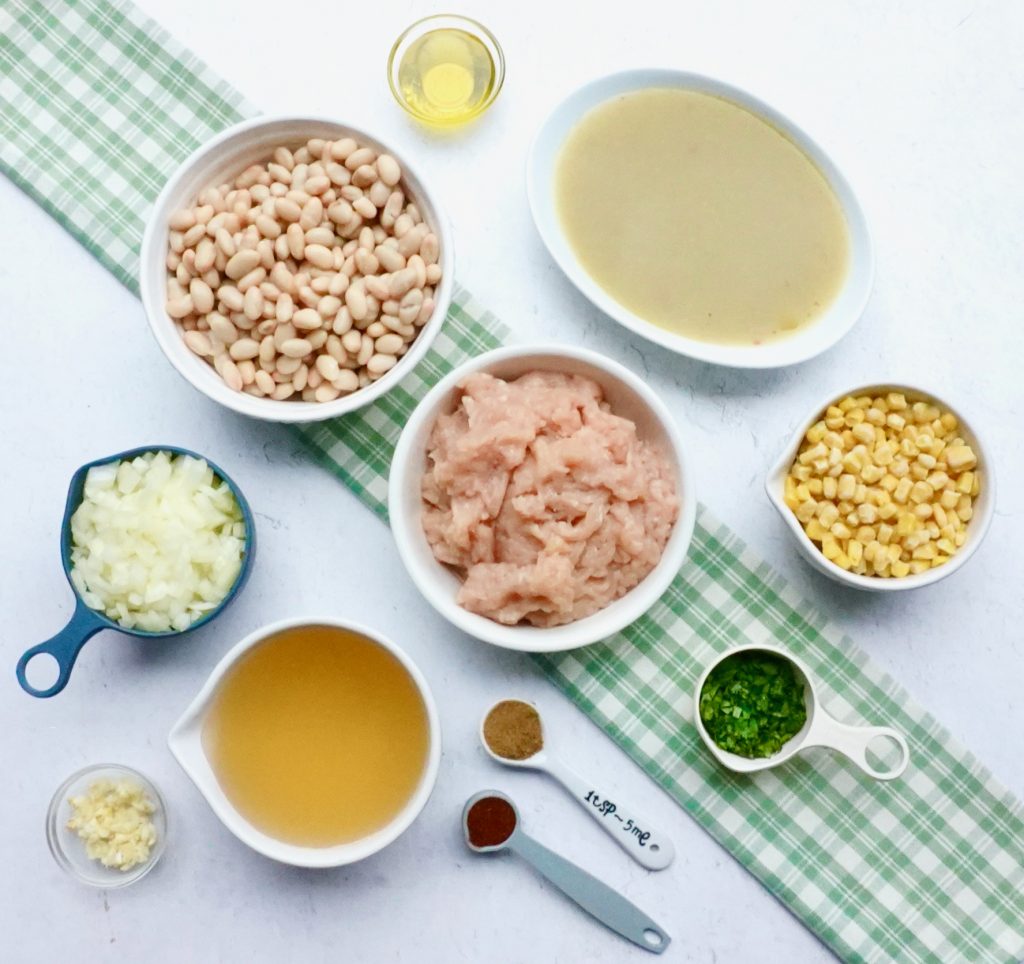 Chicken Enchilada Chili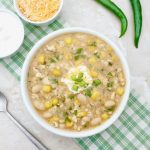 Print This
Ingredients
2 tablespoons olive oil

1 pound ground, lean, chicken breast

1 large onion, diced

2 cloves garlic, minced

2 cans small white beans, 15.5 ounces rinsed and drained

10 ounce can green enchilada sauce ( you can substitute the same amount of salsa verde)

4 cups chicken broth, divided (reserve ½ cup)

1 teaspoon chili powder

1 teaspoons cumin

1 cup frozen corn kernels

¼ cup fresh cilantro, chopped
Instructions
Divide the beans and set half of them to the side.
Add the olive oil to a large stockpot and heat over medium low heat.
Add the ground chicken and cook until it is no longer pink, breaking up the chunks as it cooks with a knife and fork.
Add the onion and garlic and cook for an additional 2 minutes.
Place one half of the beans in a food processor with ½ cup of chicken broth and puree until it is smooth. Add the puree to the pot and stir to combine well.
Add the enchilada sauce, chicken broth, chili powder, and cumin to the pot. Raise the heat to the high setting to bring to a boil. Turn the heat down to low and simmer uncovered for 30 minutes. The chili will thicken as it simmers.
Add the remaining beans, corn and cilantro to the pot and simmer for an additional 10 minutes.