Nisu Bread is a Finnish sweet bread. It is made with milk and sugar and  flavored with cardamom. The dough is braided into loaves. Once it is baked it is drizzled with a powdered sugar glaze.
In Finland Nisu bread is more commonly known as Finish Pulla bread. This sweet cardamom bread is commonly served there with coffee or tea.
This is a family recipe that I have been eating and now baking for Easter my entire life. While we are not of Finnish descent, my Mom grew up in Rockport Massachusetts and there is a large Finnish community in that area. Nisu bread is commonly found there and she incorporated this amazing bread recipe into our lives.
Nisu Bread takes a bit of time and patience to make but it is well worth the effort. Just make sure that you let the yeast rise fully at each step of the process.
If you want to add colored eggs to the braid, it makes a pretty presentation for Easter. I would suggest that you make these Natural Dye Easter Eggs if you are planning on adding them to the bread.
It would be great toasted with some butter and Plum Freezer Jam.
SOME THINGS TO KNOW:
SPECIAL EQUIPMENT NEEDED:
Stand mixer or electric hand mixer.
Cookie/baking sheets
Extra large bowl
SUBSTITUTIONS:
You can use bread flour in this recipe instead of all purpose flour. It is a 1.1 swap. If you want to read about The Difference Between Flours  check this out.
Cardamom is a pod spice in the ginger family. This recipe calls for ground cardamom which is sometimes hard to find in your local grocery stores. It can be found online at Target and Amazon but if you don't want to purchase it, the best substitutes are cinnamon, ginger, allspice and nutmeg. You could also buy cardamom seeds and grind your own Cardomom.
If you do not have whole milk, you can use oat milk, almond milk or half and half.
Powdered Sugar is granulated sugar that has been pulverized into a light powder. It may also have a bit of cornstarch added. This recipe calls for powdered sugar in the glaze. Depending on where you live or what brand you buy, it can also be labeled as confectioners' sugar, icing sugar and 10X. They are all the same. You can use any one of them.
STORAGE:
Nisu Bread is best eaten on the day it is made. It will keep for a day wrapped in plastic or in an airtight container but not much longer unless you plan to toast it.
It can be frozen for 2-3 months, tightly wrapped in freezer wrap.
Defrost the bread on a wire rack.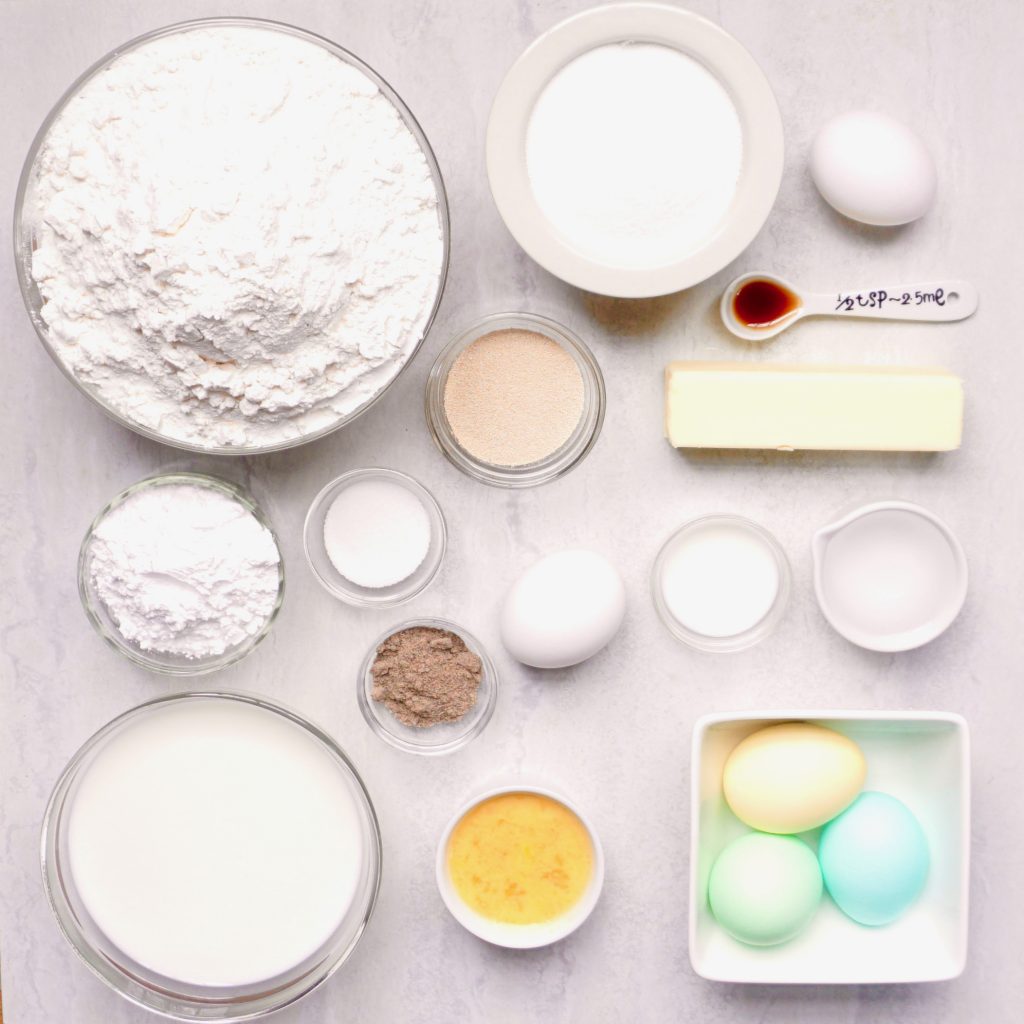 Nisu bread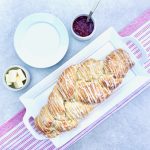 Print This
Ingredients
BREAD:

2 cups whole milk

½ cup butter

1 cup sugar

2 teaspoons ground cardamom

2 packages active dry yeast

¼ cup warm water

1 tablespoon granulated sugar

2 large eggs

5-7 cups all purpose flour

1 large egg, beaten with 1 tablespoon milk

Hardboiled, colored eggs, optional

ICING:

1 cup powdered sugar

1 tablespoon milk

1 teaspoon vanilla extract
Instructions
BREAD:
Pour the milk into a large saucepan.
Over medium heat, bring the milk just to the boiling point but do not let it boil. Turn off the heat and add the butter to the warm milk. Stir occasionally until the butter is completely melted.
Add the sugar to the butter mixture and stir it in well. Set the pan aside and let the mixture cool to room temperature.
In a 2 cup measuring cup or bowl, add the ¼ cup warm water. Sprinkle the yeast over the water then add the 1 tablespoon of sugar. Stir to combine. Let the yeast mixture rise until it is triple in size.
Beat the two eggs.
Add the beaten eggs to the cooled room temperature milk mixture.  Pour the milk mixture into a large bowl or into the bowl of stand mixer.
Add the yeast mixture and the cardamom to the bowl.
Start adding the first 5 cups of flour slowly to the bowl, stirring into the wet ingredients. You are trying to achieve a pliable, soft dough that is no longer sticky. Add the additional flour, ½ cup at a time, possibly but not certainly up to 7 cups, mixing well after each addition until this is achieved. You may not need all of the remaining flour.
If you have a Kitchen Aid mixer, use the paddle attachment to mix the first 5 cups of flour into the wet ingredients. Remove the paddle and replace it with the dough hook. Adding ½ cup flour at a time, turn the mixer on and knead after each ½ cup flour addition until your dough is no longer sticky. Keep the speed low.
If you do not have a Kitchen Aid mixer, move the dough to a floured board with a lightly floured work surface and knead the dough with the palms of your hands for several minutes until it is pliant.
Add the dough to a large greased bowl. Cover the bowl with plastic wrap and put it in a warm place. Let the dough rise for 1½ to 2 hours until it has doubled in size.
Remove the dough from the bowl and punch it down so it deflates.
Place dough onto a large board with a lightly floured work surface.
Cut the dough in half. Cut each half into 3 equal pieces. Rubbing the pieces of dough between the palms of your hands, create 3 long ropes of equal length and width.
Take 3 of the ropes and braid them together to create a loaf. This is a similar process as How to Braid a 3 Strand Challah Bread. If you have never braided a bread before, you should reference this.
Repeat this process for the second loaf. If you are adding colored eggs, tuck them into the braids.
Place the loaves on greased cookie sheets and put them in a warm place, lightly covered with plastic wrap. Let them rise until they have doubled in size, for 1½ to 2 hours.
Preheat the oven to 350 degrees. Place your oven rack in the center of the oven.
Lightly brush the tops of the loaves with the beaten egg and milk mixture.
Bake the bread for about 30 minutes until golden brown. The bread should sound hollow when tapped.
Remove the breads to wire racks and cool.
ICING:
Combine the confectionary sugar, milk and vanilla in a small bowl. You want to have a fairly thick but pourable glaze that can be easily drizzled over the breads. If you need to thin the glaze out a bit, add more milk, one teaspoon at a time.
With a teaspoon, drizzle the glaze over the breads.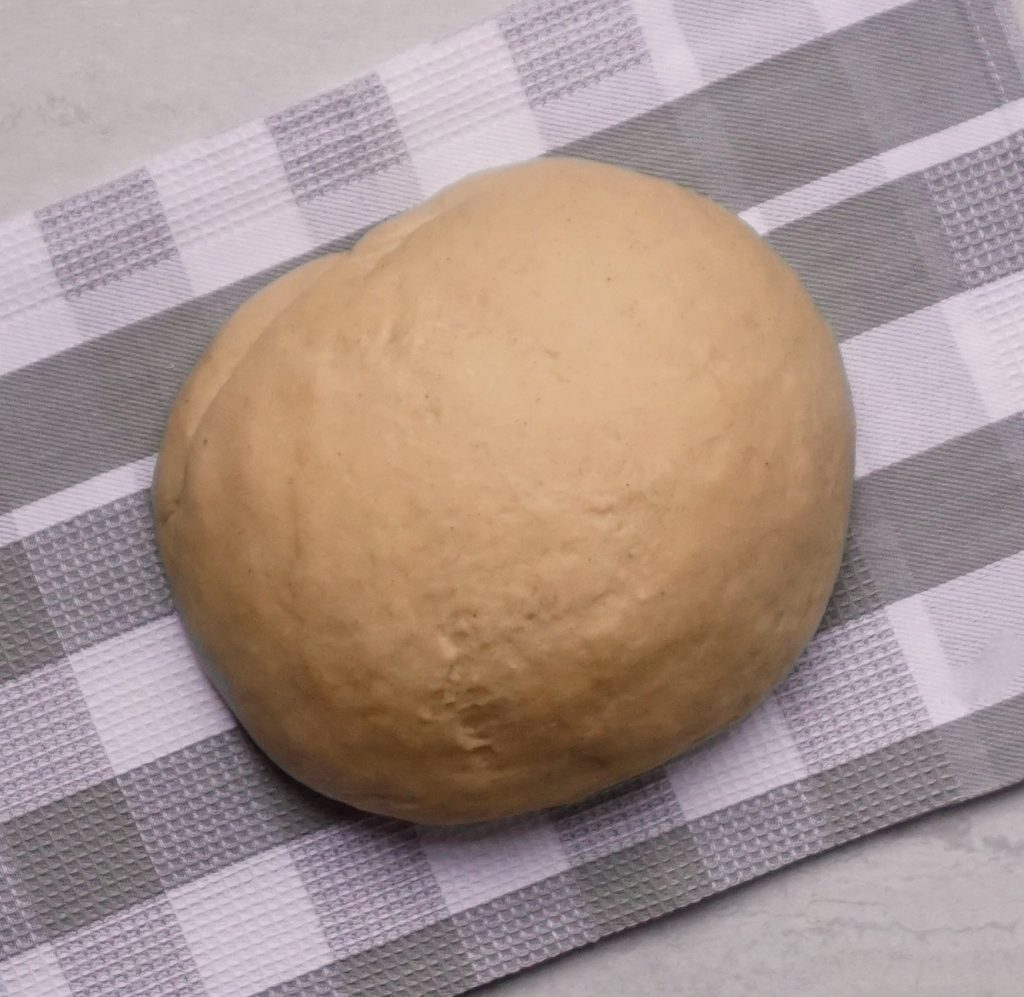 Take the three equal strands of dough and braid the bread, tucking the ends underneath the loaf.