Blueberry Peach Ricotta Cake is a simple loaf cake filled with fresh peaches and fresh blueberries. The addition of ricotta cheese makes it a very moist and fluffy cake that it is so flavorful on its own, no icing is required. You can sprinkle powdered sugar on the top of the cake to finish it off or simply serve it as is. This simple loaf cake is at its best in the summer when the juicy peaches and sweet blueberries are in season.
This type of cake is easily put together in one bowl, no mixer required. It would make a great dessert and could also be served for brunch.
If you want to try some other moist blueberry cakes, check out Blueberry Lemon Olive Oil Cake . This moist cake is made with fresh blueberries, lemon juice and lemon zest. You might also like, Blueberry Orange Yogurt Cake.
If you like baking with ricotta cheese for extra moistness check out Cranberry Orange Ricotta Cake and Strawberry Ricotta Cake.
If you want to try a good blueberry cake that is a simple breakfast cake, check out Blueberry Pancake Bundt Cake. You might also like Blueberry Crumble Bars.
Check out the Cakes & Cupcakes category for more cake recipes.
You might also like 20 Easy Recipes to Make With Fresh Summer Blueberries.
SOME THINGS TO KNOW:FAQ'S
INGREDIENT TIPS:
SPECIAL EQUIPMENT NEEDED:
9″ x 5″ loaf pan, 9″ x 2″ round cake pan or 9″x 2.5″ springform pan
Large bowl
Whisk or rubber spatula
SUBSTITUTIONS:
If you do not have granulated sugar, light brown sugar can be substituted.
You can replace the all purpose flour with whole wheat flour.
You can substitute yogurt or sour cream for the ricotta cheese.
If fresh peaches are not available, canned or frozen peaches can be used.
Frozen blueberries are a good substitute for fresh berries.
HOW TO STORE BLUEBERRY PEACH RICOTTA CAKE:
You can store the cake at room temperature wrapped in plastic wrap or in an airtight container for 2-3 days.
You can freeze the cake in a freezer bag or container for 2-3 months.
Defrost the cake, unwrapped on a wire rack.
Blueberry Peach Ricotta Cake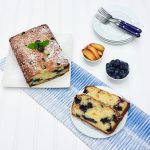 Print This
Ingredients
3 large eggs

½ cup canola oil

1 teaspoon vanilla extract

1 cup whole milk ricotta cheese

1 cup granulated sugar

1 ½ cups all purpose flour

2 teaspoons baking powder

½ teaspoon iodized salt

2 fresh peaches, peeled and cut into ½ cubes

1 cup of blueberries

Vegetable shortening to grease the pan

Optional: powdered sugar to sprinkle on the top of the cake
Instructions
Preheat the oven to 350 degrees.
Grease and flour a  9" x 5 "  loaf pan. Make sure that you have covered both the bottom of the pan and the sides of the pan with vegetable shortening. This is easily done by rubbing the shortening over the surface of the pan using paper towels. Sprinkle flour into the pan and tap it all around. In places where the flour does not stick, reapply the shortening and sprinkle more flour onto the spot.
In a large mixing bowl, place the eggs, canola oil, vanilla extract and ricotta cheese. Whisk together thoroughly.
Add the sugar, flour, baking  powder and salt to the wet ingredients and whisk together until the dry ingredients are totally combined. You could also do this in the bowl of a stand mixer or with a handheld mixer at medium speed.
Stir in the peaches and blueberries. Make sure they are evenly distributed throughout the batter.
Pour or spoon batter into the prepared pan .
This cake has a baking time between 45- 50 minutes.  Oven temperatures can vary so start checking in on the cake at 45 minutes.
Make sure that the top of the cake is firm and golden brown.  Place a cake tester or toothpick into the center of the top of the cake to make sure that it comes out dry.
Let the cake cool in the pan for several minutes then remove it from the pan to a wire rack. Let the cake cool thoroughly on the cooling rack.
Sprinkle powdered sugar over the top of the cake to serve if desired.