I love when the fresh blueberries hit the stands in the month of July. I start to make all things blueberry, from muffins and pancakes, to cakes and pies. I just cannot get enough of them! I also like to freeze fresh blueberries on a cookie sheet. Once frozen, I transfer them to a Ziploc bag so I can have them to throw into muffins well into the fall. The combination of the blueberries and orange in this cake says sunshine and summer to me.
Blueberry Orange Yogurt Cake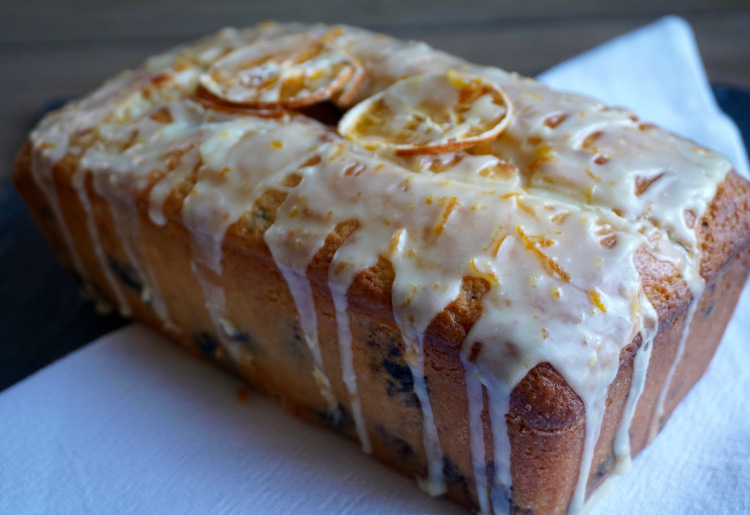 Print This
Ingredients
CAKE

1 cup sugar

1 1/2 cups all purpose flour

2 teaspoons baking powder

1/2 teaspoon salt

1/2 cup canola oil

1 teaspoon vanilla extract

1 cup whole milk plain yogurt

3 large eggs

1/4 cup freshly squeezed orange juice

1 teaspoon orange zest

1 cup blueberries

GLAZE

1 cup confectioner's sugar

2 tablespoons freshly squeezed orange juice

1 teaspoon orange zest
Instructions
CAKE
Preheat the oven to 350 degrees. Grease and flour a 9 x 5 "  loaf pan.
In a medium bowl, sift together the flour with the baking powder and salt. Set aside
In a large bowl, place the eggs,sugar, orange zest, orange juice, yogurt, and canola oil and whisk together thoroughly.
Add the dry ingredients to the wet ingredients and whisk together thoroughly. Add the blueberries and carefully fold them into the batter.
Pour the batter into the prepared pan and bake for approximately 50 minutes. Test with a cake tester into the center of the cake to make sure that it comes out dry.
Let the cake cool in the pan for several minutes then remove to a wire rack. Cool thoroughly before glazing the cake.
GLAZE
Combine the powdered sugar, orange zest  and orange juice. You are looking for a consistency that is thick enough to stay on the cake, yet thin enough to easily pour by the spoonful over the top of the cake.
Add more sugar by the teaspoon if needed to thicken the glaze.