Apple Cinnamon Yogurt Cake is a great cake to bake in the fall during apple season with your local apples. This simple cake with the combination of fresh apples and the warm spices cinnamon and nutmeg will fill your kitchen with a wonderful scent while it is baking.
This delicious apple yogurt cake can be made in one bowl with no mixer needed. There is nothing fussy or complicated about this simple recipe.  It is an easy cake that anyone can have success with.
The addition of Greek yogurt makes this cake very moist. This Apple Cinnamon Yogurt cake is a great snacking cake for the fall and would be a good option for Thanksgiving if you wanted a change from apple pie!
If you would like to try some other easy apple cake recipes, check out Applesauce Coffee Cake, Apple Cinnamon Olive Oil Cake, and Apple Coffee Cake. They are all good versions of an apple cinnamon cake. If you would like to try another yogurt cake recipe check out Blood Orange Yogurt Cake and Blueberry Orange Yogurt Cake.
SOME THINGS TO KNOW: FAQ'S 
RECIPE/ INGREDIENT TIPS:
One of the most important parts of baking is preparing the pan. You do not want to make all the effort only to have the cake stick to the pan. If you do not know how to do this, check out How to Grease and Flour Baking Pans.
A Granny Smith apple is a good tart, crisp apple for baking. Some other options for the best flavor are Gala Apples, McIntosh apples, Pink Lady Apples and Fuji apples. Read How to Pick the Best Apples Every Single Time so you will start with great ingredients.
Make sure that you use a full fat Greek yogurt for the best results in this cake.
The glaze is entirely optional. This cake would be delicious plain or with a dusting of powdered sugar or cinnamon sugar.
If you do not have the 9″ x 5″ loaf pan that the recipe calls for, there are other options. The loaf pan holds 8 cups of batter. A 9" round cake pan and and 8″ square cake pan will hold 8 cups of batter too as long as the pans are 2 inches deep.
If you use a 9″ round pan or an 8″ square pan, the baking time for this recipe will be decreased. Start checking in on the cake after 30 minutes of baking.
SPECIAL EQUIPMENT NEEDED.
You do not need an electric mixer to make this cake. If you have a hand mixer you could use that but a whisk will work just as well.
9″ x 5″ loaf pan.
SUBSTITUTIONS:
You could easily substitute brown sugar for the white granulated sugar in this cake.
If you do not have Greek yogurt, a whole milk regular plain yogurt can be substituted.
Vegetable oil can be substituted for the canola oil.
Unbleached flour or whole wheat flour can be used in place of the all purpose flour.
HOW TO STORE APPLE CINNAMON YOGURT CAKE:
This cake will stay moist for several days when wrapped in plastic wrap or in an airtight container. Make sure that the glaze has completely dried and hardened before you wrap the cake.
This cake can be frozen for 2-3 months in an airtight freezer bag. Defrost it by placing it onto a wire rack at room temperature.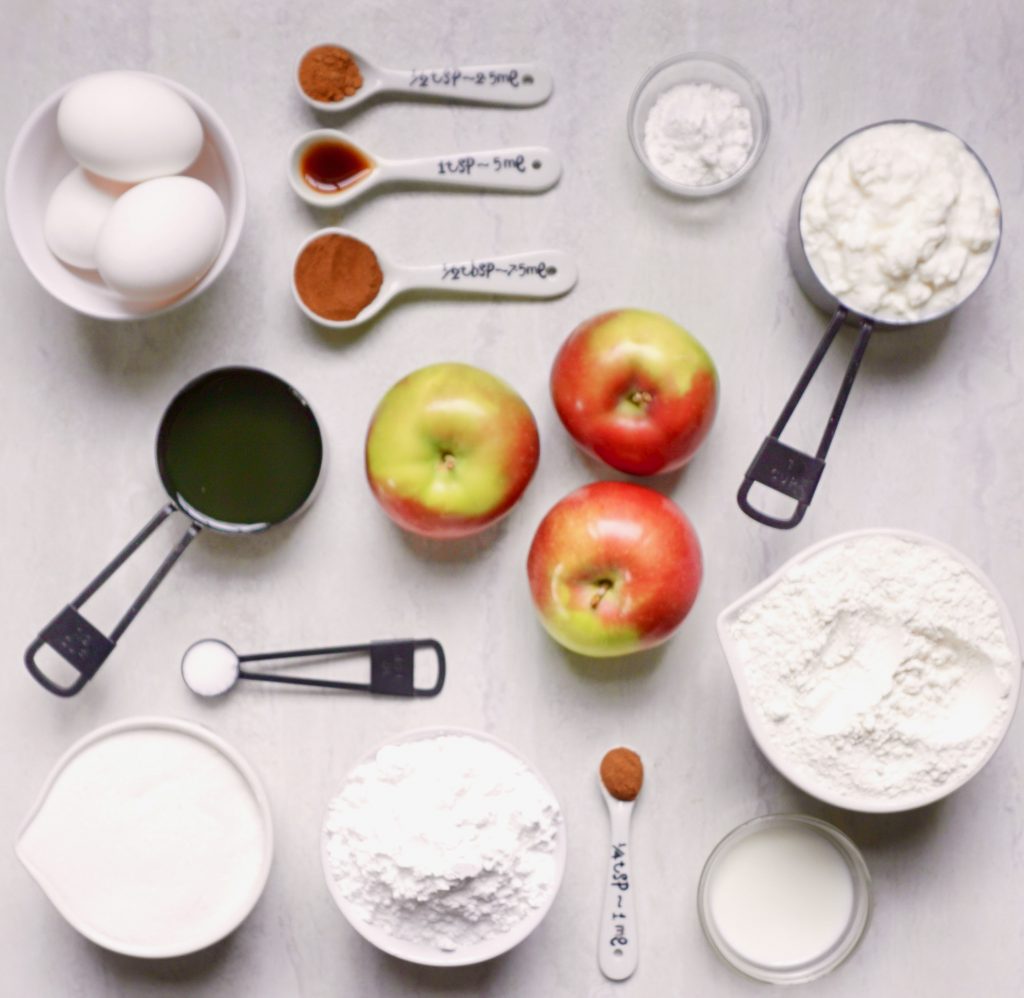 Apple Cinnamon Yogurt Cake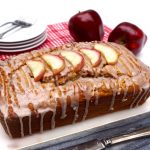 Print This
Ingredients
CAKE:

3 large eggs, room temperature

½ cup canola oil

1 cup whole milk plain Greek yogurt

1 cup white sugar

1 ½ cups all purpose flour

2 teaspoons baking powder

½ teaspoon salt

1½ teaspoons ground cinnamon

½ teaspoon ground nutmeg

1½ cups grated apples

GLAZE:

1 cup confectioner's sugar

3 tablespoons milk

½ teaspoon ground cinnamon

OPTIONAL:

Apple slices for garnish
Instructions
CAKE:
Preheat the oven to 350 degrees f. Grease and flour a  9" x 5 "  loaf pan.
Whisk the eggs in a large bowl. Add the canola oil and yogurt and whisk to combine well.
Add the sugar and whisk it into the wet ingredients.
Add the flour, baking powder, salt, cinnamon and nutmeg. Whisk these dry ingredients in thoroughly, scraping down the sides of the bowl.
Add the grated apple and carefully fold it into the batter.
Pour the cake batter into the prepared pan and bake for approximately 50 minutes. Make sure that the top of the cake is firm and lightly browned.  Test with a cake tester into the center of the cake to make sure that it comes out dry.
Let the cake cool in the pan for several minutes then remove it to a cooling rack. Cool the cake completely before adding the glaze to the cake.
GLAZE:
In a small bowl, combine the confectioner's sugar, milk and cinnamon. If the mixture is too thick to pour easily, add 1 teaspoon of milk at a time until it is fluid.
Spoon or brush the glaze over the top of the cake.
If you want to use thin slices of apple on the top of the cake, they will need to be cooked briefly as fresh slices will quickly turn brown. Instructions to cook the apple slices are in the recipe for Apple Walnut Salad With Cheddar Croutons.