A Mezze Platter is a great way to entertain. It consists of a large platter filled with an assortment of veggies and dips to graze on.  It is a great dish if you are looking for vegetarian options, plus it is just plain delicious!
The best thing about a Mezze Platter is that you can customize it any way you want to. This one has Falafel, Red Pepper Hummus, Tabouleh and Tzatziki along with assorted veggies and breads. There is something for everyone.
Check out Mezze Dips for some other options to add to the platter.
This is mostly plant based, healthy and economical. It's a healthy way to eat.
Mezze Platter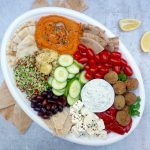 Print This
Ingredients
Falafel *

Tzatziki *

Red Pepper Hummus *

Tabouleh*

12 ounce jar roasted red bell peppers

12 ounce jar marinated artichokes

7 ounce jar Kalamata olives

cherry or grape tomatoes

cucumber slices

6 ounces feta cheese, cut into 1 inch cubes and sprinkled with crushed red pepper and parsley

whole wheat and white pita bread cut into triangles

lavash bread, cut into triangles

* ingredients are linked above in the first paragraph
Instructions
Choose the ingredients that you want to place on your platter. You can make the Tabouleh, Hummus, Tzatziki, and Falafel a day ahead of time.
Arrange your platter any way you want to and enjoy easy entertaining!
You can reheat the Falafel in a 350 degree oven for 10- 12 minutes and place them on the platter just as you are serving it.