I made Falafel for the first time recently and I am happy that I did!  These little fried balls are made from ground chickpeas and they are easy to make. They have fresh herbs and spices along with shallots and garlic. This is one flavorful little ball!
Falafel can be eaten as a sandwich. You can place the balls into pita bread and top them with chopped onion, and tomatoes. If you want to make Tzatziki, this would be a great addition.
You can also serve these little balls as an appetizer. I served them with Red Pepper Hummus and Tabouleh and wedges of pita bread.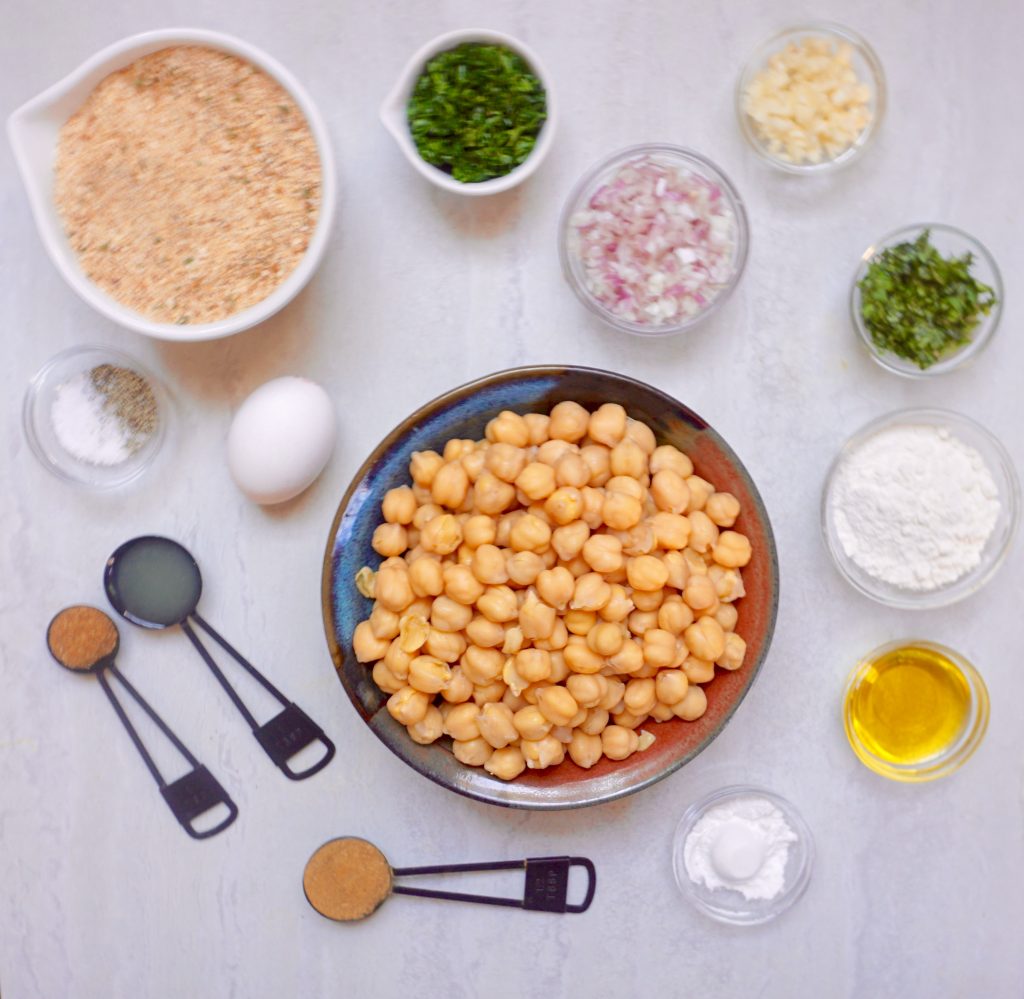 Falafel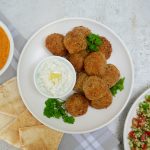 Print This
Ingredients
2 - 15 once cans chickpeas, drained and rinsed

1 large shallot,minced

2 cloves garlic, minced

¼ cup fresh parsley, chopped fine

2 tablespoons cilantro, chopped fine

1 tablespoon fresh lemon juice

¼ cup all purpose flour

2 teaspoons baking powder

1½ teaspoons ground cumin

1 teaspoon coriander

1½ teaspoons kosher salt

½ teaspoon black pepper

1 large egg, beaten with 2 tablespoons water

1 cup unseasoned bread crumbs

vegetable oil
Instructions
Place the chickpeas, shallot, and garlic into the bowl of a food processor with a steel blade. Add the parsley, cilantro, cumin, coriander, lemon juice, salt and pepper. Process until this is well blended but do not puree. Add the flour and and baking powder and pulse until the mixture turns into a ball of dough.
Place is the dough into a bowl, cover and refrigerate for 3-4 hours.
Remove the dough and roll into 1½ balls. 
Add 1 inch of vegetable oil to a skillet and heat over medium low heat. To test if it is hot enough, drop a couple breadcrumbs in to see if they sizzle.
Roll each ball into the egg mixture and then into the breadcrumbs. Make sure that the balls are fully covered with crumbs.
Place several balls at a time into the hot oil. Cook for a minute or two on each side until they are a light and golden brown. Turn the balls in the oil to make sure they are evenly cooked.
Remove from the oil and place on a paper towel to drain.
Notes
These can be made ahead and reheated in a 350 degree oven for 10-15 minutes until they are heated through.