So often the smell of apples and cinnamon is associated with a dessert this time of year. It's usually an Apple Pie, an Apple Crumble or maybe an apple cake. But what if you could get that same wonderful experience of apple flavor in a healthy breakfast bowl of Apple Cinnamon Quinoa? This is a nutritious breakfast that you could eat over and over again on chilly fall mornings. It is unique enough that you can serve it to guests as part of breakfast or brunch. It's also easy to prepare, making it a perfect breakfast option for busy mornings.
Apple Cinnamon Quinoa is packed with the goodness of quinoa, sweet apples, and a hint of cinnamon flavors,  This quinoa cereal is a perfect blend of flavor and health. This recipe would be a good one to meal prep for a week of healthy breakfasts.
If you like this recipe, you might also like Slow Cooker Apple Cinnamon Rice Pudding.
If you want to try some savory dishes with quinoa, check out Vegetable Quinoa Soup, Butternut Squash Quinoa Salad, and Quinoa Citrus Salad. They too have the fall flavors.
If you want some other healthy breakfast recipes check out Morning Glory Overnight Oats. It is not your typical bowl of oatmeal! Strawberry Banana Baked Oatmeal is a a great way to prep a healthy breakfast with fresh fruit the night before and bake it the next day.
SOME THINGS TO KNOW: FAQ'S 
INGREDIENT TIPS: 
 Quinoa is gluten free and high in protein. It has 5 grams of fiber. Most importantly, it fills you up and then keeps you full for quite a while. It lends itself perfectly to either sweet or savory recipes. Read about the Health Benefits of Quinoa and make it a part of your diet.
Read 4 Ways to Choose an Apple so you start with the best ingredients.
SPECIAL EQUIPMENT NEEDED:
Medium saucepan with a lid.
SUBSTITUTIONS:
​If you don't have rainbow quinoa, regular white quinoa will work just as well.
Almond milk can be replaced with any milk of your choice – dairy, soy, oat milk or coconut milk.
 Experiment with different apple varieties like Granny Smith or Fuji for a unique twist.
Honey can be substituted with maple syrup or agave nectar for a vegan alternative. You could also use brown sugar.
HOW TO STORE LEFTOVER APPLE CINNAMON QUINOA:
Store the quinoa in an airtight container in the refrigerator for 3-4 days. Make sure it's completely cooled to room temperature before refrigerating.
You can freeze Apple Cinnamon Quinoa for about 2-3 months without significant loss of quality.
Remove the quinoa from the freezer and let it thaw in the refrigerator overnight or for several hours.
HOW TO REHEAT APPLE CINNAMON QUINOA: 
To reheat the quinoa in the microwave, place it into a microwave-safe container.  Cover it with a microwave-safe lid or plastic wrap, and heat in 30-second intervals, stirring between each interval until it's heated through.
To reheat the quinoa on the stovetop, heat it in a saucepan over medium-low heat, adding a splash of almond milk or water to prevent sticking. Stir occasionally until it's heated evenly through.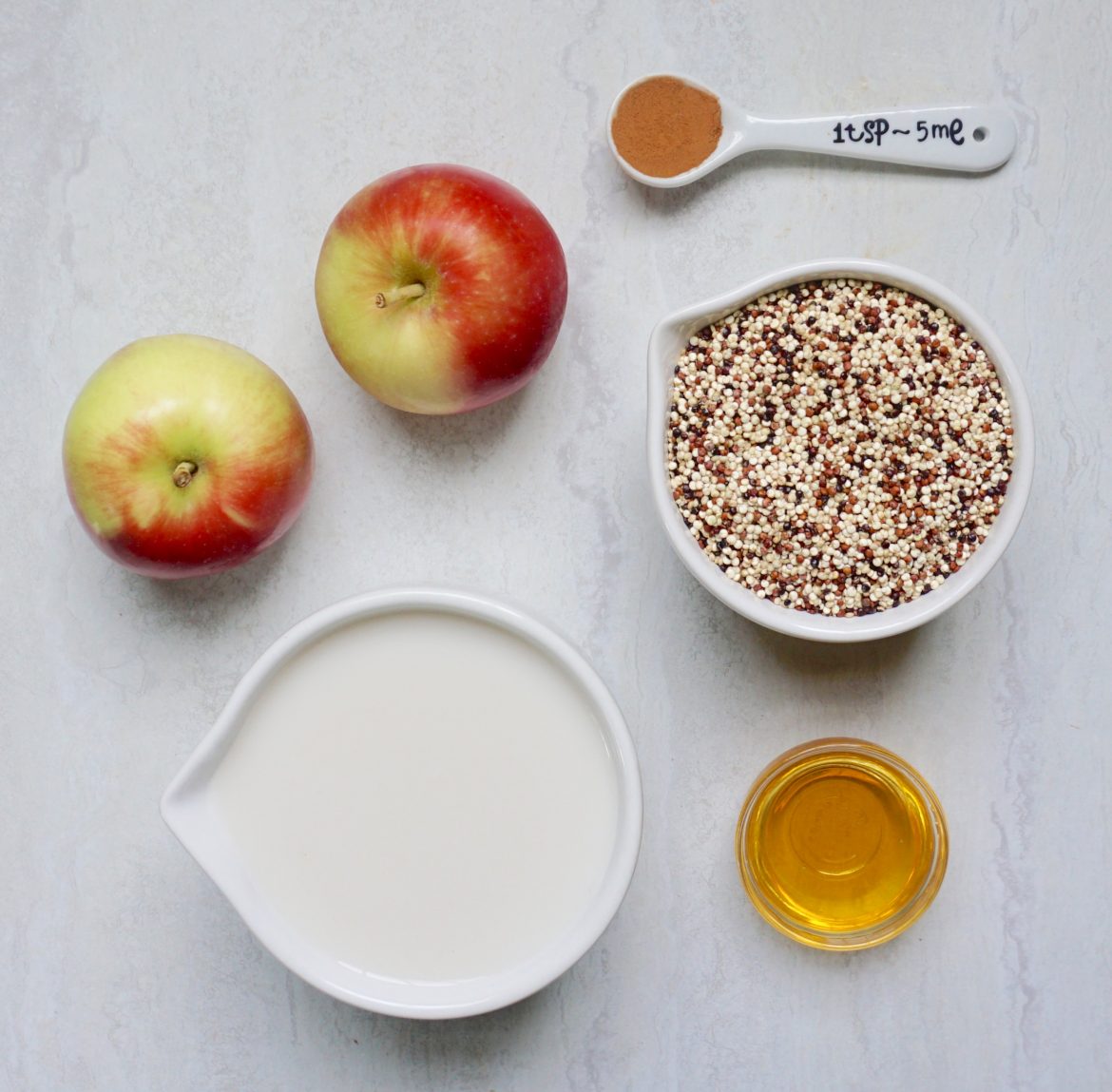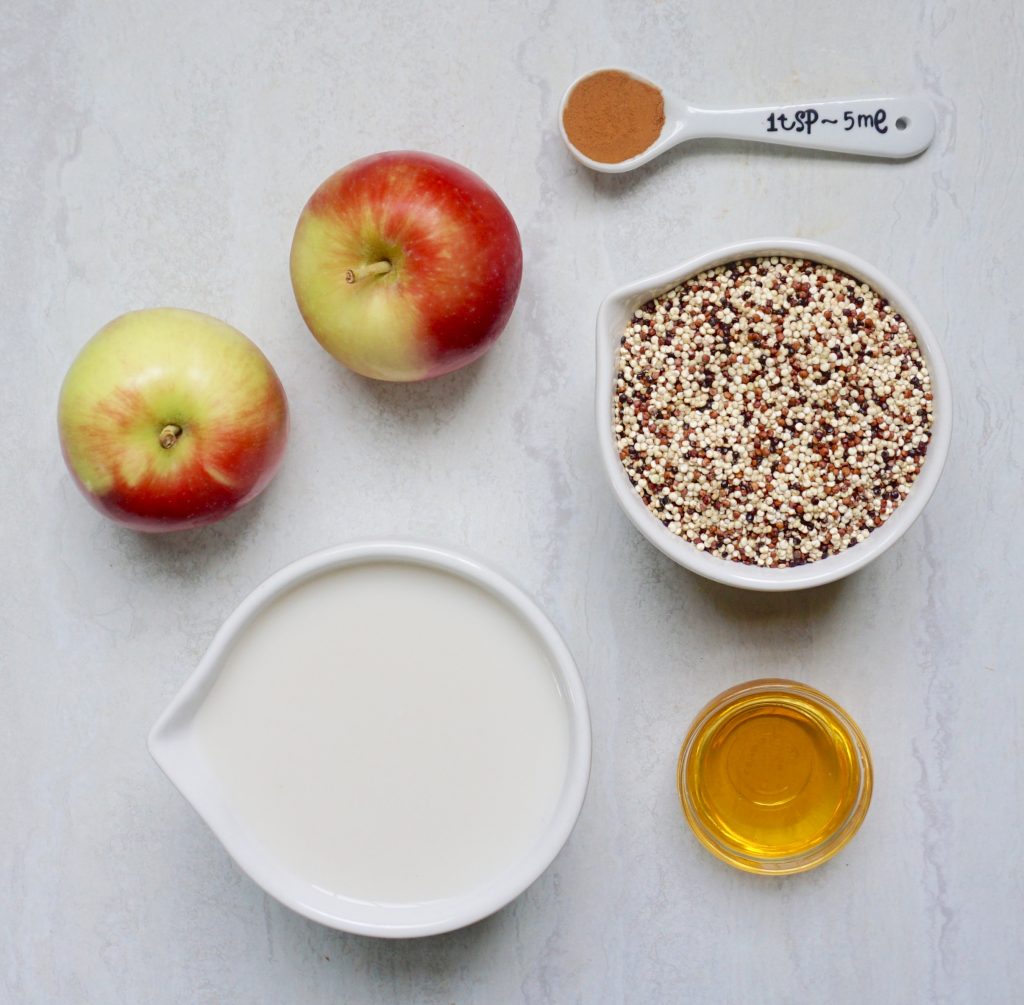 Apple Cinnamon Quinoa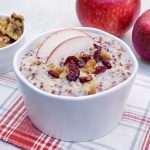 Print This
Ingredients
1 cup rainbow quinoa

2 cups unflavored almond milk, plus extra for serving

1 cup red apple, diced with skin on

2 tablespoons honey, plus extra for serving

1 teaspoon cinnamon

Optional toppings:

dried cranberries

chopped walnuts

apple slices, see note
Instructions
In a medium saucepan, combine the uncooked quinoa, almond milk, diced apples and cinnamon.
Bring to a boil over medium-high heat.
Reduce the heat to medium-low heat, cover the pan and let this simmer for about 15-20 minutes until all of the liquid is absorbed and it has a creamy texture. Stir in the honey.
To serve, stir in extra almond milk as you would for a cereal until it is the way you like it and add extra honey if you like things a bit sweeter.
Notes
If you want to serve apple slices with your quinoa you should cook them slightly as raw apples brown quickly. In a skillet you can either spray a cooking spray or add a tablespoon of butter or canola oil. Add the apple slices and cook for 1 minute. Turn them over and cook the other side for 1 minute. Now your slices will stay light.