Homemade Apple Pie is comfort food at its best. Made with Macintosh apples and warm cinnamon and nutmeg spices, this apple pie recipe is a good fall dessert for any occasion. From its flaky double crust to its balance of sweetness and tartness it is a perfect pie for family gatherings.
There is nothing quite like the scent of an Apple Pie baking in the oven. The cinnamon and apple combination fills the kitchen with its wonderful aroma.
This is a double crust pie. A simple plain crust over the top of the pie is all you need, unless you want to cut shapes to decorate! You can purchase pie crusts already made or try out Foolproof Pie Dough which is a flaky homemade pie crust recipe. If you use the dough recipe, you will divide dough into two equal portions for the top and bottom crust.
This is a classic version of Apple Pie. There are so many different ways to achieve that wonder apple and cinnamon dessert. If you want to try a different version of pie check out Apple Crumble Pie. It is a great apple pie with a buttery cinnamon crumble topping. If you want the baked apples and cinnamon but do not want to bake a pie check out Apple Crumble. It is simple and quicker to put together.
SOME THINGS TO KNOW:FAQ'S
INGREDEDIENT TIPS:
An optional step would be to use an egg wash on the top of the pie crust to give it a sheen. This is a simple combination of beaten egg and water. Read What is an Egg Wash and Why You Should Use It to decide if this is a step you would like to add.
This apple pie recipe uses Macintosh apples. They are naturally sweet and slightly tart, making them the perfect choice for a pie. The tenderness of Macintosh apples also helps to create a filling that is not too firm nor too mushy. They are a good baking apple. If you want to use apples other than McIntosh, Read The Best Baking Apples to see some other options for the best apples for the pie.
SPECIAL EQUIPMENT NEEDED:
9-inch pie plate, pie dish or pie pan
Apple peeler
Apple corer
Large bowl
SUBSTITUTIONS:
If you don't have Macintosh apples, you can substitute them with Honeycrisp or Granny Smith apples.
Coconut sugar can be a healthier alternative to granulated sugar.
If you're out of brown sugar, you can use additional white sugar or try maple syrup for a different flavor.
For a gluten-free pie, use gluten-free flour instead of the all purpose flour.
If you're out of cinnamon and nutmeg, allspice can be used as an alternative, although the flavor will differ slightly.
For a healthier option, you can use a whole wheat pie crust, or for a gluten-free version, opt for a gluten-free crust.
HOW TO STORE APPLE PIE:
If you intend to eat the apple pie within 1-2 days, simply cover it with plastic wrap or aluminum foil and leave it on the counter.
If you want to extend its life to about 4-5 days, store the pie in the fridge. Again, make sure to cover it tightly with plastic wrap or aluminum foil to maintain freshness and prevent it from absorbing other odors. You can also place an individual portion into an airtight container.
The pie can be stored in the freezer for up to 4 months.Allow the baked pie to cool completely.Wrap it tightly in plastic wrap, followed by a layer of aluminum foil. You could also use two layers of plastic wrap.
Defrost the pie at room temperature on a wire rack.
HOW TO REHEAT APPLE PIE:
To reheat the pie preheat the oven temperature to 350°F (175°C).Remove the pie from the refrigerator and discard any plastic wrap.Place the pie in the oven for about 15-20 minutes or until it's warmed through and the crust is crisp.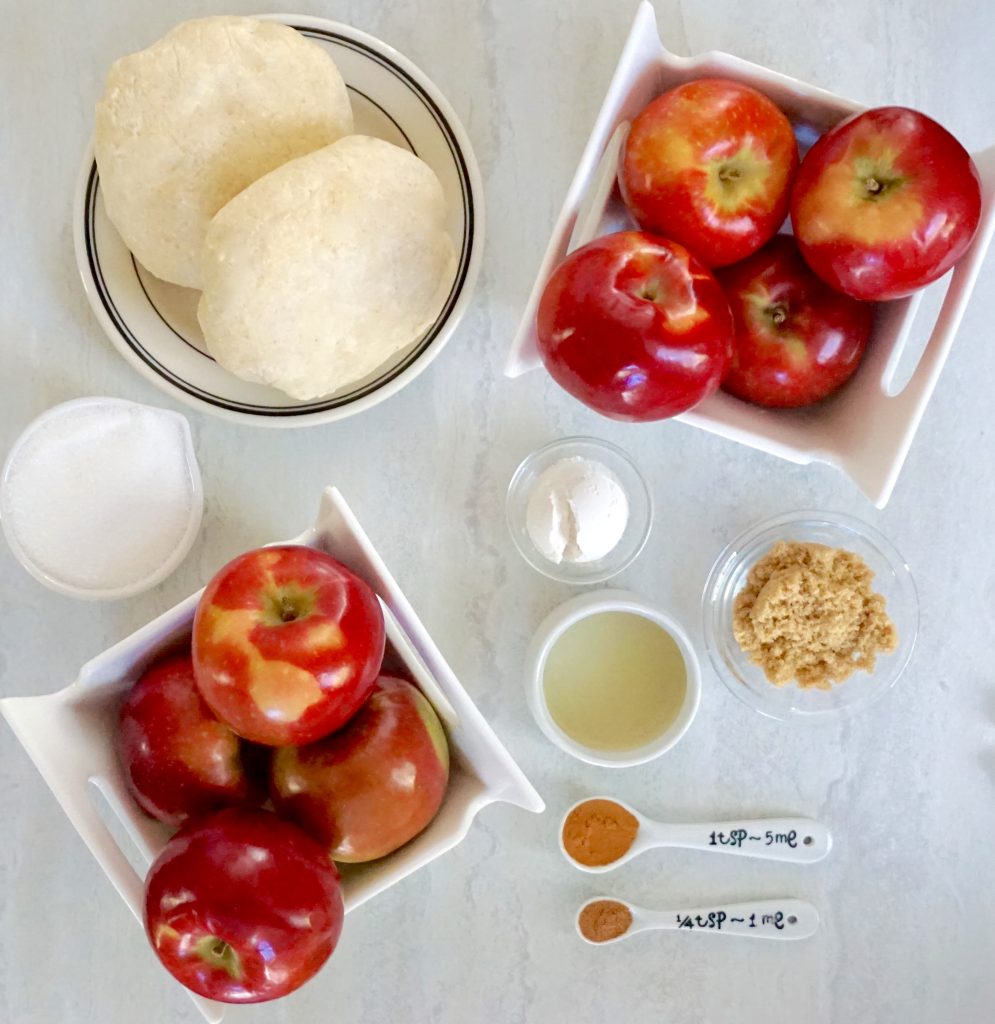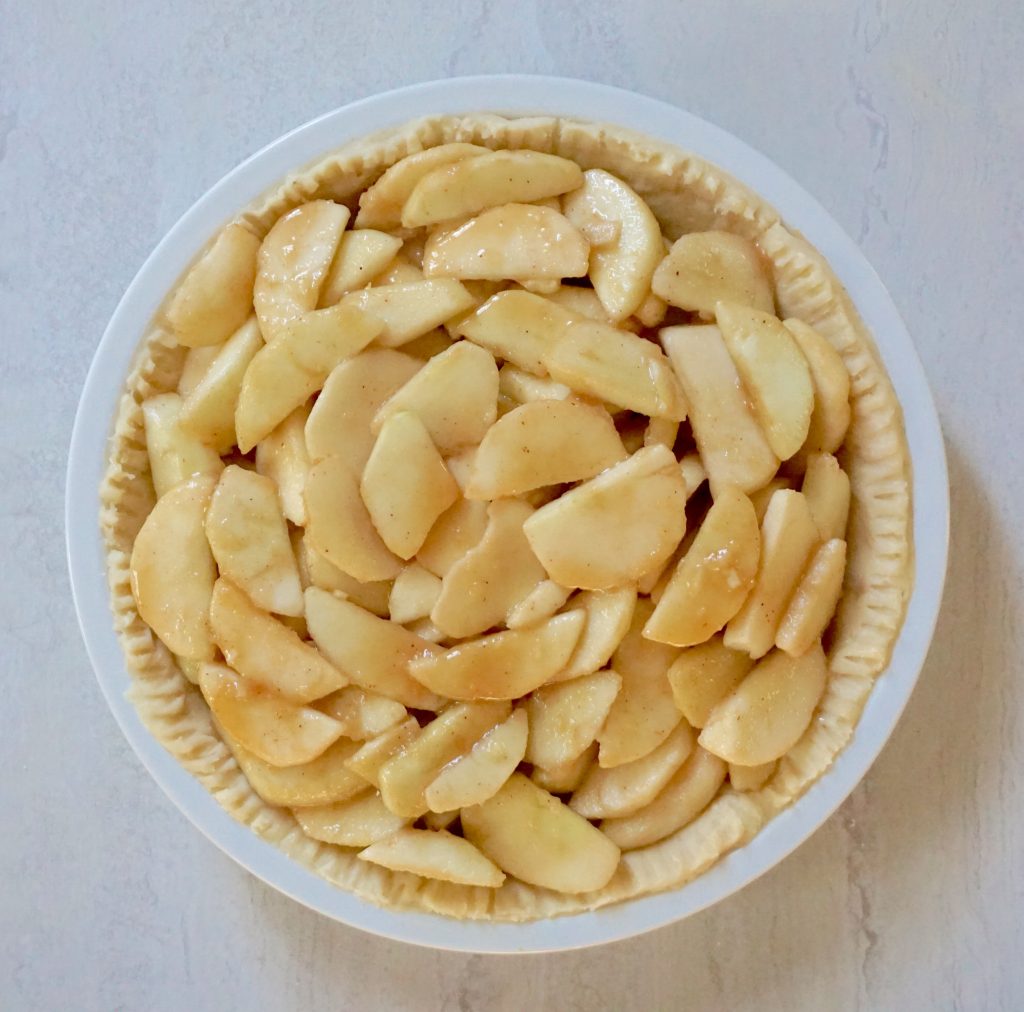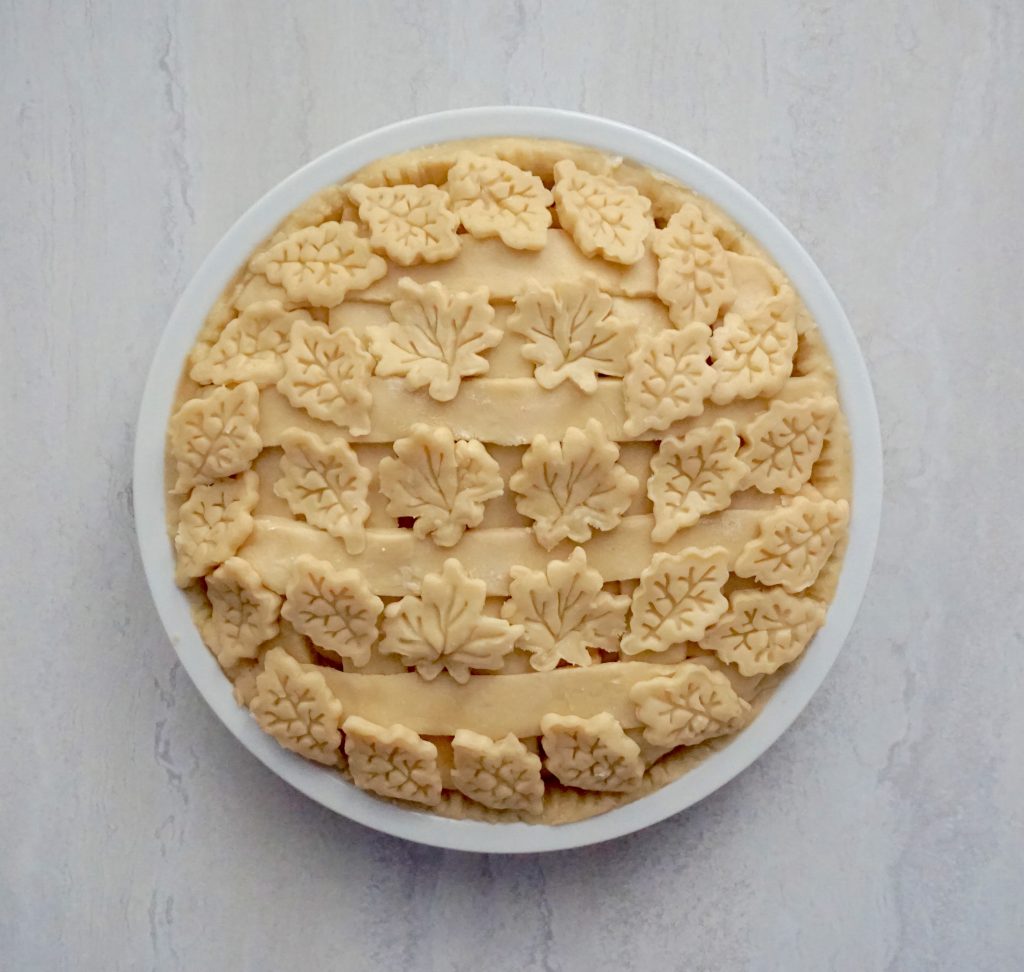 Apple Pie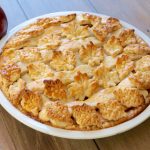 Print This
Ingredients
8 medium Macintosh apples
2 tablespoons lemon juice
½ cup white sugar
4 tablespoons brown sugar
2 tablespoons all purpose flour
1 teaspoon cinnamon
½ teaspoon nutmeg
double pie crust store bought or homemade crust
Instructions
Preheat oven to 375 degrees.
Position oven rack to the middle of the oven. This will help to keep the pie from browning too fast.
Peel, core and slice apples ½ inch thick. Place the lemon juice in a large bowl and add the apple slices, as you slice them to the bowl. Stir after each addition to prevent the apples from browning.
Add the sugar, brown sugar, flour, cinnamon and nutmeg to the raw apples. Mix well.
Line a 9 inch pie plate with the bottom crust. The crust should be in a 12-inch circle.
Add the apples and spread evenly over the pie crust.
If you are not making the lattice design and leaf top, lay the top layer of dough over the top of the apples. Crimp the top and bottom crusts on the edges of the pie with your fingers to secure. Cut off any excess dough with a sharp knife. Make several slits in the crust to release steam.
For the lattice crust top as pictured, roll out your pie crust on a well floured board so the dough does not stick. Cut eight ¾ inch strips of dough 12 inches long. Evenly space four strips vertically and four strips horizontally. Trim off any excess that hangs over the end of the pie plate. Take all the  remaining dough, including the leftover scraps from the strips and roll the dough out again on a well floured board. Cut leaves as desired and decorate the top of the pie. Bake for 45 minutes until bubbly and slightly browned.
Serve the pie warm with a scoop of vanilla ice cream. Let the pie cool completely before storing.
Notes
Carefully watch the pie while it is baking as you do not want it to brown too much or brown unevenly. Turn the pie every 10 minutes to ensure it is baking evenly. If you find the pie is browning too fast you can lightly lay a piece of foil over the pie to slow this process.