Apple Crumble is a quintessential fall dessert to make during apple season that fills your home with the wonderful aroma of cinnamon and baked apples. This delicious dessert recipe combines a juicy apple filling with a crunchy oat streusel topping that you won't be able to resist. Perfect for family gatherings, holidays, or just a cozy night in, this Apple Crumble is guaranteed to become a favorite dessert staple in your home.
Apple Crumble is an easy dessert to make with a few basic ingredients and a few simple steps.  Fresh crisp apples are combined with cinnamon, placed into a baking dish and baked with the sweetened oat topping. This is a perfect dessert to get apple pie flavors without all the work of baking a pie. A food processor will make easy work of cutting cold butter into the sugar and oats for the crumble, but it is easily done by hand as well. Directions for both ways are given below.
Apple Crumble is best served warm and topped with a big scoop of vanilla ice cream. You can make it ahead and simply reheat it when you are ready to serve it.
If you prefer a traditional apple pie check out  Apple Pie. Check out Foolproof Pie Dough to make a homemade pie crust.
If you want to try another apple dessert check out Slow Cooker Apple Rice Pudding. Some other easy apple recipes for breakfast are Caramel Apple Pancakes made with homemade caramel sauce and Overnight Apple Cinnamon French Toast.
SOME THINGS TO KNOW: FAQ'S 
INGREDIENT TIPS:
SPECIAL EQUIPMENT NEEDED:
8″ X 8″ baking dish
Food processor or large bowl and pastry cutter
SUBSTITUTIONS:
You can use different kinds of apples like Granny Smith, Honeycrisp, Golden Delicious or Fuji. For a tart crumble, go for Granny Smith.
Granulated Sugar can be substituted with coconut sugar for a healthier alternative.
You can use whole wheat flour in place of the all purpose flour. Gluten-free flour works well if you're aiming for a gluten-free dessert.
Quick oats can be used in place of the Old-Fashioned oats but will yield a softer topping.
If you do not have brown sugar, light brown sugar or granulated sugar can be substituted.
Vegan butter or margarine can replace regular butter for a dairy-free version.
HOW TO STORE LEFTOVER APPLE CRUMBLE:
Cover the baking dish with aluminum foil or plastic wrap and store it at room temperature for up to two days For longer storage, place the Apple Crumble in an airtight container and refrigerate it for up to a week.
To freeze, wrap the crumble tightly in plastic wrap, followed by a layer of aluminum foil. It can be frozen for up to 3 months.
Defrost the crumble in the refrigerator or at room temperature.
HOW TO REHEAT APPLE CRUMBLE:
To reheat the crumble in the oven, preheat your oven to 350°F (175°C). Place the crumble in the oven and bake for about 15-20 minutes, or until it's heated through and the topping has regained its crunch.
For a quicker option, especially for individual servings, you can use the microwave. Place a portion in a microwave-safe dish and heat on high for 1-2 minutes. Keep in mind that the topping may lose some of its crunch with this method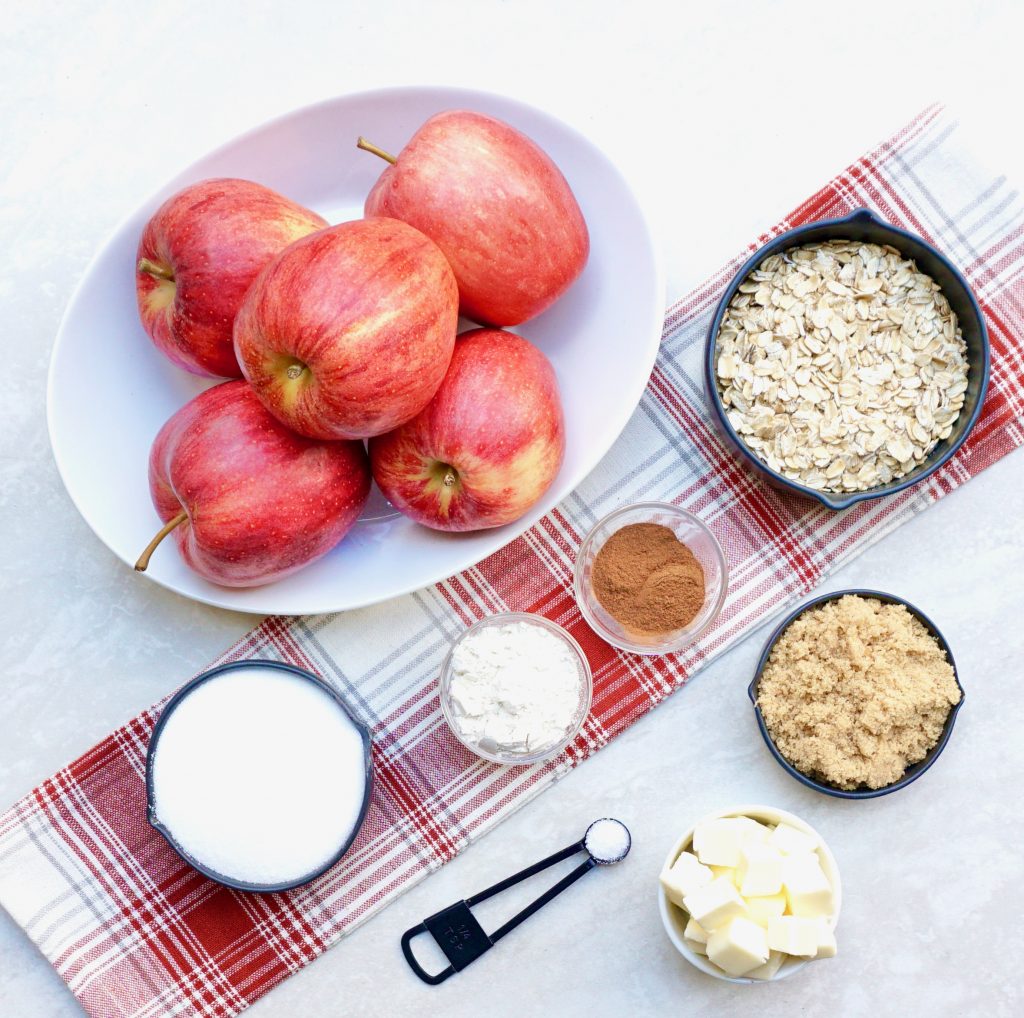 Apple Crumble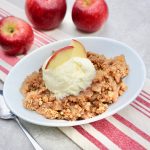 Print This
Ingredients
APPLES:

6 cups apples, sliced ( 5 large apples)

¼ cup granulated sugar

1 teaspoon cinnamon

2 tablespoons all purpose flour

.

.

TOPPING:

½ cup flour

⅓ cup brown sugar

¼ cup white sugar

1 cup old fashioned oats

1 teaspoon cinnamon

¼ teaspoon salt

1 stick cold butter, cut into cubes
Instructions
Preheat the oven to 350 degrees.
Peel the apples and cut them into small chunks.
Place them in a large bowl and add the sugar,cinnamon and flour, Combine well.
Topping option #1
Place the flour, brown sugar, sugar, oats, cinnamon, and salt into the bowl of a food processor. Pulse a few times to combine. Add the butter cubes and pulse until the butter is totally mixed in and the mixture is crumbly.
Topping option #2
Place the flour, brown sugar, sugar, oats, cinnamon, and salt into a large bowl. Add the butter and cut it into the mixture with either a pastry cutter, two knives, or your hands.  Continue until the butter is totally mixed in and the mixture is crumbly.
Place the apples into an 8″x 8″ baking dish.
Spread the crumb topping evenly over the apples in the baking dish.
Bake for 45-50  minutes until the top is lightly brown and  bubbly around the edges. Serve warm with ice cream.
If you make this ahead of time, reheat in a 350 degree oven for 15-20 minutes until heated through.
Enjoy your cozy dessert with a scoop of vanilla ice cream.