Blueberry Lemon Scones are prefect for spring and summer breakfasts and brunches. Mother's Day is this week and they would make a lovely breakfast for the day.
Scones are British pastries that are made with flour, baking powder and usually a touch of sweetness. They are slightly crumbly and moist. They make delicious breakfast pastries and are also served for brunch or afternoon tea.
Blueberry Lemon Scones are filled with fresh blueberries and lemon zest. They have a sweet and tangy lemon glaze. The lemon brightens the scones nicely and works well with the blueberries. Scones are typically served with jam and clotted cream.
If you like the combination of blueberries and lemon you might also like Blueberry Lemon Olive Oil Cake. It is easy to make, moist and lemony.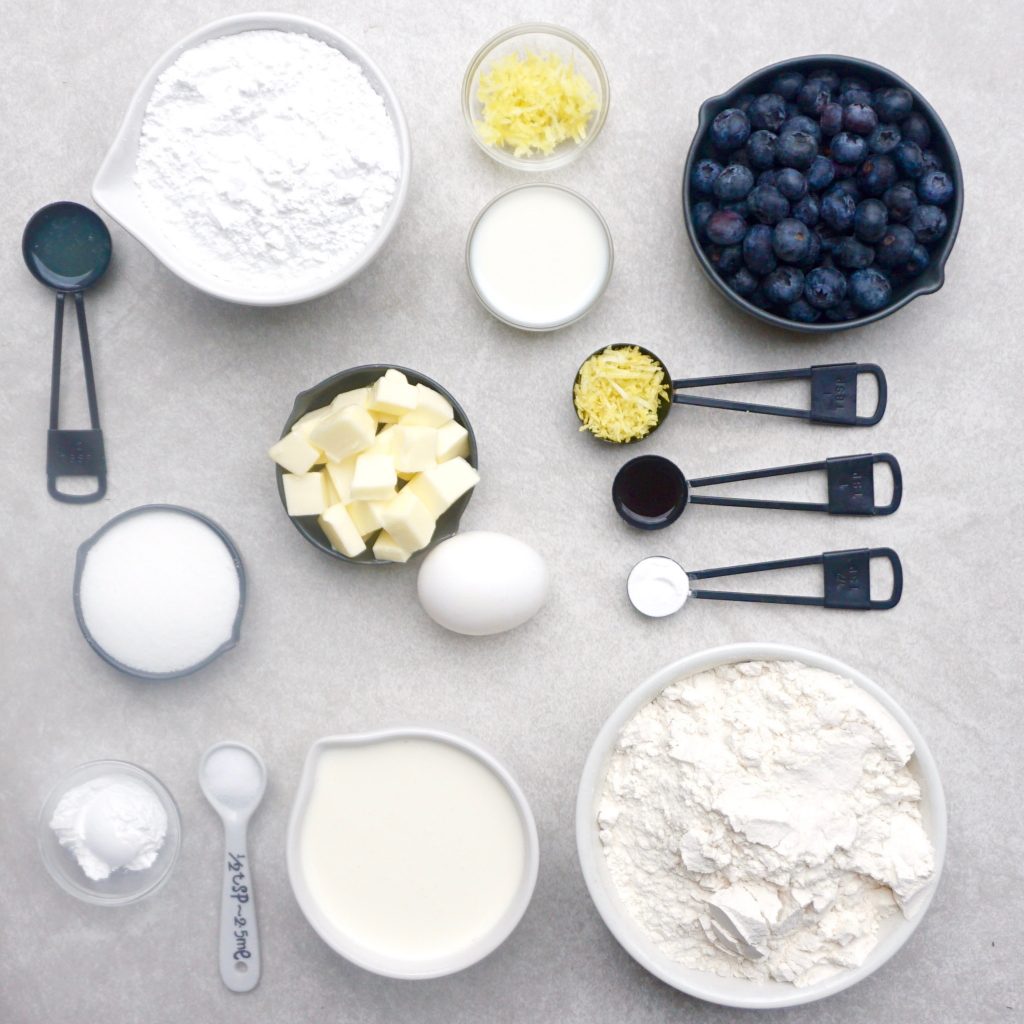 Blueberry Lemon Scones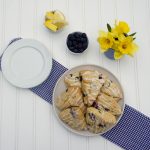 Print This
Ingredients
SCONES:

2 cups all purpose flour

¼ cup granulated sugar

2 teaspoons baking powder

½ teaspoon baking soda

½ teaspoon salt

6 tablespoons cold butter, cut into small chunks

1 large egg

1 cup heavy cream

1 teaspoon vanilla extract

1 tablespoon lemon zest

1 cup fresh blueberries

GLAZE:

1 ½ cups powdered sugar

2 teaspoons lemon zest

1 tablespoon lemon juice

2 tablespoons milk
Instructions
SCONES:
Preheat the oven to 350 degrees. Line a baking sheet with a piece of parchment paper.
You may want to watch this video Two Ways To Cut Butter Into Dough before you start if you have never done this before.
To make in a food processor:
Add the flour, sugar, baking powder, baking soda and salt to the bowl of a food processor . Pulse to combine.
Add the cubes of butter and pulse until the butter is thoroughly combined and no longer visible.
In a small bowl, beat the egg. Add the cream and vanilla and combine. Pour into the food processor and pulse until the dough is thoroughly combined and pulls away from the bowl. Do not over process the dough. Pulse only. It will become tough if it is over processed.
To make in a bowl:
Add the flour, sugar, baking powder, baking soda, and salt to a large bowl. Combine well.
Add the cubes of butter and using either a pastry cutter, two forks or your hands, break the butter up by pressing it into the flour mixture until it is thoroughly combined and you can no longer see it.
In a small bowl, beat the egg. Add the cream and vanilla and combine. Pour the mixture over the dry ingredients and combine well with a rubber spatula.
For both methods of mixing:
Remove the dough to a lightly floured board. Press it flat and place the blueberries and lemon zest on the top. Gently fold the dough and press down several times so that the blueberries are evenly distributed throughout the entire dough. Add a bit more flour if needed to prevent sticking as you do this.
Form the dough into a round circle between 9- 10 inches. Press the top so that it is even.
 Cut the circle in half from the top to bottom. Cut each half into 4 equal triangles.
Gently brush a bit of heavy cream over the top of each scone.
Place on the baking sheet and bake for 15 to 20  minutes until lightly browned.
Remove to a wire rack and let the scones cool completely.
GLAZE:
Add the powdered sugar and lemon zest to a medium size bowl. Add the lemon juice and milk and stir to combine. It should be fluid enough to pour off of a spoon. If it is too thick, add more milk, one teaspoon at a time until you have the right consistency.
Using a spoon, lightly drizzle the glaze, using a back and forth motion, over the tops of the scones.
Let the glaze dry until hardened, about 30 minutes.