Would it even be summer without fresh blueberries? July is National Blueberry Month and we are here to celebrate. These perfect little berries have many health benefits as they are packed with nutrients and antioxidants. Whether you pick your own berries or buy them at your local farmer's market or grocery store, now is the time to enjoy them. 20 Easy Recipes to Make with Fresh Summer Blueberries is a recipe roundup with lots of ways to use summer blueberries for breakfast, dessert and even a refreshing blueberry lemonade.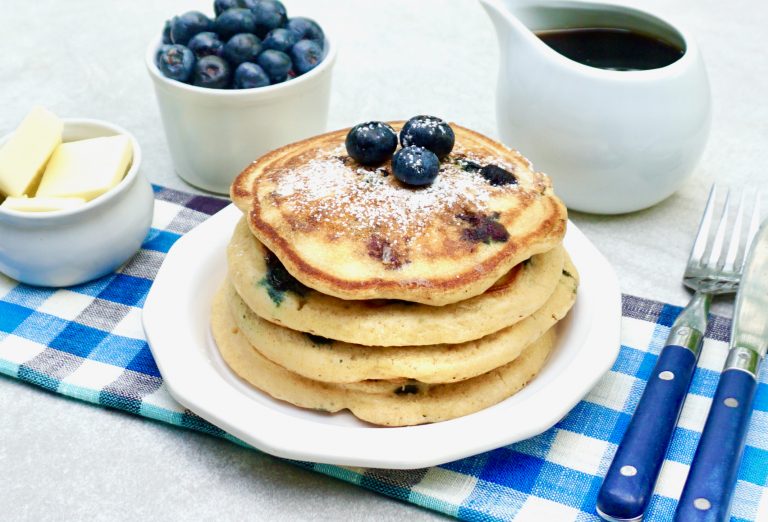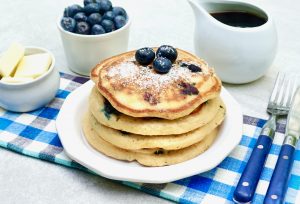 Let's start off with breakfast dishes and our favorite blueberry pancakes. Blueberry Cinnamon Pancakes are so easy to make from scratch with ingredients that you most likely already have in your pantry.This recipe is a simple batter of eggs, buttermilk, flour, sugar, cinnamon and a few more ingredients. It only takes a couple of minutes to put the batter together and the pancakes cook pretty quickly.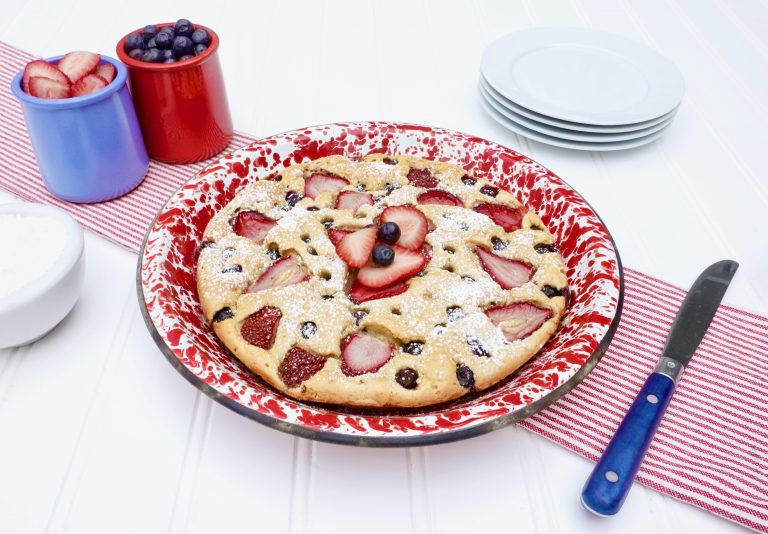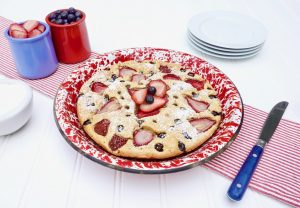 Baked Berry Pancake is a simple breakfast that combines fresh strawberries and blueberries in one large pancake that you bake in the oven.The batter can be quickly combined in a blender or whisked together in a bowl. It is poured into a pie plate to bake.Served warm, straight from the oven, it can be sprinkled with powdered sugar or served with maple syrup and additional berries.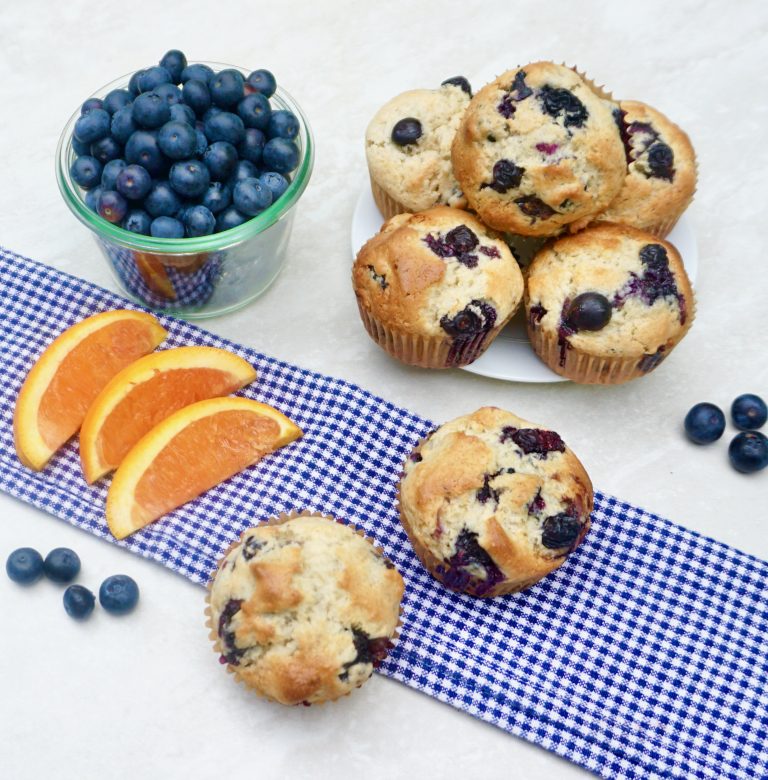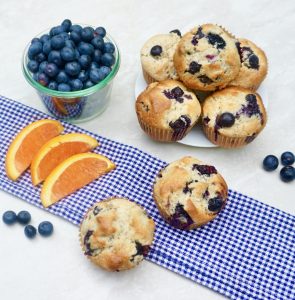 Blueberry Muffins are slightly sweet muffins that are filled with fresh blueberries. Fresh local summer blueberries make them even better. They are easy to put together and bake in 20 minutes. They are best served warm, right out of the oven with a pat of butter.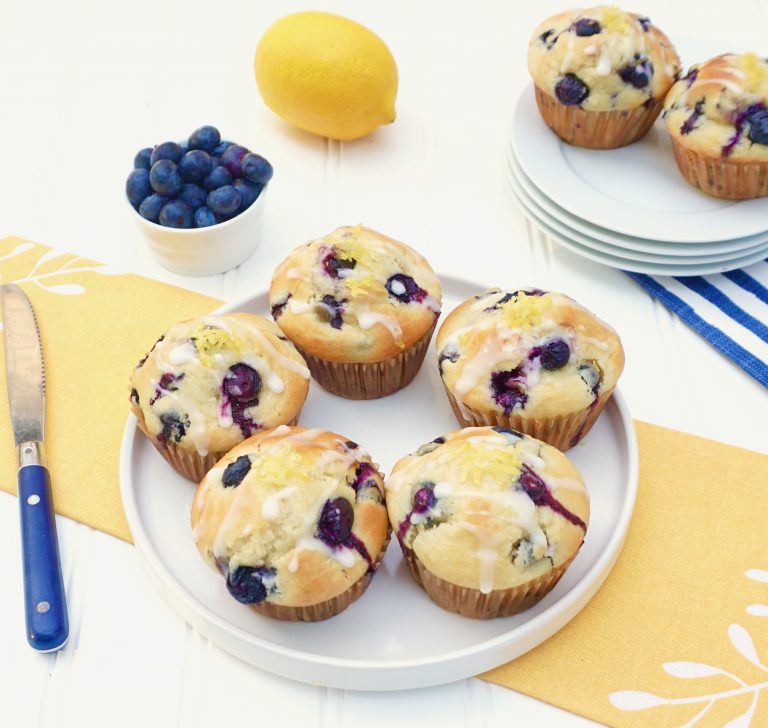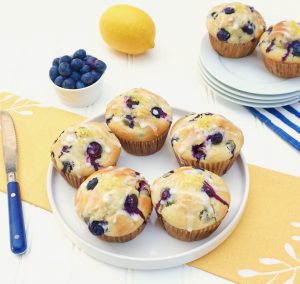 Lemon and blueberries are a perfect combination! Blueberry Lemon Muffins have a moist texture and lots of flavor. They are made with fresh lemon juice, lemon zest and juicy blueberries. There is a sweet lemon glaze on top of the muffins which adds a brightness. This easy recipe does not require an electric mixer to make.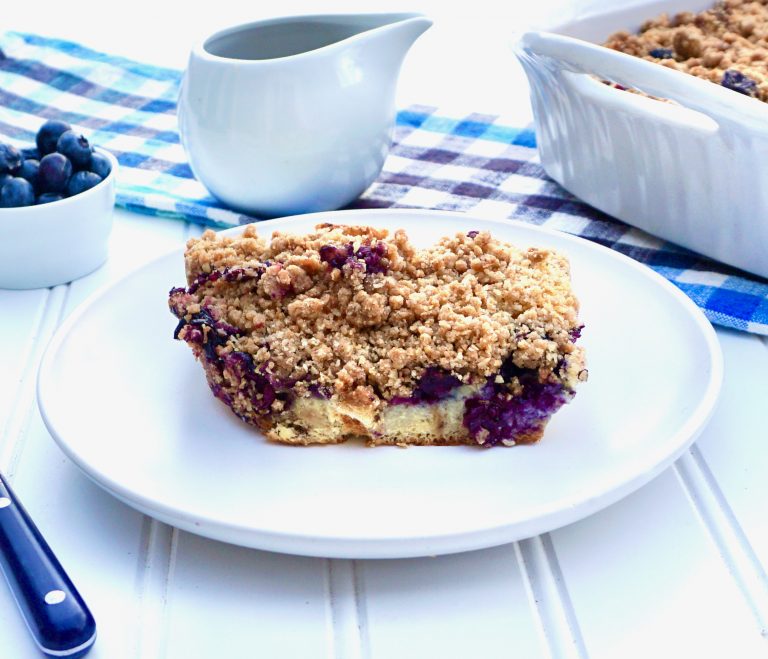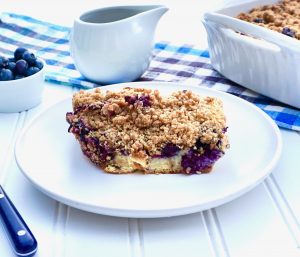 This is an easy way to feed a group or make a pan and eat it all week. Blueberry French Toast Bake is a comforting breakfast. It is a baked french toast base made with a bit of maple syrup and an oatmeal and brown sugar crumble topping. This simple recipe is assembled the night before and refrigerated. Bake it in the morning and enjoy the smell of cinnamon in your kitchen.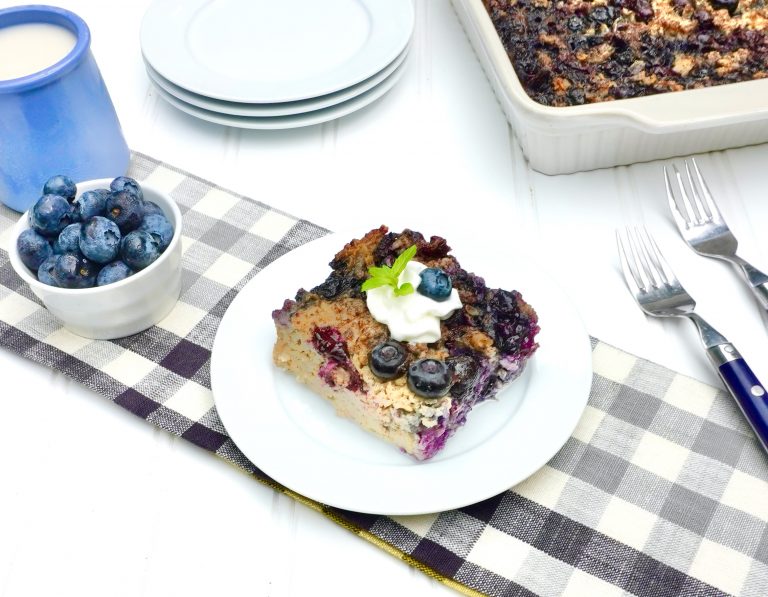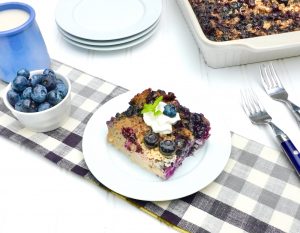 If you like healthy eating, this Blueberry Baked Oatmeal is for you! This simple overnight oats recipe is an easy to make breakfast that you put together the night before. It takes just a few minutes to assemble. You let it sit in the refrigerator overnight and bake it in the morning. This is one of the best healthy blueberry recipes, made with oats, almond milk, honey and coconut oil. It is flavored with cinnamon and vanilla and is full of fresh berries.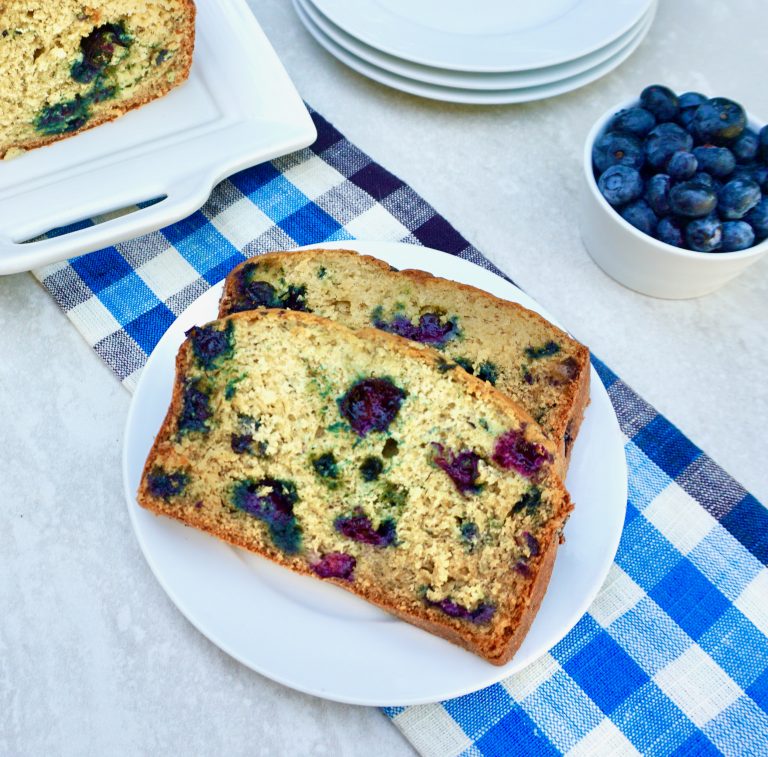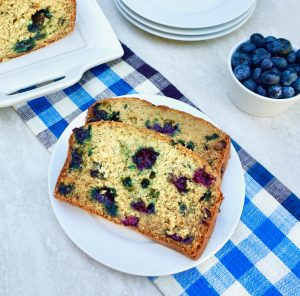 Blueberry Banana Bread is a moist quick bread that is easy to make. The combination of blueberries and banana are a good one and they achieve a perfect balance in this bread. This is a great way to use up those overripe bananas! It makes a wonderful breakfast or afternoon snack.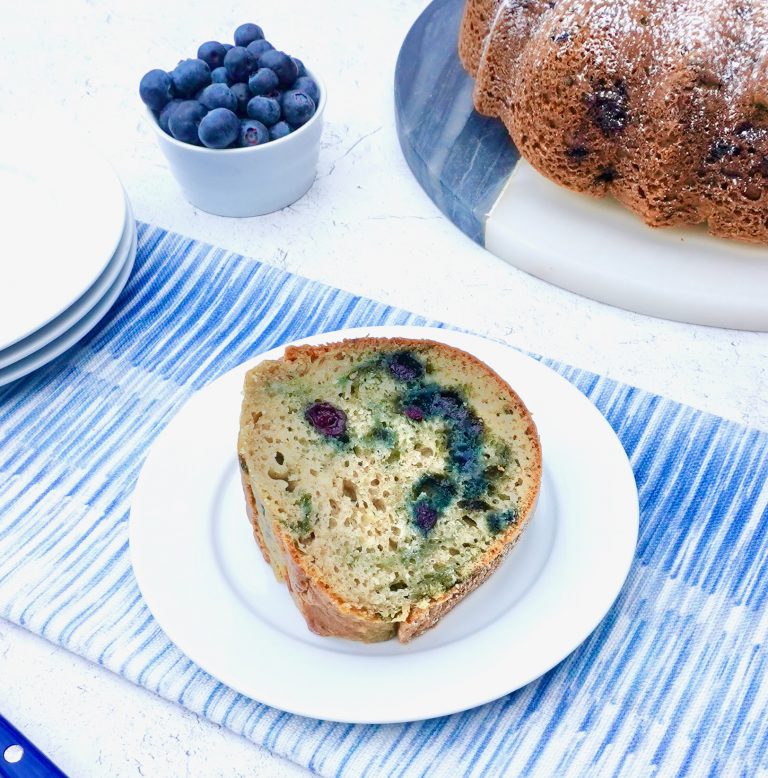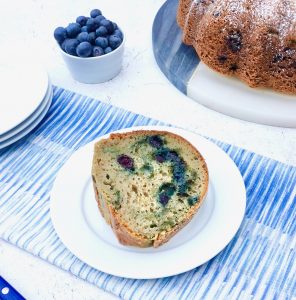 Would you eat blueberry cake for breakfast? If you answered yes, you will love Blueberry Pancake Bundt Cake.  It is an easy cake that has the basic ingredients found in pancakes. It is a moist breakfast cake that would be perfect if you have overnight guests. You can make this cake in one bowl, no mixer needed. It just might become one of your favorite recipes!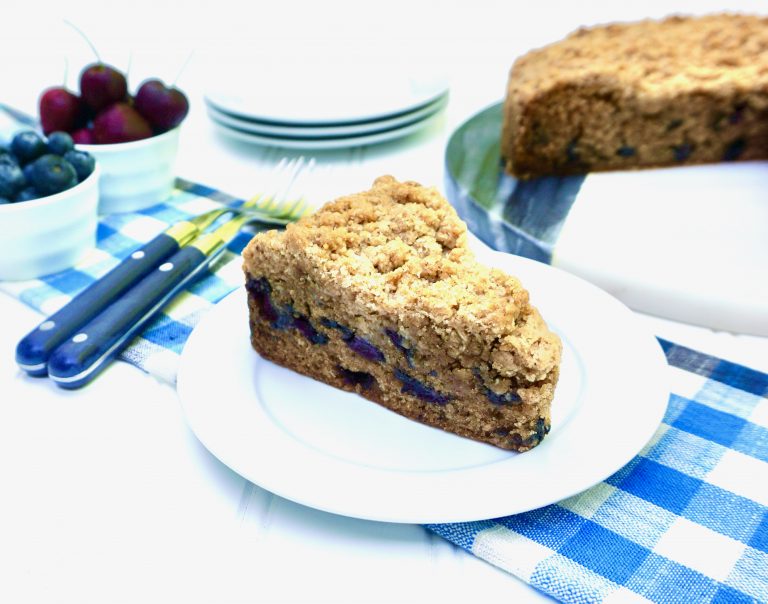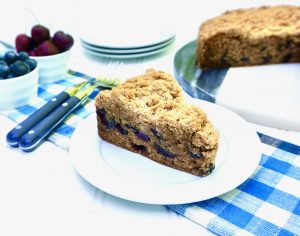 Cherry Blueberry Crumble Cake is a coffee cake that is perfect in the summer when cherries and blueberries are in season. This cinnamon cake is moist and very easy to make. No mixer required. The cake is topped with a simple crumble. It adds another layer of cinnamon goodness to the cake. This is the perfect Sunday morning coffee cake or a wonderful fruit filled cake for dessert that is one of the best ways to enjoy summer cherries and blueberries together.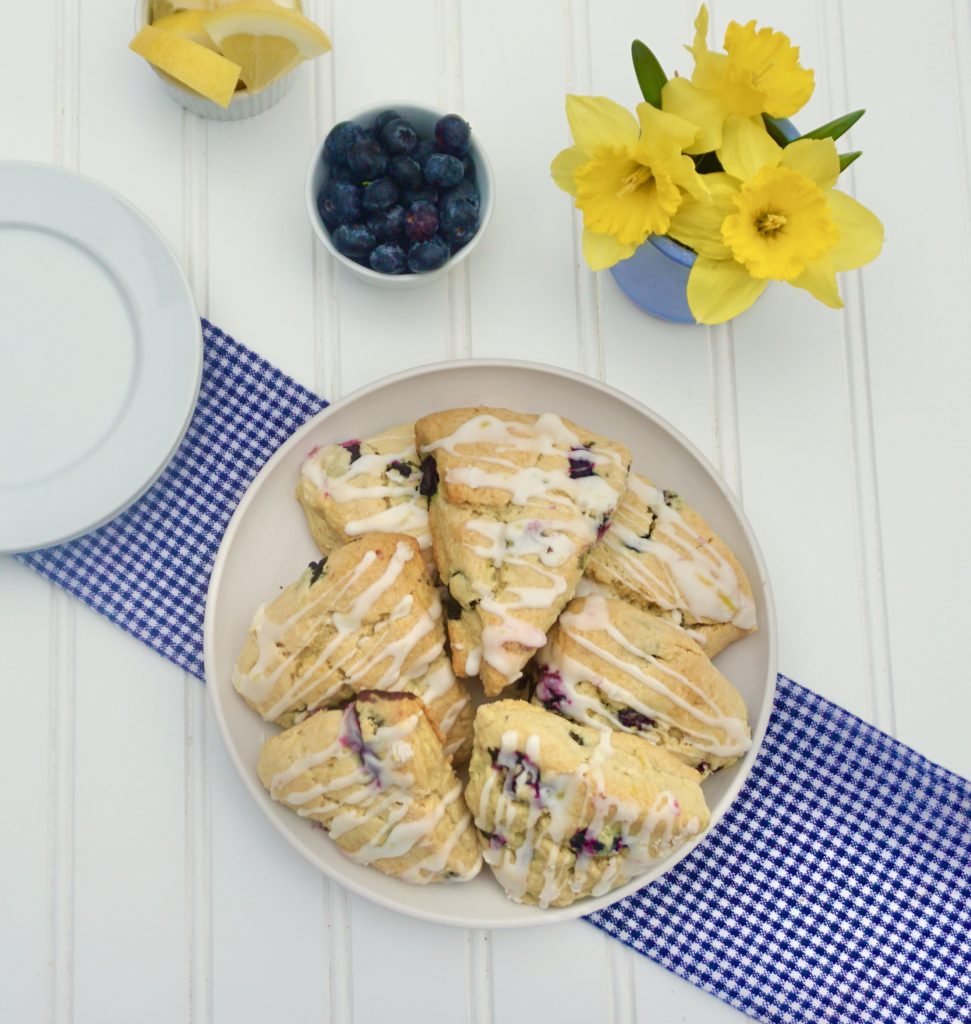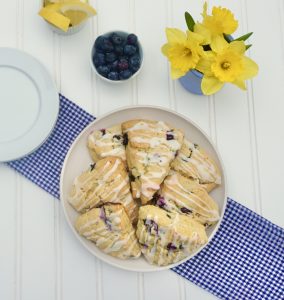 We cannot move on from breakfast recipes without some blueberry scones! Blueberry Lemon Scones are prefect for summer breakfasts and brunches. They have a bright blueberry flavor and a touch of lemon. They are filled with fresh blueberries and lemon zest. They have a sweet and tangy lemon glaze. The lemon brightens the scones nicely and works well with the blueberries.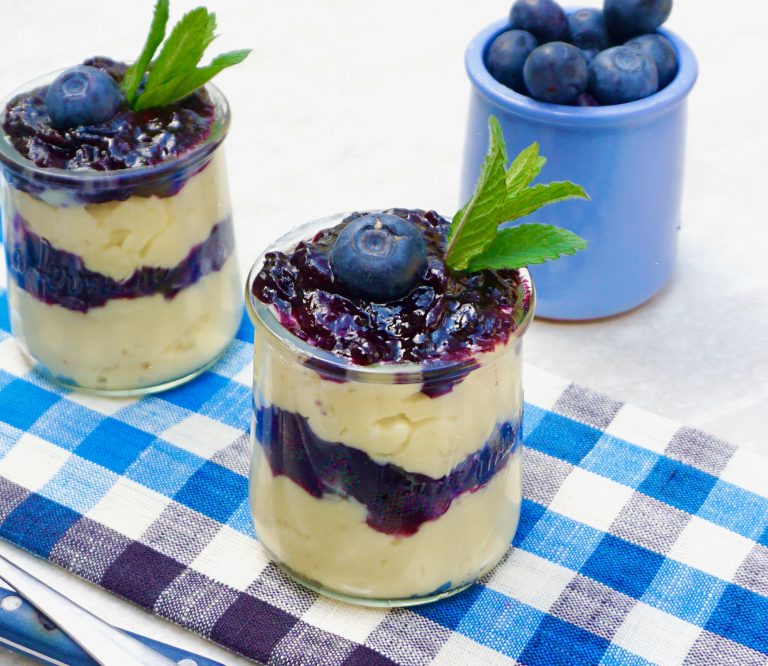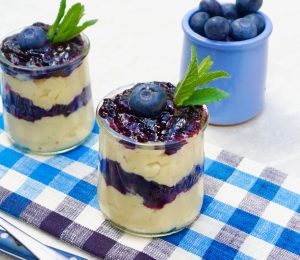 Let's keep moving through 20 Easy Recipes to Make with Fresh Summer Blueberries, where blueberry desserts take center stage! These easy dessert recipes will make great endings to your summer meals.
Blueberry Custard Parfait combines fresh summer blueberries with creamy vanilla custard. It is a simple dessert that is refreshing and pretty with layers showing through a clear glass. These sweet treats would be a big hit with blueberry lovers.The sweet blueberry sauce on its own would also be good on top of pancakes or waffles.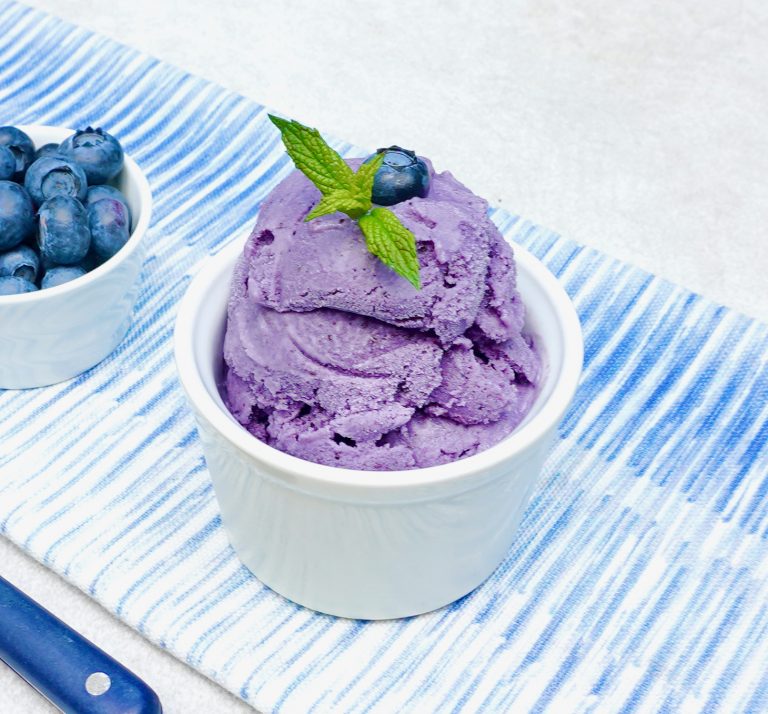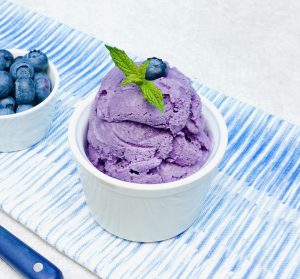 Blueberry Gelato is an Italian blueberry ice cream. It is made with a higher percentage of milk than cream so it is a bit lighter. Cold ice cream is a perfect dessert for the hot summer days. You can make quick work of this with minimal effort if you can churn ice cream in an ice cream maker. It is a great way to enjoy fresh blueberries.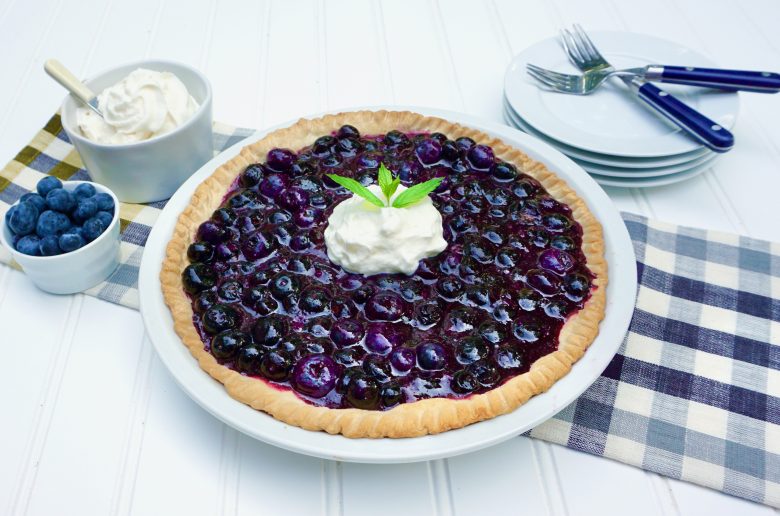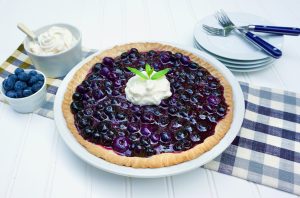 Blueberry Pie is a bit of a twist on the classic blueberry pie. This pie is a great option to avoid the heat of the oven. The blueberry pie filling comes together on top of the stove in minutes and is poured into a prepared pie crust. The best thing is that you will only need to bake the crust for about 10 minutes and then turn that oven off! You could also use a graham cracker crust.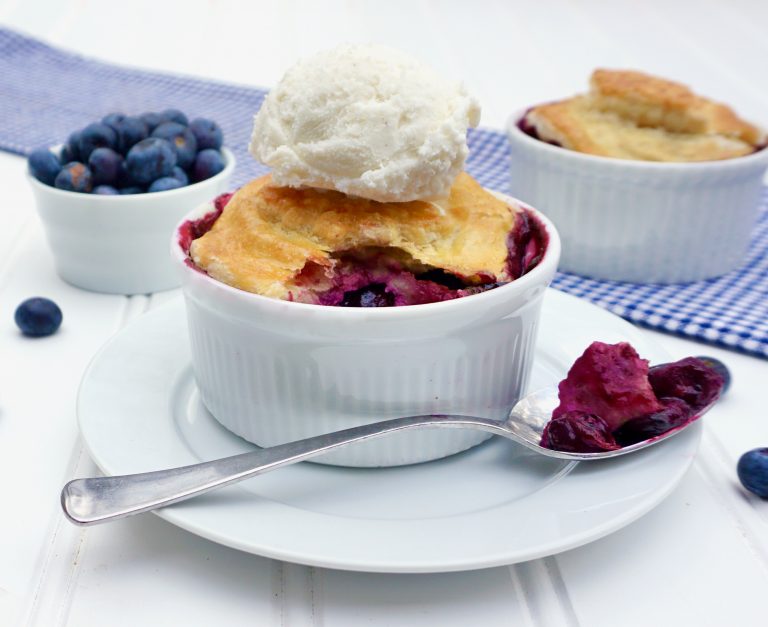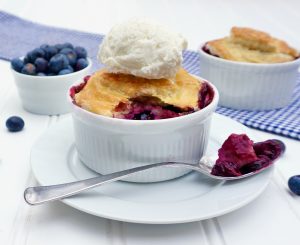 Blueberry Pie is a wonderful dessert but it requires a lot of effort. You can get all the same flavors with this easy Blueberry Pot Pie and create simple to serve single portions. Plump blueberries are combined with some sugar, flour, cinnamon and lemon juice then placed into ramekins. Puff pastry tops the blueberries making a delicious crust. Serve them warm with a scoop of vanilla ice cream and you have a great simple dessert!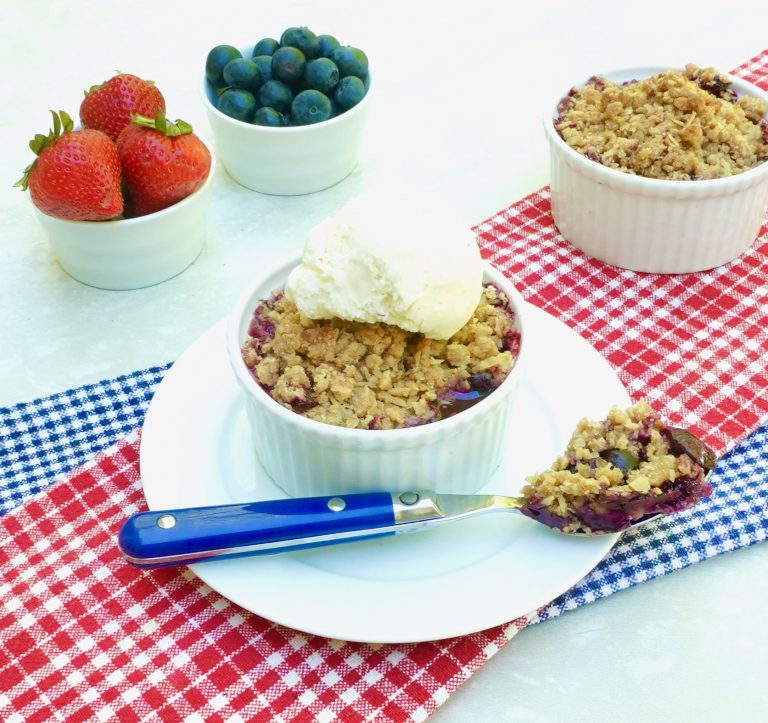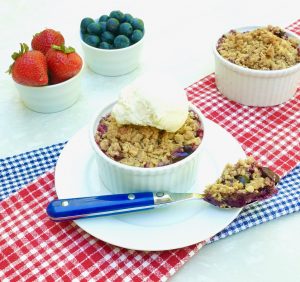 Berry Crumble is a delicious and easy way to enjoy fresh summer berries.Strawberries and blueberries are combined and sweetened for the filling. Oats and flour are mixed with sugar, butter and cinnamon to make the crumble topping. It is a simple way to create the flavors of a berry pie without all of the work. This recipe is easy enough for a beginner to bake with success!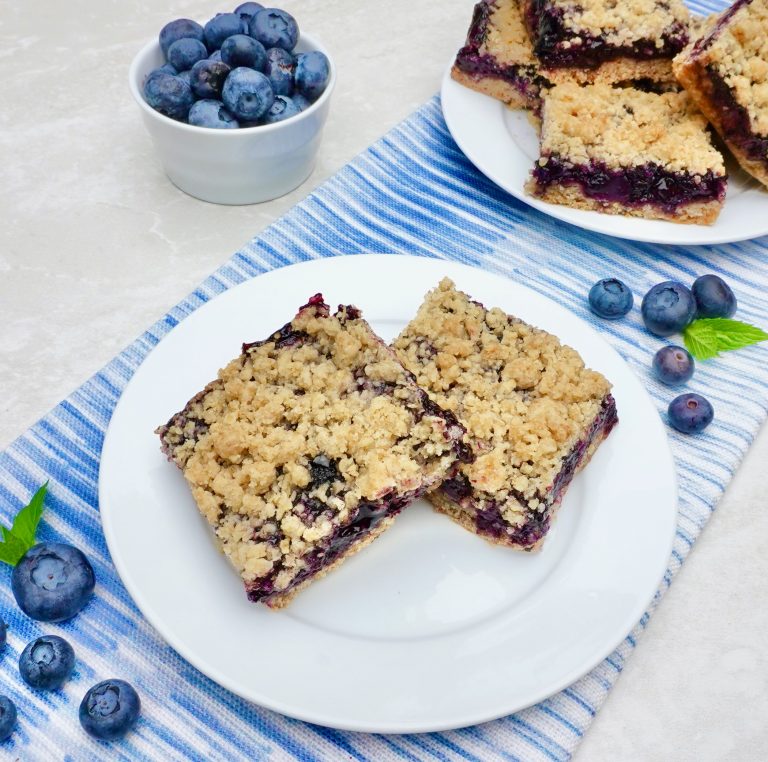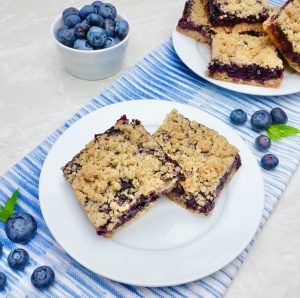 If you are a fan of blueberry cobbler, you will love these bars! Blueberry Crumble Bars are the perfect bars for blueberry season. They have a buttery crumble topping, a crust made with flour and oats and a jam like filling made with fresh tangy blueberries. These blueberry bars are one of the best blueberry recipes for a portable dessert to take along on your summer outings and picnics.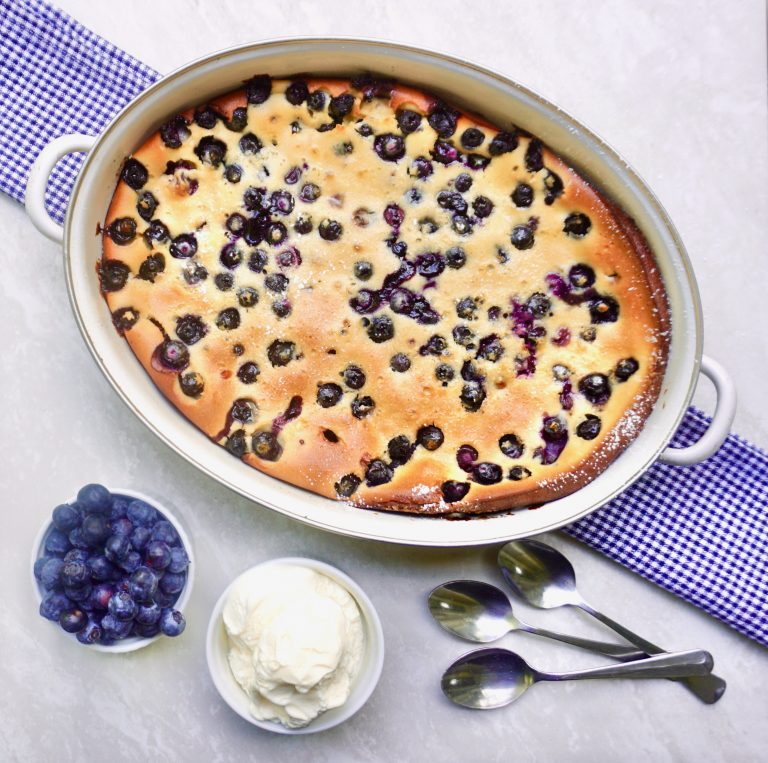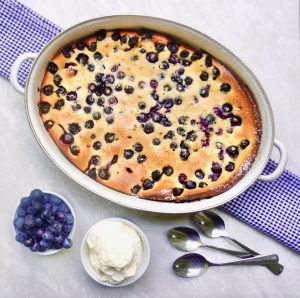 Blueberry Clafoutis is the perfect way to enjoy blueberries this summer. It is one of the easiest desserts to make, and it is  delicious. Clafoutis is a classic French dessert made with fresh fruit or berries that are baked into a thick flan like batter. You can mix the batter quickly in a blender. It is best served slightly warm with a little whipped cream or vanilla ice cream.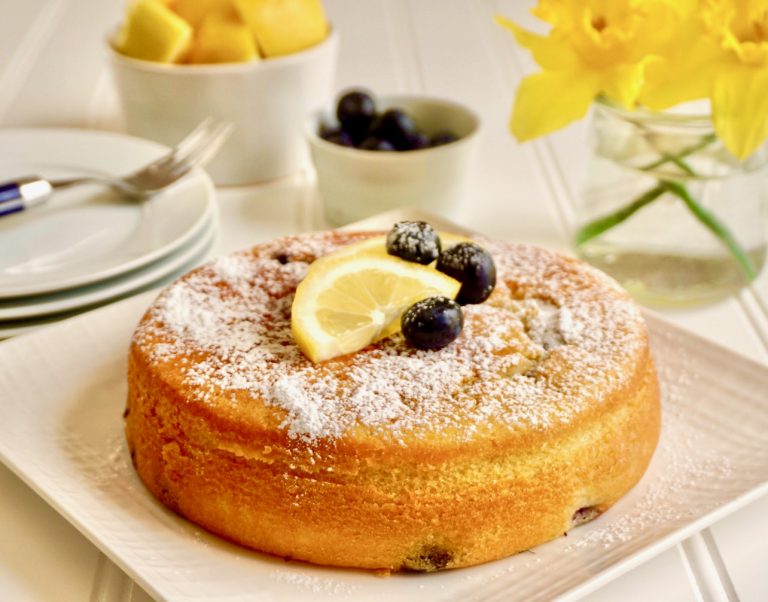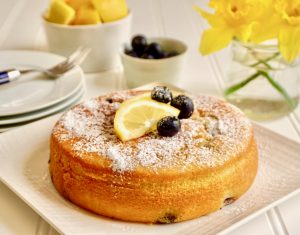 Blueberry Lemon Olive Oil Cake is a lemony cake that is full of fresh blueberries.  It is a one bowl delicious cake that is moist easy and pretty. You do not have to be a master baker to bake this! There is no special equipment needed. It is a no-mixer required cake too! It is a perfect cake for beginners. This is the oldest and most beloved reader blog post in the 20 Easy Recipes to Make with Fresh Summer Blueberries round up.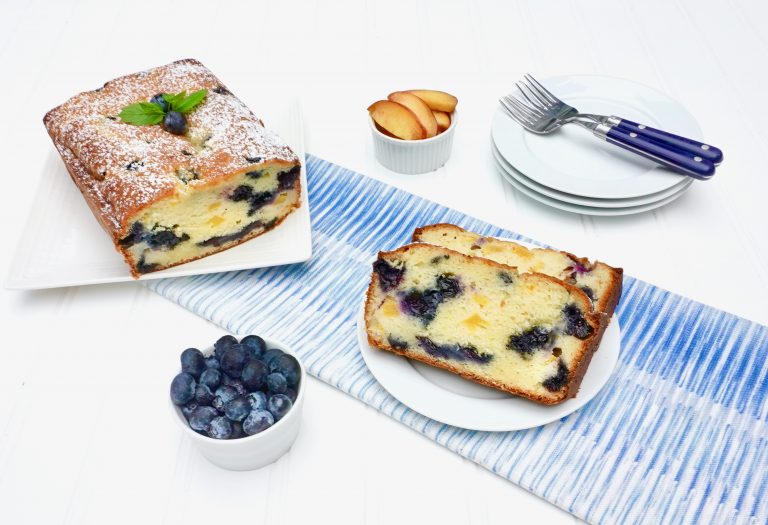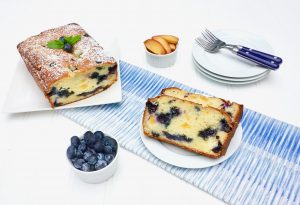 Blueberry Peach Ricotta Cake is a simple loaf cake filled with fresh peaches and fresh blueberries.If you are a fan of blueberry peach pie, you are going to love this! The addition of ricotta cheese makes it a very moist and fluffy cake that it is so flavorful on its own, no icing is required. The only thing that you might want to add is a sprinkle of powdered sugar. This type of cake which has a similar texture to a pound cake, is easily put together in one bowl, no mixer required. It would make a great dessert and could also be served for a summer brunch.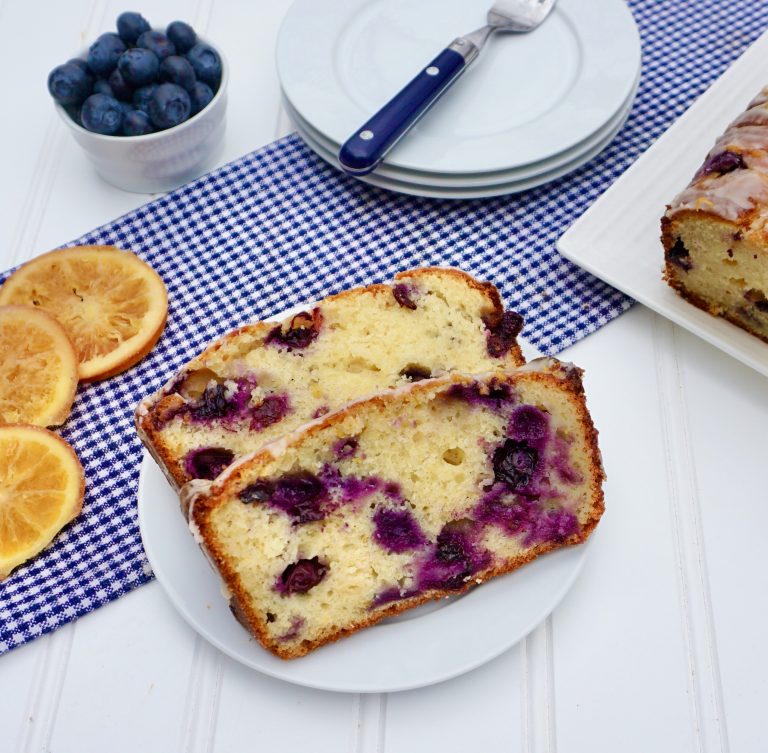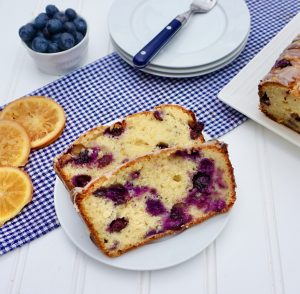 Blueberry Orange Yogurt Cake is a moist, fluffy cake with an orange glaze. This is an easy cake to put together without a mixer. Fresh blueberries, freshly squeezed orange juice and orange zest make this cake fresh and flavorful. Greek Yogurt makes the cake super moist. It is a great simple dessert, that could also easily be served for breakfast or brunch.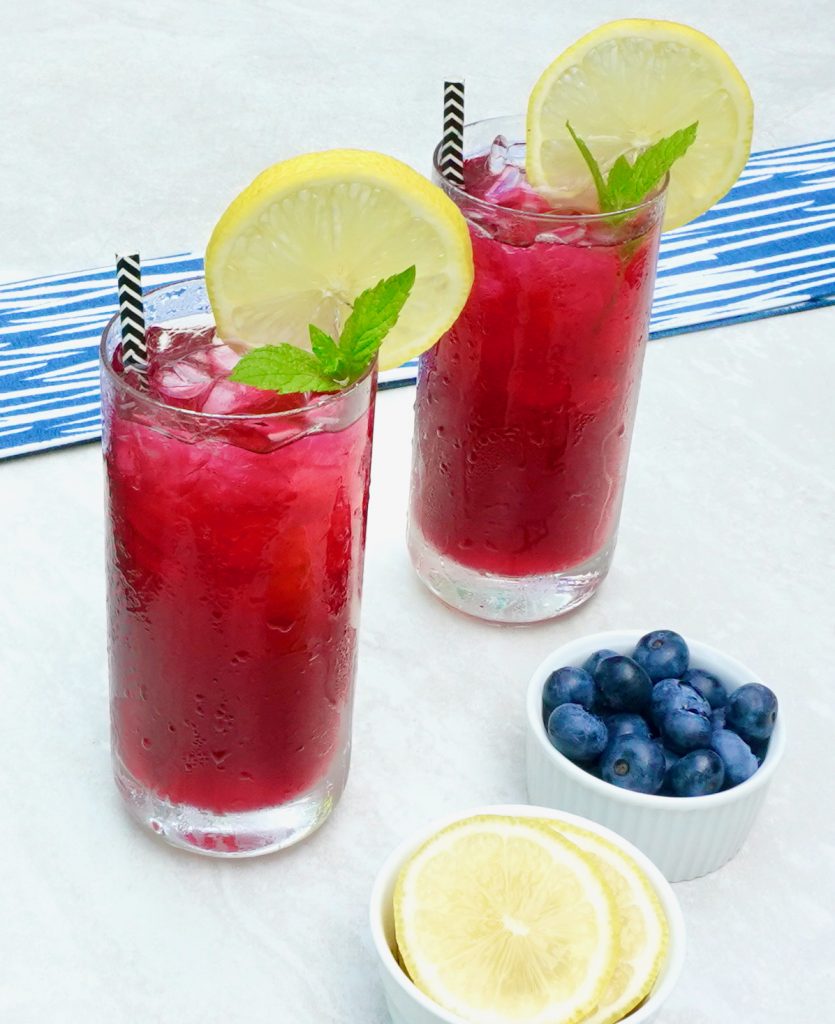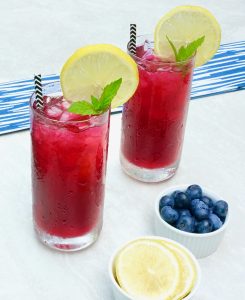 Blueberry Sparkling Lemonade is a pretty and refreshing summer drink. It is a perfect combination of summer berries and lemon juice. A large pitcher of this would surely be a hit at your summer gatherings. It is the perfect way to refresh yourself on a hot day. The blueberry syrup is combined with fresh lemon juice and sparkling water.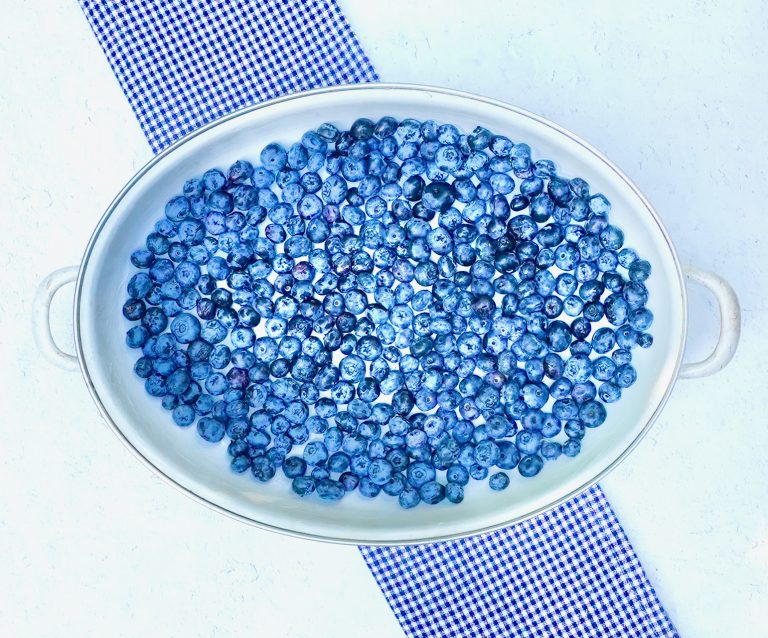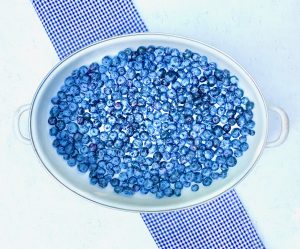 Check out the Blueberry Buying Guide so you know what to look for when buying fresh blueberries.
HOW TO FREEZE SUMMER BLUEBERRIES:
When you are in the height of blueberry season. You can buy extra blueberries and freeze them for later. If you have never tried this before, it works very well as long as you are going to use the frozen blueberries for cooking, baking or in a smoothie. You can just take fresh blueberries and pour them onto a rimmed baking sheet in a single layer. Place them into the freezer. They will freeze individually this way. Once frozen, transfer them to a container or freezer bag. When you are ready to bake with the frozen berries, measure what you need, check for stems and remove them, then rinse the berries. Add them while they are still frozen to your recipe.
Enjoy blueberry season while it lasts. It always seems to pass so quickly. I hope you found a new recipe to inspire you this summer in 20 Easy Recipes to Make with Fresh Summer Blueberries.