Blueberry Custard Parfait combines fresh summer blueberries with creamy vanilla custard. It is a simple dessert that is refreshing and pretty with layers showing through a clear glass. This sweet treat would make a great ending to a summer meal. The blueberry compote on its own would also be good on top of pancakes or waffles.
Blueberry Pot Pie, Blueberry Lemon Muffins, Blueberry Clafoutis, Blueberry Lemon Scones, Blueberry Pie, and Blueberry Lemon Olive Oil Cake are some other recipes to try with fresh berries. You might also like Homemade Blueberry Gelato.
Check out 20 Easy Recipes to Make With Fresh Summer Blueberries for additional ideas.
SOME THINGS TO KNOW: FAQ'S
HOW TO FREEZE SUMMER BLUEBERRIES:
When you are in the height of blueberry season. You can buy extra blueberries and freeze them for later. If you have never tried this before, it works very well as long as you are going to use the frozen blueberries for cooking or baking. You can just take fresh blueberries and pour them onto a rimmed baking sheet. Place them into the freezer. They will freeze individually this way. Once frozen, transfer them to a container or freezer bag. When you are ready to bake with the frozen berries, measure what you need, check for stems and rinse. Add them while they are still frozen to your recipe.
SPECIAL EQUIPMENT NEEDED:
Parfait glasses
Small and medium saucepans
Zester or small box grater to zest the lemon peel.
SUBSTITUTIONS:
If fresh blueberries are not available, frozen blueberries can be substituted. There is no need to defrost them before using.
If you do not have granulated sugar, pure cane sugar or light brown sugar can be substituted.
Heavy cream or half and half can be used in place of some or all of the whole milk.
HOW TO STORE LEFTOVER BLUEBERRY CUSTARD PARFAIT:
You can cover the custard parfaits with plastic wrap and keep them in the refrigerator for 2-3 days. You could also place them into an airtight container.
You can freeze the blueberry compote separately in an airtight freezer container for up to 3 months.
Custard will separate and become grainy if it is frozen. Freezing is not recommended.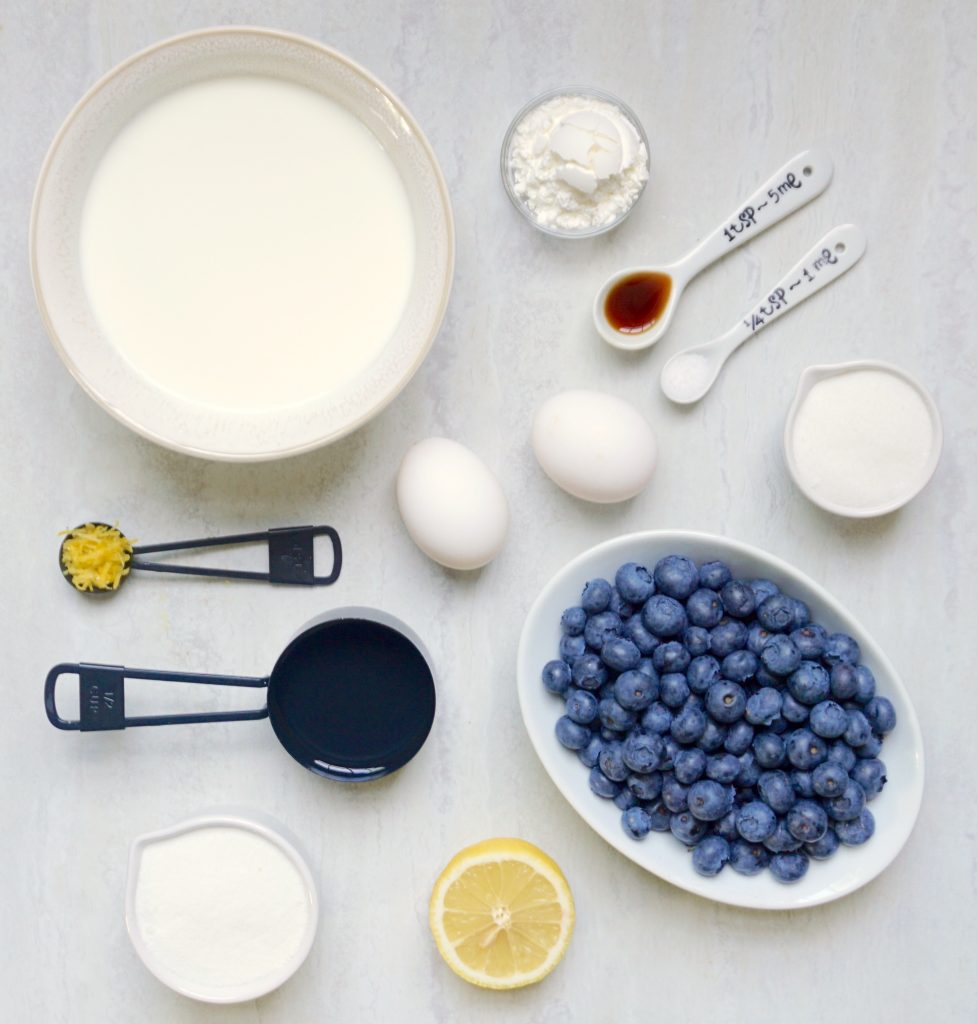 Blueberry Custard Parfait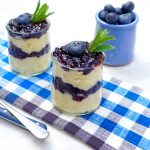 Print This
Ingredients
CUSTARD:
½ cup sugar (granulated)
4 tablespoons cornstarch
½ teaspoon salt
4 cups whole milk
4 egg yolks
2 teaspoons vanilla extract
BLUEBERRY COMPOTE:
2 cups fresh blueberries
1/3 cup granulated sugar
½ cup water
1 teaspoon lemon juice
1 teaspoon lemon zest
1 teaspoon cornstarch
1 tablespoon cold water
Instructions
CUSTARD:
To make the custard, whisk together the sugar, cornstarch and salt in a medium saucepan.
Pour the milk into the pan and heat over medium-high heat, whisking constantly until it comes to a boil. Once the hot milk mixture is boiling, turn the heat down to medium low and let it continue a gentle boil for 30 seconds while stirring constantly so it thickens fully. Remove from the heat.
Beat the egg yolks.
Pour 1 cup of the custard slowly into the yolks, a small amount at a time, whisking  briskly.
Pour the egg mixture back into the pan with the remaining custard and bring it back to a simmer over medium-low heat while you combine eggs, whisking constantly. Simmer for 30 seconds while stirring.
Stir the custard. A good way to know if the custard is ready when you can draw a clean line through it on the back of a metal spoon, using your finger.
Remove the custard from the heat and add the vanilla, Cool completely to room temperature.
COMPOTE:
To make the blueberry compote, combine blueberries, sugar, water, lemon juice and lemon zest in a small saucepan.
Bring the mixture to a boil over medium heat. Reduce the heat to low and simmer for 8 minutes until blueberries are cooked and slightly broken down.
Dissolve the cornstarch in the tablespoon of water.
Pour the dissolved cornstarch into the blueberry mixture and stir it in well. Simmer for a minute or so until the mixture thickens. Remove from the heat and cool completely to room temperature.
TO ASSEMBLE THE PARFAITS:
Place ½ cup of the custard mixture into the bottoms of 4 twelve ounce serving dishes. Next spoon 2 tablespoons of the blueberry compote over the custard. Repeat with another ½ cup of custard and another 2 tablespoons of the blueberry compote. Chill until you are ready to serve.