Blueberry Lemon Muffins have a moist texture and lots of flavor. They are made with fresh lemon juice and lemon zest. There is a sweet lemon glaze on top of the muffins which adds a brightness. This easy recipe does not require an electric mixer to make. You can whisk the wet ingredients by hand then fold the dry ingredients in with a rubber spatula.
Always a favorite for breakfast or snacks, these delicious muffins are freezer friendly so they can be made ahead of time and defrosted as needed. They are simple to put together and bake in just 20 minutes. If you prefer to skip the glaze and eat them warm from the oven, they are great with melted butter.
Blueberry Lemon Muffins are the perfect marriage of citrus and berries. If you like the combination, you may also like Blueberry Lemon Scones which are another good option for breakfast. If you prefer a blueberry muffin without the added lemon, check out Blueberry Muffins.
You might also like Blueberry Pancake Bundt Cake.
If you would like to try some other muffin recipes, check out Whole Grain Kitchen Sink Muffins, Banana Chocolate Chip Muffins,  Orange Muffins, Cranberry Orange Muffins, Pumpkin Crumble Muffins, and Strawberry Banana Muffins. They are all flavorful, moist muffin recipes that are simple to make.
Check out 20 Easy Recipes to Make with Fresh Summer Blueberries for some other seasonal recipe ideas.
SOME THINGS TO KNOW:FAQ'S
SPECIAL EQUIPMENT NEEDED:
8 cup muffin pan
Paper cupcake liners
SUBSTITUTIONS:
If you do not have fresh berries, you can use frozen blueberries instead. Do not defrost them before you add them to the batter.
You can replace the yogurt in the recipe with sour cream. You could also replace it with whole milk.
If you do not have fresh lemon juice, you can substitute a teaspoon of lemon extract.
You can swap out some or all of the all purpose flour with whole wheat flour. It will change the texture of the muffin, depending on how much whole wheat flour is added. If you want to try this, read How to Substitute Whole Wheat Flour for White Flour.
You can substitute the vegetable oil for canola oil or coconut oil.
You could use a light brown sugar in the place of granulated sugar.
Powdered Sugar is granulated sugar that has been pulverized into a light powder. It may also have a bit of cornstarch added. This recipe calls for powdered sugar in the glaze. Depending on where you live or what brand you buy, it can also be labeled as confectioners' sugar, icing sugar and 10X. They are all the same. You can use any one of them.
HOW TO STORE BLUEBERRY LEMON MUFFINS:
You can save any leftover muffins in an airtight container or wrapped in plastic for 1-2 days at room temperature.
You can freeze the muffins for 2-3 months. Place them into the freezer uncovered on a baking sheet. Once the muffins are frozen, place them into an airtight freezer container.
HOW TO DEFROST THE BLUEBERRY LEMON MUFFINS: 
Place the frozen muffins onto a wire rack at room temperature to defrost.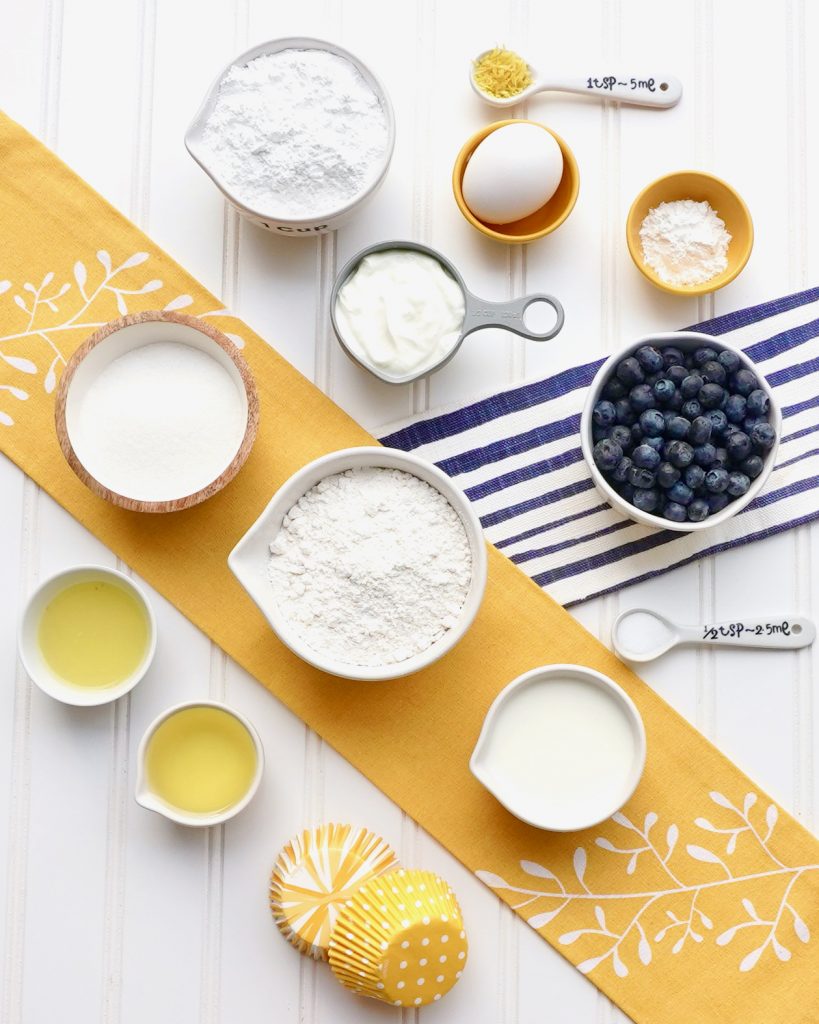 Lemon Blueberry Muffins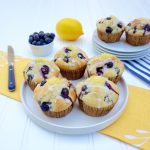 Print This
Ingredients
MUFFINS:

Cupcake liners

1 large egg (at room temperature)

½ cup whole milk

¼ cup vegetable oil

½ cup plain Greek yogurt

1 tablespoon lemon juice

1½ cups all purpose flour

½ cup sugar

2 teaspoons baking powder

½ teaspoon salt

1 cup fresh blueberries

1 teaspoon lemon zest

GLAZE (optional)

1 cup powdered sugar

2 tablespoons lemon juice

2 teaspoons lemon zest (for garnish)
Instructions
Preheat the oven to 400 degrees.
Place 8 paper liners into a muffin tin.
Rinse the blueberries and remove any stems. Place the berries onto paper towels to dry.
In a small bowl, beat the egg.
Add the milk, vegetable oil, yogurt and  lemon juice. Whisk to combine the ingredients.
In a medium bowl, combine the flour, sugar, baking powder and salt. Stir the ingredients together.
Add the wet ingredients to the flour mixture and combine well with a rubber spatula.
Stir in the blueberries and lemon zest.
Spoon the muffin batter evenly into the 8 muffin liners in the muffin pan.
Bake for 20 minutes on the top rack of the oven. Bake times can vary depending on the oven. If your oven runs hot, start checking on the muffins after 15 minutes for the best results. You want the top of the muffin to be completely set and lightly browned.
Skip the glaze if you want to serve the muffins warm.
Cool the muffins completely on a wire rack if you plan to glaze the muffins.
Stir together the powdered sugar and lemon juice. Make sure that the glaze is fluid enough to flow off a spoon. If it is very thick, add more lemon juice, by the ½ teaspoon until this is achieved.
Drizzle the glaze with a spoon over the tops of the muffins. Sprinkle the muffins with lemon zest. Let the glaze set before serving. This will take about 30 minutes.