Whole Grain Kitchen Sink Muffins are healthy and packed full of good things like walnuts, dried cranberries, coconut and orange zest. They are sweetened with blue agave instead of sugar and made with sprouted wheat flour. This easy recipe is put together in one bowl, no mixer needed. They only take 20 minutes to bake and are a great breakfast muffin warm from the oven.
Whether you're grabbing one for a quick breakfast or a mid-afternoon snack, these Whole Grain Kitchen Sink Muffins are a wholesome treat with lots of flavor. Bake a batch of muffins on the weekend and enjoy them all week long.
Sprouted wheat flour can replace all purpose flour in the same ratio to make things a bit more healthy. You could also just replace part of the all purpose flour. Check out these other muffin recipes and maybe try to do this. There are Blueberry Muffins, Strawberry Banana Muffins, Banana Chocolate Chips Muffins, Cranberry Orange Muffins, Pumpkin Crumble Muffins, Blueberry Lemon Muffins and Orange Muffins. If you want to try another healthy muffin recipe with grated apple and unsweetened applesauce check out Apple Walnut Honey Bran Muffins.
SOME THINGS TO KNOW:FAQ'S
INGREDIENT TIPS:
Sprouted wheat flour is made from wheat kernels that have been allowed to sprout. Once they have sprouted, they are dried and ground into a whole grain flour. Sprouted wheat flour is nutrient rich. Sprouting starts a chemical change to the grains so they have more vitamins and less starch than whole wheat. Read Whole Grains:Hearty Options for a Healthy Diet to learn about the benefits of baking with them.
Allow the egg to come to room temperature before using. This ensures even mixing and better texture.
SPECIAL EQUIPMENT NEEDED:
Muffin Pan: Essential for giving the muffins their shape. Choose a pan that has at least 8 cups for this recipe.
Muffin Liners: These are paper or silicone liners that you place in the muffin tin. They prevent the muffins from sticking to the tin and make them easier to remove. If you don't have liners, you can also grease the tin directly.
Large Mixing Bowl: To combine all the ingredients.
Whisk: Useful for mixing the wet ingredients smoothly, especially for breaking up the egg and incorporating it evenly.
Wooden Spoon or Rubber Spatula: Helpful for folding in the dry ingredients and the additional components like nuts and fruit.
Microplane or Fine Grater: For zesting the orange.
Toothpick or Skewer: This is for the "toothpick test" to check the doneness of the muffins. When inserted into the center of a muffin, it should come out clean when they are fully baked.
Wire Cooling Rack: While not absolutely necessary, it's beneficial to have. Once you remove the muffins from the oven, placing them on a cooling rack ensures even cooling and prevents the bottoms from becoming soggy.
SUBSTITUTIONS:
Canola oil can be substituted with vegetable oil, light olive oil, coconut oil or even melted butter.
The almond milk can be swapped for other non-dairy milks like soy milk, oat milk, or rice milk. You could also use dairy milk.
Organic raw blue agave can be replaced with honey, maple syrup, date syrup or brown sugar.
Sprouted wheat flour can be substituted with whole wheat flour or whole wheat pastry flour which is a bit denser but a similar profile. You could also use all-purpose flour which is lighter in texture.
Dried raisins, sultanas, or currants can be used in place of the dried cranberries.
HOW TO STORE WHOLE GRAIN KITCHEN SINK MUFFINS:
When stored properly in an airtight container, the muffins will remain fresh for 1-2 days at room temperature. Before storing, always allow the muffins to cool completely on a wire rack.
If you are looking to extend their freshness a bit further, you can store them in the refrigerator for up to 5 days
Muffins can be frozen for up to 3 months. Make sure the muffins are entirely cool before freezing to prevent ice crystals from forming on them.Wrap each muffin individually in plastic wrap or aluminum foil. Place the individually wrapped muffins into a large resealable freezer bag or an airtight container.
Remove the muffins from the freezer and let them thaw at room temperature for a few hours or overnight in the refrigerator.
HOW TO REHEAT WHOLE GRAIN KITCHEN SINK MUFFINS:
To reheat the muffins in an oven or toaster oven. Place them into a preheated oven or toaster oven at 350°F (175°C) for about 5-10 minutes.
You could also heat them in a microwave oven for about 15-20 seconds to warm them up.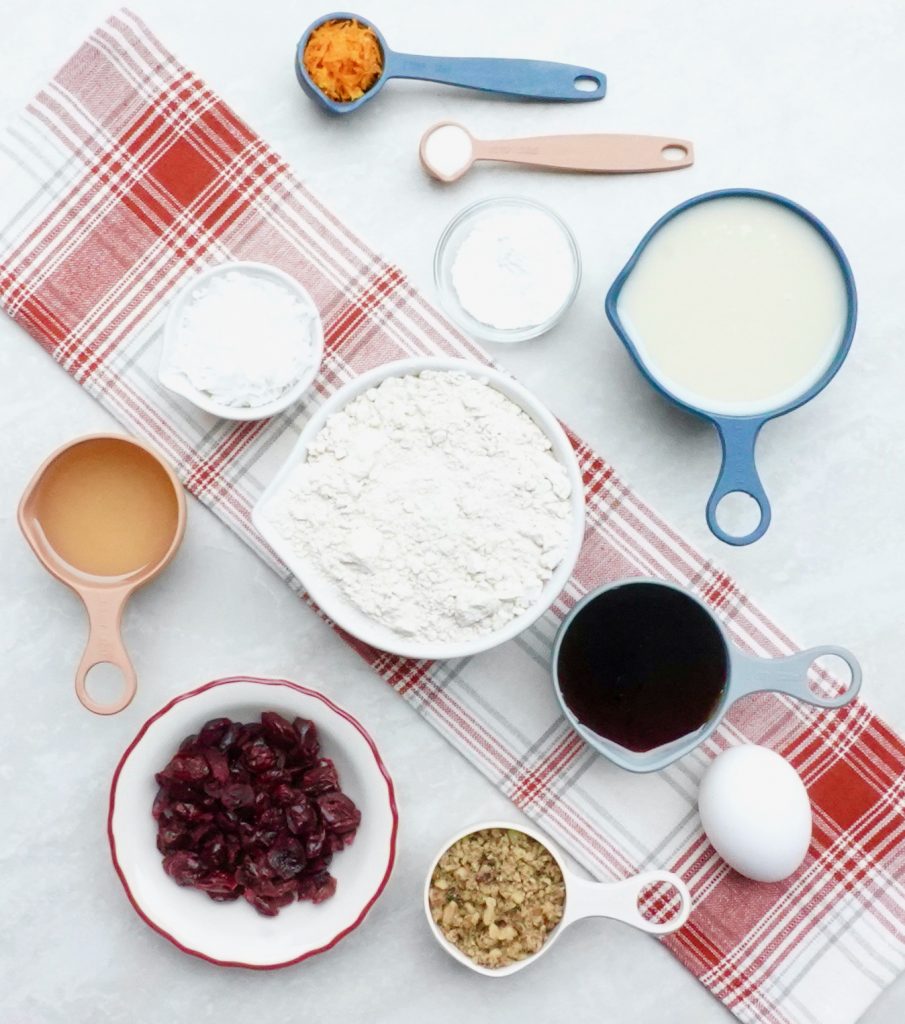 Whole Grain Kitchen Sink Muffins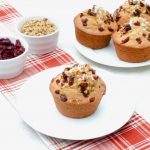 Print This
Ingredients
1 large egg

1⁄3 cup canola oil

1 cup almond milk

½ cup organic raw blue agave

1 ½ cups sprouted wheat flour (whole wheat can be substituted or all purpose flour)

2 tsp baking powder

½ teaspoon salt ( iodized)

1⁄4 cup ground walnuts

½ cup dried cranberries

1⁄4 cup sweetened shredded coconut

1 tablespoon orange zest

* 8 paper cupcake liners
Instructions
Preheat the oven to 400 degrees
Place 8 cupcake liners in a muffin tin.
In a large bowl, beat the egg. Add the canola oil, cup milk, and agave. Whisk together well.
Add the flour, baking powder and salt. Stir them in to the wet ingredients thoroughly.
Stir in the walnuts, cranberries, coconut and orange zest. Combine well.
Spoon the muffin batter evenly into 8 muffin cups.
Bake muffins for 20 minutes. The tops should be set and golden brown.
Insert a toothpick into the center top of the muffin. It it comes out clean the muffin is done.
Cool for a few minutes in the muffin tin. Serve warm  muffins with a pat of butter or remove them to a wire rack to cool completely.