Is there anything better than apples, crumble topping and vanilla ice cream? Apple Crumble Ice Cream combines them all together and tastes amazing.
This is a simple no churn ice cream base that is flavored with vanilla and a bit of cinnamon. You do not need an ice cream maker for this recipe!
The small cubes of apples are simmered with brown sugar and cinnamon to create the apple filling for the no churn apple crumble ice cream.Cooking them will remove the moisture and prevent any ice from forming in the ice cream.
A simple oat crumble topping is baked until golden brown. Half of the crumble is stirred into the ice cream, the remainder is used as topping for the ice cream when serving.
If you want to take this one step further, make the simple caramel sauce from Caramel Apple Pancakes and turn it into a sundae.
Apple Crumble Pie is another fall recipe to check out. If you want some simple cake ideas for apple season, check out Apple Cinnamon Olive Oil Cake, Apple Coffee Cake and Apple Cinnamon Yogurt Cake. You might also like this easy Apple Crumble recipe which is a perfect dessert for fall with a scoop of vanilla ice cream on top.
SOME THINGS TO KNOW:FAQ'S
INGREDIENT TIPS:
SPECIAL EQUIPMENT NEEDED:
11″ x 16″ baking sheet or baking tray
Medium saucepan
Food processor or large bowl/ pastry cutter
9″ x 5″ loaf pan
SUBSTITUTIONS:
If you don't have fresh apples, you can use canned apple pie filling or unsweetened applesauce as a substitute. Adjust the sugar and cinnamon accordingly since canned pie filling may already be sweetened and seasoned.
 You can replace heavy cream with half-and-half or whole milk for a lighter version of the ice cream. However, keep in mind that the texture may be slightly different.
If you prefer a less sweet ice cream, substitute sweetened condensed milk with evaporated milk. You can add additional sugar to taste.
You can use dark brown sugar or granulated sugar as a substitute for light brown sugar. Dark brown sugar will add a richer molasses flavor.
 If you want a dairy-free option or simply prefer not to use butter, you can substitute it with coconut oil or a dairy-free margarine.
Whole wheat flour or a gluten-free flour blend can be used as substitutes for all-purpose flour if you have dietary restrictions.
Rolled oats or quick oats can replace old-fashioned oats in the crumble mixture.
If you're out of vanilla extract, you can use vanilla bean paste or scrape the seeds from a vanilla bean pod.
HOW TO STORE APPLE CRUMBLE ICE CREAM
To store any leftover ice cream, keep it in an airtight container in the freezer for up to 2 weeks.
Be sure to press plastic wrap directly onto the surface of the ice cream to prevent freezer burn.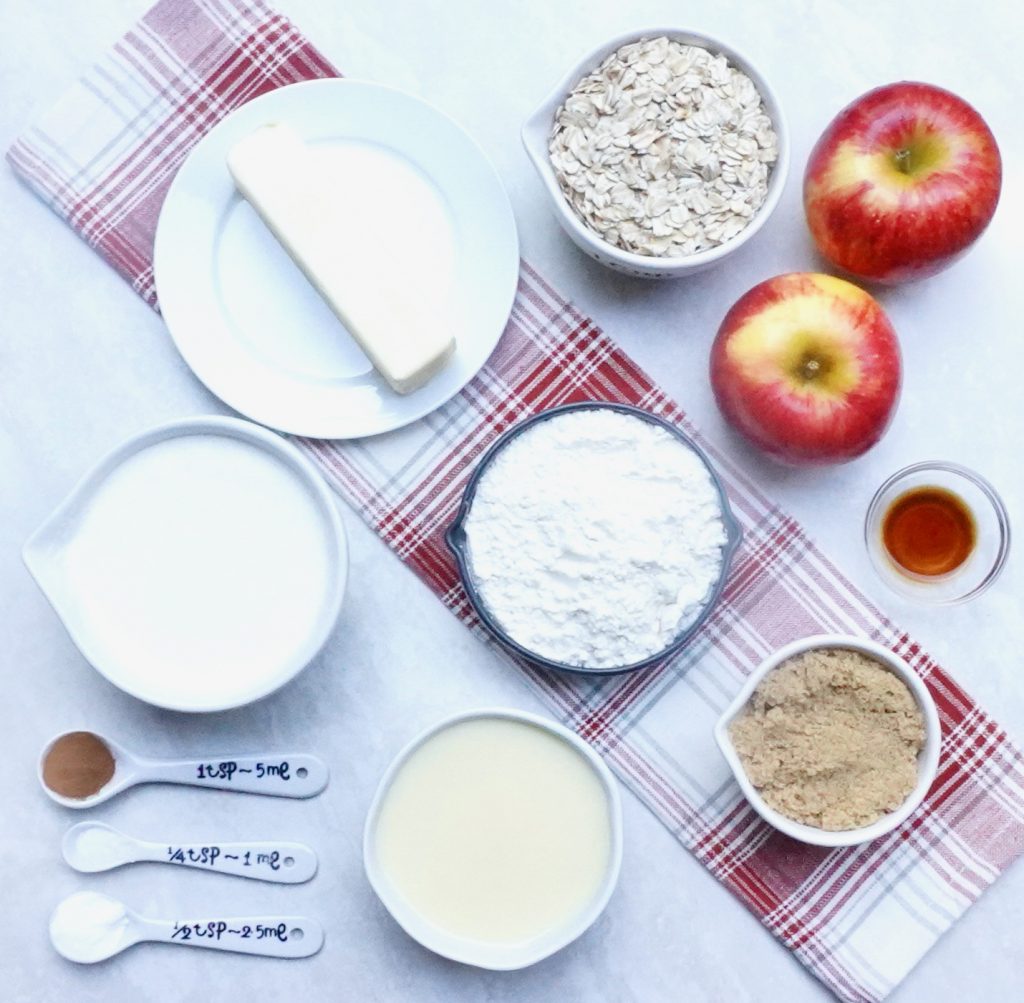 Apple Crumble Ice Cream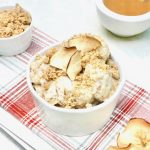 Print This
Ingredients
ICE CREAM BASE:

2 fresh apples, peeled, cored and cut in ½ inch cubes

4 tablespoons water

2 tablespoons brown sugar

1 ½ teaspoon ground cinnamon, divided

2 cups heavy cream

14.5 ounce can sweetened condensed milk

1 teaspoon vanilla extract

CRUMBLE MIXTURE:

1 cup all purpose flour

1 cup old fashioned oats

½ cup light brown sugar

½ teaspoon baking soda

¼ teaspoon iodized salt

1 stick cold butter, cut into small cubes
Instructions
ICE CREAM MIXTURE:
 Preparing the Apples:
Place apples in a medium saucepan. Add the water, brown sugar and ½ teaspoon of the cinnamon.
Turn the stove heat setting to medium heat and bring the mixture to a boil. Lower the heat to medium low and simmer, stirring occasionally for about 10 minutes until that apples are soft and the water has cooked away.
Let the mixture cool to room temperature.
Making the Ice Cream Base:
Combine the heavy cream, condensed milk, vanilla extract and the remaining teaspoon of cinnamon in a large bowl. Set aside in the refrigerator.
CRUMBLE MIXTURE:
Preheat the oven to 350 degrees.
Preparing the Crumble Topping:
Place the flour, oats, brown sugar, baking soda and salt into the bowl of a food processor. Pulse to combine.
Add the cubes of cold butter and pulse until it is thoroughly combined a crumbly.
This can also be done by hand. Combine the flour, oats, brown sugar, baking soda and salt in a large bowl. Cut the butter into the mixture with either a pastry cutter, knife and fork or use your fingers. Make sure all the butter mixes in and the mixture becomes crumbly.
Place the crumb mixture onto to an 11 x 16 baking sheet. Spread it out evenly.
Bake for 10 minutes.
Remove the mixture from the oven and stir. You want the crumbs to brown evenly.
Bake the crumb mixture for an additional 5 minutes.
Remove from the oven and let it cool to room temperature.
Assembling the Ice Cream:
Remove the cream base from the refrigerator. Add the apple mixture and 1 cup of the crumble mixture. Combine well.
Pour mixture into a 9″ x 5″ loaf pan. Sprinkle an additional ½ cup of the crumble mixture evenly over the top of the cream mixture.
Save the remaining crumble mixture to sprinkle over the top of the ice cream when serving.
Place the cream mixture into the freezer. Freeze until solid. This may take 6 -8 hours. It will be best served the next day.
Serving the ice cream:
To serve: scoop the ice cream into bowls and sprinkle some additional crumble topping over the ice cream.
Enjoy your homemade ice cream!
Notes
The apple chips were made by slicing one apple very thin on a mandoline slicer then cooked for 10 minutes in an air fryer at 300 degrees. They were turned over once after 5 minutes of cooking.