Roasted Eggplant Dip is a healthy dip that is creamy, flavorful and delicious.  Easy oven roasted eggplant is the base. It is combined with Greek yogurt and brightened with fresh shallots, garlic, lemon juice,  and red wine vinegar. A bit of crushed red pepper gives it a  touch of heat.
If you are looking for healthy options for fall game day foods or holiday appetizers, you should try this. Serve it up with some grilled pita bread cut into triangles or your favorite cracker and you are good to go.
This recipe calls for 2 pounds of eggplant. Try to pick eggplants that are the same size so they will roast in the same amount of time. 2 pounds may seem like a lot but eggplants are full of seeds and they will be removed and discarded.
If you want to try another healthy and delicious eggplant dip, check out Mezze Dips. Eggplant also is a great vegetarian meal when made as Eggplant Parmesan ,Roasted Eggplant Ziti ,Caponata or Eggplant Cutlets.
If you are a fan of easy, flavorful creamy dips, check out Leek Dip.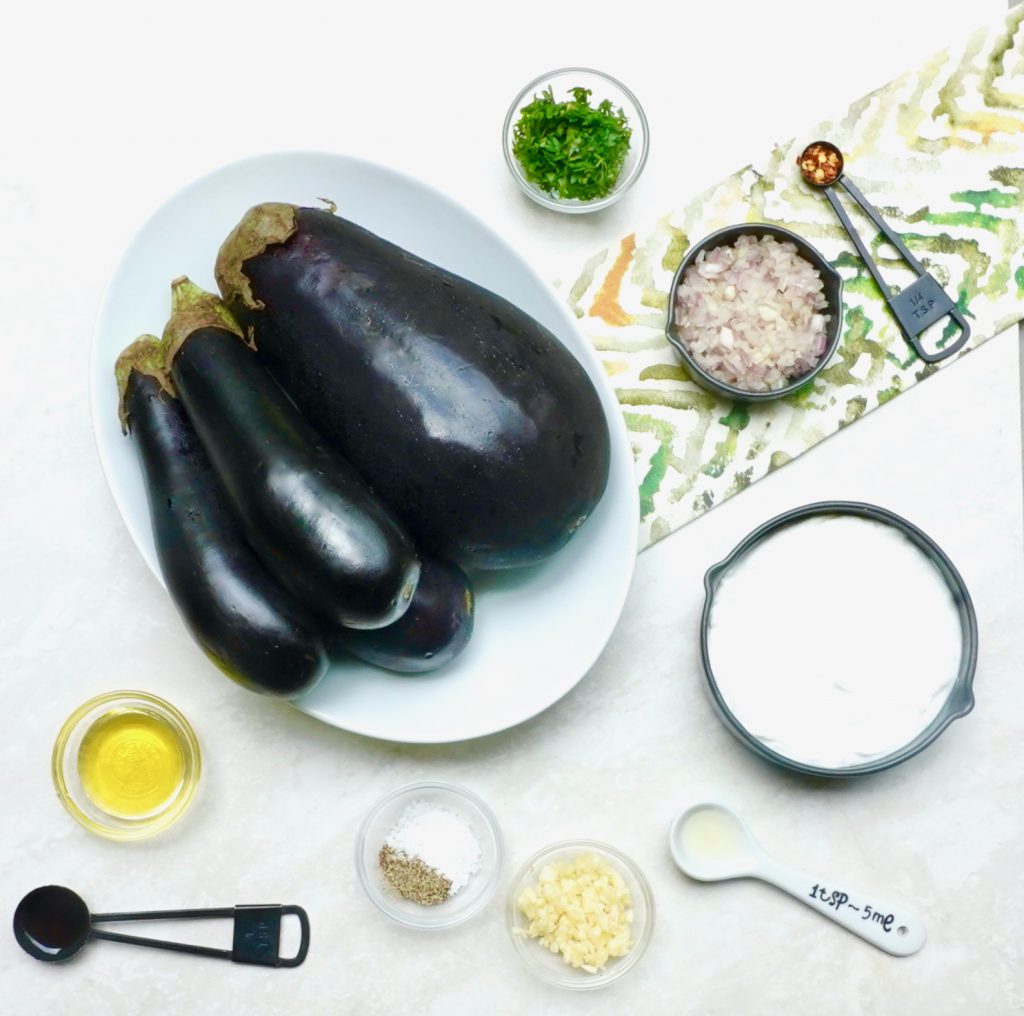 Roasted Eggplant Dip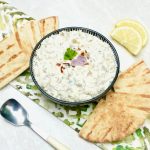 Print This
Ingredients
2 pounds eggplant (2 large)

1- 2 tablespoons olive oil

2 cloves garlic, minced

1 small shallot, minced

2 tablespoons fresh parsley, chopped

1 cup plain, whole milk Greek yogurt

1 teaspoon fresh lemon juice

½ teaspoon red wine vinegar

½ teaspoon kosher salt

¼ teaspoon crushed red pepper
Instructions
Preheat the oven to 400 degrees.
Line a large baking sheet with parchment paper.
Cut the eggplants in half. Brush the cut halves lightly with olive oil and place them cut side down onto the parchment paper.
Roast for 40 minutes and check in on the eggplant. You want them to be very soft. Roast a bit longer if needed until it is tender.
Let the eggplant cool for at least 20 minutes before you try to handle it.
Use a small spoon to remove the pods of seeds in the eggplant halves. Discard them.
Spoon out the eggplant flesh to a large cutting board.
Use a large knife to chop it fine.
Place the eggplant into a large bowl. Add the garlic, shallots, parsley, Greek yogurt, lemon juice, red wine vinegar, salt and crushed red pepper.
Stir to combine well. Chill for 1 hour before serving.
Serve with grilled pita bread or crackers.