Caponata is a traditional Italian side dish that can be served hot or cold. It is made with eggplant, mushrooms, green pepper, onion and garlic. The vegetables are slightly cooked and then simmered in a flavorful tomato sauce that is a touch sweet. It will go nicely with just about any protein you are serving.
There is a bit of chopping involved to make this recipe but the cooking time is fairly fast and it makes a large batch.
You can keep this in a container in the fridge for up to 5 days. It is the kind of recipe that becomes more flavorful the longer it sits. You can also freeze this in a freezer container for up to 2 months.
If you like a side dish like this, you also may enjoy Ratatouille. If you want some other ideas on how to cook with eggplant check out Roasted Eggplant Dip, Eggplant Parmesan and Roasted Eggplant Ziti.
Caponata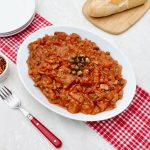 Print This
Ingredients
2 tablespoons olive oil
1 medium eggplant (1 pound) peeled and cut into 1 " cubes
1½ cup white mushrooms (4 ounces) chopped
1 cup onion, chopped (1 large)
½ green bell pepper, chopped
2 garlic cloves, minced
1 (6 ounce can tomato paste)
2 cups water
2 tablespoons red wine vinegar
1 tablespoon granulated sugar
1 teaspoon dried oregano
1 teaspoon kosher salt
½ teaspoon crushed red pepper flakes
¼ cup capers
Instructions
In a large skillet with a cover, heat the olive oil over medium low heat.
Add the eggplant, mushrooms, onion, green pepper and garlic. Stir them well.
Cover the skillet and turn the heat to the low setting. Let them cook for 10 minutes, stirring them occasionally.
Add the tomato paste, water, red wine vinegar, sugar, oregano, kosher salt, red pepper and capers.
Stir to combine everything well.
Bring the heat up to the high setting to bring the mixture to a boil. Once it boils, turn the heat down to medium low, and cover the skillet.
Cook for an additional 15 minutes, stirring occasionally.
You can serve this hot, at room temperature or cold.