Turnip Crispy Kale Soup is a healthy vegan soup that is rich, flavorful and comforting. This easy to make soup tastes and looks as if it has cream in it, but it does not.
This soup consists of turnip, carrots, potato, onion and garlic. The vegetables are cooked in vegetable broth and then the mixture is pureed. The result is a smooth, thick soup.
Kale chips are an easy to make topping for the soup. Simply mixed with a bit of olive oil, salt and pepper, they are baked in the oven until crisp. They make a pretty topping for the soup and would also make a nice healthy snack.
If you are looking for some other healthy vegan soups check out Tomato Rice Soup, Mediterranean Vegetable Soup, Pasta E Fagioli, Vegetable Quinoa Soup, Roasted Tomato Soup and Lentil Soup.
You might also like Mushroom Bisque.
You should also check out 10 Simple Vegan Soups.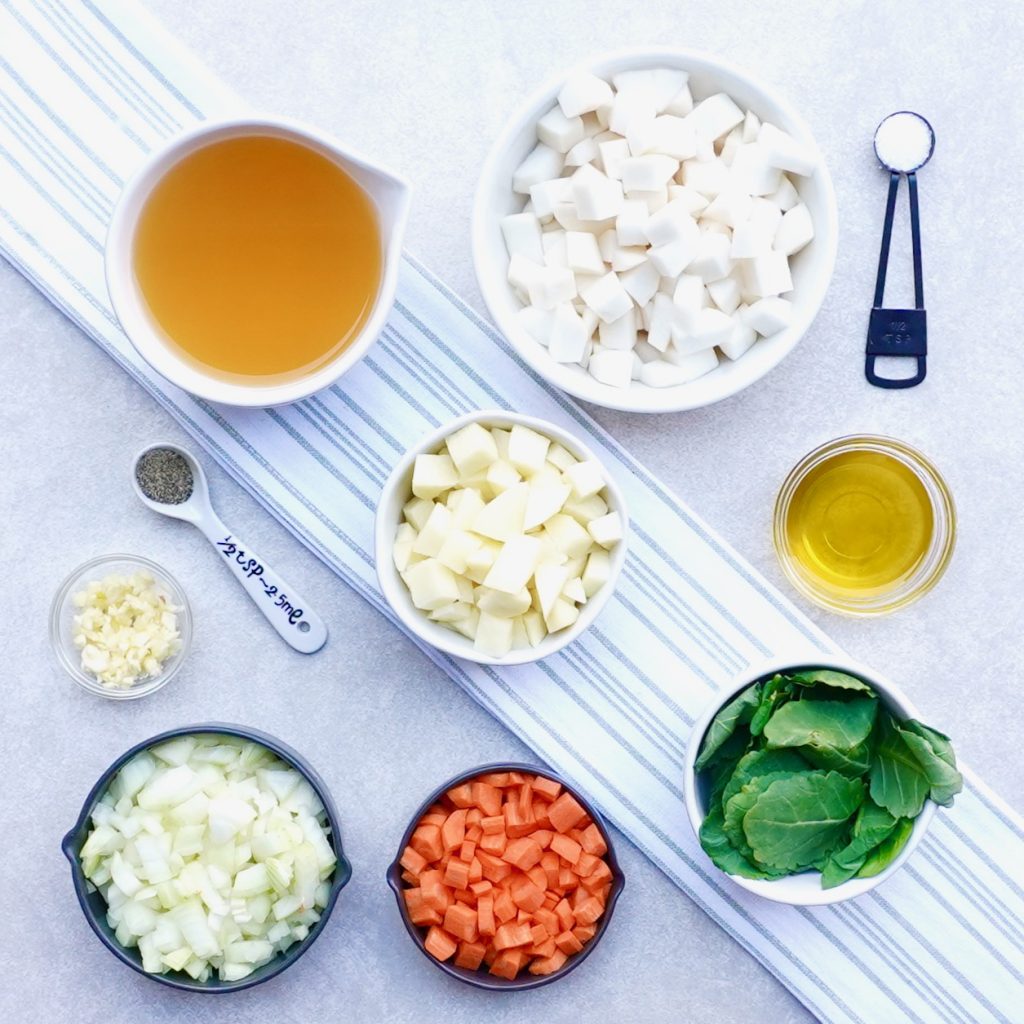 Turnip Crispy Kale Soup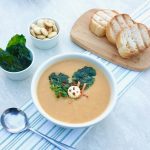 Print This
Ingredients
SOUP:

2 tablespoons olive oil

1 cup yellow onions, diced (one large onion)

2 garlic cloves, minced

4 cups vegetable broth

3 cups turnip, peeled and cubed (1 pound)

1 cup red potatoes, peeled and cubed ( ½ pound)

½ cup carrots, diced

4 sprigs fresh thyme

½ teaspoon kosher salt

¼ to ½ teaspoon black pepper, or to taste (*see note)

.

KALE CRISPS:

1 cup baby kale leaves, stems removed

1 tablespoon olive oil

Pinch kosher salt

Pinch black pepper
Instructions
SOUP:
Heat the olive oil in a large stockpot over medium low heat. Add the onions and cook for 2 minutes, stirring occasionally until they begin to soften.
Add the garlic and cook for an additional minute, stirring occasionally.
Add the vegetable broth, turnip, potatoes, carrots, thyme, salt and pepper to the pot.
Raise the heat up to high and bring the mixture to a boil. 
Once it boils, return the heat to medium low and cover the pot. Simmer for 20-25 minutes until the vegetables are completely tender.
Remove the cover and let the mixture cool for 15 minutes.
Remove the thyme sprigs from the pot.
Pour the mixture into a blender or the bowl of a food processor. Blend until the mixture is completely smooth. This can also be done right in the pot with an emulsion blender. 
Return the mixture to the pot and heat over medium low heat until it is at serving temperature.
Ladle the soup into bowls and top with kale crisps for serving.
KALE CRISPS:
Preheat the oven to 300 degrees. Line a large baking sheet with parchment paper. 
In a small bowl combine the kale leaves and olive oil. Make sure that the leaves are completely coated.
Lay the kale leaves on the lined baking sheet. Make sure that they are flat and not overlapping.
Bake for 20- 25 minutes until they are crispy.
Remove from the oven and let them cool for 15 minutes before using as garnish.
FREEZING INSTRUCTIONS:
This soup can be frozen for up to 3 months. Make sure that it is completely cooled and pour it into an airtight freezer container or zip top plastic freezer bag. Make sure that you leave one inch at the top as the soup may expand as it freezes.
Remove the soup from the freezer a day before you plan to use it and let it defrost. Do not defrost in a microwave if you have stored it in a plastic container as harmful chemicals could seep into the soup.
Notes
½ teaspoon of pepper will give the soup a bit of heat. If you would prefer not to have this, reduce the pepper to ¼ teaspoon black pepper or leave it out entirely. Once the soup is finished, you can taste it and add pepper to your liking.