Asian Salad Salmon is a flavorful gluten free, low carb recipe. Salmon is a good source of protein which is low in calories and saturated fats. If you are looking for some ways to eat a bit lighter this spring, this would be a good option.
One of the keys to this recipe is marinading the salmon.The combination of soy sauce, honey, fresh grated ginger, sesame oil, garlic and rice vinegar make it taste delicious.  In order to get the maximum flavor you should let the salmon sit in the marinade for a minimum of two hours and up to 8 hours if possible. The longer the better.
Once the salmon is cooked it is combined with a simple salad of snow peas, radishes and green onions that have been dressed in a light combination of canola oil, honey, rice wine vinegar and sesame oil. You can mix them all together on top of the salmon or serve it deconstructed as pictured.
Check out a couple more Asian inspired seafood recipes that are light and flavorful. Honey Garlic Shrimp and Asian Salmon are both good options.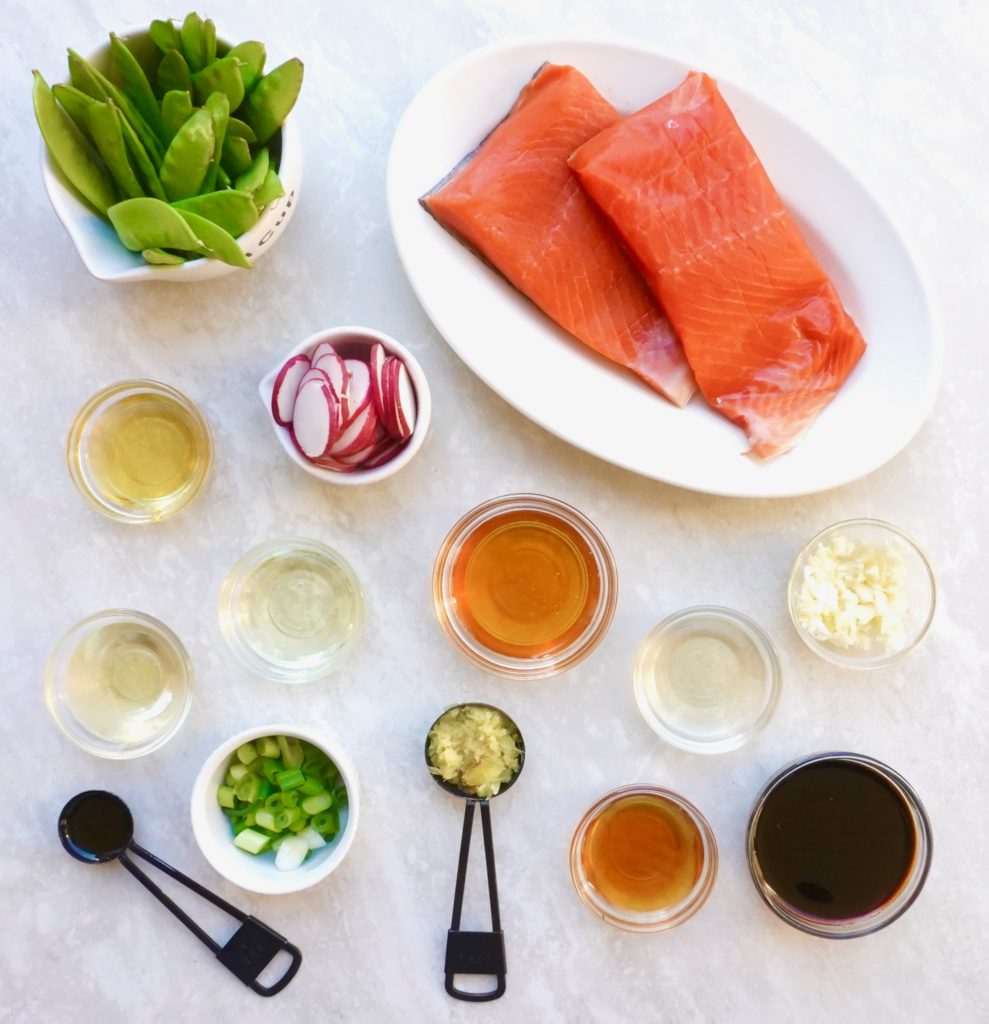 Asian Salad Salmon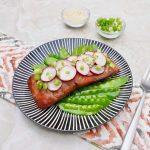 Print This
Ingredients
SALMON:

2 fillets salmon, 4-6 ounces each

¼ cup soy sauce

¼ cup honey

2 teaspoons sesame oil

2 teaspoons rice vinegar

2 cloves garlic

1 tablespoon fresh ginger, peeled and grated

.

SALAD:

1 cup snow peas, ends removed

¼ cup radishes, sliced very thin

¼ cup green onions, chopped

2 tablespoons canola oil

1 tablespoon honey

1 tablespoon rice vinegar

1 teaspoon sesame oil
Instructions
SALMON:
The easiest way to marinade the salmon is to add the ingredients to a Ziploc bag.  If you are not a fan of plastic, you can mix the marinade in a shallow pie plate and turn the salmon frequently.
Combine the soy sauce, honey, 2 teaspoons sesame oil, 2 teaspoons rice vinegar, garlic and ginger in a plastic bag or shallow pie plate.
Add the salmon filets to the marinade and let them sit at least two hours or up to eight hours, turning occasionally.
Preheat the oven to 400 degrees. Place the salmon on a parchment paper or foil line baking sheet and roast for 12-15 minutes, depending on the thickness until is is fully cooked and no longer fleshy in the center.
SALAD:
Combine the snow peas, radishes and green onions in a medium bowl.
In a small bowl, combine the canola oil, honey, rice vinegar and sesame oil. Mix well.
Pour the dressing over the vegetables.
There are several options to serve this.  The salmon can be served either warm or at room temperature.
The salad topping can be deconstructed as shown and layered.
The mixed salad can be spooned over the salmon.
The mixed salad can be plated and the salmon can top it either whole or sliced.