Cheesy Chive Potatoes are a perfect spring side dish. While chives are readily available all year long, they are the most flavorful in late spring to early summer.
Chives are a perennial plant. They are a member of the onion family with a mild flavor that is similar to onion and garlic. 
These simple to make potatoes have a cooking time of under twenty minutes. They would pair well with just about any meat, poultry or fish. 
This recipe calls for asiago cheese. If you do not have that readily available, you could substitute it with parmesan or Romano cheese.
Potatoes are always a great side dish. If you want to see some other options check out Parmesan Scalloped Potatoes, Colcannon, Creamy Mashed Potatoes, Roasted Red Greek Potatoes and Herb Roasted Turmeric Potatoes,and Crispy Chive Potatoes.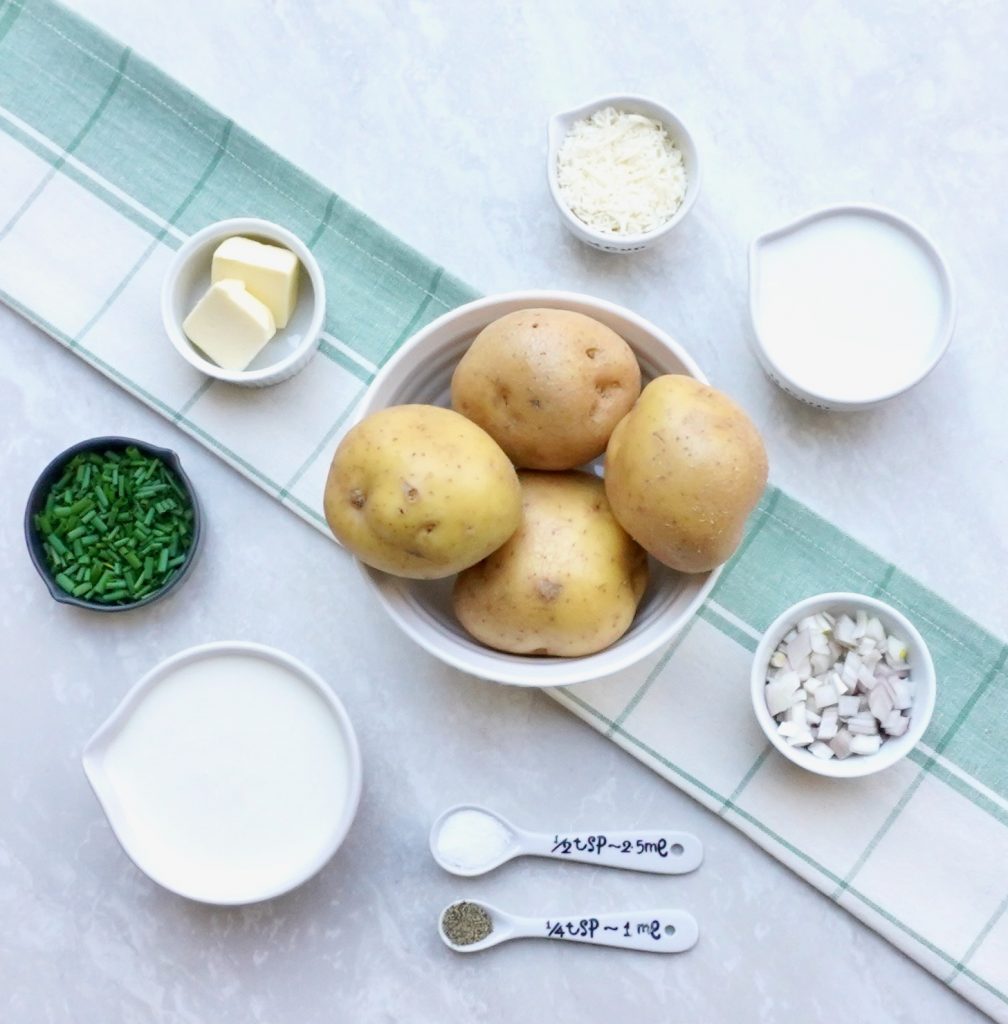 Cheesy Chive Potatoes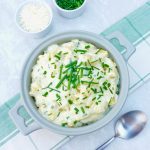 Print This
Ingredients
2 tablespoons butter

1 small shallot, minced

1 ½ pounds Yukon gold potatoes, peeled and cut into 1 inch cubes

1 cup heavy cream

½ cup whole milk

½ teaspoon kosher salt

¼ teaspoon black pepper

¼ cup asiago cheese, grated

¼ cup fresh chives, chopped
Instructions
Melt the butter in a large saucepan over medium low heat.
Add the shallots to the pan and cook for 1 minute, stirring occasionally.
Add the potatoes, heavy cream, milk, salt and pepper to the pan. Raise the heat setting to  the high setting and bring it just to the boiling point.
Lower the heat setting to the  low setting and cover the pan. Let the potatoes simmer, stirring occasionally for about 15 minutes. The sauce will thicken as they simmer.
 Insert a knife into a potato cube to see if it is cooked through. You should not have any resistance if it is done. If they are still hard at all,  continue to cook for a few minutes and test them again. 
Stir in the asiago cheese and chives. Combine well. 
Place into a serving dish and sprinkle additional chives. (optional)